Post by soveliss on Dec 4, 2013 15:36:58 GMT



Kirsten Nicole Harichi
Alias
: None presently
Age
: 16
Gender
: Female
Height
: 5"5
Weight
: 120 lbs
Alignment
: Good
Birth Date
: 12th August
Birth Place
: Toronto General Hospital, Canada
Western Horoscope
: Leo
Eastern Zodiac
: Rooster
Skills/Talents
: Kirsten is slightly tri-lingual, speaking English fluently, some French, and a small amount of basic Japanense.
Personality
Kirsten is a people person, first and foremost. She generally enjoys socialising with others, and having a good chat. For the most part she tries to stay around those who she considers to be her friends, since they highly reinforce her confidence. When she is alone Kirsten does tend to be quite timid and shy to others, and will quite often looking around to try and seek out anyone she knows. When she is with people she is comfortable with, upon meeting new people she will be quite friendly. Otherwise she tends to not talk too much, and only respond when spoken too, though this behaviour can and will change as she gets to know people more and more.
Kirsten tends to be quite sensitive on the whole, and can get upset, angry or any other emotion over smaller things that she probably should. Often this won't amount to that much, but it is worth bearing in mind. Unfortunately this does make her slightly less predictable than might be healthy, but it is possible to deal with it. It also makes Kirsten fairly clingy, as if she takes a like to someone she can more or less attach herself to that person for a while, and pester them/not leave them alone.
Kirsten is relatively weak willed when it comes down to getting her way in important decisions. She doesn't push her own opinions onto others that much, and therefore doesn't end up persuading them, not that she is terribly skilled at persuading others anyway, and as such tends to find herself going along with the plans of others regardless of how much she personally might happen to disagree with them.
She does have a general kindness within her, and provided she doesn't end up shrinking away due to shyness, Kirsten tends to be rather nice and willing to help out others. She does quite like knowing that she had been capable of making a difference in one way or another, and indeed that she had managed to help someone else out slightly.
Within a group, Kirsten works ideally as a spare member. She doesn't naturally contribute to any specific tasks, whether it be leadership or following orders. As such she tends to slot in where needed, without naturally being the best fit for such a position.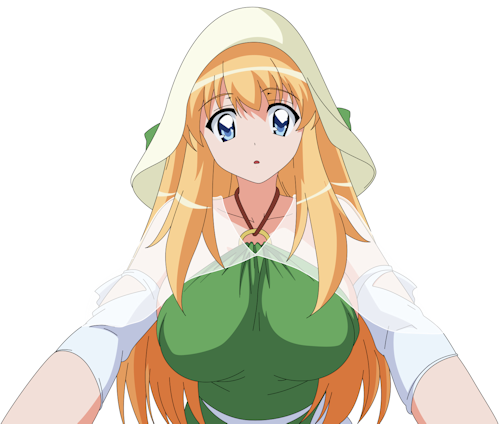 Appearance
With blond hair and blue eyes, standing at an average height for her age, Kirsten does have the potential to appear as a rather ordinary girl for her age. This assumption could be correct, if not for a few distinct features. Kirsten has long sandy blond hair, which drops down her back, only stopping three or four inches before her waistline. Her fringe is more or less non-existent, and only comprises of a few clumps of hair, with the rest parting, running over her ears and down her back. Her eyes are a light blue colour, large and have a rather natural knack at showing off whenever Kirsten is about to cry, as it causes for them to sparkle in the light as tears are formed. Kirsten has fairly pale skin, which burns easier than it tan, and will often show up reddish after prolonged exposure to the sun. It also shows up quite obviously when Kirsten is blushing/embarrassed. Her skin is for the present unscarred, and usual kept quite clean.
When it comes down to dress sense, Kirsten tends towards practical and relatively uncomplicated clothing. Generally this takes the form of a pair of jeans, and then one of many random assorted tops which she owns. Colours/design on these tops do highly vary, and a choice will more or less always be made based on the occasion. Only in very specific circumstances will Kirsten ever be found to wear a dress; normally during particularly formal events. Her hair will not normally have anything in it, but will be allowed to freely drop.
History
Kirsten didn't particularly like this too much, standing at the front of a class clutching onto her piece of paper. Everyone in the classroom was staring at her, which was to be expected. Looking around the room, most of the faces where Japanese, as she had expected, but there where a handful of others, foreign as she was probably meant to think of them now. Her task now? To tell everyone about her, given that this was her new school, and she had spent the previous two days working with her mum on what she was to say, and how to speak it in Japanese. Well there was nothing more for it now, she was going to have to speak, otherwise she would feel quite awkward up her, in silence.
Unfolding the piece of paper, she began to read what had been placed upon it.
"Hello, my name is Kirsten Nicole Harichi, and I was born in Toronto, Canada on August the twelfth. I am an only child, and have two parents named Heather and David Harichi. My dad works with a small computing firm in the city, and my mum does not currently have a job. I moved over here because of my dads work two weeks ago. In my early life because I was an only child, I was quite lonely, and wanted to make lots of friends. I hope that I can do the same here."
She paused at this point, stroking a stand of her hair off her face, and was quite pleased to see that so far no-one had burst out laughing, or was sMark Twaining behind a book. At least that meant that her Japanese wasn't too bad.
"I am unable to see my dad very much anymore because of his work, and I am struggling to learn fluent Japanese. I also speak some French, though that may not be useful in Japan. I found in Canada that I was good at English, but not so good at maths or science."
She looked up around the room again for a second, taking the time to pause and see if there was any more response. Nothing. She continued.
"When I first arrived in Japan I was very shy because I could not speak the language. However, I am hoping that I will be able to over come this. Thank you."
With that Kirsten quickly tossed the piece of paper she had been reading from into the bin and scurried back to her new desk. That hadn't been that bad, given that she had expected it to be more of a disaster than it had been.
Backpack Contents

I-pod
Money (normally a only small amount)
Paper tissues

Digivice
---
Digital Partner
Partner's Name
: Zarph
Default Form
: Elecmon
Gender
: Male
Alignment
: Good
Skills/Talents
: Zarph speaks both Japanese and English fluently, so can ask as a translator whenever Kirsten has trouble communicating.
Personality
:
For stages rookie and below, Zarph is a coward, and boy does he act like it. Avoiding any conflict at any cost, the lengths which Zarph will go to in order to avoid fighting anything else can often been seen to be fairly outrageous. Whether it be digging and digging until he's dug himself a hole to hide in, or simply climbing a tree and refusing to come down, Zarph is unwilling to commit to combat, and will only under circumstances where it would be far worse not to, such as Kirsten being in a high level of danger. However, even in these circumstances, Zarph will still aim to get Kirsten out of the way and then hide. He is also likely to offer sarcastic comments back to people while in Rookie form.
At higher levels Zarph is more open to a scrap, and can been seen to behave in a more heroic way. He acts to protect those who he see's to be good, and force evil-doers to repent or be punished upon sight. He continues to be protective of Kirsten, but from this point on he is much less likely to save both of them, and far more likely to fight and stand his ground.
Throughout all forms Zarph is relatively quiet towards anyone bar Kirsten, and much prefers to communicate – where possible – through her. He tends to stand by her like some sort of protector. Kirsten's opinion tends to be Zarph's opinion, and the one he will back up. Otherwise, Zarph is very unlikely to offer any of his own suggestions, and tends to accept what is happening.
Initial Line
---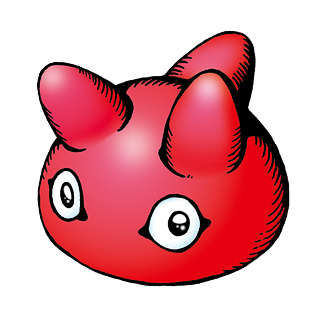 Fresh
: Punimon
Attribute
: Data
Family/ies
: N/A
Type
: Slime Digimon
Attacks
:
Little Bubble: Punimon produces a small bubble which at best might cause an unbalanced opponent to fall over

Digivolves To
: Tsunomon
---
In-Training
: Tsunomon
Attribute
: Data
Family/ies
: Nature Spirit
Type
: Lesser Digimon
Attacks
:
Bubble Shot: Tsunomon produces a slightly more potent, but still mostly useless, bubble which fires at the enemy
Horn Roll: Tsunomon hurls himself at his foe, attempted to stab at them with his horn

Digivolves To
: Elecmon
---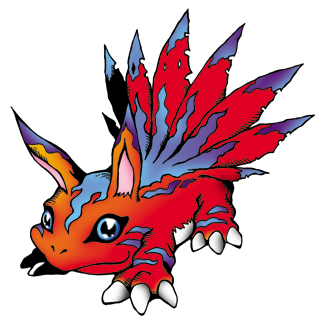 Rookie
: Elecmon
Attribute
: Data
Family/ies
: Nature Spirit
Type
: Mammal Digimoon
Attacks
:
Sparkling Thunder: A solid bolt of electricity is released from Elecmon's tails
Nine Tail Cutter: Elecmon's tails straighten and extend, giving off a white energy which allows for them to be used as rather sharp blades
Voltage Fray: Elecmon releases multiple sparks of electricity from his tail, sending them in many directions

Digivolves To
: Unimon, Magnamon, Lotosmon
---
Champion
: Unimon
Attribute
: Vaccine
Family/ies
: Wind Guardian
Type
: Mythical Beast Digimon
Attacks
:
Pegasus Wing: Feathers are released from Unimon's wings, which fly dagger-like at his foes
Aerial Gallop: Unimon charges through the air, aiming to spear others with his horn
Holy Shot: Unimon fires a pure white energy blast from his mouth
Spread Neight: Unimon fires a laser like beam of energy from his horn

Digivolves To
: Chirinmon
---
Perfect
: Chirinmon
Attribute
: Vaccine
Family/ies
: Virus Buster
Type
: Holy Beast Digimon
Attacks
:
Wind Cutter Sword: Chirinmon sweeps down from the sky, aiming to impale his foe upon his horn
Lightning Visor: Chirinmon fires a bolt of lighting from his horn
Valliant Wind: Chirinmon charges towards the enemy, taking flight at the last second, and sending a powerful wind crashing into his enemy
Judgement of the Ages: Chirinmon fires a blast of holy energy, which will do increased damage to morally evil digimon, but little to no damage to morally good digimon
Pegasus Wing: Chirinmon lets loose a wave of intense light from his wings

Digivolves To
: Kentaurosmon
---
Mega
: Kentaurosmon
Attribute
: Vaccine
Family/ies
: Virus Buster
Type
: Holy Beast Digimon
Attacks
:
Vengeance Bolt: Kentaurosmon fires a bolt from his crossbow, powered by holy energy
Infinity Hail: Kentaurosmon summons a large number of sharps of ice, and fires them in one burst at his foe
Relentless Assualt: Kentaurosmon covers his front with his shield, and uses the protection to charge his foe, swinging the shield in a slashing arc upon impact
Inferno Frost: Kentaurosmon fires an ice-powered missile from his crossbow
Norse Tornado: Kentaurosmon slams his two front feet into the ground, creating a shockwave which can tear up roads
Ice Wave: Kentaurosmon breaths out a short ranged ice attack

Digivolves To
: N/A
---
Extra Stages
Armor I
: Magnamon
Attribute
: Vaccine
Family/ies
: Virus Buster, Metal Empire
Type
: Holy Knight Digimon
Attacks
:
Magna Force: Magnamon delivers a solid punch into his enemy, charged up by holy energy
Plasma Shot: Magnamon fires a single plasma bullet from his chest at his foe
Golden Rush: Magnamon slams both of his hands together, creating a shockwave
Tempest: Magnamon summons a golden energy to surround him, causing any melee attacks to have a change of also damaging the attacker

Digivolves To
: N/A
Digi-egg
: The digi-egg of control
---
Appearance:
Armor II:
Attribute:
Family/ies:
Type:

Attacks:

Digivolves To:

---
Appearance:
DNA Ultimate:
Attribute:
Family/ies:
Type:

Attacks:

Digivolves To:

---
Appearance:
DNA Mega:
Attribute:
Family/ies:
Type:

Attacks:

Digivolves To:

---
Appearance:
Mega Mode Change:
Attribute:
Family/ies:
Type:

Attacks:

Digivolves To:

---
Appearance:
DNA Mega Mode Change:
Attribute:
Family/ies:
Type:

Attacks:

Digivolves To:

---
Biomerge
: Faeriemon
Attribute
: Vaccine
Family/ies
: Virus Buster
Type
: Restoration Digimon
Appearance
: A 4 foot female humanoid form, Faeriemon possesses a pair of feathered white wings, which stick out slightly from her back, and roughly extend to length of her arms when fully outstretched. Faeriemon is fitted with a plain white dress, and a necklace with a tear shaped charm around her neck. Built thinly, she appears to be rather fragile, and has no form of shoes/socsk covering her feet. A white ribbony substance wraps around her arms, stopping short of her hands. Faeriemon has long pale blond hair, and blue eyes. Her facial structure and the rest of her body is humanoid in form, albeit slightly scaled down for her size.
As she moves, Faeriemon projects a glow of light from her body, much like an aura. She carries nothing in her hands, though she has a single daisy flower attached to her dress at the hip area. When she flies, her wings do not appear to be in motion, except for occasions where she is changing direction. In these occasions, both wings will fold slightly, pushing her in the direction she wants to travel. While on ground, her wings simply fold up against her back, though they can be extended out if she chooses to.
Abilities:
Battlefield Shield: Faeriemon possesses no offense based attacks, and as a result has access to strong defensive moves.
Move-loop Faeriemon possesses the ability to repeat the same moves again and again over a short period of time without cooldowns. However, if she ever repeats a move 3 or more posts in a row, she must take a 1 post cooldown on all moves if she wishes to use a different move.
Fairy: Faeriemon is capable of flying.

Attacks
:
Celestial Shield: Faeriemon crosses her arms over her chest, and quickly summons a shield directly infront of her, blocking a single attack. This shield lasts one post.
Lotus Blossom: Faeriemon summons a large flower into her hand. She then picks off four petals, and can throw them at allies, each petal healing that ally for a slight amount.
Pixie's Trick: Faeriemon teleports to the position of a willing, visible ally, and they are teleported to her position. Within the Move-loop, Faerimon can only target the same ally.
Bitterblossom: Faeriemon summons a huge amount of pollen and petals into the air, reducing sight, and making everything seem far more pink. This effect lasts for 2 posts. This cannot be Move-looped.
Infinity Shield: Faeriemon forms a large unbreakable shield surrounding herself and any friendly allies within a short distance. The shield cannot be broken by any attacks, however Faeriemon feels the force of all attacks upon the shield. The shield lasts as long as Faeriemon is able to sustain it. Additionally, whenever the shield breaks, either by force or Faeriemon's choice, she will automatically de-digivolve, leaving Kirsten unconscious.

---
Alt-Biomerge (mode change)
: Faeriemon – Fallen Mode
Attribute
: Virus
Family/ies
: Nightmare Soldier
Type
: Death Fairy Digimon
Appearance
: Gone are the fairy goodnesses of Faeriemon, Fallen mode stands at 5ft tall, black feathered wings attached to her back, which will extend out past her arms by a couple of inches. Her hair remains a solid blonde, dropping down her back to around hip level. She wears a tiara made of a golden coloured metal, with a pitch black gemstone centred in the tiara. She wears a tattered black dress, which has two straps which go over her shoulders. Additionally she has black shoes. Her eyes are now a dark red colour, with several small dots of blue, though these are not noticeable unless you manage to get quite close.
Around her waist, she has a small black rope of string, with several small elegant blades attached to it. Fallen Modes skin is also quite pale, nearing white, but having a slight pink tone just to remind people that it actually is skin. Black ribbons wrap around her arms and legs, stopping just short of her hands and feet. Fallen Mode is also build fairly thinly, probably slightly thinner than Faeriemon is, but she manages to appear less fragile, probably due to also appearing to be quite evil. While remaining pale, her skin is also perfect, with no imperfections on it at all.
Abilities:
Impurity: Faeriemon – Fallen Mode is created from a combination of good, evil, vaccine and virus. As a result, she does not take additional damage from attacks which have bonuses against alignments/types, nor does she prevent damage from resisting them.
Flight: Faeriemon – Fallen Mode possesses wings, therefore she is able to fly
Deaths Presence: Faeriemon – Fallen Mode has a faint darkening aura surrounding her, which will inflict fear on rookie or lower level digimon.
Delightful Agony: Faeriemon – Fallen Mode likes pain, be it on herself or others. During combat, she gets fasters as damage is inflicted to herself.

Attacks
:
Blissful Throes: Faeriemon – Fallen Mode summons a whip of dark energy, lashing out with it. If the whip wraps around a target, she can fire pulses of dark energy down its length.
Titillating Dellusions: Faeriemon – Fallen Mode conjures a small black orb into her hands, within which is an illusion of a desired object by whoever looks into the orb. This image is unique to each person, and has the potential to distract them.
Delectable Torture: Faeriemon – Fallen Mode summons dark energy into her hands, and releases it in a bolt.
Enrapturing Spasms: Faeriemon – Fallen Mode draws a small dagger from her belt, lashing out with it. Any cuts with the dagger will result in a poison affecting the target, which unless resisted will amplify any sensations of pain for the next hour. Also it's a dagger, so she can just stab with it
Masque of Anguish: Faeriemon – Fallen Mode releases several bolts of black lightning in random direction, originating from her tiara gem. These bolts are highly inaccurate, and simply strike in random directions.
Savage Thorns: Faeriemon – Fallen Mode causes thorns to burst out from the ground, wrapping around and holding in place a target should they connect. The thorns can grab targets hovering a small amount about the ground, but cannot catch people in flight 4ft above the ground
Acquiesce: Faeriemon – Fallen Mode sprays a web of black energy from her hands, webbing any caught in it. Those caught will feel a strong pull from the webbing towards the ground, and once grounded will feel a force which attempts to make them knee before Faeriemon – Fallen Mode. The net can potentially hold foes for up to 3 posts, and has a 2 post cooldown. A strong will digimon can shatter the web, breaking the effects.

---
[b]FaceClaim[/b]: [b]ZERO NO TSUKAIMA[/b] • [i]tiffania westwood[/i] • Kirsten Nicole Harichi