Post by Amsel on Nov 24, 2015 5:10:17 GMT
Name
: Amsel .D. Rosa
Alias
: DR
Age
: 15
Gender
: Female
Height
: 4,6
Weight
: 61.4
Alignment
: Good
Birth date
: March 31
Birthplace
: germany, berlin
Western horoscope
: Aries
Eastern zodiac
: Ox
Skills/Talents
: hand to hand combat, artist, very good sewing skills and natural strategist.
Personality
:
Amsel is a very optimistic girl she tries to think positive about bad situations she often finds herself in, She has a joyes air around her that brings even the most gloomiest of people a smile. Amsel is very courageous a trait she had gotten from her father, if a friend, family or allie was in trouble she would not hesitate to come to their aid. Amsel has a big heart a trait she gained from her mother, She hates to see others suffer, she does everything in her power to help them. She hates to see bullies and if someone is in trouble she would put her own life on the line to save the victim whether she makes herself a distraction or human shield for the victim. However she does have flaws after all she is human because of her positive nature it's hard for her to express her negative emotions like crying she ends up bottling them up because she feels that other people's emotions matter more than her own. Her big heart is another flaw she usually gets into deep trouble because of her constant saving of others and sometimes almost ends up dead.
Appearance
:
Amsel looks more like her mother then her father, much like her mother, she has beautiful lightly tanned skin, the outer parts of her arms are covered in stab and slash scars do to an incident that happened when she was younger. She has curly black hair that's soft to the touch, she always has it tied back into a ponytail, it puffs out in curls. Her hair has red highlights, at the tip of every highlight is black. Her outfit consists of black t-shirt under a short sleeved hoody, the hoody is black with a crimson red outline, she has camo shorts that reach up to her knees, complete with iron toed combat boots.On her hands she has black fingerless gloves with red lining, the gloves have a red dragon on top of the hand. She has a red bandana tied around her neck, silver steampunk goggles perched on her head. She is always carrying around her
backpack
in which she carries all her art supplies and go's around drawing things that catches her eye. The only physical traits she had gained from her father was his sky blue eyes that shined with happiness and kindness. She also received her father's strength she has a bit of muscle, only noticeable when she stretches.
Personal History
:
Amsel was born in germany berlin on march, 31. Amsel's father adrik klein was so overjoyed to have a daughter and had already become overprotective of her as soon as she came into the world. Her mother Agacia .D. Rosa was happy that their daughter had been born happy and healthy, she let her husband name their new baby since he looked so happy to have her. So he gave her the name amsel but he had suggested to his wife that they should give amsel her last name because it had seemed to fit her better than his own, and so began the life of little amsel.
Amsel as a baby was nothing but a ball of joy she was always laughing or exploring she was an absolute joy to have around. At the age of five amsel was playing with her stuffed animals and cars when she heard a crash yelling of a stranger and her mother's screams, she ran to her mother and was greeted with the sight of a burglar stabbing her mother with a knife in his other hand he had an empty sack apparently he had been here to rob the place but he forgot to check if there were still people inside. Amsel's father was gone that day he is a high ranking military soilder and on that day he had been called in for a meeting with the higher ups. Amsel knew this and something sparked in her instead of running she yelled out a battle cry and tackled the man behind the knee. It really wasn't enough to hurt the man but she managed to distract him from her mother who got up and limped out get get help, by the time help arrived amsel's outer arms and a bit of her face was covered in slash and stab wounds. Amsel and her mother were rushed to the hospital where they received stitches for their wounds, when her father received the news that his wife and daughter had been attacked and sent to the hospital he had dropped whatever he was doing and rushed to the hospital. When he arrived he was relieved to find that they were ok hurt but alive, He was surprised and awed when his wife told him what had happened, he couldn't believe that a small child had so much courage in the face of danger. He was proud of his daughter for her bravery and courage he decided that when she became of age he would teach her how to defend herself. When amsel reached the age of ten her father took her under his wing and began to teach her hand to hand combat and how to come up with the best strategies, her mother taught her how to draw and sew she claimed that the arts were just as important as combat. On her twelfth birthday amsel's father received a letter saying that he was being relocated to japan to join comrades in the country, amsel was devastated after she had been told the news her whole family would have to move and leave her friends behind, but she put on a brave face and stayed positive and within three days after a tearful goodbye to all her friends her family arrived at the airport ready to go to japan. As the family waited for the plane to takeoff amsel could help but wonder what adventures waited for her in japan.
Backpack contents
sketchbook and pencils
first aid kit
favorite graphic novels
cellphone
Digivice: D-3
: the grips and buttons are black, the digivice is a light blue like the color of dorumons fur.
Partners Name
: doru
Default Form
: rookie
Gender
: male
Alignment:
good
Skills/Talents
: stealthy, light on his feet and very good at scavenging
Personality
:
Dorumon is rather gloomy he always expects the worse to happen, he always sees the bad side of things and has very low self esteem and trust issues. However much like his future tamer he has a big heart and would try to help anyone that needed it, he tries to be brave but can't help but shake in the face of certain death. He is a very determined digimon, Dorumon's ultimate goal is to show others that just because he has a very unstable evolution line doesn't make him a monster . However just like amsel his big heart gets him into trouble and his determination can be a huge danger to his health as well, he doesn't know when to quite. Dorumon is a vary careful thinker, he thinks before acting and weighs which dissicon is best for the situation. Dorumon is normally quiet, he really doesn't like to talk at all, and mostly communicates thru gestures or writing. He is really not a fighter mostly because he fears his evolution line, he would rather stay a rookie then digivolve.
Holosuite Description:
Dorumons holosuit has tan skin and black hair cut into a mohawk, it has purple highlights, he still has honey golden eyes. He wears a short open vest with short sleeves, the color is purple with black highlights, Under the vest he wears a white shirt. He wears camo pants complete with black combat boots, and as a nice touch amsel gave doru sunglasses. The sunglasses and holosuit was part of what amsel calls help dorus confidence operation, doru really doesn't see this as an ideal thing for him to wear but he had to admit his tamer sure had good fashion sense.
DIGIMON'S INITIAL EVOLUTION LINE
Appearance:
Dodomon

Fresh: Dodomon
Attribute: none
Family: N/A
Type: Slime
Attacks (1)
Little iron beads- spits out small beads at a charging opponent
Digivolves to :Dorimon
Appearance:
Dorimon
In-training: Dorimon
Attribute: None
Family: Nature Spirits
Type: lesser
Attack (2 Attacks)
Little iron beads- spits out small beads at a charging opponent
Metal drop- Spits iron bead at opponent while running.
Digivolves to: Dorumon
Appearance:
Dorumon
Rookie: Dorumon
Attribute: Data
Family: Nature spirits, virus busters, dragon's roar
type: beast, animal
Attacks:(3 attacks)
Dash metal- Fires iron sphera from its mouth while charging(1 turn cooldown)
Metal cannon- stands still building up power and fires a more powerful sphere from mouth(2 turn cooldown)
Hyper dash metal- charges at opponents at high speeds and bashes iron hard head into opponent(1 turn cooldown raises speed slightly and might stun enemy for a few seconds)
Digivolves to: Dexdorugamon
Appearance:
Dexdorugamon
Champion: Dexdorugamon
Attribute: virus
Familly: Dark area, Nightmare soldier
Type: Undead, Ghost
Attacks:(4 attacks)
Cannonball- fires iron sphere from mouth, stronger if the digimon stands still to gather power(1 turn cooldown, raises attack only if he stands still)
Metal cast- metal arms glow and tries to slash at its opponent. (one turn cool down, might stun opponent for a few mins)
Darkness fang: Bites down on opponent with dark like fire coated fangs (one turn cool down)
Electric breaker- Attacks with his tail coated in electricity (two turn, small chance of paralysis)
Appearance:
Dexdorugreymon
ultimate: Dexdorugreymon
Attribute: virus
Family: Dark area
Type: Undead digimon, Ghost
Attacks:(5 attacks)
Bloody cave- attacks with the spike atop its head.(one turn cool down)
Metal meteor- summons giant sphere of metal ten times it size and shoots it at opponent(once per two turns)
Cannonball- fires iron sphere from mouth, stronger if the digimon stands still to gather power(one turn cool down)
Blood bath- Coats teeth in mercury and bites down on opponent and hold, Claws glow and coat in electricity and slash at the opponent (3 turn cooldown, moderate chance of poisoning)
Bloody tower- takes to the sky and skewers opponent then drops them(4 turn cool down can cause the user damage if they miss the opponent)
Digivolves to: Megadramon
Mega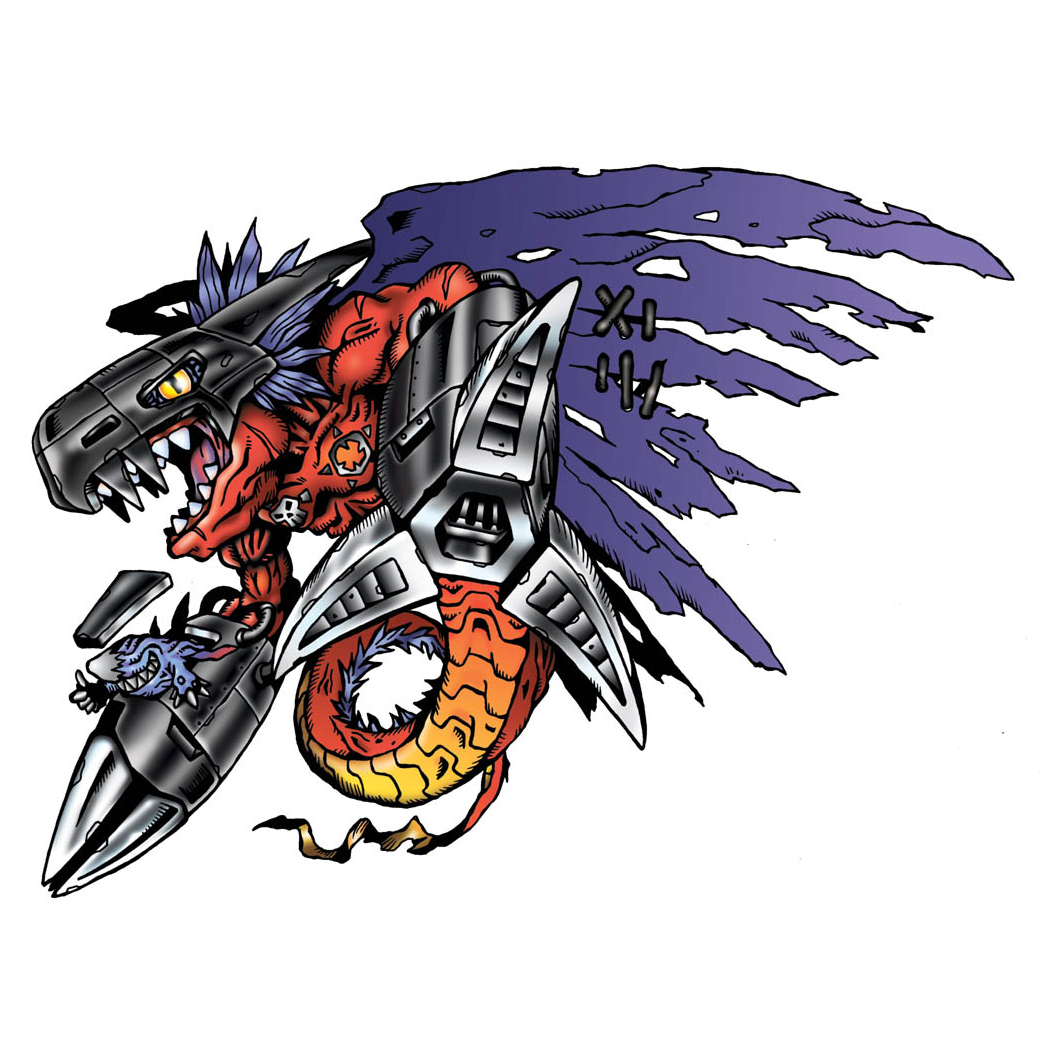 Species
:
Megadramon
Attribute
: Virus
Family/ies
: Metal Empire, Wind Guardians
Type
:
Cyborg, Dark Dragon
Fighting Style
: Fights with both close range attacks and long range, however in this form he is more comfortable using close range attacks
Abilities
: 
Genocide Attack: Attacks by shooting many rockets from his arms (1 post cool down)

Ultimate Slicer: His claws Glow and give off a metallic sheen, they become sharp, he slashes at enemies and can use his arms to send waves of slashes at enemies (3 post cooldown, raises attack for 2 turns)

Giga Blast: Concentrates a large amount of power in his left arm and shoots it toward the enemy(1 post cooldown)
Metalic Cannon: Shoots a sliver cannonball from his mouth.(2 post cooldown)
Draconic Roar: Takes a deep breath and roars, causing sound waves to slam into the enemy (4 posts cool down, may cause the enemy to become deaf for 2 posts)
Blazing Flames: Fires a blaze of flames from his mouth (1 post cooldown)
Ominous Aura: gets surrounded by purple Aura, it raises his speed and defense for 3 turns (5post cooldown)
Digivolves From
: Dexdorugreymon
Digivolves To
: Dexdorugoramon
Appearance:
Dexdorugoramon
Biomerge: Dexdorugoramon
Attribute: virus
Family: Dark area, Nightmare soldiers
Type: Undead, ghost
Attacks:(7 attacks)
Metal impulse- Spits out mercury from his mouth at opponent, mercury hardens and freezes opponent for two turns (4 turn cooldown)
Darkness wave- surrounds body with dark energy and pushes it out in a shockwave(rang attack, may stun an opponent for 3 mins)
Doru djinn- More powerful shockwave of dark energy laced with electricity(rang attack, may paralyze opponent for two turns, 5 turn cooldown)
Doru destruction- creates a cyclone of dark energy with his tail and flicks the cyclone towards opponent (1 turn cooldown)
Metallic incision- Claws glow with dark energy and faintly crackle with electricity, He rushes at the opponent and tries to slash or impale them with his claws(3 turn cool down, slightly raises attack)
Berserker screech- the digimon roars with malic lowering opponent's defence and slightly raising his attack (3 turn cooldown)
Obliteration blast- A powerful blast of concentrated electricity and dark energy that shoots out from his mouth and towards his opponent. (4 turn cooldown)