Post by Lilith on Nov 30, 2015 22:03:39 GMT
Name
: Lilith
Default Form
: Champion
Gender
: Female
Alignment
: Chaotic Neutral
Skills/Talents
:
Very Agile - Lilith has cat-like reflexes and is very good at dodging. When given fight or flight she prefers to keep people on their toes by mostly dodging. She also has incredible balance and like most cats, always lands on her feet.
Keen Eye Sight/Hearing- She can see well, from far away or in the dark. Because of this she often prowls around at night. She also can hear very well, like a cat can.
Kitty Sense - sort of like a spidey sense. She has a feeling when things are behind her and isn't as easy to spook.
Stealth - She is very good at sneaking around, and being stealthy. She is very good at vanishing into shadows due to this, and her black coat.
Inventory:
Shiny Things(she collects them)
Water
Various Snacks
Personality
:
Lilith is mostly a loner. She never had a Human partner and as such she often gets jealous of digimon who do. She will often pick on human digimon, simply because she can. But she isn't necessarily evil and doesn't want to hurt them, just be a bully. Though most of that is on accident simply by her not realizing her jokes can go too far. When she realizes she has hurt someone, she will fell bad. Though she has trouble learning how to apologize. She never really took charge of her life before and now that she is left to her own devices she isn't sure how to approach certain situations. She isn't very good at socializing and can often come off as mean when she tries. Afterwards she wonders why she failed, and usually will blame the other digimon for being too stupid. She has trouble seeing her faults, and because of this she rarely changes. She really loves anything shiny, and will often go around picking up various things she finds lying around, and putting them into her satchel. She is convinced she can do just fine on her own, but does often get lonely and desperately longs for the companionship she used to share with her sister.
NOTE: Some of her personality traits will vary depending on her evolutions, with her being more confident in ultimate and mega, and more meek and quiet when in-training or Rookie. Her champion tends to be a more middle ground.
Personal History
:
Lilith was originally born from an egg with her twin sister
Lillian
. The twins were always together, from the moment they emerged as Yukimibotamon, to when they first digivolved into matching Nyaromon. It wasn't until they first reached their rookie stage, that they realized they had some differences. Lillian gained the vaccine typing, and a holy ring around her neck. Her fur became a mix of white and lavender, the fur around her face almost resembled a sun pattern, and she had a short little bob tail. Lilith on the other hand had dark black and purple fur, with no holy ring, a crescent moon shaped pattern on her face, and a longer tail. She also gained the virus typing, making her and her sister quite different from one another.
The twins still spent their time together, but it became very apparent the two were different beyond just their looks. Lillian was a social butterfly, and made friends left and right. She was always talking to other digimon and seemed to radiate an air that made others like her. Lilith on the other hand was easily forgotten. While other digimon laughed and played with Lillian, they didn't seem to really notice Lilith over in the shadows. Because of this Lillian was easily the most dominant twin, though not necessarily on purpose.
When they digivolved to champion, the two still retained their similar appearances, with Lilith being a Black Gatomon, and Lillian being a pure and holy Gatomon. They continued like this for many years, until one day when the two were attacked. They had been chased by a group of Unimon until they fell into a pit they could not escape. Covered by fire and scorched earth, it turned out to be the lair of a Demon, who quickly attacked the two. Lillian tried to explain it was a mistake but before they knew what was happening, a massive claw came towards Lilith and then....everything went dark.
Lilith was torn to shreds, and her data was re-purposing itself as a brand a new egg. And egg that was now alone. Lilith isn't sure what happened to her sister, but when she hatches she wants to find out what happened.
DIGIMON'S INITIAL EVOLUTION LINE
---
Appearance
:
Fresh
: Yukimibotamon
Attribute
: N/A
Family/ies
: N/A
Type
: Slime
Attacks
:
Bubble Blow
- She shoots a stream of bubbles from her mouth.
Digivolves To
: Nyaromon
---
Appearance
: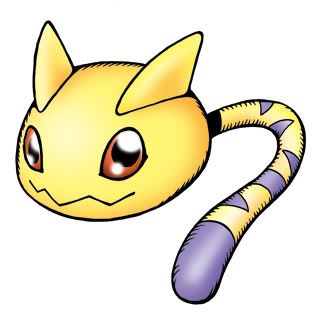 In-Training
: Nyaromon
Attribute
: N/A
Family/ies
: N/A
Type
: Lesser
Attacks
:
Shadow Sneak
- She can vanish into nearby shadows and hide from view.
Tail Whip
- She slaps the enemy with her tail.
Digivolves To
: Kurainyamon
---
Appearance
:
Rookie
: Kurainyamon
Attribute
: Virus
Family/ies
: Nightmare Soldiers
Type
: Mammal
Attacks
:
Kitten Claw
- Lilith's uses her claws to attack the enemy.
Moonlight
- When in the light of the moon, she uses it's light to heal. Cool down of 3 posts.
Neko Tail
- Her tail glows with blue flames, she then uses her tail to attack the enemy, powered up with flames.
Digivolves To
: Black Gatomon
---
Appearance
:
Champion
: Black Gatomon
Attribute
: Virus
Family/ies
: Nightmare Soldiers
Type
: Demon Beast
Attacks
:
Shadow Paw
- She strikes at the enemy with her claws
Cat's Eye
- Using a dazzling gleam, she can lure her enemies into a trance or sleep when giving direct eye contact.
- This attack is ineffective if the foe has no eyes, or if she cannot get direct eye contact. It also does not work on enemies Ultimate or above.
- The hypnosis lasts for 3 posts, and has a cool down of 4 posts.
- If the opponent is a rookie or below, she can use this trance to influence them to do something for her. In-training or lower cannot break the trance on their own. It either has to wear off(1 in character day) or she has to cancel it.
- For Rookie it will wear off after 6 posts.
Lightning Kick
- She gives a speedy kick to her enemies.
Moonlight
- Same as in her previous form, but instead she can now create a temporary light that resembles the moon, if it is not night time. This light can only last for 1 post(enough for the heal) and has a cool down of 4. If using regular moon light she has a cool down of 2 posts. She cannot create the light more then twice in a fight.
Digivolves To
: Lady Devimon
---
Appearance
:
Ultimate
: Lady Devimon
Attribute
: Virus
Family/ies
: Nightmare Soldiers, Unknown
Type
: Fallen Angel
Skills
:
- Flight in this form she is capable of flying
- Her body is capable of sinking through the objects or the ground, allowing her to completely vanish at will. It is limited to shadows however. If an area is completely illuminated it will cause her to have to resurface.
Attacks
:
Bat Blitz
- She raises her wings as bats pour out from under them and attack in mass. They vanish shortly after. Cooldown of 3 posts.
Poison Spray
- She releases a burst of poison from under her wings, poisoning the enemy. The attack has a cool down of 3 posts but can only be used twice in a battle. The poison will wear off after 5 posts.
Dark Spear
- Her long arm changes into a spear which she uses to pierce her opponent.
Stun Whip
- The chains on her right arm are used as a whip, which she slashes at the enemy with a charged electric shock.
Grapple
- Her left arm extends to grab the enemy from up to 15 feet away, and her claws grasp onto them to pull them close, or slam them into the ground. Has a cool down of 2 posts.
Digivolves To
: Lilithmon
---
Appearance
:
Mega
: Lilithmon
Attribute
: Virus
Family/ies
: Dark Area, Nightmare Soldiers
Type
: Demon Lord
Attacks
:
Phantom Pain
- She let's out a gas from her mouth, which causes the enemy to feel an incredible amount of pain. Lasts for 3 turns, and doesn't wear off until they faint for Champion and lower. Has a cool down of 3 posts.
Razer Nails
- Anything she scratches with her nails, begins to disolve like acid. When used on a digimon it will poison them for up to 3 posts. Rookie and lower should avoid being scratched, as it could begin to disolve parts of their bodies. Has a cool down of 2 posts. When in battle against another mega, it becomes less effective the more it's used with the poison's duration dropping by 1 post each time.
Alluring Lust
- She releases an aura from her wings, causing males to become infatuated with her. Champion and lower cannot break the spell on their own and requires outside influence, or for her to cancel the effect. For Ultimate and higher it lasts for 4 posts. Can only be used once in battle. Is not effective against females.(is also ineffective against homosexual males for obvious reasons)
Empress Emblaze
- she summons a large, heart shaped monster which attacks the enemy with a suicide burst. The attack deals an incredible amount of damage, anything below a mega cannot take the attack. It can only be used once in a battle, and requires at least 10 posts in a battle before it can be used.
Dark Spears
- The sharp nails on her hand quickly extend to pierce the enemy with four thin, sharp spears, which then quickly retract. Rookie and lower cannot withstand the attack adn will break into data. Champion will take significant damage. Has a cool down of 4 posts.
Demons
- She can summon small demidevimon from beneath her wings to fight for her. Each is at the level of a rookie and she cannot summon more then two at a time. They either attack with their claws until destroyed, or will self destruct on the enemy. Until they are destroyed they will stay at her side as guards. Has a cool down of 4 posts.
---