Post by Nik & Brad on Nov 8, 2016 11:28:30 GMT
Name
: Niko Henare
Alias
: Nik
Age
: 18
Gender
: Male
Height
: 6'3"
Weight
: 120kg
Alignment
: Neutral Good
Birth Date
: 19th July
Birth Place
: Tauranga, New Zealand
Skills/Talents
:
- Cooking
- Sport (namely Rugby)
- Reading
- Exploring
Backpack Contents
:
Japanese-English Translation Handbook

Kindle e-book

Field Cooker & Small Utensils

Digivice
: Grey and Blue
Personality
:
Nik is most likely one of the friendliest guys you'd ever meet. He doesn't lose his temper, he tries to cheer people up if they're feeling unhappy, and makes sure those that he cares about know that fact. He's usually calm in the face of most ordinary threats, but will launch into action if he sees someone in danger.
Nik grew up with a rather strong emphasis on sport. Being a naturally big guy most of his life, he was popular in school for his skills as a rugby player. As a child, he once dreamed about being part of the New Zealand All-Blacks Rugby team, but, as he grew older, he found that he didn't really get enjoyment out of it. Nik prefers leisurely walks through quiet areas, finding a good place to read in peace and quiet.
But Nik is happy to put his personal wants aside and do what's required of him in most other cases. While of about average intelligence, Nik is happy to learn about new things.
Appearance
:
Nik is a very large young man, standing 6'3" and weighing just over 120kg. He generally wears hiking clothes or basic shorts, sandals and and t-shirt in warmer areas. While physically a little on the tubby side, his training in rugby has developed his muscles a little so that he's rather physically strong and excels with endurance.
Nik is a native Maori from New Zealand and thus has a darker complexion. He's a very friendly teenager and is usually seen with a smile on his face. Other than his large size, Nik has no other physical attributes of note in his appearance.
FaceClaim
:
VOLTRON
•
hunk
• Niko Henare
Personal History
:
Niko was born to Ariana and Matiu Henare in Tauranga, New Zealand, as the youngest of two brothers. Growing up, Niko found that he seemed to be very talented at rugby in school and before long, joined the school team, eventually helping them win in 3 of the 7 championships he participated in.
Nik's father was employed as a geologist for coal mines on North Island, but found it difficult to maintain steady work in the downturn of the coal industry. His mother meanwhile was a bilingual Japanese teacher for the local high school, and eventually received an offer to teach English in Japan. After talks, it was agreed to go there, and so Nik began life as a high school student.
Since Rugby isn't a well known sport in Japan, Niko didn't end up joining a sports team, which was something that he found rather glad of. Finally able to cast sporting aside for more quiet pursuits, he became active in the school book club and used it to try and get a grip of the Japanese language. In return, he helped his fellow club mates to learn English and made several recommendations to them of books they'd enjoy reading.
In regards to his brother, yes, Niko and Rawiri had the usual sibling rivalry, but as they grew into teenagers, they mellowed out and got along much better. Even if Niko was bigger, he never tried to hurt his brother, and that was most appreciated by him.
---


Name
: Brad
Default Form
: Rookie
Gender
: Male
Alignment
: Neutral Good
Skills/Talents
:
- Insightful: Brad, though a little bit simple and naive, has a canny ability to see things for what they really are. If he sees something unusual or something that confuses him, he often draws attention to it. It takes a lot to successfully trick him.
- Friendly: Brad normally tries to make friends with everyone - human or digimon. Normally the only thing that would dissuade him from doing so is hostile behaviour.
Inventory:
- Baseball Cap (normally worn backwards, with "Bears" on the front and a little teddy bear face on the back).
- T-shirt (A basic red t-shirt).
Personality
:
Brad is quite simple-minded and naive, but is also very insightful and friendly. He doesn't understand complex issues or problems, and he normally assumes the best natures of people.
For the most part, Brad is pacifist. If he's attacked personally, he normally struggles back in order to escape harm. The only way Brad can be compelled to act with aggression is if someone precious to him is in danger, as he believes the only reason that someone should fight is to save a friend.
Brad tends to be very perceptive and insightful about other peoples' intentions. If they do odd things or make unusual requests that confuse him, he will normally ask them why. And after then, he will only be satisfied if they have a reasonable explanation.
Brad enjoys eating, happily consuming any food he can get his paws on and can be compelled to work in exchange for food. However, he's also one of those individuals that doesn't get fat, no matter what he eats, retaining his small frame compared to other Bearmon.
On his travels, Brad will usually try to greet individuals as friends, the only way he will not do that is if engaged in hostile behaviour. If that is the case, he will simply try to leave.
Personal History
:
Brad has led a curiously long life as a Rookie digimon. Born a few years ago as a Punimon in Primary Village, Brad's most favourite past time was simply bouncing around the outer perimeter in an effort to explore the world. However, he understood how dangerous it was, so he didn't actually leave.
Brad's interactions with the other babies were usually friendly, but curious. He saw them playing and asked why they did play-fights, and the answer was that 'because digimon are meant to fight and get stronger'. The little Tsunomon was then quickly involved with a play-fight of his own, but didn't enjoy it.
"This is horrible, I won't be a part of this" he declared.
"But if you don't learn to fight, then you'll die" one of his digimon friends pointed out.
"That would be a compelling argument if it were true" the Tsunomon said. "I have managed to survive so far without pointless fighting, therefore I intend to do so in future".
Brad maintained that philosophy, not engaging in any pointless fighting. He digivolved to Rookie a little bit slower as a result, but digivolved to Bearmon all the same. However, his growth was somewhat stunted, he is much smaller and skinnier than most other Bearmon, but had power on the rookie level regardless.
Brad quickly encountered a human and partner soon after leaving the village. In his dealings with this duo, the Bearmon learned the value of having a name. The human suggested 'Brad'. The Bearmon asked what this name meant, and the human said he didn't know.
"Why do you humans like giving names but don't know their meanings?" he asked.
"Well... our parents normally give us our names, so we don't usually grow up knowing what they mean either" the human explained. "But I can search its meaning". And it was found that "Brad" meant "Broad Clearing". The human thought that suited, because talking to him was like having a break in a large clearing in a thick forest of uncertainty. He liked that, so he kept Brad as his name.
Since then, Brad has wandered the digital world looking for pleasant adventures and lessons to learn.
DIGIMON'S INITIAL EVOLUTION LINE
---
PUNIMON

Attribute
: Free
Family
: None
Type
: Slime
Abilities
:
Bubbles
- Spits bubbles, nothing special.
Digivolves To
: Tsunomon
---
TSUNOMON
Attribute
: Free
Family
: Nature Spirits
Type
: Lesser
Abilities
:
Horn Peck:
Stabs at the foe with his horn.
Horn Vault:
Uses his horn to provide leverage for an extra long jump. Can be used to dodge attacks a little easier on that turn.
Digivolves To
: Bearmon
---
BEARMON

Appearance: Like a regular Bearmon, with shaggy grey fur and white on his underbelly. He's much smaller and skinnier than regular Bearmons, standing at around 3'8" in height and only weighing around 30kg. Normally seen wearing a t-shirt of some kind (with the belt strap around the outside). Has a long tuft of fur on his forehead.
Attribute
: Vaccine
Family:
Nature Spirits
Type
: Beast
Abilities
:
Passive Ability: Ursa Aura
- The effect of this passive ability is that if combat is initiated with Brad, a faint golden aura surrounds him. The effect of this aura is that he is less susceptible to fear and illusion based attacks from other Rookie levels so that he is less easily confused or afflicted by them.
Rumble Ripper
- Slashes his enemy at close range with his claws. A general melee attack.
Rail Smash
- Gathers green energy in his paws, then leaps slightly forward. He then punches the ground with his fist, sending a straight wave of green energy rumbling through the earth. When it hits the spot where his target is standing, sends a burst of earth energy up from under them.
Brother Bear Light
- Brad raises his paws to an ally and causes a glowing light to appear. This closes minor wounds and alleviates pain a little. [Cooldown: 1 Post]
Digivolves To
: Grizzmon
---
GRIZZMON

Appearance
: Like a regular Grizzmon, covered with purple fur with white on his underbelly. Has additional leather armor on his chest, and has the ability to rear up and fight (but not run) on his hind legs.
Attribute
: Vaccine
Family
: Nature Spirits
Type
: Beast
Abilities
:
Passive Ability: Ursa Aura Major
- The effect of this passive ability is that if combat is initiated with Brad, a faint golden aura surrounds him. The effect of this aura is that he is less susceptible to fear and illusion based attacks from other Champion levels so that he is less easily confused or afflicted by them. He is more or less immune to illusions from Rookie levels with this effect as well.
Double Maul Slash:
Rears up on his hind legs to approach the target, focusing his strength and energy to his arms, and slashes the target twice with his claws with all his might.
Crescent Dawn:
Focuses his energy from the crescent moon on his forehead, summoning forth a golden aura that is able to heal an ally. [Cooldown: 1 post]
Gaia Fortify:
Focuses his energy into the earth below, then summons forth a wall of hardened earth in front of himself or an ally. This protects from one Champion level attack or lower as long as it's active. Perfect level attacks or higher ignore its effect. [Cooldown: 1 post]

Breath of the Earth:
Cleanses a target from statuses with a rush of power from the ground below. In effect, removes any negative lingering effects from an ally. [Cooldown: 2 posts]
Living Soil:
Creates a localized area of unstable ground, making those standing on it very easily lose their balance and unable to aim or focus their attacks properly for 2 turns. Area-of-effect. [Cooldown: 2 Posts]
Digivolves To: Kyukimon
---
Perfect: KYUKIMON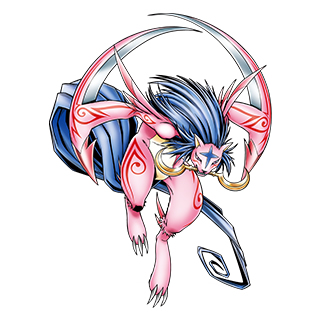 Appearance: Stands 7' in height. His pink and white segments are only skin, with his only fur being his hair and tail. Otherwise as pictured.
Attribute: Virus
Families: Nature Spirits, Nightmare Soldiers, Wind Guardians
Type: Bewitching Beast
Abilities:
Combat Passive Ability: Shielding Breeze
- There is a constant stream of wind that covers Kyukimon's body. Any attack that is based on powder, spores or gas that is targeted against him will fail, since it will be simply be blown away without reacting with him.
Combat Passive Ability: Living Wind
- If Kyukimon is afflicted with a negative debuff that weakens him, the natural wind that covers his body will reduce the effect of that debuff by 1 turn.
Data Reaper -
Slashes at his foe with his scythes. If they are hit by this attack a second time, it will deal 30% more damage. This counter resets if this effect is triggered. (ie: 0%, 30%, 0%, 30%, etc)
Trinary Star -
A combination attack with his scythes that both deals damage and stuns the opponent for 1 turn if they have used a melee attack on Kyukimon in the turn before this attack. [Cooldown: 1 post]
Life Cross -
The cross on Brad's forehead glows, then sends a burst of healing light over himself or an ally. Heals moderate damage. [Cooldown: 1 post]
Double Crescent Blade
- Rotates momentarily, his claws crossed, then slashes forth two blades of wind energy that track toward their target. [Cooldown: 1 post]
Assassin's Scythe
- If Brad is in combat with allies, and the enemy targets one of them for their turn, Brad can charge himself behind them and deal an attack that does 50% more damage. If not, this attack deals the strength of a basic Perfect level attack.
---
Armor Champion: KUMAMON
Appearance:
Like a regular Kumamon, only he has the crest of curiosity on his chest rather than the elemental crest of Ice.
Attribute:
Vaccine
Family:
Deep Savers
Type:
Beast
Crest:
Curiosity
Abilities:
Passive Ability: Snow Body
- Brad's body is virtually living snow. He is able to deconstruct and reconstruct it into a variety of ice forms, ranging from his normal snow bear form to a spike to a snow pile. This ability is difficult to perform in hot environments though.
Borealis Blaster
: Raises his quad blaster, takes aim and fires a volley of glowing aurora energy blasts at the target. Can damage one target with concentrated fire, or target multiple foes for reduced damage each.

Crystal Breath:
Exhales a breath of chilling wind that freezes an enemy in close proximity. Immobilizes the foe for 1 post. Also makes them take more damage from physical attacks while frozen. [Cooldown: 2 posts].
Cryo Hammer
: Crafts a hammer polearm from ice elemental manipulation, then runs at the target and slams it into them.

Slalom Strike
: Extends the skis on his boots, sliding at his opponent at high speed, allowing him to evade incoming attacks this turn a little easier. Then jumps and aims a kick at the foe. [Cooldown: 1 post]

Kuma Ice Storm
: Brad's finishing attack. Casts a burst of freezing energy on his target, which blossoms into a explosion of ice spikes. Prevents movement (but not attacks) for 1 turn. [Cooldown: 3 posts]
---
Armor Ultimate: KORIKAKUMON
Appearance:
Like a regular Korikakumon, only he has the crest of Solidarity on his wrists instead of the symbol of Ice. Stands 13 feet tall.
Attribute:
Vaccine
Family:
Deep Savers
Type:
Beast
Crest:
Solidarity
Abilities:
Combat Passive: Winterized Fur
- Brad's fur is very thick and coated with waterproof natural oils that protect him from the cold, even in freezing water. However, it makes it more susceptible to fire attacks. Reduces damage from all Ice elemental attacks by 50%. Increases damage from Fire elemental attacks by 50%. Reduces the duration of debuffs from Ice elemental attacks up to the Perfect level by 1 turn.
Combat Passive: Berserker Soul
- Every hit Brad takes in battle increases his attack power by 5% (once per turn) until the end of hostilities, for a cap of 50%.
Frozen Arrowheads:
Brad launches the harpoons from his head at the opponent, which if they make contact with the enemy, will freeze them in place for 1 turn, immobilizing them. [Cooldown: 3 turns]
Glacier Wall:
Brad roars and summons forth a wall of ice 15 feet high and 30 feet in length in front of himself and allies. For 1 turn, it will stop up to 1 Perfect level attack or 3 Champion level attacks before shattering. [Cooldown: 2 turns].
Yeti Ravager:
Brad launches a devastating melee attack with his twin axes, aiming to deal as much damage as possible. Doing so tires him, but damage is increased by 30% if the enemy is pinned down with Frozen Arrowheads. [Cooldown: 2 turns]
Avalanche Tomahawk:
Brad hurls his two axes at the enemy. Can aim both axes at one opponent, or one axe at two opponents for half damage each. The axes are drawn back to him after they make their attack on the enemy.
Crystal Lancer:
Brad slams one of his axes into the ground, rapidly summoning forth an array of icicle spears that reach up to 30 feet in length that aim to stab the opponent. He can use this attack to counter enemy melee attacks before they hit, but does nothing to stop ranged attacks. [Cooldown: 1 turn]
---
MercenaryDigimon Name
: Bixby
Default Form
: Rookie
Gender
: Male
Alignment
: Chaotic Good
Personality
: Bixby is a very curious digimon with a lifelong goal to learn about everything he encounters that he doesn't know already. This includes objects, phenomena, unusual digimon, and even humans. He does his best to do so while maintaining the guise of an ethical scientist, but sometimes his excitement gets the best of him and he can be a bit "forward" about learning new things when given a wealth of information all at once.
However, as a "novice" scientist, Bixby's ethics all revolve around service. He's in the business of science for the betterment of the world, and he will refuse to conduct or participate in any experiment that involves harming others.
Other than that, Bixby is something of an excitable know-it-all with a big ego and a hover-pod. Giving him an unfortunate habit of hovering just above the reach-level of others that mention something that requires his "expertise" and he has an unfortunate habit of "Monsplaining" whenever given the opportunity. His bark is worse than his bite though, he'll only begin attacking if he or his friends are attacked first.
Also, as a matter of principle, Bixby will withhold any information he knows about creating weapons of war - and will only dispense with information about how to counter them.
Personal History
: In the days of the DWR, over 100 years ago, Bixby was an active member of the science division, tasked with coming up with new technologies and means of advancing the quality of life of the old republic. However, in its final days, he was tasked with assisting his seniors for designing and creating weapons of war - a decision he regrets to this day.
In the dying days of the DWR, as the nation came crumbling down, Bixby was tasked as part of the critical staff of one of their labs in the Shining Sea. He knew his final task and performed it with grim determination - seal the DWR lab that he was stationed in, then put himself in stasis until the "all-clear" was given. This didn't happen for another 100 years, when a former trusted soldier of the DWR opened it - namely Sergeant Braddon Grizzmon of the 7/71st (so he had been identified as). Bixby assisted them along with Toki in finding Brad's partner Nik's Armor Ultimate digimental, and since then, has followed them around.
Bixby finds being the scientific assistant for KIZNA very enjoyable and well within his expertise. When in Ys he often spends his time in the library, looking over scientific texts. He also can be rather fascinated with humans, especially their own scientific discoveries and relationship with the digital world.
DIGIMON'S INITIAL EVOLUTION LINE
---
FreshSpecies
: Pitchmon
Appearance
: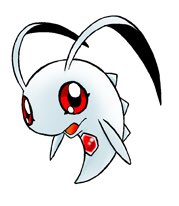 Attribute
: Free
Family
: None
Type
: Slime
Abilities
:
Bubbles - Standard Baby digimon attack. Fires mildly irritating bubbles at the enemy.
Digivolves To
: Bukamon
---
In-TrainingSpecies
: Bukamon
Appearance
: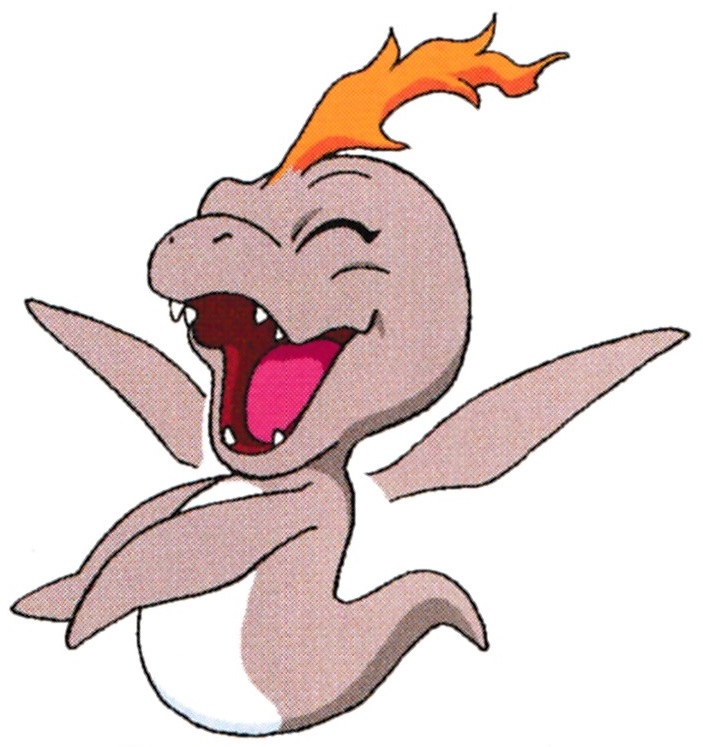 Attribute
: Free
Family
: Deep Savers
Type
: Lesser
Abilities
:
Combat Passive: Air Swimming
- Bixby in this form can levitate in the air up to a height of 2 meters. An ability he enjoyed so much that he invented a device so that it can be used in his Rookie form.
Bubble Blow:
Another standard in-training attack. Spits a jet of irritating pink bubbles at the foe.
Digivolves From
: Pitchmon
Digivolves To
: Gomamon
---
RookieSpecies
: Gomamon
Appearance
: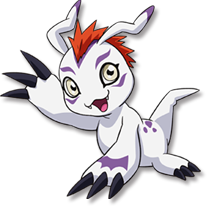 Attribute
: Vaccine
Family
: Deep Savers
Type
: Marine Animal
Abilities
:
Non-Combat Passive: Swimming
- Naturally, as a Gomamon, Bixby has the ability to swim and have no trouble with breathing underwater.
Combat Passive: Hover-Pod
- Bixby is equipped at all times with a small levitating pod that grants him the ability to fly around the battlefield up to a height of 15 meters. Furthermore it has an on-board database in which he can use for study and recalling notes, but has little else in the way of scanning abilities.
Hard Rain:
Similar to the standard Gomamon attack of Marching Fishes, only Bixby summons a shower of water-spears, that strike the foe with high pressure, damaging them with stabbing pain. Area-of-effect is 5 meters with a range of 20 meters. [Cooldown: 1 turn]
Bubble Shield:
Bixby's hover-pod creates an energy shield that either blocks 1 rookie attack, or reduces the damage from a Champion attack by 50% before destruction. In-Training and Baby attacks do not affect it. Lasts for 1 turn if it is not destroyed, then fades. [Cooldown: 2 turns]
Thunder Beam:
A surprise attack from Bixby's hover-pod. Sends a beam of electrical energy at the foe. Damage is increased by 30% against Deep Saver and Metal Empire family digimon.
Digivolves From
: Bukamon
Digivolves To
: Gomamon-Rider
---
ChampionSpecies:
Gomamon-Rider
Appearance:
While retaining his normal Gomamon form, Bixby equips himself with a walking chassis roughly resembling
Magitek Armor
. A walking type mech, this machine is connected to the power of his own digicore, replacing his standard digivolution form.
In Bixby's case, the armor stands 7 feet tall, and is steel-grey in colour. It has 2 legs for mobility, 2 arms with electrified claws, 2 shoulder-mounted missile launchers, and a central laser cannon in the center. In addition to this, it has 4 drone launchers mounted at the back, and has attached propellers and ballast tanks for water-based combat.
Bixby rides this mech in a protected cabin at the 'head', while still retaining his Rookie level hover module as a means of freely exiting and entering it at will, but he must be conscious and the mech still operational for him to do so. Also he must not venture more than 150 feet away from it due to his connection. As the mech is connected directly to the power of his digicore, Bixby has the ability to 'evolve' to this form at will, and for all intents and purposes, has the attack and defense power of a full merc Champion level.
Attribute:
Vaccine
Family:
Deep Savers, Metal Empire
Type:
Marine Animal
Abilities:
Combat Passive: Seagoing System
- In this form, Bixby is still capable of operations above and below water. The mech can act as a submersible when possible, complete with life support, and can float and maneuver on the surface if required.
Combat Passive: Auto-Repair
- As the mech draws power from Bixby's digicore, it can self-repair a slight amount of damage each turn. However, if it is destroyed in battle, the shock to Bixby's system is so great that he will automatically revert to his Bukamon form.
Harpoon Torpedo:
Bixby's shoulder-mounted launchers activate and launch two homing missiles at one target, or one missile at up to two targets for half damage each. These missiles have homing capabilities, increasing their accuracy. [Cooldown: 1 turn].
Aurora Cannon:
Bixby's chest laser briefly charges and fires a beam of light at the enemy that glows like aurora. No additional effects and no cooldown.
Sparking Swipe:
Bixby directs his mech's claws to swipe at the enemy while sparking with electricity, aiming to temporarily shock them. If it hits, deals 30% more damage to Deep Savers and Metal Empire family digimon, and 30% less damage to Virus Buster and Jungle Trooper family digimon. Also the target's cooldowns do not decrease for 1 turn. [Cooldown: 1 turn]
Marching Fish Drones:
Bixby's mech launches 4 automated fish drones that hover around him for 3 turns. Each turn, these drones may launch 1 laser projectile attack each that is 1/4 the power of a regular Champion level attack; 1 drone may intercept an incoming Rookie level attack before being destroyed, or all 4 drones may intercept 1 Champion level attack. [Cooldown: 5 turns]