Post by Devidramon on Feb 23, 2017 19:37:59 GMT
Names
: Lord Gulfmon
Alias:
Kamoto Jiro
Default Form
: Gulfmon
Gender
: Male
Alignment
: Neutral Evil
Skills/Talents
:
Intimidating: Gulfmon knows how to scare others into doing his bidding

Knowledge of humanity: Having already spent a long time as a partner digimon he already knows a lot about how Tamers operate, the human world and what they should know.

Surprise attack: It is very difficult to predict exactly when he attacks without past experience
Master lier: Gulfmon's delusion is so huge that he believes his own lies no matter how detached from reality he is. When not even Gulfmon himself can tell a lie from a fact there is little chance anyone else can tell when Gulfmon is lying.
Inventory:
Shattered digi-device that originally belonged to his tamer, is beyond repair and unusable.
Artifacts:
Ebonwumon's Grace (Strong Artifact]
An impossibly sweet set of tea leaves grown in the ancient Digital World, held on a strong cord. On use, the user is healed by 10% over three posts (30% total) and attacks gain the nature element. Three post duration, once per thread.
Personality
:
Gulfmon is a very arrogant digimon. Even as rookie he considers himself the most powerful digimon in existence despite obvious evidence to the contrary. This arrogance reaches the point of narcissism and delusion as even being beaten to the pulp would at most convince him that he choose to spare the opponent rather than admitting he was defeated. He believes humans to be the lowest species only valuing them for the power of their digi-device. Other digimon are either in his way or tools for him to further his own agenda. Despite having neither the authority, power or at least the political influence, he insist that he is the Lord of the Digital world and will attack anyone who says otherwise. While he isn't above making promises nor respecting a law he will only keep his side of the bargain as long as it benefits him the most, the second he realizes a better opportunity is within reach expect him to turn on even his closest ally.
By the end of the day, the only one he cares about is himself. In theory, he could have been the severe threat he claims to be if only he was capable of seeing reality in the eyes. Even if he against all odds did become the Lord he claims to be, his arrogance and delusion would bring his regime to an end in weeks.
Personal History
:
Gulfmon started out as a Patamon to a tamer, back in the past he was a relativity friendly digimon. His partner was amazed by the digital world and so was Gulfmon. There was just one problem, the tamer he was bonded with loved the fighting aspect of the digital world too much. Every time Gulfmon defeated an enemy it made his tamer proud, no matter the implications of Gulfmon's actions he was told that he was perfect that he was strong. The compliments went to his head to the point where he thought his only purpose was to fight and get stronger.
In the beginning, this went unnoticed by the tamer who simply thought it was about becoming the best of all. Then as he dark-digivolved into Devimon rather than Angemon his tamer was starting to realize that something was horribly wrong. Gulfmon was getting crueler and more ruthless for every time they fought afterwards, while he was capable of cracking a joke once in a while initially that part of his personality disappeared over time as well. Unlike most dark digi-volutions Gulfmon did not return back to his regular Patamon, instead he started fighting more on his own without input from his tamer. Even though Gulfmon had clearly crossed a line he forced his tamer through intimidation to not only continuing to follow him around feeding him data but telling him how great and powerful he was. By now the roles were reversed, the former tamer was reduced to little more than a cheerleader at best and a battery/pet at worst. This culminated in Gulfmon getting a 2nd Dark-Digivolution as a Myotismon by now he started calling himself the Lord of the Digital world and pressured his partner into agreeing with him at all times. When Gulfmon tried to force his Tamer to biomerge, his tamer finally got the courage to put the foot down, insisting that enough is enough.
Saying that Gulfmon did not take the no well would be a understatement of astronomical propertions, in his mind his tamer had deceived him. Never in his life had his tamer said no to him, filled with rage he attacked and killed his own tamer in one single attack, the digi-device was destroyed by the cross-fire.
Unfortunately for Gulfmon, without a tamer and a digi-device he could no longer sustain his mega form. In order to cope with the loss his body reformatted into a Tsukaimon. Even to this day, he still insists that he is the lord of the digital world and because of his tamer's "betrayal" he considers all humans equally weak.
DIGIMON'S INITIAL EVOLUTION LINE
---
Appearance
:
Fresh
: Kiimon
Attribute
: Data
Family/ies
:N/A
Type
: Slime
Abilities
:
Bubble blow: Fires tiny bubbles that turns into acid on impact.

Digivolves To
: Yaamon
---
Appearance
: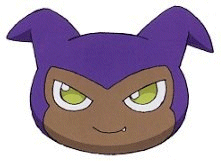 In-Training
: Yaamon
Attribute
: None
Family/ies
: None
Type
: Lesser
Abilities
: [2 Abilities]
Rolling black: Shoots a ball of energy from his mouth (cool down 1 post)

Headbutt: Self-explanatory (jumps into the enemy)

Digivolves To
: Tsukaimon
---
Appearance
:
Rookie
: Tsukaimon
Attribute
: Virus
Family/ies
: Nightmare Soldiers, Wind Guardians
Type
: Mammal
Abilities
: [4 Abilities]
Evil Spell: Due to negative energy. No matter the personality of the victim, the opposing digimon is guaranteed to feel emotionally hurt by Gulfmon's insults doubled so if they would get hurt even regardless of this technique. Does not work on digimon above rookie level (duration: All dialogue in the post it's used in, affected lines should be highlighted for convenience. Cool-down: 2 posts) Game-play note: The opposing player still decides how the insults in question affect their characters.

Friendly fire: Shoots a small fireball from his mouth. (cool-down 1 post)

Fluffy attack: He rams into the target at full speed

Purple haze: Makes a small cloud of poisonous smoke that deals small damage during the next 2 posts to anyone who inhales it. (cool-down 2 posts)

Digivolves To
: Devidramon
---
Appearance
:
Champion
: Devidramon
Attribute
:Virus
Family/ies
: Unknown, Nightmare Soldiers
Type
: Dark Dragon
Abilities
: [6 Abilities]
Crimson Claw: Slashes the opponent with his claws
Red Eyes: His eyes glows red paralyzing anyone who looks into them for 1 post. (Duration 1 post. Cool down 2 posts)

Demonic Gale: He flies in the sky at high speed then slashes the air. The attack sends a large shockwave towards his target. (cool down 2 posts)

Hell fire: Shoots a large ball of fire from his mouth. Contrary to its name, this is regular fire. (cool-down 2 posts)

Rapid hate: For one post he releases all his rage and aggression most of the times in a roar. A roar is optional if another display of anger is dramatic enough to substitute. By the end of the post he has healed himself a third of his damage. It is mandatory that he behaves completely irrational and berserk for the entire post for healing to occur. This includes but is not limited to failing actions/checks that would require larger thought process than fight/flight mentality (cool down 3 posts)

Flight (passive): While all his forms post-rookie are capable of flying, Devidramon is his fastest and most qualified flyer. He is capable of high speed for his level and impressive air acrobatics.

Digivolves To
: Mephistomon
---
Appearance
:
Ultimate
:Mephistomon
Attribute
:Virus
Family/ies
:Nightmare Soldiers, Dark Area
Type
: Evil
Attacks
: [7 Abilities]
Dark Cloud: Creates a large cloud of darkness, plant life affected by the attack withers. Painfully corrosive to touch. (Cooldown 2 posts) (duration 4 posts)

Shadow beam: Shoots a beam of dark energy from one of his palms

(Actual) Hell Fire: Throws a large green fireball. The flames burns on any surface but does not spread. The flames can only be extinguished by a holy attack or if Gulfmon decides so. (cooldown 2 posts) If Gulfmon is absent or knocked out, the fire is also extinguished.

Ram attack: Like a regular goat he lowers his head and attacks in a headbutt

Blink: Gulfmon seemly catches green fire and burns out in as short time as a millisecond. He leaves no ash and instantly reappear another place within a radius of 100 yards of his choice. (cooldown 2 posts)

Father death: Gulfmon claps his hands together as a scythe of pure dark energy forms in his hands. Gulfmon can only have one scythe at the time.
Mega fist: Charges his hands with dark energy, making any fist attacks such as pounces dangerous. (cooldown 2 posts duration 4 posts)

Digivolves To
:Gulfmon
---
Attacks
: [7 Abilities]
TBA
Digivolves To
: Gulfmon
---
Appearance
:
Mega
:Gulfmon
Attribute
:Virus
Family/ies
:Dark Area, Nightmare Soldiers
Type
: Dark Animal
Abilities
: [9 Abilities]
Digivolves To
:Grand Dracumon
Genuinely terrifying (passive): Gulfmon is a fearsome digimon. At the very least a super mega is expected to feel uncomfortable in his presence.

Black Requiem: Shoots a beam of dark energy from the mouth on his torso (cool down 1 post)
Dead scream: Makes a deafening scream from the mouth on his torso, paralyzing everyone who hears it for 1 post. It is said that those who hears it will soon die. (cool-down 2 posts)

Devil's tongue (passive): When Gulfmon tries to tempt someone such as by lying or offering deals, his words are supernaturally enchanted to speak directly to the urges of his listener. This ability has the greatest effect on evil aligned characters. Gulfmon still has to offer something that the listener would want under normal circumstances for this ability to work properly. The limits on this ability depends on the maliciousness of his listener rather than level as well as the nature of the bargain. A fresh leveled pacifist who could literally never harm a fly would have an easy time resisting an offer to kill an innocent for bits while a super mega Apocalymon bend on destroying the world would almost certainly accept without a second thought. Limits: The ability can be resisted, usually by common sense (is Gulfmon really able to turn the sky into gold?). Gulfmon can only make one bargain per listener per thread. Regardless of the outcome, listeners are immune after 3 posts for the rest of the thread. Within these posts Gulfmon must seal the deal or the ability is wasted. When the duration expires Gulfmon only has as much charisma as a regular digmon.

Evil hands: An upgraded version of mega fist, he concentrates dark energy in his hand causing green flames to appear in them. He then charges into his opponent (cool-down 1 post)

Flamethrower from hell: Shoots a large flame out from one of his hands with intense heat. (cooldown 1 post)

Father death: Gulfmon claps his hands together as a scythe or lance of pure dark energy forms in his hands. Gulfmon can only have one scythe at the time.
Stampede: Gulfmon runs at very high speed trampling down anything that stands in his way like a rhino.

Blink 2.0: Gulfmon seemly catches green fire and burns out in as short time as a millisecond. He leaves no ash and instantly reappear another place within a radius of 200 yards of his choice. (cooldown 2 posts)
---
Appearance
:
Super Mega
:Grand Dracumon
Attribute
:Virus
Family/ies
:Nightmare Soldiers
Type
:Demon Beast
Abilities
: [10 Abilities]
Emotional vampirism (passive): Gulfmon feeds off of negative emotions such as anger and despair. The more miserable people and digimon around him are the more powerful he is. On the other hand, he can be critically weakened if enough people around him are happy. It is possible to reduce his power level to the equivalent of an oversized Fresh level by constantly refusing to give in to attacks such as Evil Mist.

Natural parasite: Gulfmon stands motionless for the majority of the post sucking out energy from all life around him which in turn heals him. Plantlife near Gulfmon withers and dies. The power of the attack depends on the environment. As an example, it is very powerful in Server Woods but nearly useless in Folder Desert. (cooldown 5 posts)
Dark swap: Inverts one ongoing status effect of his choice for the rest its duration or until he uses it again on the same status effect. Has no effect on holy status effects. (cool-down 2 posts)
Evil mist: Spreads an enormous gray fog that is difficult to see through. Digimon and humans alike who enters the mist are forced to remember their deepest fears and worries. Can be resisted by happy memories or contradicting the thoughts. Immunity is granted open overcoming ones problems, refer to the 7 stages of grief for inspiration. (Duration 5 posts cooldown 2 posts)
Black Requiem: Shoots a beam of dark energy from the mouths on his torso (cool down 1 post)
Dead scream: Makes a deafening scream from the mouths on his torso, paralyzing everyone who hears it for 1 post. It is said that those who hears it will soon die. (cool-down 2 posts)
Father death: Gulfmon claps his hands together as a large flaming scythe of pure dark energy and hellfire forms in his hands. Gulfmon can only have one scythe at the time.
Triple mind (passive): The heads on Gulfmon's torso are semi-autonomous, while his upper head has the final say in all actions and can mentally overpower them anytime they can also act on their own. This mentally allows him to use strategies such as having both his lower heads bite an opponent once before making an attack of his own.

Eye of the Gorgon: Gazes into the opponent's heart/digisoul, if the target has evil intents their urge to act on that intent is magnified tenfold making it next to an impossible task for a pure evil being not to give in to their inner desire. Warning, if the intent is to defeat Gulfmon that desire is likewise magnified. Prone to backfiring on heroic targets and blood knights by making them even more motivated to win as result. (cooldown 5 posts, duration 1 post)
Madness gaze: Gulfmon's eyes in his upper head glows red for 1 post, during this post all who looks him into his eyes gets voices in their head screaming loudly what they least wants to hear. No one but the victim can hear the voices and the victim themself are almost deaf because the screams can outshout everything but the loudest yells. There's a slim chance of driving a victim insane should they start to agree with the voices, a decision not recommended. If the victim can win an argument against the voices, the attack ends instantly. (duration: 2 posts cool-down: 4 posts)

---
Holosuit: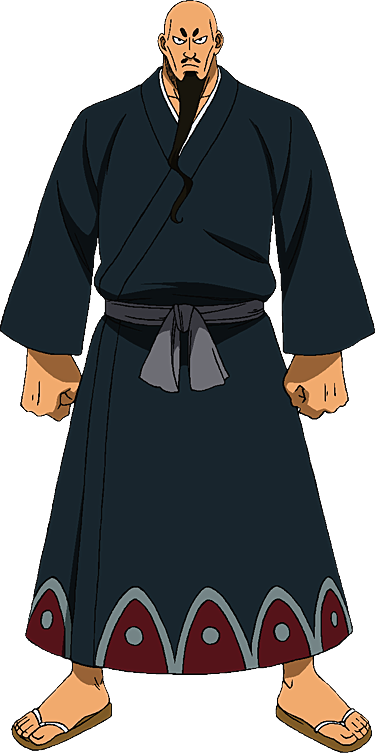 FaceClaim
: FAIRY TAIL• neekis jura • Neekis Jura
---