Post by NolChannel on Sept 13, 2017 0:44:51 GMT
Name
: Ami Toruga
Alias
: Ami
Age
: 21
Gender
: Female
Height
: 5'8"
Weight
: 148 lb
Alignment
: Undecided
Birth Date
: May 27
Birth Place
: Western Shibuya
Western Horoscope
: Gemini
Eastern Zodiac
: Rooster
Skills/Talents
:


Baker and Cook: For this, blame her upbringing as a baker's daughter! With either a campfire or a stove, Ami can make something actually decent from scratch. This has been accented by her time in the Digital World, though expect a lot of 'metal pot' food like stew or chili.


Basic Wilderness Training: And for this, blame Koneka: at least as far as the Digital World goes, Ami knows enough that she's not tripping over herself.


Personality
:
Even from above, it can be made quite obvious that Ami is more-than-somewhat of a tech-head. A normal school-girl by anyone's perspective, Ami is somewhat of an introvert. She is, however, capable of extensive, meaningful conversations given the right topic or the right person. And, as expected from a normal person, despite being an introvert, she is capable of having and has several normal friends. So, given no interesting plot, she's a normal girl.

So, let's strain it a bit. In an exam or pressure setting, Ami is remarkably capable of keeping calm about the situation. Unless her condition is in dire straits, she will always resort to her brain in any difficult situation. Further, she usually puts herself last and is the most likely one in a group to be a diversion. She prefers to handle any situation head-on. Finally, she believes enough in the paranormal to believe it to be plausible.
Well, that's how she
was
, anyway. After several years in the Digital World and along with Valeria and Koneka, Ami's more-or-less dropped her tech habit over the years. She's become increasingly open and much less shy in conversation, at least among tamers of the Digital World. After all, everyone there's pretty much in the same boat!
Appearance
:
As expected from the above height and weight, Ami has a rather average figure. She has rather simple, naturally black hair dyed for a slight red tint, hanging down to just between her shoulder-blades in a single ponytail. Green eyes accompanying her slightly pale skin, she wears contacts, noticeable at the slight 'glowing nature' of her eyes. As a constant, she always wears a wrist-watch and a sling-over-one-shoulder backpack, but as far as her earthly-clothes are, well, it appropriately varies by weather or whim. The only further constant are her black tennis shoes.
Of course, involvement with the digital world in certain individuals results in an 'ideal wardrobe'. For what it matters, in the digital world, her clothes are at a constant: she wears a white undershirt mostly concealed by a leather jacket, fingerless gloves accompanying this jacket by the seams. This is further met by black jeans and similar tennis shoes, the shoes in far better quality in the digital world since they don't know the definition of 'wear' by themselves. This can still slightly vary by weather, but only from what clothes she can find or buy. As an addendum, in this form, she is far more likely to wear sunglasses simply because they 'fit the wardrobe', though, oddly enough, they were not included in the ideal set.
Personal History
:
Twenty-one years ago, Ami was born in Western Shibuya to a rather typical family. Her father worked in an office to manage computer designing, and her mother was a work-at-home baker. From then to now, her home has been the second floor of this rather modest estate. She occasionally helps and helped her mother cook, but there is nothing more that she detests doing. After all, more than ten years of smelling fresh bread... she got quite sick of it.

What she didn't get sick of, however, was what her father was more familiar with. She developed an early interest in computers, and by the age of twelve, could make and develop an operating computer in the most basic sense. Construction not her fancy, she went into programming as a hobby, and, as a result, was several classes advanced in the technological aspect of her school. Sure, she was branded a nerd, but she shrugged it off, and they gave it up after a month. To date, she's still a techie, and still is fascinated by the near-paranormal existence of the phenomenon of computers. I think we know where that one is going.
[/blockquote]
After several years in the Digital World, though, 'where this is going' is definitely not 'where we ended up'. Through several adventures whose details have been experienced firsthand, Ami's decided to give it a real go in the Digital World, and see what she can do on this end. Currently, she works along with Valeria under Koneka as part of a 'Medic and Service' group from Terminus.
Backpack Contents
:

- Basic cooking supplies
- Basic camping gear

Digivice
:
_______________________________
Partner's Name
: Valeria
Default Form
: Rookie
Gender
: Female
Alignment
: Undecided
Skills/Talents
:
Fluid: Excellent at not letting pain result in not resolving an action, Valeria will always keep her eyes on the target if it is not an impossible target to achieve.
Listening: In addition to keeping her own thoughts on the situation, she always keeps her second set of eyes (Ami) at the forefront of her mind. Two brains are better than one! (Good communication)
Personality
:
A harsh contrast to Ami in certain respects, Valeria is more of an extrovert, and, above all, a loose cannon. Training, to the death, or even that wall, she loves to fight and blow stuff up. And she'll want to do it often; nothing is more in her comfort zone than watching stuff burn down.
Of course, Valeria's not all about violence... that would make her a soulless evil drone, wouldn't it? No, she's quite capable of making friends, and does so rather openly, having a rather kind, if brash, personality. Though she doesn't think so, this makes it hard to get to know her, as this puts up an unintentional front. But, at least she means well. Unless she's making you explode.
Further, if I were to bring up one other thing... despite being social, Valeria, at least in battle, finds herself being very self-sufficient. This goes with being a front-line fighter, but she detests fighting with others close by. For the most part, being limited in space limits what she can do with AoE attacks, and this makes her very suffocated in that respect.
Holosuit Appearance
:
CODE GEASS
•
C.C.
• Valeria (Holosuit)
DIGIMON'S INITIAL EVOLUTION LINE
---
Fresh/Baby
: Chinomon
Appearance
: An adorable plushy pink ball with blue eyes and a taft of yellow fur on the top of the head. Um... yeah.
Attribute
: Data
Family
: Slime
Type
: Slime
Attacks
:
Bubble: Acid bubbles akin to 99% of fresh types. You know, that weak attack.
Digivolves To
: Yangumon
---
In Training/ Baby II
: Yangumon
Appearance
: Still pink but with a definite form of skin. Eyes are better defined, now with whites and a blue iris. Moving by hopping, this ball now has a mouth and small fangs in addition to her fur, which trails down the back.
Attribute
: Data
Family
: 'Lesser Digimon'
Type
: 'Lesser Digimon'
Attacks
:
Bubble: Fly, my pretties! Erm... slightly explosive bubbles akin to 99% of In Training types. You know, that other weak attack.
Blood Draw: A terrifying bite... when compared to other In-training types. The fangs hurt and can tear flesh... if they can latch.



Digivolves To
: Usagimon
---
Rookie/Child
: Usagimon
Appearance
:
In rookie, Valeria takes the form of a blue-eyed jackrabbit with golden fur. She stands a foot and a half at standing height. This is slightly big and heavy for a rabbit, but, in the very least, in this form, Valeria can make a somewhat convincing stuffed animal, although she would be somewhat gaudy. This is due to the golden necklace around her neck, embedded with four gems: a ruby, a sapphire, an emerald, and an onyx. These serve as her main form of attack in this state, and serve as 'horcruxes' several stages later on.
Her eyes remain blue, but other than that, nothing especially stands out for this rabbit among the crowd. Her claws are normal-colored and small, obscured enough by the fur so that it hides the fact she has claws. Valeria's teeth are slightly sharper than the average rabbit, specifically on the incisors. A slight darker, goldenrod tuft of fur exists on the top of her head. Finally, the only real marking she has is a small white spot atop her front-left paw.
Attribute
: Data
Family
: Nature Spirits
Type
: Beast
Field Ability
:
Dig: Akin to that of desert rabbits, Usagimon are exceptionally good at digging holes. Useful outside of battle.
Attacks
:
Spiked Fur: Valeria stands her fur upright into spikes, solidifying them slightly for either a quick defense or a concussive, lashing tackle. One post cooldown.
Remote Detonation: A gem from the necklace launches outward, hits a target, and lets forth a powerful explosion (from rookie level, at least). 'Explosions' from this attack are arcane in nature, a concussive blast propelling from a central point. They radiate the color of the central gem. Only one gem can be used per post; this ability is limited to one per gem (four times per fight).

Lunge: After a bit of focus, lets forth a powerful exertion from the rabbit's leg muscles to greatly increase momentum. Can be used for a direct tackle, or can be combined with another move to increase effectiveness. If used with another technique, Lunge gains a one-post cooldown.

Usagi Blast: A basic energy attack, Usagimon prepares a golden ball of energy inside of its mouth, launching it out a moment later. Causes a physical impact and a slight burning upon hit.
Earth Claw: Through the use of her 'dig' ability, Usagimon can affix pieces of earth or rock to her body, acting as claws or armor. Movement speed is reduced while using this technique. The armor generally falls off after a single serious hit. Two post cooldown.
Digivolves To
:
Chisiomon
Huokokumon
---
Champion/ Adult
: Chisiomon
Appearance
:
This is a drastic change from the last evolution in more than one cast, starting with the digivolution: Valeria's eyes roll back into her skull, briefly replaced by two black, shiny surfaces. Four lights stream up from her neck-piece and converge at a point above Valeria, at which point, the rabbit's remaining frame quickly dissolves into useless trash data, red for a moment before turning blue and following after the lights.
The data and gems converge at a point, to which the Champion is born, Valeria. Standing at six feet with a wingspan equaling her height, Valeria has taken the form of a 'plant-fairy'. Her head is adorned with green, rootish hair accompanied with a crown of rose-vines, four beautiful red rose bulbs delicately connected within. Her eyes are completely black, much akin to an insect, though her wings continue the plant theme, looking to be strong, pinkish leaves. The stems within the wings also go with the appearance, a slight green tint to these, but not enough to throw off the pink. Further, the wings have no rough corners, much like the wings of a butterfly.
Her lime-green frame is covered by a leafy garb, leaving only her arms and lower-legs exposed, dressed in much like a light, full dress. Finishing off the appearance, she has black, sharp and shiny fingernails, as well as two powerful-looking fangs within her mouth.
Her flying is limited in this form: after three exchanges in the air, she is then forced to ground herself for three exchanges.
Attribute
: Data
Family
: Nature Spirits
Type
: Fairy
Field Ability
:
Photosynthetic Healing: Outside of battle and in direct sunlight, Chisiomon are capable of regenerating to heal basic wounds. Not useful against poison.
Attacks
:
Explosive Palm: A tense energy is built up from her palm, which is let forth in a powerful explosion, preferably close-range with the enemy. 'Explosions' from this attack are arcane in nature, a concussive blast propelling from a central point. They radiate the color of the used. Only one gem can be used per post; this ability is limited to one per gem (four times per fight).

Rose Blades: Valeria takes one of the roses from her crown, and crushes it in her palm, letting forth a number of small rose petals, which can be controlled by Valeria in the manner of its spread: either an Area of Effect attack or a focused attack of lacerating damage. Attack damage is greatly diminished if armor is present, and is also diminished if a spread is chosen over a focused blast. Naturally, the number of uses is the same as the number of roses: four.

Vampiric Bite: An ace-in-the-hole against evenly sized targets, the beginning of this attack is simple: a bite against the open flesh of the opponent. If this attack connects, one of Valeria's gems within her body can be sent into the opponent's frame, where it will rest for one post. In the following post, by clenching her fist in the following turn/post, the energy within the gem explodes outward, causing massive internal damage to the area. Using the gems, it can only be used four times per thread, and more than one gem cannot be inserted into the same target (This shares 'ammo' with Explosive Palm).

Relative Immortality: Valeria's four gems are spread within her body at this point: if all four are removed, Valeria is deleted. However, as a trade, if Valeria's body experiences otherwise-mortal damage, she merely ranks down to Rookie or In-Training, depending on the damage taken. (Piercing the heart or brain are examples of such mortal damage, of course. Total incineration seems to also get the gems, dang it.)
Devimon's Darkness Wing: A move obtained by absorbing the data of Devimon, a dark aura briefly covers Chisiomon's wings. With a powerful flap, the darkness breaks into several dark fragments sent flying towards the enemy.
Venom Nail: A melee technique, Chisiomon's nails glow an intense bright green, fortifying their ability to cut into the enemy. Upon a successful scratch or slash, a painful poison is applied to the enemy that causes a reduction of reaction time. Multiple applications of the poison can worsen the damage, at the victim's discretion. Even if reapplied, the poison's effect of reducing reaction time goes away in three posts (however, the poison does damage the affected area internally, over the course of a post). The move has a one-post cooldown; as resistance is built to the mind-altering effect of the poison, the loss of reaction time cannot be re-applied.

Gaze of the Vampire: Upon activation, Chisomon's eyes briefly flash a bright white. If this occurs while staring into the eyes of a nearby enemy, the enemy will find themselves briefly disoriented (1 post exchange against other champions). This gives Chisiomon either time to use an attack, such as a bite, or flee from close range. Other techniques cannot be used in combination with Gaze; three post cooldown.
Digivolves To
: Koganemon
---
Ultimate/Perfect
: Koganemon
Appearance: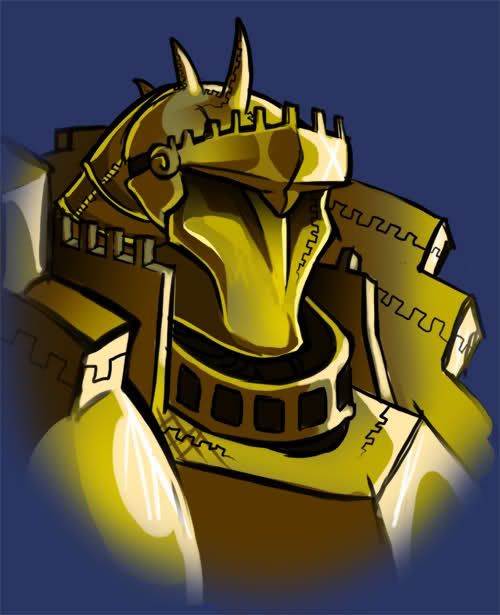 A similar 'tragic digivolution', her Champion frame shudders for a second, four gems forcefully and bloodily shooting out of her frame, before it fast-dissolves as the rookie form did. At the convergence point, however, another drastically different frame forms. A golem of pure gold, either containing or surrounded by four lights, appears from the convergence point in a flash of light. The surrounding four lights are the original gems from the necklace of Valeria's rookie form. The golem is of a normal yet massive human shape with a formless, blank face.
Standing an impressive ten feet tall, the golem is of incredible mass and force, but at the price of vulnerability. As described in one of her moves, the gems now serve as pieces of her core. Though they still exist as the form of precious gems, they now are capable of moving and acting independently of eachother, floating up to a few feet above the air. They cannot be more than fifteen meters away from the main body; however, their size makes them relatively difficult targets to hit. The glow within them is often pulsating, but takes a constant sheen when about to use an ability.
Attribute
: Vaccine
Family
: Metal Empire
Type
: Lich
Attacks
:
Animation: The Golem itself is an animated construct that bends and moves by Valeria's will. Her four gems are held deep in its chest, though they can expose themselves or shoot out for the use of 'Explosive Force', before returning to the body. This makes the form excel in defense, but is generally weak to electricity and extended crushing or fire damage. Most forms of ethereal or mind-altering magic (blinds, etc) are useless against this form.
Cold Fusion: Cold fusion is the process of bonding metal to metal. As such, provided it still exists, Valeria can reaffix dropped limbs from the golem, or literally form the golem as part of other metal bodies: a regenerative ability with limited offensive uses.
Gold Storm: Valeria can break off fragments of the golem and fire them as powerful piercing projectiles, sharp enough to pierce all but the fiercest of armor. The real danger comes from the sheer number she can fire, limited only by her remaining mass. There is a limit, however: only four projectiles can be fired simultaneously (in one exchange). If she desires speed, there needs to be a turn of focus. If she desires sharpness, the same. If she wants both, two turns.
Explosive force: Valeria's gems can now move independently. Each can charge a powerful energy around them, and release it in an explosive force powerful enough to send most digimon for a loop. This does, however, greatly expose a direct part of her core to the enemy. As before, one shot per gem. After using an explosion, a gem becomes drastically slower and will usually be returned to the main body for protection.
Quadric Beam: Valeria's four gems converge at a point and rotate rapidly, letting forth a powerful energy projectile towards the enemy, power based around how long the gems can maintain the behavior. Once fired, the gems scatter from the recoil directly outwards and perpendicular from the angle that the energy was sent, stopping the attack from occurring again for at least 4 posts.
Skullscorpiomon's Black Out: A move obtained by absorbing the data of a rampant Skullscorpiomon, this Koganemon releases a toxic cloud of poison by opening several vents on the golem's torso and arms. The poison spreads in an effective cloud either around the golem or focused in one direction forward. The cloud impedes sight, and if the poison is breathed in, the opponent becomes poisoned until cured (if the amount of poison breathed in is severe enough). Gas lasts two posts at effective poisoning level, and the ill effects of poison last for five posts afterwards. The move can be used once per thread.
Metalmorph: Using a turn of focus, Koganemon can re-shape a single limb of its body into a different shape; this can offer it a sword, a hammer, or given a template, even something as delicate as a key. The construct consists of a single part, meaning complex machines cannot be created (swords can be crafted; cannon BARRELS can be crafted, but guns can not). The affected portion loses its 'Gold Storm' ability.
Banshee's Wail: Upon activation, Koganemon focuses for a post; in the next exchange, the golden golem splits fiercly apart into several smaller golden shards, generally random in shape. These float, controlled by the four gems Valeria controls, and can be directly controlled by Koganemon for the duration of the attack period. This can be used to quickly lascerate or slash apart the enemy, and can be used in conjunction with the remaining explosions Valeria has. After three posts, this form fades, and Koganemon is forced to de-digivolve back to in-training.


Digivolves To
: Adamon
---
Mega/Ultimate
: Adamon
Appearance
:
-Here-
Something about the death-and-resurrection digivolution glitches out after the second time. For this form, the gems embed into the ground at a single point, while the golem made of gold... rots. Literally rots.
A flower briefly blooms from that point before dying, replaced by a simple, blood-red blossom increasing in size from the ground. Valeria uproots from this state in a similar appearance to her Champion-state... with several key differences, visual and in feel.
For starters, her skin is now a crimson red, her hair now the same black color as her eyes. As opposed to roses, her crown now holds five red carnations. Her garb is made of an actual cloth, pitch-black with a red trim; her wings, evil-looking Vampire wings. On her left sleeve of her dress is the simple, small marking of a skull-and- -crossbones. On close inspection, her nails and fangs now naturally drip with a small amount of blood.
Further, Valeria has no mental control in this state. She is simply berserk.
Attribute
: Virus
Family
: Nature Spirits
Type
: Lich
Field Ability
:
Lost Horcrux: Adamon's appearance activates Valeria's 'fifth gem', hidden within the Blood Sea of the Dark Area. If Adamon is completely destroyed in battle, instead of being absorb-able, Adamon's data instead lies dormant for roughly four days. A digi-egg then forms in this re-rooted location, spawning Valeria as an egg, with all memories and experiences of the previous form.

This ability can only be utilized once.
Attacks
:
Explosive Palm: A tense energy is built up from her palm, which is let forth in a powerful explosion, preferably close-range with the enemy. A much more potent version of the champion form attack; if used as 'explosive form', the 'charge' of a gem is not spent.

Blades of Blood: Similar to the rose attack, Valeria crushes one of the carnations in her hand, then is surrounded by several thin, red-glowing blades. Sharper than her Champion level, these blades can now pierce through armor of ranks weaker than herself. This is limited to five per thread - the same number of carnations on her form.

Blood Draw: An insanely risky technique to pull off, but with a great damage payoff, Valeria bites into a target's open flesh, preferably a neck. If this succeeds, the opponent will be unable to move for one post as Valeria drains a great deal of blood/data from the opponent. If used to kill a significantly weakened target, the target becomes cold as stone, a dead husk, Valeria already having absorbed all the data from within. However, if the paralytic simply wares off first, she becomes vulnerable at close-range. The paralysis affects a target only once per thread... but she's a vampire, and can still siphon data regardless of the paralysis.
Sword of Blood: Digging into her own body, Valeria withdraws either one or two gems and a portion of her blood to create a longsword or two longswords, capable of drawing with equivalent weapons or fists of the same rank. If she uses no other move in the next exchange, the sharpness on these can be increased; however, if the blades end up destroyed, a gem is destroyed.
Vampiric Immortality: Two gems are kept within the body, while 2 are outside, acting as satellites. If all four gems are destroyed, Valeria is deleted; however, each of the gems are under Valeria's direct control: she can make it so that all four are in her body, all four are outside, or any mixture in-between. However, they must all remain in the same battlefield (within 20 meters of Valeria's body) as Valeria and therefore cannot purposely be hidden, as they will be sensed...
Explosive Force: Valeria's gems can now move independently. Each can charge a powerful energy around them, and release it in an explosive force powerful enough to send most digimon for a loop. This does, however, greatly expose a direct part of her core to the enemy. Same as the ultimate form with extra damage. Again, once per gem, four times per thread. After using an explosion, a gem becomes drastically slower and will usually be returned to the main body for protection.
Death Nail: Akin to Chisiomon's 'Venom Nail', the activation of 'Death Nail' is marked by Adamon's nails extending to four inches in length, and glowing a fierce, blood red, capable of slashing into skin and most weaker armors. Though weak to armor, if this attack successfully pierces the enemy, the poison that Adamon releases causes a proportionally massive amount of pain to the area, in addition to reducing reaction time, to like-level adversaries. The damage is high, though not immediate, poison settling into the area for at least two posts. The cooldown is one post; the loss of reaction time cannot be re-applied.

Death Needle: A simple long-range attack, Adamon cuts into the center of her palm, solidifying a five-inch long 'needle' of blood, latent with her own poison. She launches this attack at high-speeds off towards the enemy, capable of piercing weaker armor and skin. Its poison is similar to Death Nail, but more condensed, since the needle begins to dissolve into the opponent's bloodstream as soon as it pierces. At the point of impact, it is common for a massive boil to form around the needle, further causing lasting pain to the enemy. Death Needle causes severe internal damage around the area hit over the course of a post (provided the target is organic). One post cooldown; the reduced reaction-time does not apply to Death Needle.

Digivolves To
: None
---
OPTIONAL EVOLUTIONARY STAGES
Armor I
: Kensumon
Appearance
:
Valeria's armor states are the only ones which do not involve the gem system. Standing at roughly the same size in Rookie level, Valeria goes through several physical changes. Though still a rabbit with skin, in place of fur, Valeria now has a thin white 'veil' with red markings. Her base color is white, the markings on the back legs and around each eye. Further, her eye color changes from blue to a pure black.
Kensumon is considerably lighter than the rookie form, body consisting of mostly flexible muscle. Held in her teeth is one of two weapons: a hammer, wooden, three foot shaft and a small, foot-long head (diameter of about an inch), or a sword. The sword is of a decent size, roughly two and a half feet in length, the hilt containing the indentation of a swirl of air, similar to her tail in this state. The blade is plain yet sharp, capable of damaging equivalently ranked armor of other armor champions. This form focuses mostly on speed and finely placed strikes, as shown in the moves...
Attribute
: Vaccine
Family
: Nature Spirits
Type: Beast
Attacks
:
Weapon Form Hammer: Replace weapon with hammer

Weapon Form Sword: Replace weapon with sword
Open swing: Psychically swing weapon with immense force
Grace: Can jump once in midair
Digivolves To
: None
---
Armor II
: Kuraimon
Attribute
: Virus
Family
: Nightmare Soldier
Type
: Beast-humanoid
Appearance
:
Kuraimon is definitely a decidedly dark incarnation, which Valeria can take up through the Digitama of fear. Kuraimon stands at five feet, and is a humanoid rabbit-type digimon. Of a rather lean build, Kuraimon is garbed in a black cloak, similar to that of a reaper. The back of her hands and the top of her feet are a dark goldenrod, the pads of said appendages white. The shadow of the hood of the coak casts over her eyes, only leaving the lower face visible. If Kuraimon were to pull this hood back, it would reveal a simple, emotionless lapine face, a grey film over her blue eyes.
Attached by a rope at her waist, Kuraimon keeps an oar at her back. This 'weapon' is the size of her body, and is made of a very dense wood. A hook at the tip of the oar (the handle over her shoulder) holds a cast-iron lantern, which may also be held in either of Kuraimon's hands. Outside of battle, this lantern is always burning with a small, faint, cold blue flame.
Her countenance is rather cold; all in her presence tend to feel a cold chill in the air...
Field Ability
:
Water Walk: Provided Kuraimon's feet are what is supporting her, Kuraimon can walk on water or large bodies of liquid as if it were land. She can also elect not to do this.
Attacks:
Reaper Touch: Kuraimon's direct touch with her hands sends a shock of dark energy directly into the enemy digimon, which can be maintained as long as she keeps contact. If focused towards an important organ, this touch can eventually cause permanent damage or extreme temporary pain, typically decided by the person receiving the damage. This attack prolongs continuously as contact is kept; when contact is broken, two post cooldown.

Blue flame: Kuraimon focuses for a turn while holding her lantern, and, in the following post, sends a mass of blue fire towards the enemy like a fire-wall. If it contacts the enemy, it will trail on them like a spirit for three posts, greatly reducing their body temperature and energy. The hotter you are, the more total heat is lost. Blue Flame cannot be used while 'Blue Flame' is active on a target, and has a two-post cooldown once the effects cease.

Scythe Aura: Kuraimon swings her oar like a scythe. During this action, a blade forms at the end of the swung oar in mid-swing, the reach of the weapon drastically changing in the middle of the attack. The weapon doesn't do well in a draw, but is capable of impressive blind-side attacks.
Shadow manipulation: This can only be done during daylight. If the shadow of Kuraimon's oar strikes the shadow of an opponent, the opponent will feel the sensation of deep pain in the 'inflicted area' upon the real body. This pain, however, is entirely illusory, but can be mentally crippling.
---
Biomerge/Matrix Evolution
: Huokokumon
Attribute
: Data
Family
: Nature Spirit
Type
: Arcane Phoenix
Appearance
:
Much like the rest of Valeria's main lined, Huokokumon is based upon a type of immortality: that of a phoenix, imbued with the power of the earth. Sixteen feet tall from the top of its head to the tip of its talons, this avian Digimon boasts a wingspan sixty feet across.

Houkumon's head is shaped much like a legendary Roc's: she has a black beak with a sharp point downwards much like an eagle's. Its head, and the majority of its back, are covered with emerald green feathers, its neck and underbelly colored a dusty grey. This meets in the back, with ferocious black talons acting as its feet. Its tail feathers are numerous and colorful, reminiscent of the gems of her previous state: some red, some bright green, some black, and some emerald blue, all trailing and wavering a good ten feet behind the bird.

This beast's wings take a similar hue, though are sure to draw a few eyes. Aligned with green feathers to allow flight, each beat of this bird's mighty wings gives off a small 'pulse' of soil. For, in this form, the power of Valeria's gems has matured into this form's arcane magic, in so much density that what appears to be thin plant roots dangle from the feathers, a very 'earthy' texture granted to the bird's wings. These extend out far away from the body, ending with one more black nail at the end of each wing.

Houkumon is literally "The Phoenix of the Earth", carrying the very essence of life within her wings.
Field Abilities
:
Phoenixian Immortality: On taking fatal damage, Houkumon will never fail to de-digivolve to rookie, along with her tamer, in a pile of soil and ash.
Wingbeat: If possible, the force of this bird's wings will kick up soil beneath itself, tentatively blinding opponents below.

Attacks
:
Arcane Ray: Building up power in its throat, Houkumon will fire out a thin beam of purple energy towards the ground, drawing a line. Seconds later, this line will erupt in an explosion, reaching up to thirty feet outward, leaving a crater where it 'drew'.

Rend: Beating its wings ferociously, the earth-encrusted feathers dig into the air and send forth several scythes towards an opponent, or towards an area in a wide range. These are 'effective' to a range of about a hundred feet away, and are known to rend through weaker armors with ease. Two 'Rends' cannot be used in a row.
Pull: An opposite action to 'Rend', Houkumon pulls her wings back, drawing nearby wind toward herself. This intentional action pulls flying opponents right up close to herself, near her claws or her sharp beak, where she can attack with a quick, ferocious phyisical attack. Two 'pulls' cannot be used in a row.
Explosive Force: Houkumon's tail feathers glow briefly, before a tight purple aura surround the bird's body. In the next post, a wide explosion reaching two-hundred feet expands in all directions, impacting all nearby opponents with concussive force. After use, this move requires three posts to recharge.
Hardness of the Earth: Focusing arcane energy around its wings, Houkumon's feathers take on the properties of rock. Losing her ability to fly, Rend, or Pull, she gains 'armor' equivalent to chrome digizoid, and is able to use her wings like a cloak of blades. This move may be cancelled at will, but lasts at most, four posts. It always maintains a five post cooldown.
Life of the Earth: Phoenixian tears carry a healing quality. To perform this technique, Houkumon cries, letting her tears soak into the wounds of the 'target'. These tears heal major wounds, cleanse poisons, and can bring back targets from the brink of death. Past this, the move also exudes an area of effect, about ten feet around the bird, curing minor wounds from all in range. Upon using this move for the latter reason, Houkumon de-digivolves to Usagimon. This has a two post cooldown.
Rage of the Earth: Houkumon's most-physically devastating attack, the Phoenix charges up her body with arcane energy, and pulls her wings to their full wingspan. If standing over soil or rock, the earth will listen to the Phoenix's command, and open a wide ravine, a hundred yards long and thirty yards in width. In the following post, the wings will beat shut, and the ravine will close. This move may only be used once per thread, and no other move may be used in its duration.
___________________________
NPC list

Name
: Koneka
Default Form
: Gatomon
Gender
: Female
Alignment
: Neutral
Skills/Talents
:
-Directionally aware: Koneka only needs to be around a place once to know what's where.
-Minor Medical Skills: With some 'skill' as a holy Digimon, Koneka is skilled at basic physical treatment.
-Alert: Those ears aren't just for show. Koneka is constantly aware of her surroundings.
Personality
:
Koneka is the sort of Digimon that cannot stand being in the same place for too long. A true 'alley cat', she calls the streets her home, and is damn well proud of it. She generally detests being picked up like a 'cat', and prefers her space. This is not to say that Koneka is an asocial creature, though; on the contrary, she is very easy to speak to. The only thing more open than her will to travel is the openness of her ears.
Being born in the Digital World, Koneka knows the world is not perfect, and, of course, will fight if she has to. A medical 'expert' by self-learning, this Gatomon will not sit idly by if there is anyone with such a need. As such, she will defend or fight for such a person with her life, even if the situation is entirely hopeless. Much like Valeria, Koneka will be one of the quickest to take the front line in battle. However, if it is possible to retreat with the wounded safely, she will also be the first to escort them out, and flee.
Personal History
:
Koneka is a fleeting spirit. Born in Primary Village, much like most Digimon in the Digital World, Koneka had a rather average upbringing as a Salamon. By her own choice when she came of age, Koneka took off to Terminus City, near the Trailmon station, and began to study medicine at the local hospital. For a time, she was satisfied with such a life. However, early in her training, the city had taken a dark turn in the grip of Astamon; Koneka was among the few lucky to flee beforehand.
For the next part of her life, Koneka hitched rides on the back of commercial Trailmon. It was here where she Digivolved into Gatomon. To her slight disappointment, this cat found that she would not be blessed with a ring, and would be stuck with her Rookie-level power. Even now, Koneka still sticks to the trails, seeing as much of the world as she can. Still, somewhere deep inside, she longs for the peace this land once had...
---
Rookie
: Gatomon (Ringless)
Appearance
:
Attribute
: Vaccine
Families
: Nature Spirit; Virus Buster
Type
: Animal Digimon
Attacks
:
Lightning Paw: A glorified swipe of the arm.

Neko Kick: A powerful kick from a cat.
Cat's Eye Hypnotism: Upon eye contact, disorients the opponent for several moments (one of their posts), generally allowing for either a quick attack or a quick escape. Two post cooldown.

---
Champion
: Gatomon
Appearance
: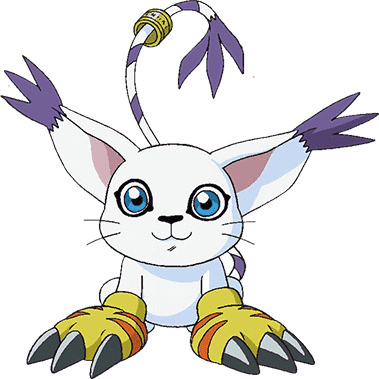 Attribute
: Vaccine
Families
: Nature Spirit; Virus Buster
Type
: Animal Digimon
Attacks
:
Lightning Paw: A glorified swipe of the arm.

Neko Kick: A powerful kick from a cat.
Cat's Eye Hypnotism: Upon eye contact, disorients the opponent for several moments (one of their posts), generally allowing for either a quick attack or a quick escape. Two post cooldown.

Heal Glyph: The only additional move the ring adds: pressing her hands directly against a wound, Koneka's hands give off a green aura, slowly healing the wound and purifying any poison that might have been caused by it. Requires direct contact, and time proportional to the size of the wound. This drains the user's stamina over time. Can be used continuously; one post cooldown after breaking channel or direct contact.

---
Ultimate
: Angewomon
Appearance
:
Attribute
: Vaccine
Families
: Nature Spirit
Type
: Holy Digimon
Attacks
:
Celestial Arrow: Drawing back the string from her bow, a spear of lighting forms from Koneka's fingers. The spear fires upon release, and explodes into powerful static upon impact.

Split Blades: Breaking her bow in half, Koneka wields two daggers enveloped in holy light. Can be remade into bow. Especially effective against Nightmare Soldiers and Virus.
Heaven's Charm: Consuming her bow and bringing her hands together, Koneka focuses a once-per-thread beam of light with devastating energy, in a straight line towards the opponent. Koneka de-digivolves to rookie following this.
Holy Air: Like heal glyph, Koneka spreads her wings and spreads an area-heal on all allies, healing damage over time as long as Koneka remains still and airborne. Affects twenty feet around herself to all combatants/ creatures. Two post cooldown.

---
Mega
: Magnadramon
Appearance
:
Attribute
: Vaccine
Families
: Nature Spirit
Type
: Holy Dragon Digimon
Attacks
:
Fire Tornado: Conjuring flames from her mouth, Koneka spews forth a maelstrom of fire, that spins into a tornado upon impact. Tornado reaches thirty-five feet in height and can surround enemies. Three post cooldown.

Thor's Judgment: Drops a lightning bolt from the sky upon an enemy's location. One post cooldown.

Heaven's Charm: Consuming her bow and bringing her hands together, Koneka focuses a once-per-thread beam of light with devastating energy, in a straight line towards the opponent. Koneka de-digivolves to rookie following this.
Hermit Fog: Spews a dense fog onto the battlefield, negating all senses except sight, which is limited to five feet, and touch. Has the odd scent of lavender. Useful as an escape mechanism or to hide a location. Area affected is 50 square meters. Three post cooldown, lasts for post casted and post after.
Heal Zone: Circling around the ground, the perimeter drawn by Koneka's shadow begins to glow green. Everyone inside of the perimeter is healed over time, as in the last two forms scaled to mega. Koneka cannot use another move while using this attack. Two post cooldown.

FaceClaim: CODE BREAKER
•
Sakura
• Ami Toruga