Post by Talia and Tohru & Simba on Feb 18, 2018 6:56:54 GMT
Name
: Talia Brandt
Alias
: None
Age
: Twenty-One
Gender
: Female
Height
: 5'2
Weight
: 125 pounds
Alignment
: Neutral Good
Birth Date
: October 23rd
Western Horoscope
: Libra
Birth Place
: Seattle, Washington
Skills/Talents
:
Talia is a skilled computer programmer and part time hacker, excellent cook, speaks fluent English and some basic Japanese.
Backpack Contents
:
An empty notebook for writing down mementos (and communication)

Laptop
Digivice
:
Personality
:
The Hikkomori
Talia boosts a degree of intelligence that some may consider to border on the level of genius. Her gifts in smarts have always been a big part of who she is, whether it was awards at Robotics tournaments or spelling bees. Every science fair award came with a cost however, as despite all her wits, Talia is terribly socially awkward and at times completely aloof. Most smart people are rightfully smug to a degree, but it's her gifts that the girl blames for her lack of friends at times. It always seemed like no matter how much she tried, she could never find a place for herself, until she finally discovered online gaming. In the world of MOBA, she wasn't smart or awkward or a reject, just another player on the team.
The Team Mom
With a deep disdain for about 97.5 percent of the human population, one would never assume Talia to be the motherly nee-san type, but it's specifically those, in own her words "scumbag twats", that she feels the need to defend those she cares about from. Whether it's bullies, perverts, eugenicists, lolicons, or petty thieves, she's not ever afraid to throw a punch. Or bug a computer with pictures of Grimace butt memes. More than anything, she holds a special level of despite for adults who want to hurt digimon, as having lived in the digital world for such a while, she considers them to be like kin.
The Lost Princess


Alas, that was all what seems like a lifetime ago. Upon recently waking up from her mysterious dormancy, Talia had no memories and had forgotten the ability to speak, reduced to a shell of the person she once was. Child-like, skittish, and wide eyed, she spends her days trying to learn about the world she woke up to and possibly, eventually, how she ended up in that dungeon. Will she progress to being the woman she once was? Only time will decide that one.
Appearance
:
Talia is a fairly short girl, with big round purple eyes and silver blonde hair that is usually worn loose save for the occasional small side braid. Despite how striking they can seem, there is very little hint of bubbly in those purple orbs. Some would describe them as stern or sad or even just devoid. These features combined with her milky pale skin make her look like a goddess of winter, but rest assured, Talia is very much indeed human. She's got a pretty nice sized chest but whether those are sticking out or not depends on what she's wearing that day. Her hair was pretty long when she emerged from her dormancy, but now it's back to average length thanks to the resources at Deeplane.
FaceClaim
:
ReZero - Starting Life In Another World
•
Emilia
• Lola
Personal History
:
Pre-Digimon
Talia's life in the Northwest United States started out pretty simple, with her mother, father and two younger siblings. Even from a young age she adored video games, computers and all things pop culture - at that age, she was too young and innocent to see the strife happening in her family, the growing tension between her parents, tension they seemed to hide well, only fighting when the children went to bed. The day her mother moved out of the house, Talia watched her parents argue on the front lawn through the window in the front room as Mrs. Brandt put several suitcases into the back of a taxi cab while her younger siblings still slept upstairs. After this, her life began to consist of eight hour car rides back and forth between Oregon and Washington on the weekends - that was the custody agreement during the divorce - the children would stay with their mother on the weekends. In addition, Talia's strict grandmother moved into her father's house and the once simple vibe in the Brandt home took on that of a Military camp one.
And as Talia grew from child to young woman the trickle effect of the divorce started to catch up with her emotionally - in addition to the constant travel, it was always two birthday parties, two christmases, two thanksgivings, screaming matches over a disagreement on bedding and her mother packing too much food when they moved her into her college dorm; the broken dynamic in the family caused the girl to spend more time preoccupying herself with cosplay guilds, video games and the whatnot while studying computer science in college. When the opportunity to study abroad in Japan came along she gladly took it - the country was a bit of a culture shock at first but Talia found it very refreshing as well as liberating, so much so that she decided to stay there and finish school, where an internship at a game company recently landed her a junior programmer position.
Meeting The Twins


Foreigners who make the jump to move to Japan are usually quickly disappointed and even lonely in some cases. However for Talia, its introverted culture was everything she had been looking for. Nobody bothered her, she didn't have to do anything but go to work, come home and do exactly as she pleased. The salarywoman life was intense, but for all its brutality, worth the freedom that Talia was looking for.
The life of coffee, early morning train rides and late night board meetings came to a halt the second Talia found a Moonmon and a Koromon in the office break room attempting to tag team against the vending machine. They were complete opposites in personality, yet perfect together. Despite all their antics, it didn't take Talia very long to fall in love. They had many adventures in the digital world together, met many people and even started an underground business called Bad Request where they aided other Digimon in need of help. Everything was pretty run of the mill, until one day they were contacted for a particularly unique case.
The Accident


Nobody ever expected things to go the way they did but when that corrupted Digimon slashed the life away from Talia, she saw everything flash before her eyes - her first kiss, meetings the twins, the offer packet for her first programmer job. She definitely did not expect to wake up in a completely different body, the client having seemingly body snatched her to save her life. Confused and horrified, the woman felt so unnatural in a different form that it seemed almost as if the digital world picked on her emotions. What had actually happened in the incident was that some of her data had become anchored to the digital world itself. Thus when she attempted to go back to the human world, she found herself literally in a state of data splitting and when back in the digital world completely normal once more. Desperate for a solution before she possibly disappeared for good, she fled from those who wanted to help, determined that she and the twins could resolve it on their own.
The Reemergence


Neither Talia nor the twins remember hide or hair about how they got in that basement or who put them there. The only thing the girl can recall is that something was instinctually telling them it was time to wake up, as if they had put them all on some kind of fixed cycle. For now, that mystery will have to wait until Talia takes the time to recover.
---
Digimon Name - Partner #1
: Tohru the Lopmon
Default Form
: Lopmon
Gender
: Female
Alignment
: Lawful Good
Skills/Talents
: Petite and nimble, Lopmon speaks both English and Japanese, and is an excellent acrobat - due to her unique birth, she has some physical traits of a dragon digimon - her sharp teeth can pack a bite and her claws can shred skin like paper.
Inventory:
Red cape and hood with goggles
Personality
:
Practical, wise and responsible, Tohru can come off as a bit of an uptight (sometimes condescending) goody two shoes but really it's a cover to protect those she cares about. She's quite brave and despite her small size wont hesitate to toss herself into a dangerous situation to protect Talia. She's also quite protective of her twin, the young Simba (despite the fact she often thinks of him as an immature pest) and cares deeply for him as a guardian would.
Proud, this little bunny doesn't like to be thought of as a child and gets annoyed when she is treated as such, feeling she is mentally above that of one. A bit of an overachiever, she hates to lose and takes it very seriously when she makes an error or loses a fight, especially since she feels like she lets her human and twin down when this happens. While it may not seem like from the outside, Tohru wants to make her human proud of her.
Personal History
: Tohru is a guardian goddess of the wild who has lived several lives and beyond, spending most of those times quietly defending the residents of the digital world from danger. Her odd appearance is due to the fact she was the spawn between a Cherubimon and his Examon consort wife, conceived on the night of a blood moon. Terrified of this hybrid creature, the other angels attempted to exterminate her but Tohru's mother took her into hiding and raised her in the safety of the mountains. After growing up and leaving Examon's nest, she operated her duties from the forest shadows until she realized she could do a good thing by creating a home for lost orphaned Digimon.
When Tohru's mother sent her other child (from another daddy) to live with her daughter, it was purely out of feeling that she could protect him better. At first the two
did not
get along, as Simba was a spoiled stubborn brat angry and sad about being away from his mother. Alas it didn't take long for the little spitfire to grow on her and they soon became close. The accident involving the drowning would put them even closer together forever.
Holosuit: The Rising Of The Shield Hero - Melty Q. Melromarc


---
Digimon Name - Partner #2
: Hackmon
Default Form
: Hackmon
Gender
: Male
Alignment
: Lawful Good
Skills/Talents
:
Inventory:
Red cape and hood with goggles
Personality
: This dragon may look tough & tempered on the outside, but inside he's all child, in a sort of puppy-like way, combined with the mentality of a young boy. Cute, loving, and mischievous without a true mean bone in his body, this baby dragon longs for the day he'll grow up to be a strong warrior but for now he's quite content spending his days playing, napping, and exploring with his partner and twin.
Like any small kid when he doesn't get his way he can be whiny, insistent, demanding and self-centered, but his intentions are never from a place of malice. He sometimes puts on a tough front during these bratty behaviors but the truth is that he wants to be taken care of and nurtured by a family. Manners aren't exactly in his vocabulary, he's known for being a glutton when it comes to food, as well as having a low impulse control when it comes to most other things he wants.
Personal History
: After Simba had adjusted to life at his sister's home, he wanted to thank her and he unfortunately did so by leaving the safety of the palace. He wandered a bit too close to a river and fell in, powerless to the rushing currents. Tohru jumped in after him, knowing that while the chances of survival for both of them were slim, she would keep her promise not to abandon him. That would be so, as the next time they awoke, they found themselves no just half siblings but twins now born of the same egg.
Holosuit
:
Dragalia Lost - Templar Hope
FIRST DIGIMON'S INITIAL EVOLUTION LINE
---
FreshSpecies
: YukimiBotamon
Appearance
: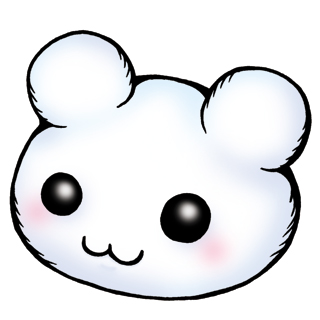 Attribute
: None
Family/ies
: None
Type
: Slime
Fighting Style
: Since her fighting skills haven't exactly been developed, this baby's only method of defending herself is either running away or spitting out a slew of low power bubbles.
Abilities
:
Bubble Blow - breathes out cold weak bubbles whose powers extend to the equivalent of a person feeling a cold wind sting but not harm their face.
Digivolves To
: Moonmon
---
In-TrainingSpecies
: Moonmon
Appearance
: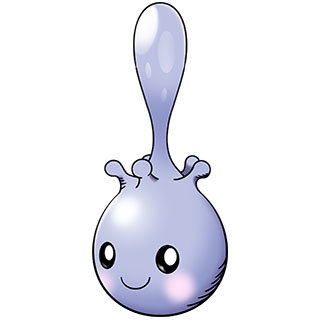 Attribute
: None
Family/ies
: Nightmare Soldiers
Type
: N/A
Fighting Style
: Moonmon's bubbles are a hairline stronger than her pre-evolution counterpart, but she'd still most likely run away.
Abilities
:
Dark Burst - spits out dark bubbles that would make a human feel stinging similar to that of how small hot oil droplets sting.
Digivolves From
: YukimiBotamon
Digivolves To
: Lopmon
---
RookieSpecies
: Lopmon
Appearance
:
Credit to
Shamrocks Art
Due to her sharing an egg with her twin brother Hackmon, Lopmon deviates quite a bit in appearance from your standard Lopmon, looking a bit like a small dragon type crossed with a common rabbit if anything - the most noticeable being that the parts of her that would normally be a pink hue are the shiny navy blue hue that is the color of Hackmon's claws and tail tip - the three horns on her head are sharper, more slender and longer, resembling the nose horn on her brother's head. Her hand claws are slightly sharper as well. And of course, she wears a bright red cape and hood just like her twin. Due to her partially inherited dragon data, Lopmon's teeth are also far sharper than that of a standard Lopmon's. She has however retained her standard size, eyes, and chocolate brown outer color, as well her iconic long ears.
Attribute
: Data
Family/ies
: Nature Spirits
Type
: Animal
Fighting Style
: Lopmon is a nimble, dynamic warrior who uses her tiny size to dodge big attacks from opponents while hitting them with her Blazing Ice attack; due to her dragon data she is a bit more of an aggressive fighter than your regular Lopmon.
Abilities
:
Blazing Ice - breathes very cold air from her mouth that could break weak glass and give a human mild hypothermia depend on the amount of exposure. Cold shots last for one post.
Spinning Slap - spins her ears to give multi slaps that could bruise a digimon and lacerate a human.
Digivolves From
: Moonmon
Digivolves To
: Turiemon
---
ChampionSpecies
: Turuiemon
Appearance
: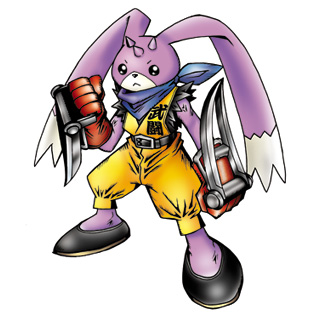 Attribute
: Data
Family/ies
: Nature Spirits
Type
: Beast Man
Fighting Style
: Having developed a more aggressive instinct through evolution, this butt kicking bunny fights in the sophisticated yet effective style of kung fu – each of her hits are strategic, yet calculated with purpose and efficiency.
Abilities
:
Ninja Claw - Fists the blades on the gauntlets on her hands towards the opponent either two to three times in one post.
Lightning Kung Fu - Fires one supersized electrical punch to the opponent; it is powered up in one post then fired in the following one. Requires one post cooldown.
Crouching Tiger - Springs back and then hit the opponent with an offensive jump-kick in one post.
Digivolves From
: Lopmon
Digivolves To
: Antylamon
---
UltimateSpecies
: Antylamon
Appearance
: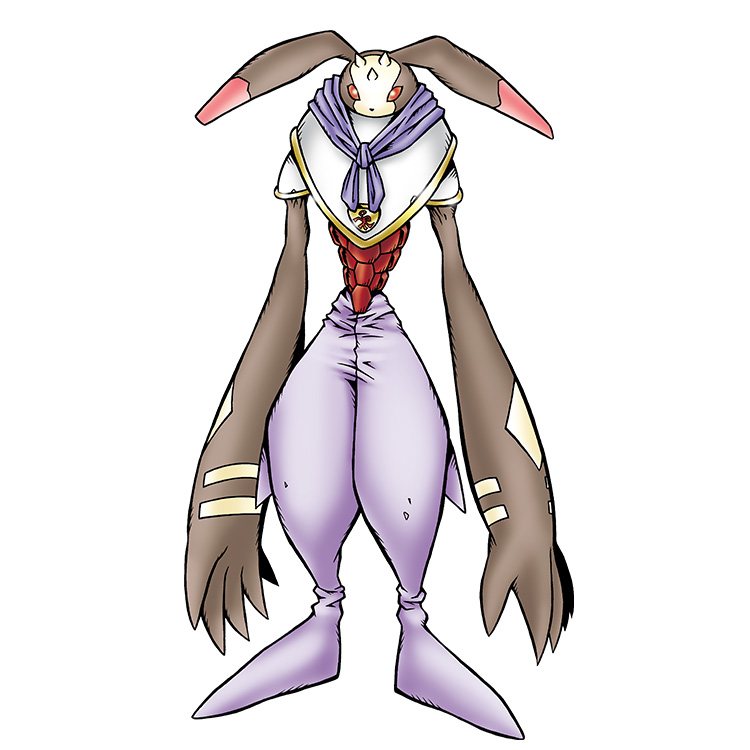 Attribute
: Data
Family/ies
: Virus Busters
Type
: Holy Beast
Fighting Style
: Antylamon is all speed and agility, you could say its pretty much the basis of her power – at times she moves so quickly it appears that she's flowing and can be difficult to see by her opponents. With her speed, she builds up her Bunny Blades special attack and rams the opponent with it.
Abilities
:
Bunny Blades - Gains the right amount of speed and then turns her hands into hands into axes, repeatedly hacking at the opponent - speeds up for two posts before attacking, then attempts to hit three to four times. This move extends her evasiveness by 25 percent. Requires a 3 post cool down before speeding up again.
Easter Bonnet - Curls herself into a ball and repeatedly rolls 3 to four times toward the opponent. The more she rolls, the faster she gets and the stronger her actual hit becomes. Require a 2 post cool down.
Digivolves From
: Turuiemon
Digivolves To
: Dianamon
---
MegaSpecies
: HuntressDianamon
Appearance:
Credit:
Octology
A variant of the god man moon goddess who chose to walk the path of chaotic virtue, she has come full circle in embracing her dragon heritage. It is said that she was born on the night of a blood moon and as such, her appearance is rare as one. Armed with the power of her staff which is called Vatista, it holds a crystal within that is the central core of all her true powers and upon initial evolution the crystals true power remains dormant until it is activated through the will and power of its user. Legend says that if you spot her, you'll be granted good fortune and protection from this elusive goddess. Thought her values are altruistic, her methods can often be questionable, as she holds no reservation about taking lives if it means protecting her tamer. She can be distrustful of others and any human who is lucky enough to be her partner will need patience to win over what often can be a tsundere persona from the rabbit. Rest assured, that kindness will be well rewarded in time.
Appearance
: Through the pattern of this birth, she does not hold nearly as much elemental power as her godly cousin but makes up for it in tons of other ways. For example, she has developed hard spiney exoskeleton scales along her legs up to the middle of her torso which is joined by a large densely muscled reptilian tail easily capable of knocking the wind out of a mega or an ultimate and seriously injuring anything below that depending on the velocity of the slap. The tail is also lined with barbs which HuntressDianamon can make come in and out as she likes spiked with a poisonous substance that gives feverish hallucinations to its victim as they slowly but surely shut down. Tall and well built, she is a skilled, quick moving acrobatic lancer utilizing her staff, the Vatista, in combat. She wears the crimson cloak that protected her in childhood, perhaps as an homage to that era, perhaps to keep her warm on those chilly nights in the forest.
Attribute
: Data
Family/ies
: Dragon's Roar
Type
: God Man
Fighting Style
: This goddess isn't too fond of relying on her spell abilities, as she feels relying all on one technique is a weakness, but she does use them in battle as she sees fit while balancing it with physically fighting in aggressive close quarters and hand to hand combat, using Vatista to both knock down and deter the enemy away from her. She hates letting her guard down and saves casting for when the opponent is weakened or neutralized, often to finish them off or set them back so she can attempt to impale them with her staff.
Abilities
:
Phantom Limb - With a tap of her magical staff called Vatista, HuntressDianamon creatures a ritual spell circle under the opponent that gives them the sensation that their bones and insides are being cracked apart. Lasts for 3 turns before the circle disappears. Requires a 3 post cooldown period.
Blood Moon Crystal - Activates the energy core within Vatista surrounding it in a beam of energy that stings the opponent as they get hit with the staff. It becomes fully active as Tohru progresses in battle, supercharging her strength, speed and agility. Lasts for 3 turns. Requires a 4 post cooldown. This cannot be combined with any of her other unique abilities and can only be used to temporarily power up basic punches, kicks, etc. It starts out weak at 10 percent increase to all stats, then a 20 percent increase on the next turn, and in the last turn increases by 40 percent.
Sea of Red - In return of ending Blood Moon Crystal's buff prematurely, Tohru can execute this AoE skill. She uses it to create multiple arrows in the form of energy beams that gets fired at not just one enemy but at anyone within a 25 meter radius. These create explosive blasts on surface contact. Can only be used as an ultimate once per thread. Use of this IMMEDIATELY ends blood moon crystals buff to trigger this skill. If Tohru's long range attack is dodged, she can make them chase the enemy once again. Allies cannot suffer collateral damage from this move.
Paradise Swing - Secures her staff to the ground and swings on it to gain momentum and speed to give a powered up kick to the opponent that does the double damage of what a regular kick from her does. Requires a 2 post cooldown.
Reflex Infection - Stings the opponent with the poison laced barbs on her tail which causes the opponent to hallucinate and become feverish for 5 posts. Requires a 4 post cooldown.
SECOND DIGIMON'S INITIAL EVOLUTION LINE
---
FreshSpecies
: Botamon
Appearance
:
Attribute
: None
Family/ies
: None
Type
: Slime
Fighting Style
: Just like his sister, Botamon will defend himself by running away or blowing his useless bubbles.
Abilities
: Bubble Blow - spits out bubbles that could lightly sting a small human.
Digivolves To
:
---
In-TrainingSpecies
: Koromon
Appearance
: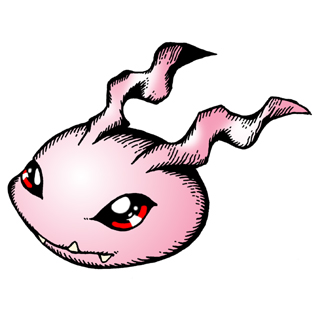 Attribute
: Data
Family/ies
: None
Type
: Lesser
Fighting Style
: He's braver than his younger counterpart but still not exactly strong, if the odds aren't in his favor he'll run.
Abilities
: Bubble Blow
Digivolves From
: Botamon
Digivolves To
: Hackmon
---
RookieSpecies
: Hackmon
Appearance
: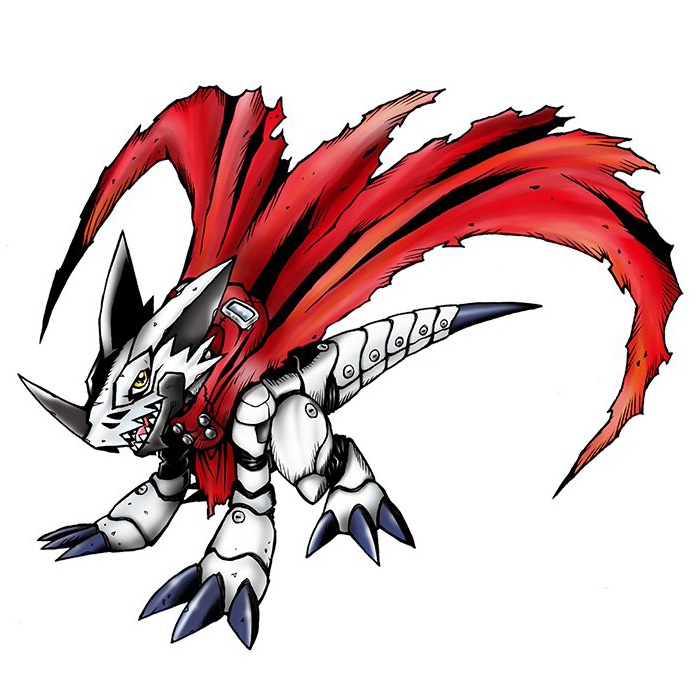 Attribute
: Data
Family/ies
: Metal Empire
Type
: Small Dragon
Fighting Style
: The best word to describe Hackmon's method of fighting would be reckless – he tends to just go out on a complete offense, spewing his flame attacks and raking his claws.
Abilities
:
Fifth Rush - A hack and slash technique that cuts down the opponent
Teen Ram - Uses his tail as a drill weapon and bombards the opponent. Requires a one post cool down
Carmen - Spits flames from his mouth strong enough to seriously burn a grown human
Digivolves From
: Koromon
Digivolves To
: BaoHuckmon
---
ChampionSpecies
: BaoHuckmon
Appearance
:
Attribute
: Data
Family/ies
: Metal Empire
Type
: Dinosaur
Fighting Style
:
Like his younger counterpart, BaoHuckmon tends to fight with complete dynamic, going out on the offense with his newfound strength, just with far more aggression and finesse.
Abilities
:
Fifth Dimension - a stronger version of the hack and slash Fifth Rush, BaoHuckmon cuts down the opponent now with the strength of a champion digimon.
Saint Elmo's Fire - Shoots at the opponent with flames strong enough to burn flesh right off the bone of a human
Hidden Dragon - Delivers a kick powered by the sharp blades on BaoHuckmon's legs. This move is prepared in one post and delivered to the opponent in the next
Digivolves From
: Hackmon
Digivolves To
: SaviorHuckmon
---
UltimateSpecies
: Dorugreymon
Appearance
: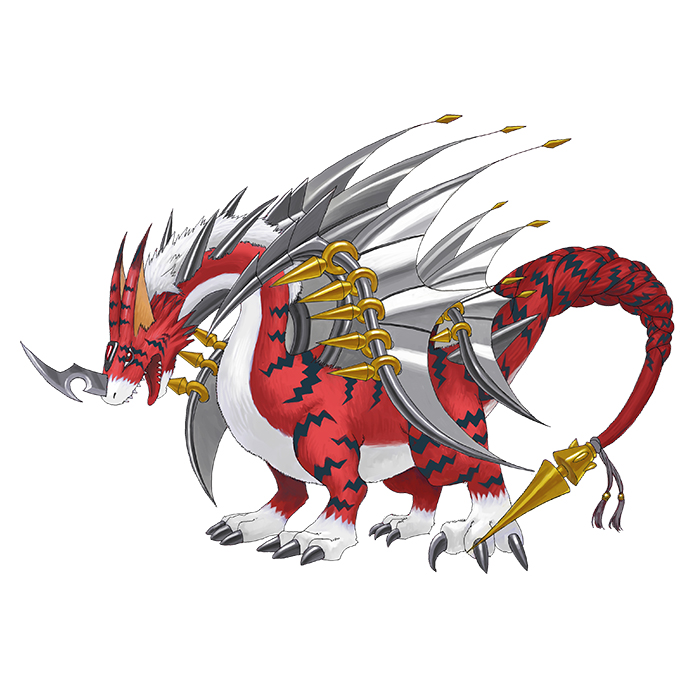 Attribute
: Data
Family/ies
: Dragon's Roar
Type
: Beast Dragon
Fighting Style
: Simba's fighting style in this form combines aerodynamics with his power to fly smoothly through the air, physical power and burning his opponent to a crisp with the fire power he developed as a hackmon and bao hackmon, and now with his new power having reached ultimate, the dragon can use his whole body as a catalyst to produce flames of up to 600 to 700 degrees Fahrenheit, flames that can also heat up the metal point on it's tail, turning it into a screaming hot weapon.
Abilities
:
Nuclear Overdrive - Heats up the nuclear core in its body to ignite flames on its outer body and rams into the opponent at a scorching hot velocity either from the sky or the ground. Requires a 2 post power up time and a one post cool down.
Bloody Storm - Releases a ball of iron mass at the opponent from it's jaw that far exceeds it's body mass. Requires a one post cool down.
Mars Blade - Uses the blade on its tail heated up from its nuclear core to stab and cut the opponent. Can only be used after nuclear drive has been activated.
Volcanic Wind - Uses his large wings to launch the flame on his body at the opponent. Has a 2 post duration and a one post cool down.
Digivolves From
: BaoHuckmon
Digivolves To
: Jesmon
---
MegaSpecies
: Jesmon
Appearance
: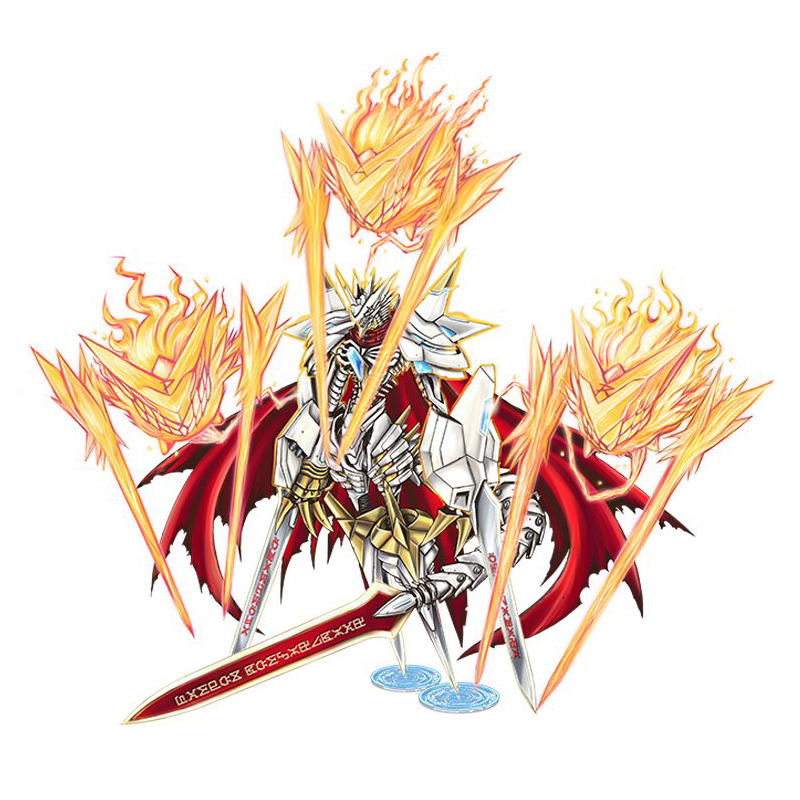 Attribute
: Data
Family/ies
: Virus Busters
Type
: Holy Knight
Fighting Style
:
More compact than his counterparts, Jesmon attacks with a newfound speed developed through evolution. He's not as aggressive and rash as he was while SaviorHuckmon but works on long range power based attacks. Jesmon fights with three spirits - Altho, Rene, and Por
Abilities
:
Kings Judgement - The final stage of Hackmon's Fifth Rush, Jesmon hacks and slashes the opponent with swords that are not only sharp but have the power of a holy knight flowing within them as well. This move requires a 4 post cool down.
Heavens Fire - Jesmons spits energy balls from his mouth
Three's Company - Sends his three spirits to attack the opponent. This move requires a 3 post cool down.
TriShield - Jesmon creates a shield with Altho, Rene and Por that last for 3 posts. This move provides Jesmon with protection from physical attacks and some low level elemental and magic attacks but a stronger magic or elemental attack has the strong possibility of breaking through it. Requires a 3 post cool down.
Digivolves From
: SaviorHuckmon
Digivolves To
: None
---
Armor Champion
Species: Vishapdramon (Custom Armor Evolution)
Appearance:
A more reptilian looking dragon than his sister, this hairless four legged dragon is covered in purple gray scales from head to toe which are protected by a film of sturdy scalemail. The armor protects his internal flight bladders from being damaged. From toed claw to horn, Vishapdramon is about 18 and a half feet tall, being almost hilariously much bigger than his sister. And like most dragons his back legs are longer than his front legs to keep his movements nimble. As opposed to flying, this dragon prefers running but can certainly do both. In statue he is very burly and muscular, making one of his skills strength as opposed to speed, though he is an excellent flyer without a doubt, though he could never beat Amidramon in a race. With sharp teeth inside his mouth, pointy hard fin like spikes sit on the back of his head and a silver mask resembling his sisters that protects his skull and teeth. Like his sister he tends to pad around on all fours, though he is a bit too bulky to be able to rear in bipedal format the way she can. However, his arrowhead tail packs more of a hit far more than her due to their stature difference. His wings span about 16 feet max and have a dusty purple hue to them and are proportional to his body.
Attribute: Data
Family/ies: Dragon's Roar
Type: Dragon
Fighting Style:
To make up for his slower speed, Vishapdramon uses his massive size to intimidate his opponents, often roaring, growling, stomping the ground, etc. He mainly relies on his strength in battle as well as disabling his opponents with his many noxious abilities.
Abilities:
Foxgloves: Releases a powered up punch from his front fists with unsheathed claws dripping a highly acidic discharge that can burn the enemy. Requires a 3 post cooldown. Does heavy damage.
Monkshood: Launches a poisonous breath from his mouth that upon hitting the enemy drains their energy for two posts – requires a 3 post cooldown. Weakens the enemies attacks and makes them slow to react.
Angels Trumpet: Breathes a gas that cuts the endurance of anyone within a 30 feet radius for two posts – requires a 2 post cooldown
Snakeroot:
Calls forth an acid rainstorm that pelts the enemy like very small needles – not strong enough to seriously hurt the enemy but can hinder concentration in battle. Lasts for 2 posts, requires a 3 post cooldown.
Digivolves From: Hackmon
With Digimental of Concordance
-------------------------------------------------
Armor Champion
Species: Amidramon (Custom Armor Evolution)
Appearance:
A doubled horned, quadruped two winged western style dragon covered in ivory white fur that stands around six and a half feet from claw to horn, with a slender yet muscular body that's about 8 feet long from chest to the tip of her pointed tail. With four clawed toes on each foot, her back legs are slightly longer and raised to give her an agile edge. Her wings span about 12 feet max and are covered in feathery fur like the rest of her body. Sporting a pair of silver blue eyes, her big head has slivers of dipping ivory fur along with two sharp white horns next to her ears, with a silver mask (that shows her eyes) covering the upper half part of her head. Inside her mouth are razor sharp reptilian teeth made for tearing into flesh and chewing. As opposed to her brother, this quadruped is built rather petite in statue, making her an excellent and smooth flyer. Her fur is thick, warm and feathery in texture and soft to the touch, like that of an angora rabbit but it can be made into sharp shards with Amidramon's powers, similar to that of a porcupine. Her tail is thick and pointy at the end like the edge of an arrowhead – it is very strong and can easily knock someone down. In movement, this dragon pads along on all fours like that of a large dog but can temporarily rear on two legs if defending herself. She tends to nap curled up with her wings over her, using them as makeshift heaters to maintain her body temperature.
Attribute: Data
Family/ies: Dragon's Roar
Type: Dragon
Fighting Style: In battle Amidramon lives up to the aggressive fighting style of her species, roaring, biting, clawing, etc, as well as launching her ice based attacks from in flight. A fast glider, she uses her aerial speed to avoid damage and tend to use her ability to fly smoothly as a weapon, ramming into opponents from above.
Abilities:
.
Erebus's Rise: Blasts waves of low temperature precipitation from mouth that freezes things on contact. Three posts cooldown, lasts for one post.
Crystal Bullet: Makes soft fur into sharp shards and charges at the enemy from the air like a bullet from a gun, severely lacerating them. This blunt fur can also act as a protective barrier - defense lasts a turn. Lasts for two posts, two post cooldown.
Snow Day: Sings a melody that creates an intense blizzard that lasts for two turns. Radius it reaches is forty feet. Does low elemental ice damage. Cooldown is 4 posts.
Subzero Soar: Carries the enemy into the air and spins them inside a tornado (that the motion of her spinning creates) with freezing temperatures. Three posts cooldown, does medium damage.
Digivolves From: Lopmon
With Digimental of Concordance