Post by Deleted on Mar 27, 2018 1:07:19 GMT
Name
Blake Ukirama
Age
18
Gender
Male
Height
6'1
Weight
213
Alignment
Chaotic/Lawful Good
Birth Date
4/26/XX
Western Horoscope
Ares
Birth Place
New Orleans, Louisiana
Skills/Talents-
His street smarts tends to enable him to devise strategies underneath his bravado. They can even know the area like the back of their hand if they've been through the place a lot.
-His driving skills may be brash though, his proficiency in driving motorcycles is where its at! Just don't have him drive a car.
-Music, music, music! While he dabbles in creating some, he has a wide knowledge of music artists back at the West.
Backpack Contents
His gray backpack, provided he brings it with him, tends to contain a couple novels borrowed from a library, a notepad used to write down notes, a vintage walkman with a couple of old tapes in it's own container, and crumpled pieces of paper. He does have just enough space for a change of clothes that look quite sophisticated, but obviously hand-me-downs.
Digivice
Green D-3.
Personality
He isn't really what he would call himself as an "intellectual". Despite, the high standards set for his father, he usually finds time to do anything that isn't studying for his classes. There are times his outgoing nature may get the best of him when it comes to thinking logically,
Blake always has a sense of urgency to do something before, it's too late.
He does come from a place of understanding as past events taught him not to jump head-first into things as much as he used to.

Albeit gullible, he can be very trusting towards other people if they don't LOOK villainous as he doesn't seem to care whether or not who's good or bad unless if they were doing something that was illegal of course as that would go against his father's morals. You could say he wants to see the best in everyone though, if it isn't obvious, that careless nature may bite him back if he isn't careful.

There are occasions where he would feel conflicted as to what his father wants and what he wants. In his father's presence, Blake could be the complete opposite of his personality and play the role of a distinguished gentlemen. As mentally exhausting as that is, Blake just wants his father to not worry about him. While being deceitful may be less than ideal, it does keep his father from being suspicious of his other activities.



Appearance
Blake Ukirama is an African American who has stubble for hair though, if he were to grow his hair out, it's color would be black. He wears a gray, unzipped hoodie along with sweat pants that are a bit loose but, not too loose to the point where it doesn't fit. His unzipped hoodie shows a t-shirt with a solid cyan color and black decals comprised of silhouettes of a band. He has a mesomorphic build as he exercises frequently though his diet isn't always the best. He has green eyes though those are only just contacts. His natural eye color is brown though you won't see him without his contacts often.

He has shoes that are particularly brand-new . He has a necklace that says "PUNK OUT" in bold white letters with a black outline around it. His posture is laid-back as a way to look "cool and approachable" at least in his own words.

When he's around his father on the other hand, he tends to always fallback on a buttoned white and stripped shirt that was a hand-me down from his cousin and beige jeans that are, in fact, also hand me downs. He doesn't always change his shoes though he does have brown dress shoes that, for once, aren't handed down by his relatives. While it's the bare minimum to "keep up his appearance", he tends to take off his eye contacts and replace them with prescription-less glasses.

Personal History
Born and raised in New Orleans, Louisiana, his family for a time used to be edging close to being below the poverty line in a poxy flat. Of course being a young child at this point in time, it wasn't obvious enough for Blake to realize that his parents were fighting tooth and nail just to make ends meet. It was when his parents chewed him out for "wanting this & wanting that" would be where he realized that the fear of missing of out on the newest pair of shoes and the latest albums that he wanted from his parents, he had to work for it himself.

As he got a bit older, he did everything he could to do small jobs around the town after school and raise money to not only fulfill his "wants", but his parents "needs" by leaving most of the money earned in his parents wallets without noticing. This had been going on for half a decade until, his parents finally caught a lucky break. His father scored a promotion to become CFO(Chief Financial Officer) of a business company specializing in software while his mother worked from home as a Therapist.

Despite the two of them being much more happier, it was less so for Blake. It was then where he started to "change" whenever his parents were around to keep up appearances not for himself but, mainly for his father. While his parents were more easy-going and willing to give Blake money, within reason, he still thought that he had a job to keep his parents from ending up like they once were. Even moving to a bigger house close to the shoreline (New Hampshire) and being able to buy the latest stuff, while still enticing him, was meaningless if he doesn't work as hard as they seemingly were.

It was then at the age of 17 that he was told that they were moving again. Not to another house. But, another country. It was because that the company his father is working for was expanding and were moving employees to Japan in order to boost product sales. This was in fact, the companies idea for quite some time and his father chose to oversee the small branch of said employees and their sales performance while also overseeing the main branch overseas. While overwhelming to some, you could tell his father thrives in his field.

Blake was at first reluctant to go there but, he didn't want to be the reason they were stuck in poverty again, at least he thought so, and decided not to fight it. They had to learn Japanese of course and there they went! His first experience was great since he knows how to speak the language and made some new friends there. His old friends seem to forgot about him despite saying that they'll not forget about him at all. They eventually had to get used to eating by using chopsticks and the lifestyle there but, it seemed fun to them. Blake wondered if his friends, back at Louisiana & New Hampshire, including *redacted* would miss them but, Blake hasn't talked much about moving someplace which resulted in some awkwardness. He wished he could've said something different.

Soon enough, Blake got used to Japan and eventually, also, forgot about his old friends. While a small building, his Dad was seeing a slow increase of revenue though not without bigger competition in the way of gaining much more traction. His Mother decided to move her place of operations at a quiet street where she does online and physical meet ups with clients.

As for Blake, he did what he always did however, things were slowly going to change either for better or for worse.

Digimon Name
Renamon((Referred to as "Nate" by Blake))

Default Form
Rookie(Renamon)

Gender
Male

Alignment
Neutral Good

Skills/Talents
-Skilled in combat through and through. He specializes in hand-to-hand combat and stealth when it's called for.

-Picking things up from the human world, he's proficient in what they'd call "Parkour". Even though Ren already had capabilities of using his momentum to achieve feats such as running on walls and what not, the concept of "Parkour" enables him to think more creatively and utilize his surroundings as footstools, something to grab, etc. making him resourceful

-He's no doctor, but has basic knowledge in treating small wounds(Cuts, bruises etc.)


Inventory
He keeps leaves under the cover of his gloves in case of emergencies.


Personality

He doesn't express his emotions very well which makes him very stoic most of time as he's not very open about them anyway. He can be also be distant towards his comrades whether he wants space or doesn't want them to know what he's up to. Despite that, he cares for certain people, especially his tamer, deeply even though he can have a funny way of showing it. He can be very distant towards people who he doesn't trust and especially hostile to people who pry into his ideals and morals despite a Renamon being known to be calm and collected.

When he's not prioritizing himself, his compassion for the weak is quite strong as, from experience, anyone can be a capable fighter when they put their heart and soul into their training.

He's not one of those people to take a shortcut to success as he wants to progress through his "training" fairly which means he isn't one to digivolve unless, he "masters" his rookie form as he would call it. When being given/shown affection, he would usually feel embarrassed and a wee bit on the uncomfortable side but, it depends.

Whenever he's mad, he tries to find ways to calm down such as meditating or doing something that his mind off of something. If it overwhelms him, he could go into an explosive outburst despite, not meaning to. His outburst can also lead to hotheadedness if it's during a fight and would usually take his anger out on his opponent which, in turn, can make him a bit of a handful or easy to read.


DIGIMON'S INITIAL EVOLUTION LINE
Level
: Rookie
Species
: Speed/Holy Species
Appearance
: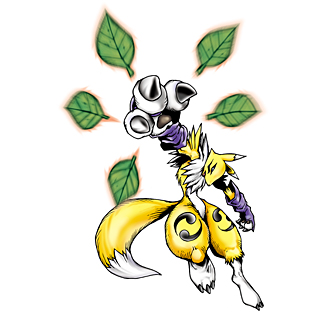 Attribute
: Data
Family/ies: Virus Busters, Nature Spirits
Type: Animal
Fighting Style:
Having to fight for an awful long time, he may know where exactly to strike. Otherwise, he'll keep his distance and study his opponent to try and find a weakness. That is, if he's not enraged to the point of giving their opponent little time to re-orient themselves though that does make Ren at his most vulnerable.
Abilities
:
Diamond Storm
: Gathers leaves or materializes them to have them sharpened. Ren then launches them and
PIERCES
the opponent.
TWO POST COOLDOWNPower Paw
: Engulfs his fists with ghostly flames to rapidly punch.
Diamond Shuriken
: Materializing one leaf which sharpens to then be thrown at the speed of a bullet. Mostly used as a distraction, but when it hurts, it HURTS. He also has the option to materialize up to three of them in-between each paw but, despite it's 2% increase in damage for each extra shuriken, it doesn't amp up the damage as much as you think it would.
Rapid Kick
: Kicks at a rapid pace. Can also be performed in the air.
(
RAM UPGRADE) Agility
: His speed/flexibility keeps you on your toes. He's 15% faster than normal which gives him a small window to avoid an attack.
Passive is "deactivated" when stunned, slowed, dizzy, etc.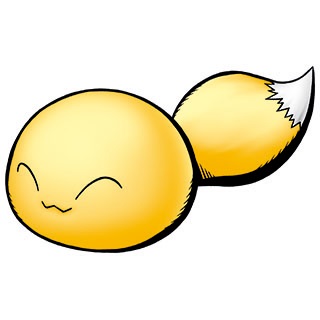 Digivolve from: Relemon
Trasformation
: Transforms into anything of a similar size, though it can't conceal its tail.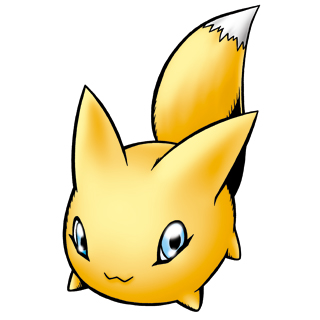 Digivolves From:Viximon
Killing Stone
: Changes into a stone that spouts a toxic gas.
Digivolve to: Kyubimon
Fighting Style:
He relies on using his head and flames to get up close and personal to finish the job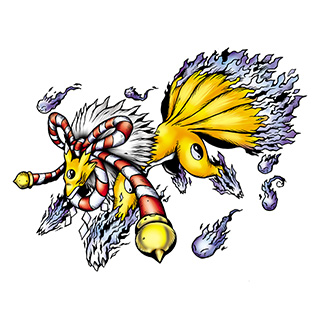 Headbutt
: Has his head forcefully thrust towards their opponent
Fiery Dash
- Intensifies the fire on their paws as they dash around their opponent, leaving streaks of its ghostly flames that last for
ONE POST.
TWO POST COOLDOWN
Nine-Tails Inferno
: Fires fireballs from its tails
Nine-Tails Smash
: Charges before jumping to perform a flip as before he falls tail first into the opponent.
THREE POST COOLDOWN
Digivolve to: Taomon
Fighting Style:
Uses his talismans and huge brush to cast powerful spells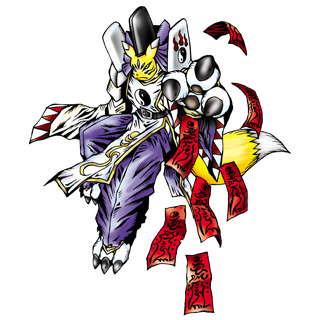 Talismans Of Destruction
- Summons multiple red talismans as they can home in upon multiple enemies and explode upon immediate impact.
THREE POST COOLDOWN

Talisman Of Vitality
- Summons a
SINGLE
green talisman that can
heal(Two Post Attacks)
and bring relief to body and soul to
ANYONE
when in possession.
FOUR POST COOLDOWN

Brushing Blow
- Summons their brush to inflict a heavy blow.
Shielding Bubble
- Summons their brush to form a protective
shield
.
TWO POST COOLDOWN
---
Digimon Name
: Terriermon (Referred as "Terry" by Blake)
Default Form
: Terriermon
Gender
: Male
Alignment
: Chaotic Good
Skills/Talents
: He uses his ears as secondary hands with them able to lift 15 pounds in total if he uses both of them. He could also use them to glide and aid himself in battle in which includes hearing.
Inventory
: None
Personality
: He's a very sassy person to talk to as Terry isn't afraid to confront you about what he thinks about you so far. He can be quick to judge you but, give him some time to warm up to you. Terry may even trust you quickly depending on what type of person are you who are humans or digimon that LOVE music(Because he adores the type of tunes that Shibuya puts out) and/or have at least common sense. However, rub him off the wrong way and you'll have a whole other thing coming
to you.
Terry is more laid-back while in battle in order to keep his wits about him. Outside of battle, he has a carefree air about himself, not having to worry about anyone coming to get them. Until, eventually, he has to face what he probably doesn't want to do which is to fight. Fighting is something that he wants to prevent since it can be sometimes meaningless to him and wouldn't be afraid to say it out loud. But, if he has to, he won't let you mistake him for a frail digimon.
Level:
Rookie
Attribute:
Vaccine/Data
Families:
Nature Spirits/Virus Buster/Wind Guardian/Metal Empire
Fighting Style:
His intent is to infuriate his opponent as to also be kept at a distance in order to be given enough reaction time to evade to eventually strike when they're starting to get gutsy. Another way is to do the same but, just to tire him/her out to then land an attack.
Abilities:
Heightened Awareness
: His hearing is acute that attacks won't work on him from behind.
Passive is "deactivated" when stunned or dizzy.Terrier-Tornado
- Generates a tornado of his small size to then launch it by spinning his ears like a propeller
Bunny Blast
- Spews out a shot of superheated air
Digivolves to: Gargomon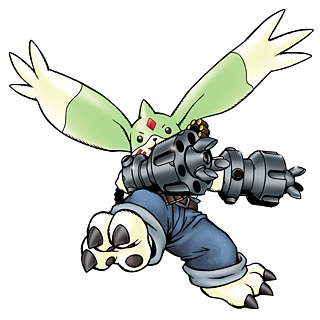 Hare Hurricane
: Spins around to erupt a twister around his size along with him firing with his gatling guns. If Hare Hurricane is used for
two posts
at any given time, Gargomon will be
stunned for three
with the effects being immediate after using it the second time.
Precision Shots
: Uses on of the gatling guns to fire. Even though it's drawback is -50% less damage, it does give 50% more accuracy!
Gargo Pellets
: Fires small balls of hot energy from his gatling guns rapidly.
Gargo Blast
: Launches a ball the size of a basketball from his mouth.
TWO POST COOLDOWNBunny Assault
: Rushing in quickly to then slam his metallic arms at you.