Post by Kyosuke on Apr 13, 2018 23:34:53 GMT
Name
: Kyosuke Ishida
Alias
: The Ravaging Wolf
Age
: 25
Gender
: Male
Height
: 180cm
Weight
: 78kg
Alignment
: Chaotic Good
Birth Date
: May 12th
Western Horoscope
: Taurus
Birth Place
: Shibuya. Japan
Skills/Talents
: Kyo is a skilled fighter, he has been practicing boxing for quite a while but he is a natural brawler, also he is a good swimmer.
Backpack Contents
:
Cell Phone
Boxing gloves
Photo of his family (when they were still together
Digivice
: D-Tector main color black with a yellow grip
Personality
: Kyosuke has an explosive personality, he is brute, brash and is easy to anger but he means well, he has HUGE "big brother instinct" and considers himself a bully hunter, he despise those who use their power to attack people weaker than them, he never backs from a challenge and doesn't give up even when he is in a world of pain and that brought him problems before.
Kyosuke does have a soft spot and a heart of gold, it's kinda hard to make him show it but it's there, the best example of this is his little sister, he'll do anything for her as long as it makes her happy, same applies to his friends, while he doesn't have many he treats them with respect and would never lost his temper in front of them.
While he does enjoy a good fight and challenge, Kyosuke doesn't go everywhere provoking them and would avoid throwing the first punch unless provoked
Appearance
: Kyosuke has long (shoulder length) straight hair, has violet eyes, physically Kyosuke is a tall and fairly muscular guy due to all the training he does.
Kyosuke wears a black and green jacket that on the back reads "Ravaging Wolf" (his in ring name) and the design of a wolf howling to the moon with a yellow shirt underneath, light brown pants and white sneakers, he also carries a pair of dark blue goggles on his neck (and rarely on his forehead)
FaceClaim
:
Tales Of Hearts
•
Hisui Hearts
• Kyosuke Ishida
Personal History
: Kyosuke Ishida had a fairly happy life in his early years, maybe he was too young to understand but he never saw the problems his parents had nor he heard them argue a lot but suddenly just one year after his little sister was born their parents divorce which meant that his family had to split and never see each other again, he ended up with his father while his sister went with her mother.
At first living only with his father wasn't that bad, maybe a little odd that he couldn't see his mother nor his little sister which might grew up not knowing anything about him, soon problems started to come when his father develop depression and passed the majority of his time drinking his problems away, Kyosuke had to learn to take care of himself which prove a little difficult growing up in Greater Shibuya, soon he learn to fight and defend himself, he develop a brawler type of style combining punch, kicks and the use of any weapon he found on the streets.
During his teenage years things weren't getting better, his father started gambling and both ended up drowning on debts, Kyosuke couldn't believe on what his father was turning, just seeing him make Kyosuke burn in rage and frustration so one day he just leave the house and never return, he made money doing some small jobs until he finally got a lucky strike and found a way to make a living out of fighting, he join a gym one day and release all his anger and frustration against a punching bag a man saw potential on him and decided to train him in Boxing.
While not really a professional yet, Kyosuke have his fair amount of fights getting the nickname of "The Ravaging Wolf" due to how wild he act on the ring giving almost no time for his opponents to react and his also kind of a loner, not wanting to spend much time with other people besides some close friends.
SPIRIT USER'S INITIAL EVOLUTION LINE
Spirit Element: Light
---
Sprite SpiritSpecies
: Strabimon
Appearance
:
Attribute
: Variable
Family/ies
: Nature Spirits
Type
: Beast Man / Demon Man
Fighting Style
: In this form Kyo uses his brawler style combine with slashes using his claws
Abilities
: Licht Nagel: Strabimon strikes the enemy with his claws shining with a powerful light.
Licht Bane: Strabimon's Claws shines with a powerful light and slash at the air shooting an energy wave out of them
Refine senses: By concentrating Strabimon can upgrade his smell and hearing senses making easy for him to search for his objective. (Duration 2 post) (Cooldown 2 post)
Digivolves From
: -
Digivolves To
: Wolfmon (Human Spirit)
---
Human SpiritSpecies
: Wolfmon
Appearance
: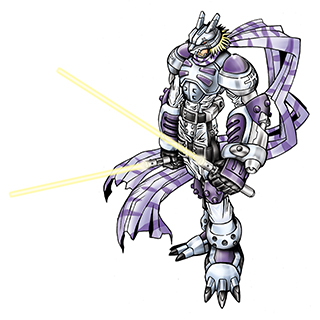 Attribute
: Variable
Family/ies
: Nature Spirits/Nightmare Soldiers/Virus Busters
Type
: Warrior
Fighting Style
: In this form Kyosuke uses a little more of his boxing knowledge and lets the spirit guide him in combat when using the Lichtschwert (light sabers)
Abilities
: Sieger Dance: Wolfmon proceeds to give up to 6 attacks with his lightsabers finishing with a cross cut. (Cooldown 1 post)
Licht Kugel: Wolfmon shoots a laser from his Arm Cannon (cooldown 1 post)
Intensive Licht Kugel: An even more powerful version of the Licht Kugel it takes time to charge but releases a more wider and powerful beam of light. (Time to charge 1 post) (Cooldown 2 post)
Drohung Strahl: In close quarters Wolfmon unleashes a barrage of punches finishing with an Uppercut sending his opponent flying (Cooldown 1 post)
Licht Kleiden: Wolfmon dashes towards the enemy engulfed in a bright like that takes the shape of a wolf head (Cooldown 2 post)
Zwei Seiger: Release an energy ball after crossing both lightsabers
Digivolves From
: Strabimon (Sprite Spirit)
Digivolves To
: WereGarurumon (Beast Spirit)
---
Beast SpiritSpecies
: WereGarurumon
Appearance
: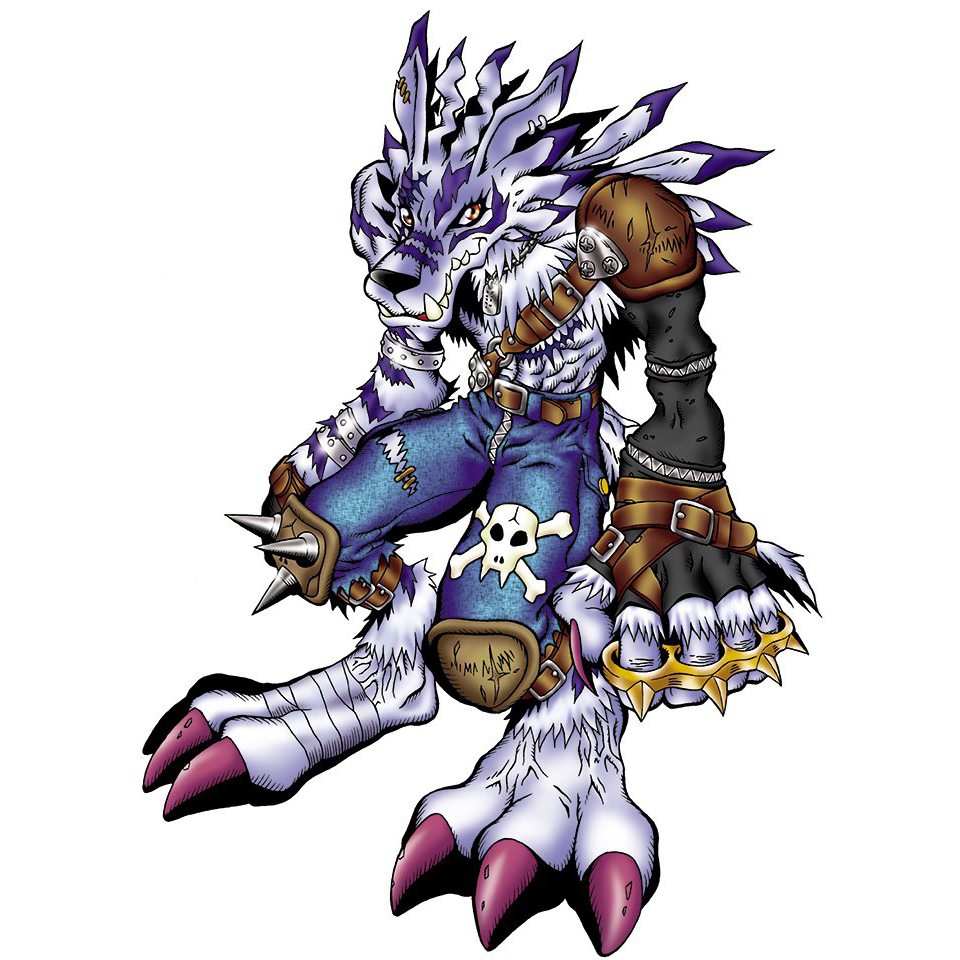 Attribute
: Data
Family/ies
: Nightmare Soldiers/Nature Spirits
Type
: Beast man
Fighting Style
: In this form Kyosuke lets the instincts of the beast spirit run wild, acting more violent slashing and biting his opponent.
Abilities
: Kaiser Claw: Slashes at the enemy with claws bathed in a golden light
Brass Knuckle: Dashes towards the enemy to give one powerful strike with the spiked brass knuckle covered in a golden light
Crescent Cross: Concentrate the energy of the moon and does a spin kick and a backflip kick releasing two energy attacks that forms a cross. (cooldown 1 post)
Glacial Fangs: Charge and bites his opponent with his fangs releasing a frozen blast
(the freezing effect is instantly for rookies or below taking 2 post to unfreeze)
(For Champions and
Ultimates
takes 1 post to unfreeze)
(Megas are unaffected) (Cooldown 3 post)
Beast Senses: Letting his instincts run wild WereGarurumon intensifies his instincts to track his pray (just like Strabimon's Refine Sense), problem is that while doing this his instincts overcome him and enters a berserker state not distinguishing between foe or friend (Duration 2 post) (Cooldown 4 post)
Howling Blaster: Fires an explosive energy blast from his mouth
Digivolves From
: Wolfmon (Human Spirit)
Digivolves To
: Crescent Garurumon (Fused Spirit)
---
Fused SpiritSpecies
: Crescent Garurumon
Appearance
: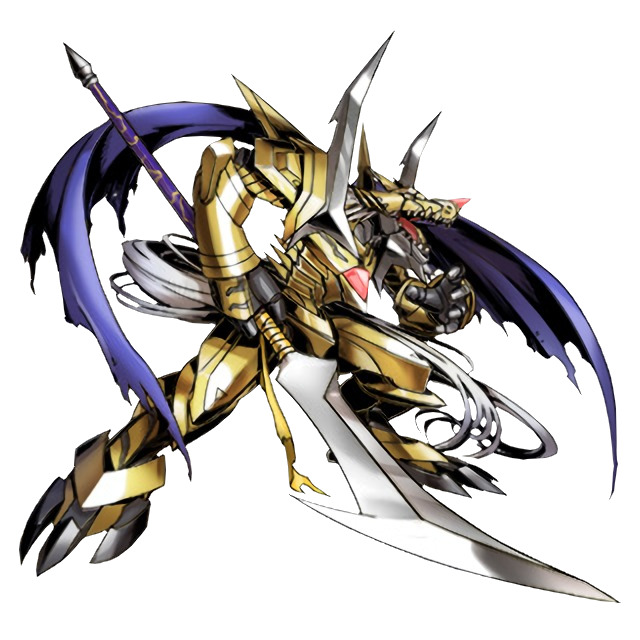 Attribute
: Data
Family/ies
: Metal Empire
Type
: Beast Knight
Fighting Style
: In this form both Kyosuke and the spirits work together in synchrony, Kyo handling the more hand to hand combat while the spirits the weapon fight
Abilities
: Crescent Dance: Crescent Garurumon makes a flurry of attacks with his Kijū Engetsutou finishing with a Howling Blaster at point blank (Cooldown 3 post)
Geki Hyougetsuga: Spins its entire body and slash his opponent several times like a tornado
Full Moon Blow: Crescent Garurumon's claws shine with the power of the moon giving his next couple of attacks 50% more power (Duration 2 post) (Cooldown 4 post)
Ultimate Howling Blaster: Charge up and release a giant light sphere that explodes once in contact with the enemy or any solid surface (Charging time one post) (Cooldown 2 post)
ChronDigizoid armor: Crescent Garurumon golden armor is made of Chron Digizoid, it can withstand up to two champion attacks, one ultimate and Megas can damage him normally, rookie or below can't even scratch his armor
Shining Overdrive: Crescent Garurumon surrounds himself in a heavenly light charging up the attack, while he can move when charging he is way slower and can't execute any of this other attacks, once the attack is ready releases all the light accumulated in a big 7 meter radius explosion, after that Crescent Garurumon will be weakened for all the energy spent on the attack. (It takes 2 post to charge) (Weakened state last 3 post) (Cooldown 4 post)
Digivolves From
: WereGarurumon (Beast Spirit
Digivolves To
: -
---
SPIRIT USER'S ALTERNATE EVOLUTION LINE
Spirit Element: WindHuman SpiritSpecies
: Valkyrimon
Appearance
:
Attribute
: Data
Family/ies
: Virus Buster/Wind Guardian
Type
: Warrior
Fighting Style
: Valkyrimon is a master of multiple weapons able to fight both close quarter and long range with no problem, also he gets help from his pet friend Freja
AbilitiesFreja [Passive]:
The trusty companion of Valkyrimon, whenever Valkyrimon hits an enemy it gets marked and Freja will join in the attack for the next 3 post doing 10% extra non-elemental damage, Valkyrimon can only mark one enemy at a time for Freja to attack and after the three post have passed Freja needs 2 post to recover before attacking again, additionally Freja can withstand 1 attack from a Champion digimon, but an attack of Ultimate and above with knock her out immediately (entering in her 2 post cooldown)
Void Tempest:
Valkyrimon creates a sphere of slashing wind trapping the enemy on it before delivering a powerful cut with his sword Fenrir doing severe Wind damage (4 post Cooldown)
Sanction Storm:
With his Crossbow he shoots a blast of wind to the sky forminga sphere of green energy, after a couple of seconds the sphere breaks and arrow shaped bolts fall to the ground on a radius of 5 meters doing moderate wind damage (This AoE attack does not trigger Freja, Cooldown 2 post)
Sovereign Gale:
Summons a lance and spins it above his head calling for the wind, creating a tornado that swallows up to 5 meters of the battlefield either trapping the enemy with Valkyrimon, for the next two turns the storm remains up damaging whoever tries to get in or out (3 post cooldown)
Fenrir Cyclone:
Wind starts spinning around the blade of the sword and Valkyrimon makes a powerful slash, if it hits point blank it does severe wind damage but if the enemy is far away the slash sends the small cyclone on his way doing moderate wind damage (3 post cooldown)
Golden Eagle:
Loads Freja in the crossbow and flies to gain altitude, once high enugh Valkyriemon calls for the wind to surround his animal partner before shooting it from the Crossbow, Freja would travel in a straight line gaining speed and energy from the wind creating a small sonic boom, once Freja hits the ground or enemy it creates a small explosion of 2 meters doing severe wind damage to those caught up (Freja must be active to use this skill, Freja gets immediately knocked out after using this skill, 5 post cooldown)
---
Digimon Name
: Aoi
Default Form
: Otamamon
Gender
: Female
Alignment
: Lawful Good
Skills/Talents
: Like any aquatic Digimon Aoi is a good swimmer she even moves faster there than in land, she can also breath under water
Inventory:
-
Personality
: Aoi is someone very cheerful and happy, always looking at the bright side of every situation, it can be the end of the world and she'll say "Don't worry let's be positive I know we can get out of this situation".
Otamamon has a great sense of adventure and exploring, one of her biggest dreams is to travel around the whole digital world, she's a really curious digimon too if something gets her attention it's going to be all over that person/thing for hours and although she means well she can annoy many digimons and humans.
That curious side can be a little problematic since she almost always happen to be in the wrong place at the wrong time or annoy a not so friendly digimon and she's not a real fighter relying on the use of a bubble shield and a thick mist to use it as a distraction and run.
Personal History
: -
RookieSpecies
: Otamamon
Appearance
: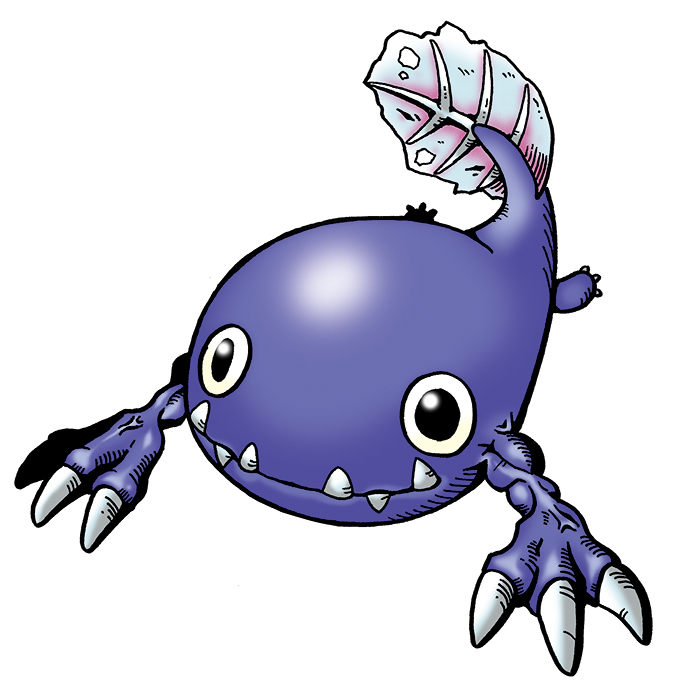 Attribute
: Virus
Family/ies
: Nature Spirits/Deep Savers
Type
: Amphibian
Fighting Style
: Almost zero real combat skills, Aoi rathers defend and run than actually fight
Abilities
:
-Wrapping Bubble: Aoi generates a protective bubble around her or a target, this bubble can stand one attack before popping (duration 1 post, cooldown 2 post)
-Thick Mist: Creates a curtain of mist that covers a small radius (around three meters), anyone inside the fog will have trouble seeing but digimons from Champion and above wouldn't have much trouble. (Duration 2 post, cooldown 4 post)
Digivolves From
: Pukamon
Digivolves To
: Ranamon
---
ChampionSpecies
: Ranamon
Appearance
:
Attribute
: Virus
Family/ies
: Deep Savers
Type
: Fairy
Fighting Style
: In this form Aoi is still not a good fighter but she'll try her best on whatever she can assist
AbilitiesSwift Swimmer [Passive]:
While under Water Aoi gains a 20% speed buff
Healing Rain:
Summons a small cloud on top of an ally and mystical water rains down on them healing their wounds for 2 turns (3 post cooldown)
Ice Javelin:
Release from her mouth a cold breeze that slowly creates a spear of Ice that she then throws at the enemy doing moderate ice damage (1 post cooldown)
Ice Shield:
Put her hands on the floor and rises a dome of Ice to protect her and her allies in a radius of 3 meters and it can withstand one attack (2 post cooldown)
Sonic Voice:
Releases a powerful scream that sends shockwaves hurting anyone in a 5 meter radius
Digivolves From
: Otamamon
Digivolves To
: -