Post by Lise Hamelin on May 30, 2018 11:57:56 GMT
Name
: Lise Hamelin
Alias
: Hamelin-Sensei
Age
: 30
Gender
: Female
Height
: 5'3"
Weight
: 140lb
Alignment
: Lawful Good
Birth Date
: 17th January
Western Horoscope
: Capricorn
Birth Place
: Northampton, UK.
Skills/Talents
:
Multi-Lingual - As an English Teacher working in Japan, Lise speaks both Japanese and her native English very well. She also has a limited grasp on French, Spanish, Russian and German (but not enough to be fluent in those languages).

Globetrotter - Lise has traveled extensively around the world, having visited every continent except Antarctica in over 30 countries. She has an interest in learning about other countries and civilizations.
Social Researcher - Lise works hard to keep up with social trends so that she is better able to understand her students. Later on she will extend this skill to learning about digimon for the sake of the digidestined that she may or may not be teaching.

Backpack Contents
:
Leather Handbag (with standard amenities)

Glasses

E-book

Digivice
: Orange and Red
Personality: Lise is a woman that has a passion for teaching. She has travelled halfway across the world to be where she is now and has enjoyed every moment. She has come to be delighted by life in Japan and of course is willing to do all she can to benefit the students that she is meant to teach.
While she normally can figure out when others are simply being lazy, Lise does recognize the struggles that others go through and is willing to work with them as best she can. This also includes those matters that involve digimon, given that in this setting there would undoubtedly be students in her classes that have their lives revolve around this new phenomenon. Even as an adult, Lise is open minded to digimon, and sees them as fellow sentient beings rather than dangerous monsters.
As a teacher, Lise tends to be fairly lenient in most cases, other than students deliberately screwing around or being hopelessly lazy. However, she keeps this persona in working hours only. Outside of school, she tries to simply be herself and act as an ordinary woman.

Appearance:

Lise is an average height English woman with blue eyes and blonde hair. She is usually seen with glasses and wears her hair tied up with clips for the most part. When working in her capacity as a teacher she often wears a modest but professional outfit of a jacket, blouse and 'slacks' trousers. At other times, she often wears long dresses (and coats if it's cold).
Lise's face is usually arranged with a kind, relaxed expression, although if faced with having to deal discipline to a student or faced with danger, the usual neutral smile that she has will fade and she will appear rather stern. She rarely displays signs of serious panic unless a student, her partner, or someone meant to be under her care is in danger.
FaceClaim
:
NABARI NO OU
•
Kazuho Amatatsu
• Lise Hamelin
Personal History: Lise was born as the 3rd of 4 children to a military family originating in Northampton, England. With 2 elder sisters and a younger brother, she often felt like she had to perform above average to earn the praise of her parents, which she soon came to terms with and often aimed for excellence in the things that she put her mind to.
With her father being an officer in the Royal Air Force, she travelled a lot as a child, growing up in various areas in Britain and Western Europe. As a young girl, after half a year in Germany, she became interested in the idea of learning more languages, eventually fixing on Japanese, thinking it would be a worthy and fun challenge, given she seemed interested in Japanese culture. And so in the years after that, she held on to that goal and eventually became fluent enough in Japanese to be accepted for a teaching job in Japan, after studying for an education degree in university.
She was readily picked up by the Shibuya High School as an English teacher, where she has remained for the past 6 years, trying to be a good mentor to the many students that have passed through the halls here. Of course, she had noticed that some students had some... unusual tendencies, particularly in them becoming missing sometimes and looking like they had gone through some kind of battlefield, but, she chose not to embarrass them by commenting, instead, using her natural curiosity to investigate.

---
Digimon Name
: Ark
Default Form
: Rookie
Gender
: Male
Alignment
: Neutral Good
Skills/Talents:

- Encyclopedic Knowledge: Ark has a mind to learn and so any information readily available on an internet search engine is available to him to load as data and educate others.
Inventory: Hakase Bo - A staff that Ark can use to direct his attacks as well as direct attention to on a black/white board.
Professor Outfit - In his rookie form, Ark wears a white academic labcoat and academic hat.

Personality: Ark is a bookish yet friendly digimon that is driven by learning and educating others. He can sometimes come off as something of a know-it-all, but that's because one of his main interests is learning about the world around him, as well as trying to help out all of those that want help in regards to education.
Ark is a naturally curious digimon, and if he comes across something that perplexes him, he simply feels that he must solve it, whether it be a problem, unknown object or anomaly, he feels like he must try to understand it. This also includes the goings on of others in Lise's class, where he'd try to learn what the other students were talking about with their social trends.
If he meets a digimon partner belonging to a student in Lise's classes, he'd try to get to know them better, being friendly and approachable. He doesn't see himself as a higher status than them, but, he likes to put himself in a position where he can help them out if they need to. And as for his attitude to Lise, he is 100% loyal to her.

DIGIMON'S INITIAL EVOLUTION LINE
---
FreshSpecies
: Botamon
Appearance
:
Attribute
: Free
Family
: N/A
Type
: Slime
Fighting Style
: Simply what a baby level digimon does - hide from stronger enemies, blow bubbles at those he can take on.
Abilities
: Bubble Blow - Spits irritating bubbles at the opponent, nothing special.
Digivolves To
: Koromon
---
In-TrainingSpecies
: Koromon
Appearance: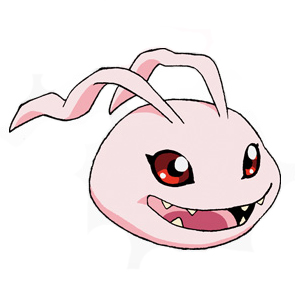 Attribute
: Free
Family
: Dragon's Roar
Type
: Lesser
Fighting Style
: Same as Botamon, only he bounces more actively around than his baby form.
Abilities:
Bubble Blow - Shoots acidic bubbles at the opponent.
Poyoyon Tackle - Bounces hard at the opponent's upper body, aiming to knock them over if possible.

Digivolves From
: Botamon
Digivolves To
: Agumon Hakase
---
RookieSpecies
: Agumon Hakase
Appearance: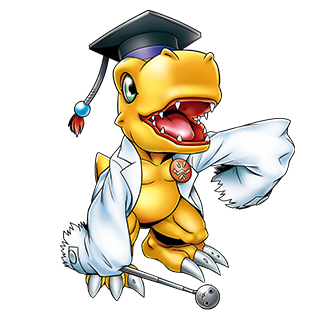 Ark stands 3'2" in this form, and looks pretty much as pictured.

Attribute
: Vaccine
Family
: Dragon's Roar
Type
: Educational Reptile
Fighting Style
: In this form, Ark tends to keep his distance from the rough-and-tumble of combat. He prefers fighting with projectiles, namely through the use of his staff, which he'll wave deftly like a wand to keep the attacks flying. If forced into melee combat, he'll try his best with his claws, but aim to open enough distance to fight properly again. He will of course protect Lise if it comes to it.
Abilities:

Combat Passive Ability: Dino Hide - Ark's lizard hide has properties that make it tough, fire resistant, but weak to the effects of water and the cold. Reduces damage given by Dragon's Roar, Nature Spirits and Jungle Troopers by 15%, but increases damage from Deep Savers family digimon by 15%.
Pepper Blast: Ark aims his staff at his opponent, conjures a fireball, and launches it at them. If deprived the use of his staff, he can also launch this attack from his mouth, but it's 30% weaker.
Mana Blast: Ark charges his staff with a similar energy to Pepper Blast, only it's blue, then launches it at the opponent. Deals 30% less of a normal rookie attack, but if it hits, it will reduce the power of the opponent's next "special attack" (any attack that requires more than physical force or mechanics to work that involves conjuring energy) by 50%. This only affects Rookies and lower. Champion levels have their power reduced by 25% in this effect. Nothing on Perfect levels and above. Effect lasts 1 turn only. [Cooldown: 1 turn]
Mortarboard Hustle: Ark raises his academic cap, which fills his body with an enchanted boost. It increases the power of his attacks by 30% for 2 turns. [Cooldown: 2 turns].

Digivolves From
: Koromon
Digivolves To
: MageGreymon
---
ChampionSpecies
: MageGreymon
Appearance
:
MageGreymon stands at 4'10" in height. Looks as pictured.

Attribute
: Vaccine
Family
: Dragon's Roar
Type
: Magic Dragon
Fighting Style
: In this form, Ark uses his increased magical power to attempt to pacify the opponent through an overwhelming show of force. He is nowhere near as physically strong as a standard Greymon so he cannot operate well in a melee, aiming to keep his distance, where he'll aim to weaken then whittle down an opponent with magic. He also has the capability of healing if necessary.
Abilities:
Combat Passive: Magical Hide - Ark's hide has a special magical defense that is able to reduce incoming damage from Fire, Lightning, Light, Dark, Wind and Water attacks by 30%. Has no effect on melee attacks or other elements.
Nova Sphere: Ark conjures a fireball in his hands, then hurls it at the opponent, where it will explode and deal area-of-effect damage for 5 meters [Cooldown: 1 post]
Data Mend: Ark's primary means of healing. Conjures a gentle blue healing force in his hands that heals injuries by a moderate amount to himself or an ally. [Cooldown: 2 posts]
Terra Dasher: Ark conjures a green light from his hands, then raises his right one up suddenly, creating a rushing force from the ground that strikes the enemy from below. Unless they have the ability to fly, aims to knock them down. [Cooldown: 1 turn]
Homing Fire - Conjures three fireballs that spin around his body momentarily - then are launched outwards. The fireballs home in on their target, exploding with a burst of heat when they connect. [Cooldown: 1 post]
Soul Boomerang - An upgrade of his Mana Blast rookie technique, Ark conjures a blue flame which he launches at the opponent. Deals 30% less of a normal Champion attack, but if it hits, it will reduce the power of the opponent's next "special attack" (any attack that requires more than physical force or mechanics to work that involves conjuring energy) is reduced by 50%. Furthermore, it increases the power of his next attack by 30% This only affects Champions and lower. Perfect levels are reduced by 25%. No effect on Mega and SM. Effect lasts 1 turn only. [Cooldown: 2 turns]

Digivolves From
: Agumon Hakase
Digivolves To
: TBA