Post by Katherine Jasso on Jul 31, 2018 7:00:48 GMT
CHAPTER II: THE ZOID GEMS

Episode 4: Madness! The lake of illusions and the 5 beastly protectors!
On their way to Terminus, which seemed the next stop on their path to find the Zoid Gems, Katherine and Jazz were trying to cross the Server Woods, an enormous dark forest that stood between them and the Digital Core, the center of the Digital World where the biggest city known so far was located. To be absolutely fair, the duo could have taken a Trailmon there, but they actually preferred to walk across the thick forest, to keep fulfilling their side objective, trying to see and explore everything they could from this vast world. The exploring nevertheless was not going so well, since the inside of the woods were incredible dark, due to the density of its trees, which leaves, branches and such didn't allow much light to come inside the area. It was still a beautiful, very calmed forest, where only the sound of some digimon buzzing or flying around could be heard, along with the running water from every other river they found. The lowering on the amount of light they had for walking through the roads, guided only by a set of signs that pointed to the exit, indicated that the afternoon was here, and they should find a place to call it a day, eat some food and sleep. A sign that read 'Modoki Inn, not too far from here' with an arrow pointing forward made the duo decide to walk a little more. A comfy bed where to crash inside an Inn definitely beat a sleeping bag on the ground every time. The sign that read 'Modoki Inn' in front of a two floored wood building, with a homelike style on the outside announced that was the place. They could see lights on in the upper floor, so they went in, knowing it was not abandoned or anything. Upon entering, they noticed something different about this inn, the rooms were on the ground floor, and they had to go up to the second floor to find the bar, where a digimon that literally looked like a bipedal egg, with two eyes that could be seen through a little crack on its center greet the pair.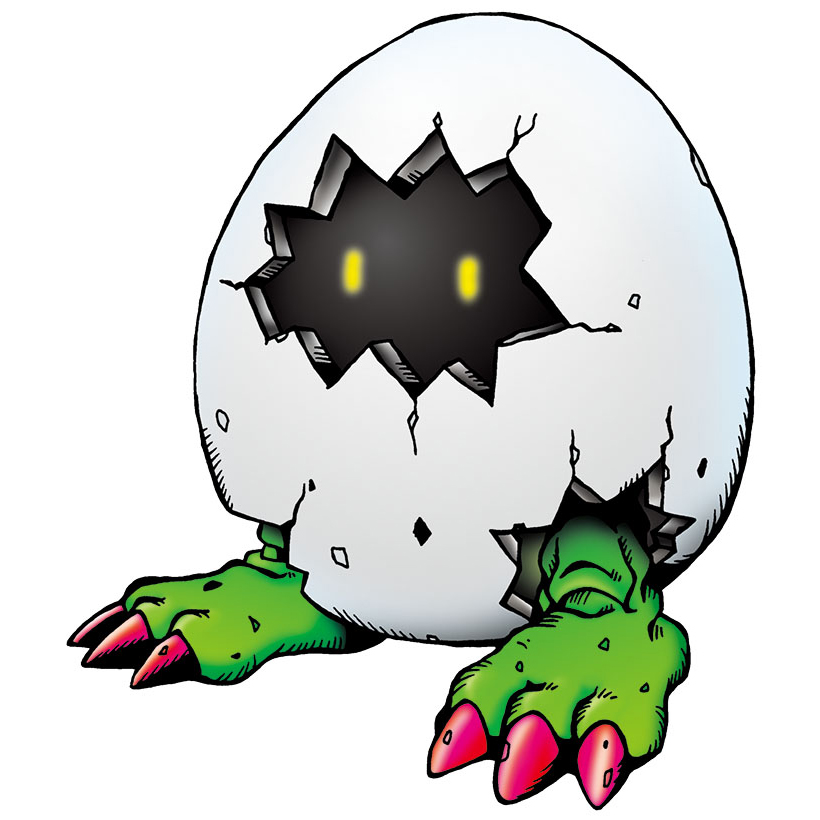 -Welcome to Modoki Inn! My name is Void. Would you like a room? Or perhaps some food? How can I help you?
–The creature had a soft warm voice, like a child, even though his appearance might seem scary.
-Oh! Hi there!
–Katherine waved at the egg- Digimon
–Sure, we would love to have dinner. Bring us whatever you feel fit us, I don't know much about food on this world
. –Being because Katherine was used to trying different food from around the whole world, due to her constant traveling, or because all the food on the digital world tasted good, the duo never had too much trouble ordering wherever they went, so they tended to left the waiter to decide every time.
-Okay! I'll bring you a Croc salad and some waffles.
–The duo had no idea what a
Croc salad
was, and less was Katherine prepared to mix a salad and waffles on the same plate, but as always, it tasted pretty darn good.
-This is goooood!!
–Jazz said as she kept eating her waffle, rolling it up around the so-called croc salad. It might have been the fact that they hadn't eaten anything since lunch, and they had been walking for around 4 hours, but it was really good.
–So you run this Inn by yourself, Void?
-Oh, no!
–Void replied, sweatdropping
– I'm not even the innkeeper, I just found a job here recently.
–He explained-
The innkeeper is…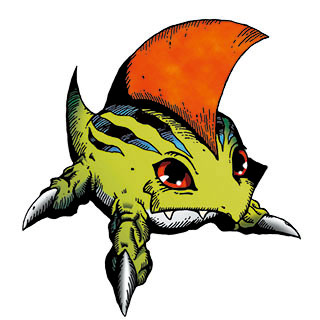 -That would be me!
–A deep voice sounded around their backs –I'm Modoki Betamon, but everyone around here just calls me Mr. Modo. I hope you're enjoying your dinner; Void is a great cook.
-It was a creature with a huge resemblance to Betamon, the digimon that accompanied that old MegaSeadramon during the big archipelago race. But he was from a soft grass color. He also had a much deeper voice, for Katherine he actually sounded like an old man.
-It is very good!
–The girl replied as she kept eating her waffles.
–It's nice to meet you both, my name is Katherine and this is Jazz, my digimon partner.
-Nice to meet you too, gals! Boy, I'm glad you're enjoying that dish, Jazz.
-He added with a smile
-Croc is a very common ingredient found on this forest, but vaccine digimon can't eat it since they're allergic to it, so thank god you're a data type, like me.
-Jazz had explained a bit about digimon types to Katherine before. There were three she knew of: Vaccine, Data, and Virus. As Mr. Modo got closer to them to speak, Void bowed to the duo and went back to what apparently was the kitchen
The girl then explained to Mr. Modo how she and Jazz had decided to go through the forest walking to see its insides by themselves, and that they were currently heading to Terminus City. At some point, during the conversation, she could spot a beautiful lake that could perfectly be seen from the window, due to the highness of them being on a second floor. It had beautiful crystalline water, that reflected the afternoon sun shining through the leaves. It was truly a marvelous view.
–So pretty…
-Both the girl and the bunny said, looking through the window, Jazz standing on Katherine's shoulder.
-Oh, that's cream lake, It's truly beautiful isn't it?
–Said Mr. Modo just behind them, also looking by the window.
–People have stopped going by it lately, but it is a marvelous place.
-Why have they stopped going?
–Jazz asked, turning to the innkeeper
-There's some very odd rumor spreading around the forest. Saying that whoever sleeps around the lake might get their soul taken.

-
Their… soul?
–Katherine's eyes widened. That was definitely an awful rumor for such a beautiful lake.
-Digimon around the lake has begun to act very strangely at night.
–He said, with a worried expression.
–Oh! But you should not worry! None of our guests have had any kind of trouble sleeping here, you're okay
. –Mr Modo added, after looking at the girl's frowning face.
-No, don't worry about that we...-We want to go there.
–Jazz finished the brunette's thought.
-Uh? But... Why?
–It was only natural that it resulted in a confusing premise to any digimon. Why would the duo want to go to a place where they could lose their soul?
-We love investigating that sort of stuff on this world, Mr. Modo. That's just what we like to do.
–Of course, the main reason was that if there was something odd going on, there could be a Zoid Gem involved behind the whole deal. Then again, this could only be a rumor but, if there was a night to find out, this was the one. Tomorrow morning the duo would be off to Terminus City, and this was the only chance they would have to find out if there was actually something going on in this forest.
-I see…
-Mr. Modo sighed
– In that case, let me tell Void to pack some more food for you. Don't worry, I won't charge you neither for that or for the dinner you just had.
-Oh, no! Don't worry, we can pay for that
–Katherine turned at the digimon, waving her hands in a dismissive way.
-No, no. please let me help you. To be honest, this Inn has not been getting a lot of clients lately and I think it may be because of that odd rumor
.
It has been circling for quite a lot
–The frog-like digimon explained.
–But, I must warn you… I have heard strange noises around the forest during the night. Even though no client had been acting weird inside of this inn on those nights, I can't guarantee that lake's surroundings are safe.
-Okay! Then let's stay here!
–Katherine corrected confidently.
-We're not!
–Jazz jumped on her head, pointing to the lake with determination. The bunny was definitely the bravest of the duo, while Katherine tended to be the scaredy cat, especially when it came to ghosts or paranormal stuff, which on her head, could be very well what was happening on this forest.
Once everything was said and done, the duo departed to the forest. They split the sleeping hours in two halves, so both of them would be taken care of at all times while they slept and they could see if something happened around them in the middle of the night. From around 10 pm to 2 am Jazz would be up, while from 2am to 6 am Katherine would be guarding the bunny's sleep. After this, if nothing happened during the night, they would go to Modoki Inn, have breakfast and take off towards Terminus City the next morning, without wasting any more time with this rumor.
-Are you sure you don't want me to stay awake?
–Katherine asked, as the silence reigned across the area. The lake looked beautiful at night, little purple flowers that apparently grew on the surface emanated a soft yellow glow at certain points of the water, while the wind occasionally moved some upper branches from the big trees, creating a relaxing sound.
The bunny shook her head.
–One of us should be sleeping, in case that whatever that happens here occurs while people are asleep.

Katherine nodded at the statement and closed her eyes. Was something really going to happen to her while she slept? Could Jazz protect her being unable to digivolve, since the girl would be sleeping? Of course, she was going to wake her up if something happened but… her train of thought paced down slowly as the girl started falling asleep, which wasn't very hard, thanks to the fresh air, the absence of bugs and the almost soundless environment. Slowly, the girl fell deeply into a dream.
---
She heard a constant knock like someone was bumping something into a piece of wood. She opened her eyes and looked at her surroundings. Without knowing why the girl was completely shocked. But why would she? It was a regular school day, she just dozed off for a second while her teacher, Mr. Nakamura taught a very boring history class, smacking the white piece of chalk against the board with every word he wrote. Then why was she so upset about it? Why did she have the feeling she should be somewhere else?