Post by Kazuya and Royland on Oct 30, 2018 14:20:43 GMT
Name
: Kazuya Oda
Alias
: Golden eyed Man
Age
: 23
Gender
: Male
Height
: 6'2
Weight
: 85 kg, 187 lbs
Alignment
: Neutral good
Birth Date
: July 7th
Western Horoscope
: Cancer
Birth Place
: Tokyo
Skills/Talents
:
Charmer
: from a very young age Kazuya has been noted to know what to say and how to say it, making him a very likeable person by others.
Anylatical mind
: growing up poor Kazuya relied on his mind to gain an edge in his studies, standing out in a class full of geniuses. Making him a very smart person.
Enhanced Endurance and Stamina
: Kazuya deticated a large portion of his life to avoid being a "weak" person, training himself to be good at anything he tried which included sports. Giving him an athletic build and stamina making him able to excersize for hours without reaching his limit.
Profecient at brawls
: Kazuya was bullied at the age of thirteen, but learned how to defend himself under the teaching of an middle aged man who later turned out to be an ex-member of the yakuza.
Backpack Contents
:


His phone


Water bottles


A map of the location he intends to visit if its a digital world related place.


Digivice
: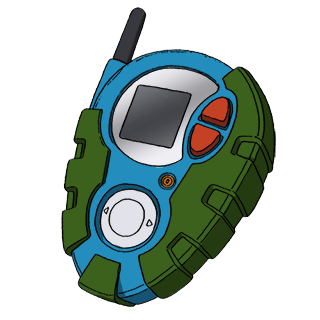 Personality
: To say that Kazuya is a contradiction is an understatement, he hates those in the upper clase yet he worked himself to the bone to become part of them. He is a friendly guy and gains favours quite easily but in the end, there isno one that he can call a true friend in his life. Kazuya is reserved and has his fair share of secrets but also Social savy, engaging people enough to break the ice but also maintaining a respectable distance from people.
Kazuya has a sense for beautiful things, appreciating paintings, sculptures, music and even stories. He believes that to create something beautiful you would have to have an equally beautiful soul, something he does not see in himself. As his outlook towards life is quite Cynical, he believes that if you dont have money and connections you will be labeled "weak".
This falls on what he calls the three constant of life and they are as follows.
1 : Those who lack finacial power or strong connections are weak, the weak have no control over their own destiny. Their best option in life is to work hard and avoid staying weak.
2 : The strong will devour the weak, no matter how hard people try to convince themselves otherwise Kazuya believes that humans live in a jungle. Its just that the concrete jungle is a bit more subtle than the regular one, but the rule of survival of the fittest is still in play and the weak will suffer for it.
3 : Relationships are all meant to be broken and nothing is eternal, he does not hate having relationships not at all, he understands the basic human need for social activity. But he looks down on relying on those relatioships, since he sees them as people sigining up for being hurt once it breaks. This is the reason that only few people know him well, those are his father and a woman who almost cracked his shell and loneliness permanently.
These three things that have been imprinted on him from a young age and he is still believes in them to this day.
Kazuya's nicer and more caring side of him can be seen when he is with young kids, as he cares for their well being and often tries to be a good role model to them. He even has his own personal code when it comes to kids, never drink alcohol infront of them. Its something he intends on upholding no matter what.
Kazuya is also known for his ability to keep his cool in rather tense situations, this makes him a reliable asset to anyone. As that ability combined with his intellectual prowess, makes him someone that can benefit his allies in any situation. So in short he is a talented man, who chooses to be lonely.
Appearance
: To put it simply and bluntly, Kazuya is a very handsome man. He is a tall individual standing in an outstanding 6 feet and 2 inches tall, his body build is not huge but its still very muscular. His hair is jet black and is always kept nice and tidy, Kazuya really takes good care of his hair. His eyes which some say is his most alluring and captivating facial feature, is narrow and focused. Coupled with its odd golden colour makes his gaze much more charming than the usual gaze.
His nose is slender and sharp, the high bridge of his nose help extenuate his bold look. His eyebrows are valiant and sharp, helping bring out the true beauty of his dauntless and striking glare. The hard cut of his mouth coupled with his briliantly shiny smile marks him with a mysterious yet oddly inviting air. All in all Kazuya is a very handsome individual to point of gaining the envy and dislike from other jealous individuals.
Picture
FaceClaim
:
FATE FRANCHISE
•
Lancer/Diarmuid
• Joyboy
Personal History
: Kazuya's parents knew eachother for a couple of years before they were married, his father was an employee in a mega store and had a decent salary. While his mother was a student of drama, she was absolutely stunning and beautiful her golden eyes and long flowing jet black hair was a sight to behold. The two of them were friends but his father had loved her for a while, but she wanted to focus on her future career. Sadly her father was a very poor man and had no way to support her life long dream of becoming a movie star, but she continued to try.
Kazuya's father however climbed up the ranks while she was in college, eventually becoming the manager of the place he works on and had a very happy life even if he was still single.
2 months after his promotion Kazuya's father learns about the death of his friend's father. He then quickly went for her aid and helped with funeral arrangement, and eventually offered her to live with him, which she accepted now that her finacial situation reached rock bottom. They lived for 3 weeks before falling in love with each other and eventually getting married, they lived a quite enjoyable life as mister Issho Oda and Misses Mika Oda.
4 years later Mika got pregnant and gave birth to a baby boy, the couple were over joyed with their new born son. His father wanted to give him a manly name like Momotaro, but Mika adamantly picked the name Kazuya which meant Peace, Calm and harmony. Kazuya would grow up to be a bright young boy, he shared the hair color and eye color of his mother. The three shared a joyous life, until Kazuya reached the age of 4. Mika began to enter a crisis, she felt like she was wasting her life by not pursuing her career anymore. All was lost for her regarding her dream, until one day she was approached by a young buisness man who fell for her beauty. He learned that she was married and had a kid but he would not take no for answer, he managed to convince his father to give Mika a lead Role if she agrees to divorcing her current husband and marrying him.
Mika declined his twisted offer at first but as the days went by, the temptation of fame and having her name become immortal outweighed her love for her family. She tried to resist the offer, but she soon fell victim for her own desires. Giving the man what he desired, she began work on divorce papers and gave it to her current husband, he pleaded for her to stay but she simply refused.
After everything was settled Mika got ready to leave her house and family behind to pursue her dream, but before she could leave she was stopped by a 4 year old Kazuya who hugged her leg holding it tight. When she turned to him she found him trembling and crying, he asked her if she was leaving because he was a bad son. She simply smiled at him, placing her hand on his shoulder.
"
Don't worry son, I will be back in a week and take you out for ice cream."

This was the first lie Kazuya ever heard, as this was the last time he would ever his mother ever again. But he waited for her to return for him, till eventually giving up.
After his mother left the house, Kazuya's dad began to suffer from a case of heavy deprission. Often easing his pain of loss with alcohol and slowly turning into a distant father, this grew worse and worse as Mister Issho got into gambling. Of course he began losing, and as days went by he got into a lot of debt. Frustrated and angry Issho started to search for something to vent out his anger, thats when he looked at his son in the eye and saw Mika in him, this made him angry yet when he saw the terrified look his son gave him Issho could not help but calm down and try to get his head back in the game.
With a new outlook and goal in life, Issho set out to right the wrongs in his life. In order to give his son a shot at a bright future, unfortunately the dammage he had done in gambling was too severe and despite all the begging he did to his boss he still got demoted. The best thing he could afford to Kazuya was minimal life condition, Kazuya noticed how that hurt his father so he did not ask for anything from him. Though this made him promise himself that when he becomes an adult Kazuya will be able to buy anything he desired with his own money.
At the age of 13 Kazuya began to get bullied by other kids who saw him study more than he hangs out in social places, viewing him as a weakling, they decided to pick on him. This lasted for a week, till Kazuya ran into an older gentleman who felt sorry for the young boy. He took him under his wing and thought Kazuya how to defend himself from bullies, after managing to apply the teachings of the man Kazuya managed to beat a bully so bad he broke a couple of his teeth.
After that incident no bully ever dared to come near Kazuya ever again, thankful to the man, Kazuya wished to stay under the man's tutelage for longer so he applied to work for his Toy shop. A while later Kazuya learned that the man was once a member of a yakuza gang and only quit when his daughter got killed by a rival gang, he then opened the toy shop as a way to honor his daughter.
Under the teaching of both his father and the Toy shop owner, Kazuya quickly became and exemplary student prospering in both his academic and athletic life. Easily gaining a tution to a strong college, and his first year in college was similar to the entirety of his highschool. Filled with success and a high social status, gaining the love of many of his peers of opposite gender. But those were all physical attraction nothing that could last long, not like he seeked actual companionship in the first place.
This all changed when he was in his second year, one day he was in charge of showing a freshmen around campus. This freshmen turned out to be a girl named Tsukiko Ashikaga, she had a beautiful long hair and stuning blue eyes that made Kazuya speechless for a moment. The two got along well and eventually became a couple, the two got real close and dated for a couple of years, this was the longest relationship Kazuya was in. As time went on Kazuya felt emotionally dependant on Tsukiko as his love for her began to envelop his every thought, soon he found himself thinking of a possible future for the two of them, his father absolutely loved and cared for Tsukiko like a daughter so everything felt right with the two of them.
Till one day near his graduation Kazuya got a sudden phone call from the toy shop owner giving him bad news, he informed Kazuya that his father died in a car crash involving a druken driver. The golden eyed man was obviously shocked and saddened by this news, but Tsukiko helped him during that time and eased his pain. Together with the shop owner the three of them arranged Issho's funeral, while that was the roughest time for Kazuya he managed to pull through.
But that lead him to thinking about alot of stuff, whether it was the specter of his own mortality or reflecting on his own fathers past but Kazuya could not stop thinking on the myriad of ways his relationship with the blue eyed could badly end. And thus his best course of action were to end things with her, to avoid getting hurt in the future or even him hurting her. He cared for her too much and wished for her to be happy, something he couldn't see for her if she was with him. This was ofcourse was selfish from him as he never really considered her feelings through all of this, but he eventually ended things with her and moved away getting a job immediately after graduating.
Now in a new part of town, Kazuya quickly became employee of the year and a top salesman easily. Gaining wealth beyond his wildest dreams, but cutting all of his ties with everyone he knew before. Kazuya did it he attained his dream, he can now buy whatever he wants with his immense wealth, but what is the value of money if you have no one to share it with ? This the question that plagues Kazuya's lonely life.
---
DIGIMON PARTNER
---
Digimon Name
: Royland
Default Form
: Spadamon (Rookie)
Gender
: Male
Alignment
: Lawful Good
Skills/Talents
:
Acrobat
: Royland is an agile digimon, all of his forms posses the ability to manuever in a un orthodox way. Most of those who see him move around get suprised.
House keeping and Cooking
: suprisingly Royland is great at keeping a place clean and tidy. He also knows how to cook a variety of meals, so he is great to have around if your place needs cleaning or someone to take care of it.
Inventory:
in all of his forms Roy carries a weapon and when he is not equipping them he is placing them in a special pocket dimension. Other than that nothing.
Holosuit :
FC
FACECLAIM : FATE FRANCHISE : KING ARTHUR PROTOTYPE, Joyboy.
Personality
: Royland is a simple nice person, he views the world with an innocent lense most of the time so he is easily exciteable. His curiousty is similar to that of a young person, this often leads him to follow any mystery he finds. This does lead him to very awkward situations more often than not, but because his good intentions are clear to all, most people choose to forgive him.
Roy lived some time of his life with his father, he was a stoic man as such he did not smile alot. So Roy spend alot of time and effort trying to make his father smile and laugh, he was often successful. This became something Roy loved to do, he often tries his hardest to make his friends smile no matter what.
Royland has a very strict and chivilarous code he abides to, it has the following rules.
1: Always offer a helping hand. Roy believes that if someone is in need of help, he must offer a helping hand to them. He enjoys doing good for the sake of the making the world a better place, he does not seek fame nor wealth for his good deeds.
2: Never turn your back on a friend. Roy believes that if anyone of his friends need some help, he should turn the sky upside down and do the impossible in order to help him, this makes him very loyal to his friends.
3: Never forgive injustices no matter what. Royland hate those who commit atrocities and cant forgive them, he sees himself as an ally to justice. Thus he can swiftly deliver punishment to his enemies, but never absorb their data as he looks down upon such act with disgust.
Thats his code that he lives by as a knight, there are times where he is forced to break those rules. And that often creates a strong internal struggle within the small lion knight.
But when it comes to romance Royland is a bit of a flirt, often complementing any digimon he finds attractive for whatever reason. This contradicts with how awkward Roy can be if someone actually dated him, this has not happened as of late.
He often tries to act mature and strong in front of others, but he lives his life burdened by a great regret. He has a bit of an ego and believes that he is the best at what he does, so most compliments only help to feed his ego. But he was a weakness to being called cute, adorable or anything like that. That often leads to him trying to prove he is not cute and often his attempts backfire, suprisingly this only works on him if he is at rookie or below as in his older forms he is more mature calm, and even a bit more confrontational.
Personal History
: Roy's story begins a while before he was conceived, his mother was an Angewomon who held a respectable status up in Luminas. But in order to reach a rank where she can actually influence things she had a to carry out a task, find and kill a Leviamon that has been harassing and eating the weak digimon. This was a strange and difficult task for obvious reasons and Angewomon was too weak to fight such beast, but she went for it anyways. Her first encounter with the beast was a disaster as she was almost killed, only being saved by a bancho Leomon who was nearby.
The bancholeomon urged her to leave the beast, so he can fight it alone. She adamantly refused to do so, after an itensive debate the two came to an agreement. Bancholeomon would train her for one week, if she does not reach the rank of Mega, she will leaves the battle for him. Almost one week passes by and in the last day something happened, Angewomon managed to evolve to ophanimon in the 6th day. Her new form was absurdly powerful as the two of them managed to take down Leviamon with ease, after the success the two of them were celebrated as heroes in the nearby town. They spended some time together and eventually fell in love, after two weeks they discovered an Egg that contained their son inside of it.
Their joy did not last long, as ophanimon remembered what the people of luminas will do to the egg if they find out who is the father. They will execute Bancho Leomon and attempt to cleanse the egg, this cleansing often ends up destroying the egg. Bancho leomon suggested that she does not return back to Luminas, she denied as that will only make them send an army after the two them. She then decided to make a sacrifice for her family, she would return back to Luminas alone and never see her family again. While he did not like it, BanchoLeomon knew they had no other choice. So Ophanimon gave the egg a kiss goodbye and wished for its safety, she then left for luminas and never saw her family again, she did fight to make Luminas a more tolerant place but she was not successful.
The BanchoLeomon raised the egg by himself, time would pass as his son would grow up from being an egg to a rookie in a short span of time. The new born spadamon was energitic and playful, but under his fathers teaching he became a strong Rookie. The two spend their time wandering the digital world hunting evil digimon for money, this would be their life for a while till one day the two of them where hunted down by a duo of evil megas who were the sons of the Leviamon Roy's parents killed some time ago. Bancho Leomon was obviously cornered but he managed to hide his son, this would be his final act for his son as soon after this, he met his demise.
Roy now was alone and afraid, he did not know what to do as he relied on his father this whole time. Soon after he ran into a bunch of baby digimon that were attacked by a group of seven goblimon, Roy then jumped in to save them. He was overwhelmed but reinforcement arrived, a group of rookies led by an Impmon. They dealt with the situation, but were impressed by Roy's talent so they took them back to their camp.
That was When Roy finally entered the camp of the Basu Knights for the first time, it was a mercenary band lead by Dukemon. With the reccomendation from the impmon, Roy was offered a chance to Join the band. He accepted and faster than he had anticipated the place became his new home, with him and Impmon sharing a lively friendship that was so stupid and fun it made everyone laugh and smile by the sheer radiance of their friendship. Roy even fell in love for the first time, a lopmon who stole his heart. But at that time he was unable to approach her, but with a help of a friend he gained the confidence to talk to her about his feelings. He would then find out that she was in love with Impmon instead, this affected him deeply but he managed to pull through.
Life would go great for Royland from now on, he had multiple teachers and had a student of his own, things looked up for him. Till one day Dukemon died and the band were left with no leader, after some election days Roy (who is now a strong mega) was chosen as the leader of the group. Under his leadership the band will see great success in battle, gaining multiple accolades and victories. But eventually the team would face a battlefield too great, they managed to defeat the enemy but all of the team sacrificed their life to win the war, leaving only two survivors Roy and another friend someone who was his close confidant, she and Roy got seperated but after a while she found him in a moutain alone. She found out that he was infected with a deadly virus, she sat with him in his last moments where he died with a smile on his face.
Now many years later he is reborn as an egg and is the partner to a human, he swore to protect his partner and redeem his past mistakes. With his sword he hoped to pave the way for a brighter future.
DIGIMON'S INITIAL EVOLUTION LINE
---
FreshSpecies
: YukimiBotamon
Appearance
:
Attribute
: Free
Family/ies
:
Type
: Slime
Fighting Style
:
Bubble-fuAbilities
:
The forbidden bubble
: Roy shoots a large bubble at his opponent
Digivolves To
: Wanyamon
---
In-TrainingSpecies
: Wanyamon
Appearance
: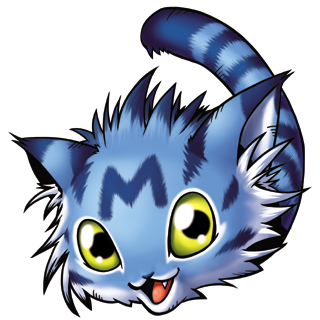 Attribute
: Free
Family/ies
: None
Type
: Lesser
Fighting Style
:
Bubble-Fu 2 : The sequel.
Abilities
:
Tail wack
: hits his opponent with his mostly harmless tail
Like a really big bubble
: shoots an even large bubble than before.
Digivolves From
: Yukimi botamon
Digivolves To
: Spadamon.
---
RookieSpecies
: Spadamon
Appearance
: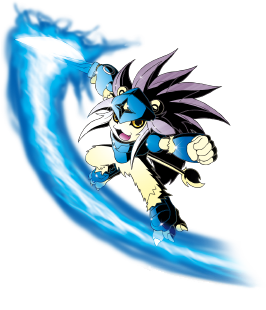 Attribute
: Vaccine
Family/ies
: virus buster
Type
: beast man
Fighting Style
: Spadamon's fighting style is very kinetic and wild, making use of his speed and acrobats to overwhelm his opponents. His main game plan is to rush his opponents down with his speed and high damage output for a rookie, his attacks make use of the element of fire. Although his fire is blue instead of the usual red, this indicates a higher level of mastery over the art of pyromancy than most rookies.
His most prominent tool in his arsenal is his short sword the might blade dubbed
The sword of eternal glory
by Roy himself, while the name is a bit over the top. It packs a seirous punch, but its a short sword so it traded range for power.
Abilities
:
Combat passives :
A hero's oath
: Spadamon is an ally of justice, so he wont stop fighting for his cause no matter what happens, not until he is successful. This makes so that everytime a combat turn passes Roy gain a 5% boost to his strength. (Maximum is 50%) (If Roy evolves to another form he does not lose the accumulated boost.)
Combat Moves
:
Blaze of Triumph
: Spadamon concetrates his flame on his sword, before shooting it from the blade as a very powerful and fast projectile. Dealing massive amount of damage. (1 post cooldown)
The soothing breeze of Victory
: Spadamon stands still and closes his eyes, it usually looks like he is gathering energy from the world around him, but he is using a self heal program in his body. Healing himself by respectable 20% (2 post cooldown)
The strike of Eternal Glory
: easily's spadamon's strongest, Spadamon uses his speed to get close to his targets. He then gives them a glare that is similar to a mighty lion ready to bite its prey, he then does a very swift swordslash. This is not flashy but it does do internal damage, the move hits so hard that most Rookies are unable to move as effeciently after being hit by it. (2 post cooldown)
Digivolves From
: Wanyamon
Digivolves To
: Clear Lowemon
---
ChampionSpecies
: ClearLowemon
Appearance :
Attribute
: Vaccine
Family/ies
: Virus buster
Type
: Warrior
Fighting Style
: ClearLowemon is a knight weilding a spear, so he would love for battles to be close combat. More accurately he would like to have the battles to be mid range so he can get the range advantage and completely control the pace of the battle. His weapon of choice the spear
Überzeugung
can change forms to be either a long slender spear or turn into a short mace with alot of fire power the switch of forms does not take a turn and is almost instantanious. His holy armor the armor of Ehre is made of Mithrill and is enchanted with a spell orginating from Luminas, mixing both the powers of his parents to create a really solid defensive armor while still remaining slim enough to allow him to be quick and agile.
ClearLowemon greatest and most scary ability is his adaptability and survivability, his arsenal helps him fight in any situation and has the skills to buff and sustain himself. Which is also his weakness in a team, since he cant support other so he must be the damage dealer in a team.
Abilities: [combat passives]
The blessed hero
: Clear Lowemon has a magic spell infused into his armor, protecting him from any Ranged attack. (Champion Ranged attacks do 30% less damage. Ult do 5% less damage and it does not work on mega's and above. Rookies deal 75% less damage and below deal no damage)

I shall keep on fighting no matter what
: Clear Löwemon determination and detication to the art of combat is so severe that he can bypass the limitations of his body and mind to fight while unconscious. (When ClearLöwemon recieves a hit that will usually lead to him fainting or return to a previous form from pure damage, ClearLöwemon body will get covered by a holy aura that grants him 3 turns to fight while buffing his strength stats by 50%. However he will fight with pure instincts so no strategy for him.) (After the three turns Clear Löwemon will fall unconscious) (While this is active Clear löwemon will be able to survive 1 ult level attack but any more than that the effect will be cancelled. Megas abd super megas cab bypass this with 1 hit)
[Ram Upgrade]The Slayer of Damned
: ClearLöwemon Data contains a special program that only activates when fighting Viruses and/or digimon that belong to the Nightmare soldiers family. This program increases his attack by 15 percent.
[ Combat Attacks. ]Knight's Honor
: ClearLöwemon casts a rune on himself that heals himself and gives him a 1 turn attack buff by 20% (2 turn cooldown)
Blitzkrieg
: ClearLöwemon charges his weapon with violent electricity and swiftly charges his opponent either hitting them with a spear thrust or a mace swing. Either way this does hevy physical damage and moderate electricity damage. (1 turn cooldown)
Thunder bolt :
ClearLöwemon charges his leg with a concentrated electricity before performing a swift kick that deals moderate damage both physical and elemental.
A gift from the beyond
: ClearLöwemon casts a Rune on himself that increases his speed and strength parameters by 20% for 2 turns and reduces all of his cooldowns by 1 turn (3 post cooldown) (the cooldown decrease does not affect this move)

(RAM UPGRADE
)
The might of Überzeugung
: ClearLöwemon charges his spear with more electricity than usual producing a violent looking weapon standing near it will damage any human severly, touching it will induce an intense shock capable of killing any regular human. ClearLöwemon then throws the spear at his chosen target, the spears flies straight forward at immense speed. This attack pierces defences so dodging it is your best option and even you gotta be fast or see it coming. (3 post cooldown)
[6 Abilities Max] [2 Ram upgrades]
Digivolves From
: Spadamon
Digivolves To
: Holy-Angemon priest mode.
---
UltimateSpecies
: Holy Angemon : Priest mode
Appearance
: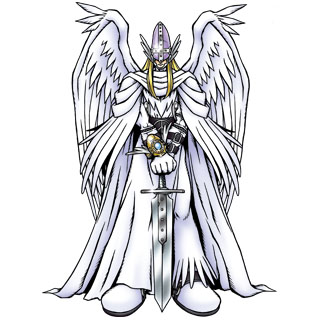 Attribute
: Vaccine
Family/ies
: Virus Buster
Type
: Archangel
Fighting Style
: Holy Angemon priest mode is very strong utility fighter that benefits the team in any possible situation, but ofcourse he has situations that he would prefer. His greatest streingth are without a doubt his speed and strength, that is also complimented with several other things his ability nay mastery in aerial combat makes Roy a force to be reckoned with in every terrain except under water, take that with high speed stat and landing a hit on him becomes its own challange. As for his high damage stat, its complimented by his verstiale toolset ranging from fast projectiles and strong swordsman ship.
The amount dammage this ultimate digimon can dish out reaches crazy high amounts if a couple of self buffs stack up together.
His only weakness are two things, first is his mediocre defence stat outside from his self healing and stat buffs. And the fact that his strongest attack uses his sword the
Ascalon
, which is a short sword forcing him to get in close and if he is not buffed by himself or others he becomes frail.
Abilities
: [
NON COMBAT PASSIVE]Soothing Touch
: If Holy angemon gets his hand on his comrade he can help clear their thoughts making them think clearer.
Flight
: Holyangemon can use his large wings that enchanted to fly gracifully even surpasing some bird digimon making great at both grounded or aerial combat.
[Combat passive] We share our strength
: Roy marks an ally with a special mark that. This makes so that if Roy or his partner fall in combat the other recieves a 30% boost speed and strengths stats for the rest of the battle. If the marked ally is Jazz then the surviving ally gains a 50% boost increase instead. (Can be stacked) (If the marked ally is revived by any means the mark boost is gone, but Roy regains the ability to mark again)
Guardian spirits
: Everytime Holy angemon gets hit a being of light appears next to him, when he gets hit three times the three being fuse into one and enter his body buffing his Strength stats by 40% for three turns. (Can be stacked) (only one being can show up per turn
Virus buster
: If Holy angemon comes up against a Virus or Nightmare soldier digimon he gets a 25% increase in attack (can be stacked with other buffs. But he only gets a 25% increase regardless of number of viruses.)
Techinques
:
Glory be with us
: Holy angemon spreads his wings and emit a beautiful golden aura. The sight of Roy is so serene and gorgeous its said that most people cant help but feel a little amazed at his beauty. This casts a field of energy thats is so wide it can be the size of a football field. Up to 5 allies (including himself) in this area get heald by 25% percent and gain a 30% boost in defence for 2 turns. If he is attacked mid heal Roy recieves 50% more damage. (3 post cooldown)
Lightining Javelin
: Holy angemon priest mode summons a spear made out of lightning, before chucking it at his enemy. The spear is really fast and deals massive damage. (1 post cooldown)
Solar Rain
: Holy angemon Priest mode sunmons a yellow ball of solar energy before tapping it with his palm making it disperse shooting a barrage of tiny balls that cover an extremely wide range of energy capable of dealing with multiple foes at once, dealing medium damage. (1 post cooldown )
A hero's blessings
: Holy angemon can cast a buff either on himself or an ally that increases their strength by 50% for 1 turn and reduces all skill cooldown by 1 turn (3 post cooldown) (the cooldown decrease does noy affect this move, if roy uses it on himself)
[ RAM UPGRADE PURCHASED ]
Holy blade Ascalon
: This is by far Holy Angemon's priest mode strongest attack. As he charges his trusty chrome digizoid infused blade with light energy before closing in on his target and striking them down. This move has the ability to ignore all defencive stat buffs on an opponent including passives and deal the highest amount of damage from all of his attacks. (3 post cooldown )
[7 Abilities Max] [1 Ram upgrade ]
Digivolves From
: Clear Löwemon
Digivolves To
:
---
ARMOR EVOLUTIO
N
Armor Champion
Species: Ice Liamon
Appearance:
Attribute: Vaccime
Family/ies: nature spirits
Type: Holy beast
Fighting Style: Ice Liamon is a lion, his fighting styles is different from Roy's other forms. He has better mobilty due to being on 4 legs, this often gives him a speed advantage. He also has thick fur making him quite the tank, the only thing he lacks is strong attacks aside from his Giga byte blast. He counters that with his ability to survive, and heal his allies.
So he usually plays the role of a support, that can deal massive damage even if its a bit gimicky.
Abilities: Combat passives :
King of the beasts : ice Liamon, gains plus 5% in speed and power for every ally present. ( twins = 1 ally, and mercs do not count)(max 50%)
The Duel : Ice liamon gets plus 5% defence for every passing turn max 50%
Combat techniques.
Frozen Fang : Ice liamon rushes the target and bites with its Ice fangs.
The Roar of salvation : Ice liamon lets out a roar that heals itself and 5 allies by 15% total health (2 post cooldown )
The mighty Lion : Ice Liamon strikes his opponents with his claw if successful, Roy heals himself by 5% (1 post cooldown)
Giga byte blast : Ice Liamon winds up for one turn as he charges up for a big blast. He then shoots a large and fast beam from his mouth the attack does very heavy damage. (3 post cool down)
Digivolves From: Spadamon + digi egg of honor.

---

[b]Armor Ultimate
[/b][/font][/font]
Species
: Ice Grapleomon
Appearance
:
Attribute
: Vaccinr
Family/ies
: Virus buster / Metal empire
Type
: Beast man.
Fighting Style
: Ice Grapleomon is a pure brawler, he uses a mixture of martial arts and wrestling moves to completely dominate his opponent when it comes to close quarter combat. When in long distance Grapleomon struggles to deal damage, but he can rely on his superb defence, speed and suprisingly verstaile mobility both in land and air to close in the gap and deal insanely high dammage.
Perhaps his greatest tool is the fact that he can survive for a long while, the mere prescense of participants in a fight heals him. So in essence if he is in a team he would prefer the role of a tank, or main damage dealer.
Abilities
: [Non Combat passive]
Tornado generator
: the turbines in both of his hands and legs can spin hard enough to creat small tornados strong enough to allow him to mimic flight, clear rubble and a great deal of other things. It does no damage to enemies but it can annoy them.
Combat passives :A good performer knows how to no-sell
: If Icegrapleomon starts to perform an attack it can no longer be interrupted, and he receives 30% less damage.
Generate the hype :
For every time Roy uses a different move his strength go up 10% (40%) max, this reverts back to 0% once he uses a move twice under three turns.
All eyes on the star
: what this passive does is essentially draw the attention of the enemy on him, but also heal him by 5% percent every turn.
Combat techinique :
The most electrifying punch in digimon history
: Ice Grapleomon does a pose (it changes everytime) before charging with a strong straight aimed at the stomach in order to stagger them, he believes that this moves is really entertaining to watch and will hype up the crowd.
Whirlwind drop kick
: Roy points to the skies before perfoming a drop kick with both legs, the move deals heavy physical damage. But it sends the opponent far away from him, a position he does not enjoy (1 post cooldown)
Crowd pleaser
: Roy poses for the crowd as he increases his attack by 30% and decreases his defence by 30% for 3 turns.
Stormy barrage :
Royland gets close to his opponent and unleashes a barrage of punches that deal insane amount of damage, it goes through 3 hits of defence and still deal medium damage. (3 post cooldown)
[7 Abilities Max]
Digivolves From
: Royland + Digimental of Courage
---
[/div][/font]
[/div][/font]