KIZNA
Nov 4, 2018 11:47:43 GMT
Post by yuuki on Nov 4, 2018 11:47:43 GMT
KIZNA
LEADER:
Itou Yuuki and Hikaru (also in RnE)

ADMINS:
Bezil
Bu, Fuu and Yui

DIVISION I: ASSAULT AND COMBAT
Noguchi Ryouta and Valt
Takamiya Karin and Freya

Ophelia

Kenny and Skadi

Bezil

Eleonora and Brave Heart Army

Alan and Levi

DIVISION II: RESEARCH AND EXPLORATION
Nakano Koharu and Manzai Dragons
Shishidou Tetsushi and Gryz
Aisaka Koutarou and Agito

Nik and Brad

Bu, Fuu and Yui

Hasenya

Kitt

DIVISION III: CRAFTSMANSHIP AND DEVELOPMENT
Malik
Persephone
Tsukigami Mei and Mei

ALIGNMENT:
Neutral Good
Team Vision and Mission:
Maintaining status quo between Digital World and Human World
Maintaining good relationship with Digital World
To help Digital World development as much as possible
To explore new area and to document history of Digital World
To unearth as much as possible Digital World's secrets

Team Rules:
1: Don't die
2: If you're in serious danger, run
3: Don't do work solo
4: Camaraderie is important

"Know your World, Know your Role, Know your Goal"
What for are the chosens exist? Why are they called? Why there are evil ones and why there are good ones? Why are the chosen given so much freedom, to point some Digimons have bad perspective of them, and they even caused chaos in real world with their Digimon? There are so many questions unanswered... no one knows why. Suddenly being trusted with power, yet without any limiters, and then thrusted toward the world unknown... isn't that strange? At least, that's what an Itou Yuuki thought of.

It started modest, in a small bar called Aeterna. It's origin is also modest, just to make sense their existence in this world. People without aim will only floating adrift without any direction. Thus, to make sense of their existence in this world, KIZNA was made, consisting of chosens. Albeit it's too farfetched to call themselves "researcher" officially, that's what the deal with them... adventurer and researcher. They venture into places, and research the origin of their "bond". What actually chose them, and what for?

Yet, midway, they find that they cannot stay being just that. As their rank grow, so does the beckoning of something unseen. They were directed toward their home base, an abandoned city. Yuuki named the city "Ys", after a city of water in myth. From that point on, KIZNA expands. From team of explorers, adventurer and researcher, they become a small organization with goal to revitalize the city. At first, it was for experiment and to create a home for humans and Digimon alike, where prejudice won't be an issue... but from there on, the gear of fates turns. From a town restoration committee it evolved further into a small organization... and from there, to even further beyond!

KIZNA at the moment is a huge scale organization, divided into three divisions: Research and Exploration, Assault and Combat, and finally Craft and Development. It's situated on Ancient Capital of Ys which mission is to create a network of alliance on many place in Digital World. While it's not a nonprofit organization, KIZNA's missions are generally aimed to help improving living qualities of denizen of Digital World, especially ones that need it.



Recruitment:
The team recruits any form of members. We don't care if you're solo Digimon, spirit user, or partnered human, or Xros General. All form of individuals are fine for the team. However, we will refuse applicants with notorious history such as criminal or ones that will not adhere to the team's goal. We also will refuse applicants with absurdly crusader-like mindset. We need neutral peoples who care about the well being of digital world and the balance between worlds. If you want to help, please go on ahead and apply. However, before you fully join, we might need to do an interview to make sure that you have what it needs to join the team.

The team is not a justice orientated team. We're more to team of deterring force in time of need instead of the team to deal with threats. We're first and foremost researcher and explorers. If you would like to be a hero in its truest sense of fighting against evil, the team might not be 100% for you. KIZNA does not encourage to bring problem that you made as a team's responsibility. While it's of course allowed for interested member to help one another, if you're found guilty as charged in crime that put strain in relationship between the organization itself and the Digital World as whole then you will be kicked out from KIZNA. However, we're not the kind that sits idly when our team member is crossed either. If our team member is found wrongly accused, then by nature we will band to defend them.

OOC NOTE: Make sure that you adhere to the team's creed and goal. Remember that your actions have consequence. Should we deem your actions to be unforgivable or damages the team's reputation, punishment will be dished out. However, should you resign before doing any plot that might negatively impact the team's image, then it's all on you. You will not be punished for it


Forge of the Ancients:

Twice per month, KIZNA members can do an MPC-style exploration to a place of interest. If done solo, the member must wrote 1000 words regarding their adventure. A minimum of 1000 words must be written by the member before the raw material can be awarded. If you would like to consume those two chances in the same thread, please say so in the end of the thread.These items when fused could create an artifact. The artifacts are as follow:

3 Raw Materials yield Weak Artifact:
Weak artifacts are mystical trinket with weak effect that doesn't really affect your performance, but can be surprisingly very useful when used cleverly. These artifacts are often affects only gameplay and doesn't affect the Digimon's performance

1 Weak Artifact and 3 Raw Materials yield Strong Artifact:
Strong artifacts takes form as equipment usually, with an effect added to them. Strong artifact could affect the battle, such as a sword that coated in strong poison.

1 Strong Artifact and 6 Raw Materials yield Legendary Artifact:
Excalibur tier equipment that vastly increases the strength of the wielder. These artifacts also could turn the tide of the battle. It's a symbol of your greatest adventure.

Aeterna Forge only can create a personal artifact for each character. Personal artifact does not count toward the limit of how many artifact you can have on your person. However, once it becomes legendary, you have to choose to deploy which artifact on a thread.

The artifact is meant to be your personal one, a crystallization of your effort. Imagine it like a Thor Hammer to Thor, or Excalibur to King Arthur. It's the personal equipment on the legendary scale that you built up since the start to the end, until it become the strongest weapon for you. As such, the method above is only applied to the artifact you created through Aeterna Forge. It cannot upgrade existing, mission/plot-reward artifacts.

However, Aeterna's blessing only stays while you're member of the team. The moment you quit from the team, the personal artifact loses its power. At this point it's nothing more than an accessory, a memento. If you decided to rejoin, it might be reactivated, but if you're kicked for legal reason, such as betraying the organization or besmirch the name of the organization, the artifact is shattered and lost forever...

How to make the artifact:
To create the artifact, please select the desired number of raw material, and tell what does they produce in your profile edits. Not sure what to make? Well, you can ask the leader or other team member what they can produce. Remember that artifacts must be 2/2'd before you could use them.

About Artifact trade:
Because our artifact are for member use only, trading, selling, etc will make it useless. It's no more than a trinket if you do so I guess it's common sense to not?

What about the raw materials?:
You can't give or sell, or buy materials from other characters. This is to keep the market clear and clean from any possible player foul play. You can trade between player as long as the number is 1:1 trade. Members who has completed their legendary weapon can help other player who have yet finished theirs as long as 2/3 of the raw material is provided by the particular member who haven't finished theirs.

[/div]
TEAM ABILITY UPGRADE
Ultima Vertex:
Upon crafting their personal legendary weapon, the team member may use 6 raw materials to grant it second ability, thus upgrading it further to rise beyond just a mere legendary weapon, but an [Ultima] Weapon.

DIVISION ABILITY
Research and Exploration Division
:
Eye of Wisdom
Once per thread. Member of research and exploration division targets one opponent. Halven damage dealt by the target to all ally for three turns. As addition, additional effects and debuff from the target does not affect the user of this technique for that three turns.
Assault and Combat Division
:
Will of the Land:
Usable after five turns has passed in combat. This once per thread ability allows assault and combat division member of KIZNA to call forth power of the land to unleash their wrath upon an opponent. This attack can be in form of spike from the ground, a Gaia Force-esque attack, or a laser judgement, up to them. Its element based, mostly based on elements available in the nature. As side effect, it hastes recovery of all cooldown by 2 turns, regardless of hitting or not. In turn, each person only have one chance to shoot.
Craftsman and Development

Team Ability: Replicator
Unlike the rest of the team, CnD Department are not limited in crafting just one artifact. They can craft multiple artifacts (but beside their main one, will only limited to weak artifact). They also can replicate crafted weak artifact without needing the raw material once per month per player. The said artifacts crafted this way can be distributed to anyone, or otherwise stored in vault whenever not in use.
Note that the artifact distributed still will count toward maximum amount of allowed artifact in a thread on a person.
RULE ON DIVISION SWITCHING:
A member of KIZNA only may switch division once per two months IRL time. Their switch is recorded. While switching is allowed, it's discouraged, because Division assigning are to reflect your character's role in the team.

KIZNA TEAM UNIFORM
All members of KIZNA are to wear badge of their team on their person, unless in situation where they feel they represent themselves personally, and not their team. The team's uniform consists of formal wear, looking part academician with tailcoat, long sleeves, and some golden parts on its shoulder and chest part. It's paired with long trousers and simple thick leather shoes. For the Digimon they're allowed to customize their own uniform, usually either by only having the upper portion, lower portion, or just kilt (like the certain leader)
As reference: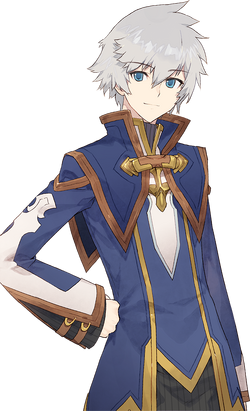 KIZNA SPECIAL DIGIVICE
D-Nexus
A madman's idea, one that worked. No one in KIZNA is especially tech savvy, nor they understand how does a Digivice works bar the crystal from the Shining Sea acts as a key. Hikaru, in his one moment of "it sounds like an idiot's rant but actually a genius idea" proposed to fuse three items: Digivice, D-Terminal, and the Resonating Crystal from Shining Sea to Aeterna Forge. His reasoning is that both objects can be treated as an artifact, and the last one is a raw material. While skeptical, Yuuki decided to humor him... and the result was this object. A Legendary-Grade Artifact that exceeds its previous predecessors and combining all sort of function within it, with extra functions obviously.
Quick Return: As long as this Digivice is still within 5 meters around the owner, the D-Nexus can be summoned back to it's owner's hand. This is including from the Infini-store.
Phone Function:
Allow all sort of phonely function, which includes but not limited to:
Communication, using apps, taking photo, recording, accessing internet (thorough KIZNA server), BBS, and so on.
Advanced Scanning (Ecology): Allow automapping function, in which the Digivice automatically maps the area it's in, while at the same time allow it to scan structures in surface level (warning the user of possible traps, damages, etc) and items around them, be it digital flora or fauna, or nonliving object, provided it's not digimon.
D-Nexus [NexT]
<Second Generation Digivice>
Following the system update to the city, the D-Nexus that previously used now has upgraded into D-Nexus [NexT]. Officially there are no function difference between both, only its performance is updated to more in tune with the system upgrade of the city's server. However, its design has been improved, and now PDA mode does not require awkward hologram view.
TEAM ATTACK:
CAERULEUS COSMOS
Able to be activated when at least three members are in the field, and have to be activated at the same time by the participated members. Upon its activation a shield materialized to block all attacks to the allies for that one turn. Following that, for three turns, all abilities the team members used have its cooldown decreased by 1 and they're healed for minor amount per turn. Once per thread move.
KIZNA SHOP:
Thinking of packing something before going on a mission? You have KIZNA's support! Have a look at our mass production artifact
Potion Set:
Price: 5000 Bits
Improved healing set which contains three kinds of potions, three green potions in test tube which can heal minor wounds, two blue potions that can moderately heals all wounds, and two ether-like potion (a red potion) that can heals one all active cooldown by one (flavored as stamina healing). Using the potion consumes your free action which means no dodging or attacking, only blocking at most. Each person can only have one set. Refilling them is possible, and will costs you:
Green Potion: 100 bits each
Blue Potions: 250 bits each
Red Potions: 350 bits each
You have to purchase the set prior before you can refill (obviously).

Ariadne Thread
Price: 500 Bits
Limit per thread: 3 usage per party
Ever thinking of wanting to undo but your portal is a bit in a jam? Ariadne Thread will return you to the first position where you used it. When used, this ball of spider threads will unravel and follow you. You can also assign it to follow your friend, thus acts like a handy regrouping portal. Each usage is party-wide, unless someone does not consent to it. By the way, this thread cannot be used mid battle.

Fairy Circle:
Price: 7500 Bits
A permanent tool that lets you to catch your breath. For two turns, the user and their ally effectively vanishes from the eyesight of the surrounding. As long as no attacks are aimed at the direction of the bounded field, outsiders can pass through it as if there are nothing there. Outside the battle, this may be used to a soundproof room to guarantee nothing can came out, and it works indefinitely until recalled back. If there are hostilities between member inside the circle, the room immediately breaks and the item will stop working. Its usage is once per thread per user.

Advanced Exploration Kit:
Price: 5000 bits
KIZNA issued exploration set. Despite it's hefty price, it's a worth investment. It's a set of things that includes:
No hand light: A small light that always floats near you as you explore. You don't even need to hold it
Sample bag + gloves: Allow you to pick any sort of hazardous materials, also one with curses and seal it in special ziplock bag to be examined properly in lab. In total it can contain 20kg worth of material. Inside the bag, everything is rendered in stasis.
Night Visor: For aiding your vision in the darkness
Atmosphere Analyzer: Able to scans temperature, wind direction and speed, air content, moisture, and airborne hazard. Also works in the water.
Light Up Markers: Special marker that leaves no mark, but can react with light from No Hand Light to reveal glow from surface you marked.
Camping Packs: Your necessary camping packs, including tent, foldable chairs and stove.

Advanced Capsule Facility:
5000 bits
Tired of your usual tent that offers little to no personal space? Advanced Capsule Facility is here! Advanced Capsule Facility is basically a small, personal use facility that have several mode, mostly used in conjunction of your Digivice's upgrade to perform more effective task. It requires you to purchase advanced exploration kit before purchasing this. Only one module can be activated at a time, and may be deployed without using Advanced Exploration Kit's tent. Purchasing this allows solo Digimon to purchase the programs listed in the module:
1: Kitchen (requires feed program) - Say goodbye to those tasteless meals from feed program, hello luxury!
2: Clinic (requires medic program) - Clinic program now heals your digimon quicker, and can be used to other 'mon too!
3: Training Room (require shadow boxing program) - Not sure what to do to kill time? Why not train a bit more?
4: Testing Lab (Default): Allows the user to examine, test, or scan more accurately whatever material they gathered in the field
5 Bathroom (Default): No explanation needed for this one right? Although it's probably is the best sort of bathroom you can expect in

Gattai Core:
5000 bits
This extra vehicle attachment allows your vehicle to combine with vehicle with same item. It technically will increase the number of seats available, and might give you excuses to yell "WE NEED MEGA*BLEEP* POWER NOW" to your digivice communicator (censored due to copyright).

Dummy Bait
Price: 3000 bits
Tool resembling a small cube at first glance.
When tossed, the dummy, in the form of a hologram, will appear, taking the form of the user's current one. If the user can fly, so can the dummy. It also can withstand extreme weather like heat and frost, along with being submerged for heavy periods of time.
The dummy hologram is nigh indistinguishable from the user in terms of appearance, even sharing the user's 'digital scent', along with speaker or recording of the owner's voice to goad the opponent to hit them instead, if the user so desires. However, once hit with any attack, the dummy disappears, and the cube is returned to the user's preferred method of storage. They can use it three times in a thread with three turns of cooldown between uses.
This can only be used when the user is out of combat, however, for stealth (or when you're just trying to escape) it can serve as good bait to lose your predators by tricking them into attacking them instead of you. It's suggested to pair it with Analog Jammer or DRM for best result.

[/div]