Post by Deleted on Apr 5, 2019 5:49:29 GMT
Vulin would give Mae a joyous look at her deciding that she liked the idea - and would hop over to embrace her the best he could, given the notable height difference between a little Vorvomon and a much, much taller Meicrackmon. His tail was swishing at a breakneck pace - clearly in a good mood with this. "You're our big sis then, Mae!" Vulin would declare; which elicited a fond chuckle from Fennel, who would pat Vulin on the head. "You're a dork, Vulin."
"And yeah!" Vulin would begin to continue in response to Mae's remark about friends being precious, "Friends are great; friends are always there for each other, and even if we decide to go separate ways, you know when you meet them again, it'll be with a great big smile!"
And then, finally, came the digivolutions... With Mae's go-ahead, the two twins would nod, moving to give themselves ample room, just in case; Homeostasis knew if they'd become something as big as a Greymon or Tyrannomon with this, and they didn't want to squish eachother - or Mae - in the process if they did! All the while though, there was a certain frenetic energy in the air; the two twins were both excited, as well as tense with anticipation. Digivolving from fresh, to in-training, to rookie... That was all just standard growth, something that just happens as you get older.... But this? This was something else, something they had to look inwards for...
... Yet this was also an ingrained thing, the idea of growing, of digivolving further, and of how to do so once one reached that point. The digimentals, tapping into them almost came naturally - even if it took a good second for the twins to figure it out. But once they did, came that change, as they began to digivolve...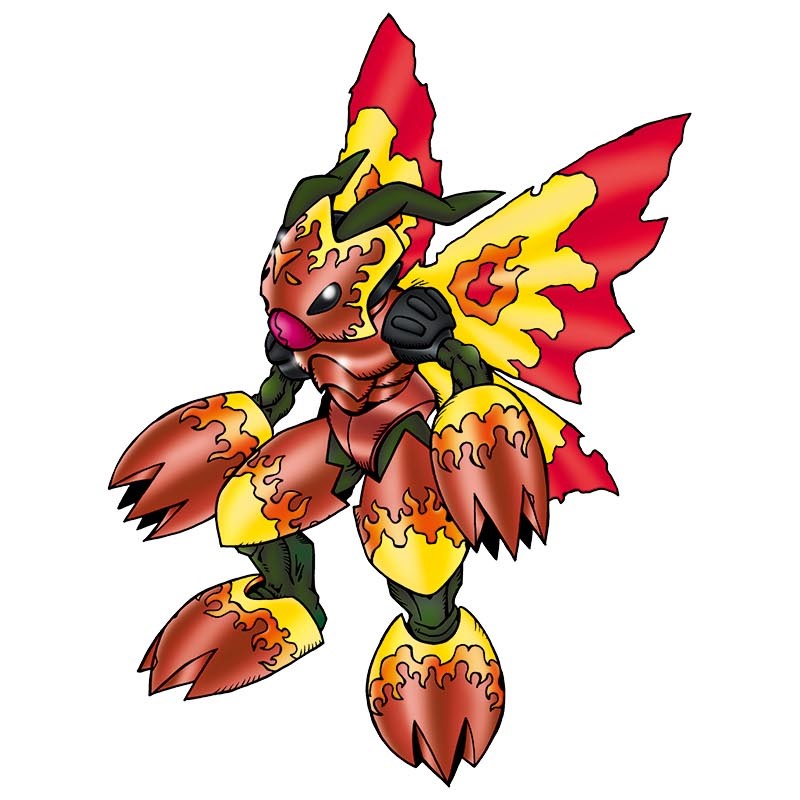 First, was Vulin. He could almost
feel
as his limbs began to shift and change, as he grew more upright - and even began growing larger. Whereas before he might've gone up to a person's hip, maybe higher if he made an effort to stand upright as opposed to using his wing-limbs as front legs, he would become perhaps a little taller than the average human. He could feel as his rough scales turned to smooth carapace, how blazing gossamer wings sprouted from his back, and even how that inner fire seemed to blaze even brighter, even hotter, just beneath that carapace. As he became a true-blue Shadramon, Vulin would stumble and fall on his rear - unused to the more upright stance his new body was made for - but otherwise? The change felt natural. Comfortable.
He'd glance down at the fire-patterned carapace of his 'hands' and legs, of the wings over his shoulder - and even felt up to the horns on his head, that had grown longer, more curved. Awe was visible in the little 'mon's behavior and expression, as he explored his new form - seeming to be growing adjusted to everything. Slowly, he'd push himself upright once more - and had a better time of it this time as standing fully-upright grew natural to him as well.
"Woah..."
was the only thing he'd say, just under his breath, as he'd look himself over to then glance to his twin brother.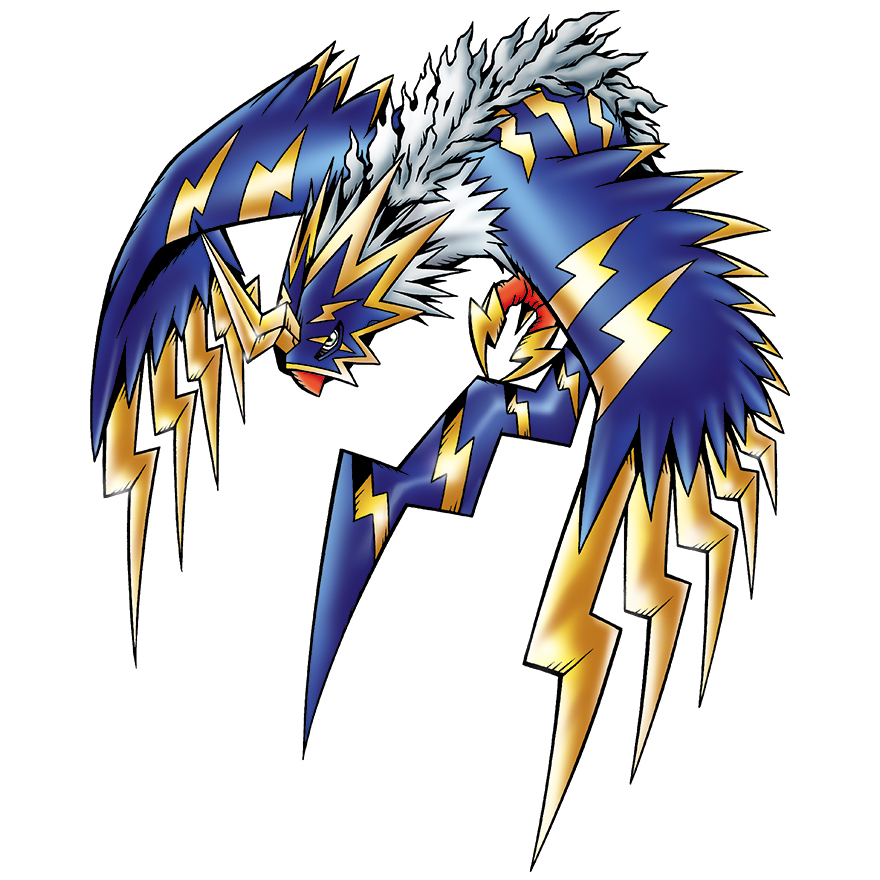 Fennel, similarly, would feel the way his body would shift - from his arms becoming wings and legs becoming talons, to scales becoming feathers - such feathers ranging from soft and downy to long and sturdy. Before, he measured somewhere around four feet- 4'2'' to be exact, not including his horn. But now? He was growing significantly larger - bigger than Vulin, even; giving themselves the space seemed to prove to be a good idea. By the time he was done growing, he was most definitely large enough to carry a grown man; and his wingspan was plenty impressive to match it.
Fennel wouldn't have the balance issues that Vulin had, as the form took proper shape - it matched up with his bipedal Monodramon form decently enough - though Fennel would still be examining himself with all the same curiosity; from the golden and shiny feathers, talons, and horn that glinted in the evening light, to the static that crackled between his feathers. He no longer had proper hands to manipulate things; and he found having a beak to be somewhat awkward compared to a proper mouth, as he clacked said beak together a few times - as though to try and adjust to it. But all the same, he was quiet, almost admiring, of this new form of his - extending a single wing to see how the feathers layered over eachother, and then the other. Almost experimentally, he'd beat his wings a few times - kicking up dust and sand in the process - but he'd note with a certain glee just how easily he lifted off the ground with this!
Vulin had to shield himself from the kicked up sand, but he'd laugh happily to Fennel, and would begin to flap his own gossamer wings - the wings buzzing like an insect's as he, too, lifted off the ground. Fennel couldn't help a laugh of his own, seeming to enjoy the idea of being able to take to the skies like this - beating his powerful wings as he rose higher up - casting a long shadow against the ground and the temple behind them with the setting sun. Even if he had a little bit of a hard time controlling his ascent, he otherwise was enjoying the feeling of just being in the air..! Vulin wouldn't be far behind - though he didn't stray too far from Mae, glancing over to her excitedly, and calling "Look at this, Mae! Aren't these forms so cool??" with a gleeful laugh as he buzzed over to her - stumbling a little on landing, but still sticking it otherwise. "Hey, hey - do you have a form that can fly around at all?" He'd ask, adding "C'mon, we can fly together!" as he lifted back off the ground a small amount - hovering in place.