Post by Satoshi Himura on Feb 23, 2019 20:38:11 GMT
"We have to go back and finish what we started."
"But...we can't just leave the office. What if something happens while we're away?"
Satoshi Himura and Gabumon, his Digimon partner, trudged through the snow-covered hills of the Northern Prominence, bundled up the best they could be. The last time they had been in the Digital World, they had gotten trapped in the dangerous Spyware Caverns for a long time trying to find an object that was rumored to have the ability to help them do their work in the Real World. Before too long, the twisting and winding tunnels confused and trapped them. From there, they were stuck, and the next stretch of time was pure survival. The Tamer and his partner were not the only ones trapped in the caverns, however, and many of their fellow prisoners of the caverns were extremely hostile.
Satoshi and Gabumon had acted in self-defense, to the best of their ability, but in the end they were forced to do some things that they weren't proud of. Gabumon had chalked everything up to survival instinct and left it at that, but the event had seriously taken a toll on Satoshi and his mental health. For weeks after the fact, he had shut himself in his room at AEGIS HQ, refusing to come out for anything other than food and the bare minimum of his work. Only through a sudden job with the assistance of Tadayoshi Teppei, a new AEGIS recruit, was Satoshi able to get his head back in the game and prepare to go back to the Digital World with Gabumon.
Now, as they approached the entrance, Satoshi began to get cold feet once more. The scars of the past hadn't yet faded, and an all-too-familiar pit in his stomach began to form. As he stopped to check his D-Terminal, Gabumon turned around and stared up at him.
"They'll be fine," he grunted. "Sophie and Lantis are back in the office, and Tadayoshi is there as well. We need to do this for ourselves, Toshi."
As Satoshi took Gabumon's words into consideration, he opened the Tamernet app on his D-Terminal. Taking a quick browse, he noticed that there seemed to actually be an emergency situation in Shibuya. Sophie and Tadayoshi were using AEGIS' private chat to communicate on their strategy. A notification from Tadayoshi later on in the thread was also concerning.
TriggerHappy:
Darn it, where is everyone? @redeyesblackhair @johoho-64 @toshitech93 How can any of you be sleeping or partying through this?!?!?!
Satoshi froze, eyes wide with panic. The worst case scenario was unfolding before him, and he was nowhere to be found, with his colleagues wondering why he wasn't around.
"We have to go," Satoshi gasped, doing his best not to hyperventilate. "Shibuya is under attack."
Gabumon looked incredulous, but once Satoshi turned the D-Terminal around to show him the messages, he got a bit nervous. "Gimme that," he said quickly, flipping through the other messages as he grabbed the device from his Tamer's hands. Upon skimming through, a few messages from Sophie grabbed his attention. "Toshi, Sophie's saying that she and Lantis aren't able to Digivolve due to something jamming the ability. The two of us wouldn't be any more help. We need to leave this to them and focus on getting this new power. If we have time, we can jump in and help." He quickly started typing a message, impersonating Satoshi in the process.
ToshiTech93:
Gabumon and I are currently in the Digital World taking care of a few things. We'll be on standby if the situation gets out of control.
With that, Gabumon closed the D-Terminal with a snap and handed it back to Satoshi. "Let's get this over with. The sooner we find what we're looking for in this cave, the sooner we can get back and help the others."
Satoshi still wasn't sure, but Gabumon's point was sound. If they didn't have the means to help yet, what good would they be? With a sigh, he picked his head up and continued walking.
Not much time passed before the duo found the entrance to the caverns. With a final deep breath, they headed in, a new resolve in their hearts. They needed to get through as soon as possible before the situation in Shibuya escalated to a point that they couldn't fix. Before, the two had quickly gotten lost without a clear goal in mind. However, now that their focus and resolve were true, the cavern's twisted pathways almost seemed to bend to their will. The Crest of Rationality, housed in its tag, suddenly felt a bit heavier to Satoshi.
Before long, the two came across a ghastly sight. It was what appeared to be the remains of a Digimon's data. Gabumon immediately recoiled at the display in front of him, but then the realization hit him. "Is this...that Dobermon?"
Memories of their previous time in the Spyware Caverns flooded back to both Satoshi and Gabumon. At some point in their "captivity" they were attacked by a ferocious Dobermon who had been separated from his Tamer. The claustrophobic space of the caverns had finally driven the Beast Digimon insane, and Satoshi and Gabumon fought it to the death to survive.
Even now, however much time had passed since they had escaped the cavern, the remains of this dog-like Digimon laid on the cavern floor. Something didn't quite add up, and Satoshi picked up on it immediately. "This can't be right," Satoshi said, muttering under his breath as he often did when he was thinking out loud. "We've been out of the cave for nearly a month in Real World time. Given that one day in the Real World is seven days in the Digital World, it's been close to seven months since our fight with that Dobermon."
"Right, but he's still here," Gabumon said.
"I'm not so sure," Satoshi responded. "There's no way it would take any longer than a few hours for a Digimon's data to return to the Village of Beginnings and reform." As he pieced it all together, the Crest of Rationality began to glow with a brilliant light. "Something, or even someone, is showing us an illusion." As he spoke, the mangled mess of data and the wall behind it began to fragment and blur until it disappeared, revealing a new portion of the tunnels.
"That was awesome!" Gabumon cheered. "How did you know that?"
"There are very few problems in this world that an analytical mind can't solve," Satoshi smirked, feeling rather proud of himself. "Now, let's get going." He walked into the tunnel, with Gabumon following close behind.
Very quickly, it became apparent to Satoshi and Gabumon that this section of the tunnel was different from everything else they had seen previously. The walls, previously covered and packed with snow, had shifted into a dark ebony. It felt smooth to the touch, yet still hard like stone.
Gabumon's demeanor also changed pretty quickly as they went in farther. He couldn't help but shake the oppressive feeling that this section of the cavern gave him. "Toshi, I know I wouldn't normally say this, but I've got a bad feeling."
Satoshi was honestly taken aback. Those words in that order didn't seem to compute in his head, especially coming from the source that they had. Though Satoshi couldn't deny that he was also very uneasy.
The duo was stopped when a voice echoed through the dark tunnel. "So you've seen through my clever little illusion! You still won't leave here a second time!" A maniacal cackle filled Satoshi and Gabumon's ears, dripping with malice and a hint of insanity. Before they even had time to think about and process what they had just heard, a large white trident shot between the two of them and landed in the snow-packed floor behind them. After a moment of shock, a figure appeared next to the trident through a puff of smoke and shadow.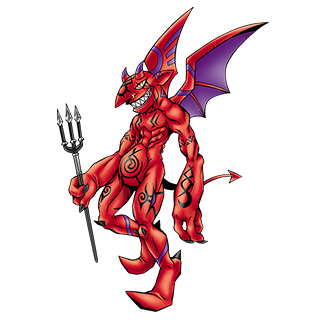 "You've entered the domain of Boogiemon!" said the devilish figure. "You may have discovered my location and identity, but you must pay with your lives!"
This guy was an obvious threat, so it stood to reason that Satoshi would prepare Gabumon for a fight. He raised his Digivice and cried out, "Go get him, Gabumon!"
"Right!" Gabumon barked, taking his stance and getting ready to transform. However, Digivolution never came. He looked to Satoshi, confused. "Um...why am I not Digivolving?"
Satoshi panicked as he stared back at his Digivice, which was not responding at all. "What's going on?"
"Fools!" Boogiemon cackled maniacally. "These walls are made of Black Digicite! Nobody can Digivolve when they're near this material!" The demon quickly picked up his trident and lunged toward the pair, prompting them to react by turning and running away as fast as they could.
"What do we do?" Gabumon said, breathing heavily as they ran.
Satoshi was in full survival mode, but could still formulate a plan. "Sophie was talking about needing one of these Digimentals to bypass the effects of Black Digicite," he recalled. "If we can find our own Digimental, then we can maybe gain an edge and get out of here-"
He was stopped as the trident shot past his head again, and Boogiemon appeared next to it and grabbed it out of the air. "Next time I won't miss!" With another disturbing laugh, the devil lunged at Satoshi with intent to kill.
Before he reached the young man, Gabumon dashed between them and spit a blue fire on his fist before launching it into the enemy. "Blue Blaster Fist!" The flaming fist found its mark, and while the level difference between Gabumon and Boogiemon was intimidating, the Champion-level devil had the wind knocked out of him.
"You little-" Boogiemon grumbled, attempting to right himself. It didn't last very long, though, as Gabumon punched at him again, his other fist also coated with heat.
"Run, Satoshi!" Gabumon shouted back at his Tamer. "You have to get away! I'll hold him off!" As he shouted, Boogiemon was cackling once more, even as Gabumon pummeled him with a barrage of fiery punches.
Everything in Satoshi's brain told him to run, but in that moment, his body wouldn't move. Without thinking any further, he opened his mouth. "I'm not leaving you like this! We can come up with something to get through this, I know it!" As Boogiemon kicked Gabumon off of him, the little Digimon slammed across the tunnel into a wall and slumped to the ground. However, a crack appeared in the wall and caused it to crumble, revealing a strange looking object that floated out of a small alcove and stopped in front of Satoshi. It looked like a weird egg with armor plating and clawed feet sticking out of the bottom. The symbol of Satoshi's Crest of Rationality was emblazoned on it, drawing him toward it. For a brief instant, something took over Satoshi, and he grabbed the artifact and held it aloft. Without realizing what he was saying, he spoke once more.
"Digi-Armor, Energize!"
Gabumon, laid out on the floor, began to glow with the light of Digivolution, lighting the black walls with a brilliant glow.
"Gabumon Armor Digivolve to...KendoGarurumon!"
The next exchange happened so fast, Satoshi didn't even catch it. In an instant, Boogiemon had disappeared into two clouds of data, and behind the dissipating data stood an armored wolf with sharp claws and blades around its body. It almost seemed robotic in design, but as he turned around, KendoGarurumon gave Satoshi a smirk. "How was that?"
Satoshi smiled back. "Didn't even see it. I'm digging the new look, though!" He hopped on the back of the new form of his partner. It was a perfect fit for him.
"I'd have to agree," the armored Digimon replied. "Now, let's get to Shibuya and help out the others." KendoGarurumon stomped on the ground, causing four wheels to drop down on the back of his paws. The wheels began turning, and KendoGarurumon shot through the tunnels at blistering speed, Satoshi in tow hanging on for dear life. In mere moments, they were back out of the tunnels and KendoGarurumon took off into the air, giving the two of them an amazing view of the Northern Prominence as they headed back to the Real World.
As the two of them appreciated the view, KendoGarurumon looked back at Satoshi. "Well, we did it. We came back and conquered that cave after all that time. How are you feeling?"
Satoshi took a minute to consider his own feelings, and as he did, he felt a calmness that he hadn't felt in quite some time. "I feel...at peace. I wouldn't have been able to do it without you, so thank you."
KendoGarurumon merely smiled once more. "I wouldn't have been able to do it without you, either. We make a good team, Toshi." With peace in both of their hearts, Satoshi Himura and KendoGarurumon took off into the Digital Sky.
(Final Word Count: 2218)