Post by Vergil on Mar 8, 2019 1:32:53 GMT
The mall was bustling, busier than usual due to it being a holiday weekend, a four day one to be precise, so everyone who worked office jobs or was in college -- anyone who didn't work in the retail industry -- had a nice long weekend to enjoy. The celebrate the long weekend, and also to capitalize on it, many stores had sales for that weekend only. Fifty percent prices. Seventy-five percent off prices. Justice was in his element, darting from one shop to another, expertly examining their merchandise before deciding if what the store had to offer was good enough for him or not.
"Justice, slow down." Vee called him from his D-Watch, who was cutting in front of other people in the shoe store to see the kind of shoes they were selling.
"I have to be quick, or all the good bargains for these shoes will be gone!" Justice argued, not looking at his watch from the shoes he was surveying. His phone was clutch in his hand while he held the shoe in the other. They were the Air Jordan VI's: the shoes that Michael Jordan wore when he won his first championship with the Chicago Bulls. He couldn't find the shoes anywhere since basketball wasn't a popular sport here in Japan whereas in America, but now he finally found them, and they were the last ones in stock. "Ohh snap these are the ones!"
"You humans and your novelty for clothing." Gummy sighed.
"It's called fashion, Gummy. "Justice retorted. "Learn or weep."
After buying the shoes for a good price and walking out of the outlet happy, Justice's D-Watch whirred noisily on his wrist. He raised his arm, only to then look up to see a nearby ATM suddenly dispensing money; thunderous footsteps was heard, shaking the ground beneath the floor. Over the footsteps rose screams, then the sight of people running, scattering like cattle, running away from fireballs, and thrown cars.
Putting the bag of shoes in his backpack, still staring at the commotion, Vee and Gummy materialized out of the D-Watch, despite the fact that they were in the front open, with some people stopping around them. The two were waiting for Justice's call. This was a situation neither of them can ignore.
"Well, suddenly this day just got a whole lot exciting." Gummy said, turning to his brother. "Ready to bash some heads?"
"You know it!" Vee replied, playfully punching his brother on the shoulder.
"Now's not the time to treat this lightly." Seeing that other people stopped to stare at his Digimon. He sighed, so much for incognito. "Let's go." The two brothers nodded, running down the two flights of stairs and stopping at the doors that led out of the mall. There were holes literally the outer interior of the building, with embers still burning. There was a hot wind, which made the tension even more nerve-racking.
"Baby Blaze!" The call came from above them, they looked up to see a volly of fireballs about to rain on them. Narrowly dodging the blast radius, the three of them quickly regroup. The attacker was now visible.
"Woah..."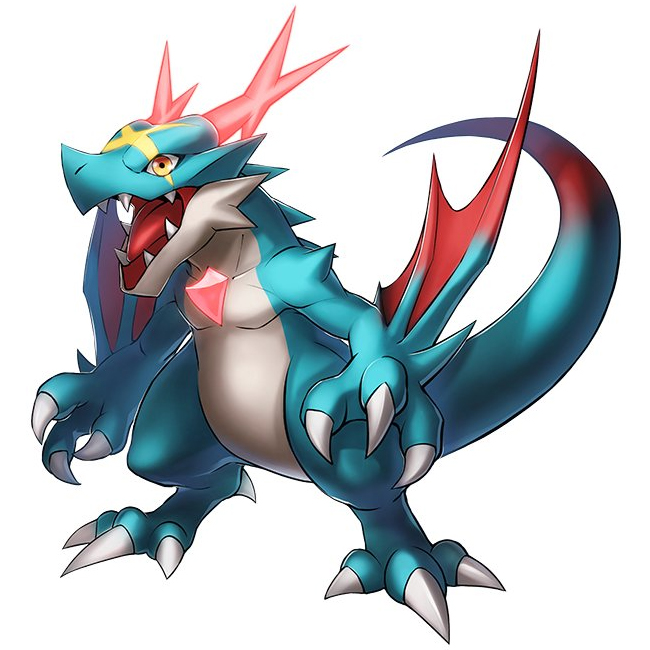 Descending from the air was a Digimon that looked like a dragon, almost like Charizard Y from Pokémon. It scales were teal in color, with glowing red horns. It had a yellow "X" mark going across its snout. Instead with wings on its back, they were on its forearms, with three clawed fingers. Emblazoned on it's chest was a Diamond shaped mark that glow red as well. It didn't look like it noticed them yet, as his attention was watching the people flee.
"HAHAHA! Don't go you stinking humans! The lightshow's only getting started." he said, going into a fit of laughter. It wouldn't be long til the local authorities respond to this, but Justice didn't know that it may be responded by something even higher than the police...