Post by Katsuo & Loki on May 8, 2019 1:01:28 GMT
Name
: Katsuo Saishiro
Age
: 16
Gender:
Male
Height
: 5'8"
Weight
: 71 kg
Alignment
: Chaotic Neutral
Birth Date
: November 21
Birth Place
: Shibuya
Skills/Talents:

Bilingual: Speaks fluent Japanese and English.
Magician: Saw a street performer one day when he was 6 and has been practicing magic tricks since. He's performed countless acts onstage, such as the dove pan, the inexhaustible bottle, and using Chinese linking rings. For more up close performances, he mainly shows off tricks involving cards.
Sleight of Hand: Because of his long history practicing magic tricks, Katsuo has very fine motor skills.
Athletic: Played Rugby for 4 years in Canada and 2 more years in Japan. Because of this, he has more endurance and physical strength than the average high school student.

Backpack Contents
:


Deck of playing cards - Typically used for his magic tricks.



A cloth - White in colour, 30cm x 30cm. Not very absorbent. Could be useful outside of magic tricks.

Magic wand - Not actually magical, just a black wand with a white tip. About 25cm long. Katsuo likes to point at people in the audience with this when he's putting on a show.
Box of matchsticks - The matches are used occasionally in magic tricks. Contains 34 out of 42 matches.
D-Terminal - Appeared alongside his Digivice when he arrived in the Digital World.

Digivice: D3 with a black body and blue grips.
Crest: Freedom.

Personality: Katsuo is incredibly dramatic and glamorous, always making animated gestures when he speaks. On top of that, he's also very egocentric and puts his own wants and needs before everyone else's. Katsuo fails to get along well with most people because he's dishonest and abrasive, and he always blames the other party when someone removes him from their life.
His priorities lie in mastering his craft, making a painstaking effort to ensure that every little detail is absolutely perfect. This perfectionist attitude frequently gets out of hand, causing him to set his own standards too high, making him frustrated when he fails to reach his own expectations. With no way to healthily manage the stress of his self-perceived failures, it will build up and he will lash out at others.
On the inside, however, Katsuo is highly sensitive to his own emotions, and he thinks with his heart rather than his head. He's never had people to truly care about, with his own parents being workaholics and any potential friends being scared off by his toxic personality. He copes by talking to himself frequently.

Appearance
: Katsuo has a tall but relatively average build. He sports short, black hair that sticks out in many spots. He wears a pair of round, black, plastic glasses. He's fair skinned and somewhat prone to sunburns. Katsuo prefers to dress sharp whenever he can, mostly in black with some red accents. His magician outfit consists of a black coat with long, split coattails, a pair of bright red gloves, a mask over his eyes, and a top hat.
FaceClaim
:
Persona 5
•
Joker (Ren Amamiya)
• Katsuo Saishiro
Personal History: Katsuo was born in Shibuya to a wealthy family. He's the only child of two successful business people who spend most of their time working. Because of his parents' frequent absence from his life, as a child he lived mostly with his grandmother before she passed away. He still holds her fondly in his memory as his only true parent figure. His grandmother would often take him for walks through the town. During one of those walks was when he met a street magician and became interested in doing magic.

When he was 8 years old, he moved to Canada because of his parents' business needs. It was there that he learned to speak English, and was also where he joined a rugby team for the first time. He wasn't a phenomenal athlete, but he was also no pushover either. In the school he went to, he somehow managed to make two close friends, who supported his efforts to become a magician. They were his first audience members. However, he would lose all contact with them when he moved back to Shibuya when he was 13.
Katsuo isn't so lucky with friends in Shibuya the second time around. With no friends and no grandmother, he spends most of his time alone in the empty Saishiro residence, practicing or researching new tricks when he's not tending to the home's needs. He began to do live shows at local diners a few months after moving back.

---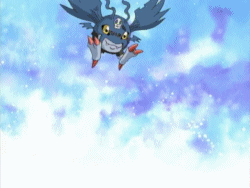 Digimon Name: Loki
Default Form
: PicoDevimon
Gender
: Male
Skills/Talents
: Navigational skills via looking at the positions of constellations, foraging, lying.
Personality: Loki is rude and untrusting to all except those he deems worthy. To the very few he opens up to, he gives them his undying support. In this way he's similar to Katsuo. Loki's unwillingness to open up to people has left him feeling lonely his whole life. He justifies this by thinking that lesser Digimon just can't understand him.

Loki holds himself in high regard and tries to show off on others. He cares mostly about himself and will cheat, lie, or steal to gain an advantage if he's struggling. To those who humiliate him, he will hold a grudge that is not easily broken. He will punish others to the degree he feels was done to him first. With the more serious conflicts, he's willing to go out of his way to make that person's life a living hell.

Unlike Katsuo, Loki thinks with his head, taking the more logical and thought-out solutions to his problems. He's cunning and easily absorbs information. He's not one who acts on impulse, so he takes very little risks. This means that he's not used to situations in which he's at a major disadvantage.

Personal History
: TBD
DIGIMON'S INITIAL EVOLUTION LINE
---
Fresh / Baby ISpecies
: Zurumon
Appearance:

Attribute
: None
Family/ies
: None
Type
: Slime
Fighting Style
: As Zurumon, Loki knows how to pick his battles wisely. He'll use his small size and flexible shape to squeeze into small gaps and escape his attacker. He will happily harass other Digimon his level from a distance though, taunting them while shooting bubbles.
Abilities:
Poison Bubbles (Attack) - Zurumon spits out toxic bubbles. To Fresh Digimon, the bubbles will sting, and In-Training Digimon will have their skin irritated on contact, but anything stronger is completely unaffected.
Squishy (Passive) - Zurumon, as a slime, can slip into small openings with ease, even ones smaller than he is, so long as they are at least 4cm wide.
Digivolves To: Pagumon
---
In-Training / Baby IISpecies
: Pagumon
Appearance
:
Attribute
: Free
Family/ies
: None
Type
: Lesser
Fighting Style
: As Pagumon, Loki will bully any and all Digimon weaker than him with melee attacks while mocking them. Like Zurumon, he keeps a safe distance from actual opponents, shooting bubbles and running to safety at the first sign of an incoming attack.
Abilities:
Acid Bubbles (Attack) - A slightly more potent version of Poison Bubbles, which brings a much longer lasting sting to Fresh Digimon, a sting to In-Training Digimon, irritates the skin of Child Digimon, but does nothing to Adults and above. However, a bubble can irritate an Adult if it somehow lands in their eye.

Pagu Punch (Attack) - Using his ears, Loki makes a fist, winds up, and punches the opponent with all of his strength.

Digivolves From
: Zurumon
Digivolves To
: PicoDevimon
---
Rookie / ChildSpecies
: PicoDevimon
Appearance:

Attribute
: Virus
Family/ies
: Nightmare Soldiers
Type
: Small Devil
Fighting Style
: As PicoDevimon, Loki is much more comfortable getting up close and personal with his foes. He'll zip and dart around his opponent in the air and strike when they get confused. Loki likes to fight dirty, luring his foes into a corner with aggressive swats and his Pico Darts, using environmental hazards to his advantage, or aggravating foes with his taunts.
Abilities:
Pico Darts (Attack) - Loki throws large, virus-filled syringes at the enemy from under his wings. A Child level being hit by one of these darts will almost immediately become weakened and slightly dizzy.

Devil's Whisper (Attack) - Loki emits hypnotic waves from his eyes. While it does not do damage, it is used to distract the enemy and make them unfocused for a few moments.

PicoDevi Claw (Attack) - Shrouding his claws in darkness, Loki strikes savagely.

Bat Flutter (Attack/Utility) - Loki shoots a stream of tiny bats made of dark energy. The bats surround an enemy and inflict many tiny cuts. They can also lift any one object lighter than PicoDevimon.

Digivolves From
: Pagumon
Digivolves To
: Devidramon
---
Champion / AdultSpecies
: Devidramon
Appearance
:
Attribute
:
Family/ies
:
Type
:
Fighting Style
:
Abilities
: [6 Abilities Max]
Digivolves From
:
Digivolves To
:
---
Ultimate / PerfectSpecies
:
Appearance
:
Attribute
:
Family/ies
:
Type
:
Fighting Style
:
Abilities
: [7 Abilities Max]
Digivolves From
:
Digivolves To
:
---
Mega / UltimateSpecies
:
Appearance
:
Attribute
:
Family/ies
:
Type
:
Fighting Style
:
Abilities
: [9 Abilities Max]
Digivolves From
:
Digivolves To
:
---
Biomerge
/
Burst ModeSpecies
:
Appearance
:
Attribute
:
Family/ies
:
Type
:
Fighting Style
:
Abilities
: [10 Abilities Max]
Digivolves From
: