Post by itsyoboi on Jul 19, 2019 18:16:47 GMT
Name:
Luke Takara
Alias:
Lu, Straw Hat or any other NickName that fits
Age:
17
Gender:
Male
Height:
174
Weight:
130
Alignment:
Neutral
Birth Date:
May 5th
Western Horoscope:
Taurus
Birth Place:
Luke was born in Okinawa, on the third island near the shore, he was born to in his parents home with the help of a midwife, well that's what his biological parent's friends told him when he was much younger and still lived on his home island.
Skills/Talents: Singer:
Luke is a very bad singer, but he doesn't care, he sings when he wants to sing and no one could tell him otherwise.
Kung Fu= Monkey style:
Luke is skilled in the art of Kung Fu, his specialty is Monkey style, he can defend himself quite effectively
Has no self-preservation:
if you can even call this a skill, Luke is very.....uhhh....headstrong, he will literally try and use his head on whatever problem he runs into if that doesn't work then he shifts to using his fists.
Street Smart:
Surprisingly something is going on in this not so bright teens head, he's pretty smart when he wants to be especially on the streets, he knows better than to follow someone into a deep dark ally
Runs on instinct:
gut feelings are his usual guides, they're right most of the time.
Animal-Friendly....kinda:
he has an odd way with animals, he kinda treats them like people, always asks first before petting them and the like.
Backpack Contents:


Lukes Messenger Bag
Lunch Box:
Luke never leaves home without his lunch box, the boy loves his food.
Phone:
Luke has been glued to this thing since day 1, kinda doesn't help that he's pretty big on social media, with his youtube account and all.
First-Aid Kit:
ok here's something more reasonable to bring along, his adoptive mother had drilled it into his head to always carry around a med-kit in case an accident happened.
Games
: mostly fighting games, he just likes the colors, it was pure luck that he's awesome at fighting games.
Swim Gear: never know when you might run into a body of water, Luke was practically raised in the water, it would only be natural for him to have swimming trunks ready in case he wanted to go for a swim.
Digivice
:
The model type digivice that luke has is the D-Arc, the whole device is a Red color, the strap and clip are both black, the buttons are a green color and the ring around the screen of the device is green
Personality:
Luke is a very energetic 17-year-old teen, the boy is a happy go lucky kind of guy if there is a problem he remains rather relaxed and not very worried about it. However, that doesn't mean he isn't capable of becoming serious when he needs too. He has large amounts of faith and belief in himself, his partner and those around him that he considers friends. Luke is much too curious for his own good, remember when I said the boy has no self-preservation, yeah...he doesn't care how dangerous something looks or is, he's going to see what it is and no one's going to stop him. Luke can be very stubborn, once he sets his mind on something, there is no way to change it. A very fun person to be around, Luke can brighten up anyone's day with his odd antics and interactions with his poor stressed-out partner. Luke prefers to put his own needs last and his friends need first. Just because he's a happy, relaxed ball of sunshine doesn't mean he's a pushover, Luke will and can defend himself and his friends when he needs to, he's not afraid to throw the first punch.
Appearance:
Luke isn't that hard to spot in a crowd, sure his short and he has a very skinny buff frame, but his choice of clothing can make him stand out, especially with his slightly tan skin. Luke usually wears a red T-shirt( usually plain, but sometimes they have little pictures on the front, like a little chibi monkey or other animals) with tan cargo pants or denim shorts. He usually wears these water-resistant sandals on really hot days, or out of habit because of where he comes from. on cold days he wears a red and white cotton jacket, and blue van sneakers. but the one thing he always has, no matter the weather, is a warn down yellow straw hat. This hat means a lot to him, it was given to him by his adoptive father at the young age of 7.
FaceClaim:
ONE PIECE
• m
onkey d luffy
• Luke Takara

Personal History:
Luke was born to a moderate-income family, they made just enough to get through the month when his father would get his paycheck again. Despite their little financial freedom, they were a happy family, Luke had all his parents attention since he was their first and only child. Sadly, at the tender age of 3, a tsunami had hit the shores of Okinawa, the islands especially were hit hard, the residence of the island had suffered great loses from homes to human lives, two of those lives had been Lukes parents. The baby had been found in his baby chair crying his little lungs out on the family home roof, his parents were nowhere in sight. He was looked after by family friends while the residence built their homes and town back up, after the reconstruction an orphanage was built and Luke had been placed in it along with may other children who had also lost family to the tsunami. As Luke grew he began to blossom into a happy, carefree energetic child, those that worked in the orphanage were often amused by the child's endless energy and wild imagination, sadly not all adults liked him. Whenever he was interviewed by a family they always found him....annoying, it was common for males of Lukes age to be energetic and loud and boisterous, it was normal, in fact, a very good sign of health for kids of his age. But most adults found his loudness and excitement annoying, they wanted a calm and obedient child, so time and time again he was rejected. With every rejection Luke slowly started to fall in a slow cycle of depression, Luke was human, and even a child like him could only take so many rejections before he started to fall apart, he started to lose hope that he would never be adopted, not even the staff of the orphanage could get him out of his funk sometimes and that really scared them. They feared that no one would accept this child and he would be forgotten like many of the children who were never adopted. When Luke turned 5 his luck changed, a loving couple had visited the orphanage after they had moved in. They were Miko Takara and Kenji Takara, they had moved her after Kenji had managed to get a job as a fisher here on the island. The couple was told that they could not have children due to the extream hazard it would pose on Miko, so they had decided to adopt. The couple came every day to interview each child in the orphanage when they got to Luke, things seemed to click into place the moment they had met him. Kenji was a man child himself and Miko was just charmed by the small boys' joy and imagination. They adopted Luke right on the spot, Luke once again had a loving family, they spent a lot of time together and would often go on fun activities around the island as a family, Lukes favorite place to go was the beach, he would often race his adoptive father in the water, while his adoptive mother waited on the shore. At the age of 7 Kenji had taken his son out fishing as a father, son bonding activity and it was there that the man had made a straw hat by hand for his Son, it was a welcome to the family gift, kinda late but better late then never right. After a few happy tears, Luke declared he would always wear his fathers gift no matter the weather, they finished that amazing day off by fishing and catching a few good ones, taking them home for Miko to cook. Unfortunately, at the age of 10 Luke lost his adoptive father, the life of a fisher was a hard and dangerous one, a sudden storm had caught the ship they were on off-guard and the ship capsized, no one had survived. Miko was devastated losing her husband had been a blow that had nearly taken her down, Luke was just as broken, sad and hurt, but he knew he was the man of the house now, putting aside his mess of emotions the preteen had helped his mother in any way he could, eventually with each other to relies on, Mother and Son moved on. Miko had used some of her husbands' life insurance to move to Shinjuku, after of course talking to her son after all this was the town he had been born and grew up in. Luke didn't want to leave, but he knew it was necessary, the only job his mother could take was in that city, it was hard but the teen agreed. by the end of that month what remained of the Takara family moved to Shinjuku. Lukes mother works in a tailor shop at the center of the city, she worked long hours gaining enough pay for them to make ends meet, Luke was always worried when she came home, half asleep, tired and sleep-deprived. The moment Luke reached the age of 16 the teen had immediately applied for a job(much to his mothers' protest), at a pet store close to where his mother worked. He had been immediately liked by the customers that came into the store, Luke always greeted them with a huge grin on his face and the energy and friendliness he exerted was extremely contagious. With Lukes extra money Miko didn't have to work as hard, their combined paychecks were enough to live a normal life. It was around this time that Luke had found another source of income, the internet. At first, he would just blog about his daily routine, then with the permission of his boss, he started to film and advertises his place of work adding his own touch to the videos, and almost overnight he had become popular. despite his newfound popularity and a better source of income he didn't quit his job at the pet store, he loves working there, nor did he forget his roots, he and his mother only use the extra money for emergencies. now after so much hard work, they live nice lives in the city of Shinjuku
Extra Info:
He gained the scar under his eye after he got in a skirmish with some bullies after attending the first day of his new school
His YouTube user name is
Straw Hat Monkey
---
Digimon Name:
Okita
Default Form:
Koemon
Gender:
Male
Alignment:
Neutral

Skills/Talents:
A Fighter
: Okita is not as trained as Luke in the fighting styles, but being a Digimon he doesn't need such training, he's a pretty good hand to hand fighter, though unlike his tamer he would rather try and talk things out first
Awesome Singer
: Tries constantly to help his tamer get better at singing, but either his tamer has no talent, or he doesn't pay attention when Okita instructs him.
Intelligent
:
THANK KAMI!,
Okita is the brains of this partnership, he's the whole reason why Luke hasn't died a horrible death by now. He keeps himself and his tamer out of trouble in both the real and digital world, even if he has to drag his tamer away as Etemon, kicking and screaming.
Great Cook
: Okita knows the basics and makes some pretty decent food, learned from his mother.
inventory
: Okita carries around a staff that used to belong to his father, it is the only thing he has left.
Personality:
Okita is a pretty decent Digimon, his the kind of Digimon that would steal for necessity rather than greed. Okita is intelligent, he knows when he can get something he wants for free, though sometimes his intelligence can ruin the fun when on a trip or playing a game. Okita can be rather entertaining, a very good actor, he likes to put on shows and other entertaining acts to get money and or food. Out of all his acts, singing is his favorite, and will sometimes break out into song in the middle of a conversation when he feels like it. Okita despite his good qualities can come off as unkind, because of how he was raised and level of intelligence, he can be really brutal and blunt. Not to mention that this little Monkey is as sneaky as they come, from picking pockets to highjacking a car, its best not to turn your back on him. He does share one trait with his tamer though, he's as stubborn as they come
Personal History:
Okita was born in late winter in the digital world, his parents valued intelligence over anything else and so taught their son relentlessly. They were strict and often would push their son to his limits and teach him how to completely ignore his emotions and those of others. When Okita reached rookie-level his village was attacked by a power-hungry Digimon, this wouldn't have been a problem if the Digimon hadn't absorbed every one's data. Okita was the only survivor, he had been sent off on an errand over to the next village and came back just in time to see the RiseGreymon absorb his villages data. His parent's way of raising him had seriously crippled his emotional intelligence, so it was no surprise that he felt nothing for the Digiimion that were lost that day, even his own parents. With no other choice Okita moved on, and started a new, for months he had wandered around the digital world, doing little jobs and acts for money, only when times were tough did Okita pickpocket Digimon that walked by him. Then one day, as he made his usual rounds toward another village he visited often he ran into a rather peculiar sight, a human. Then he made the biggest mistake in his short life, he approached the human.
---


DIGIMON'S INITIAL EVOLUTION LINE
Fresh
Species:Tsubumon
Appearance:
Fresh: Tsubumon
Attribute: none
Family: N/A
Type: Slime
Fighting Style: He knows better then to charge into battle when at a fresh level, of course he'll run and hide, hoping that he isn't found or his tamer doesn't do something stupid
Attacks (1)
Acid Bubbles: Shoots green bubbles at enemy digimon
Digivolves to :Upamon
---

In-Trainning
Species: Upamon
Appearance: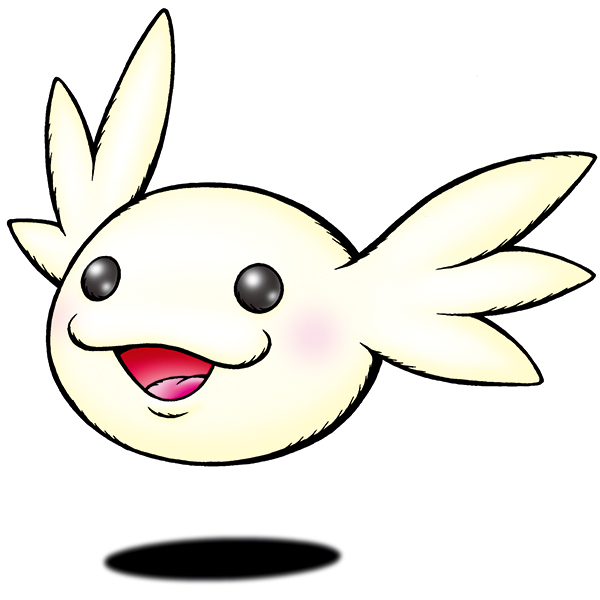 In-training: Upamon
Attribute: None
Family: N/A
Type: Amphibian
Fighting Style: Okita still prefers to run(the smartest of moves) then fight.
Attack (2 Attacks)
Acid Bubbles: Shoots green bubbles at enemy digimon
Shock Shout: shoots out little bots of electricity from mouth during a screech
Digivolves from: Tsubumon
Digivolves to: Koemon
---
Rookie
Species: Koemon
Appearance: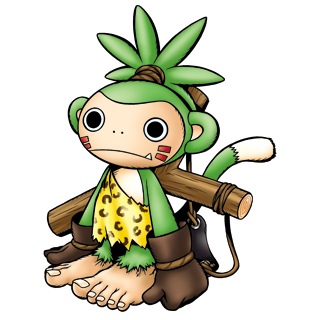 Rookie: Koemon
Attribute: Virus
Family: Nature spirits
type: beast
Fighting Style: Okita in this form prefers to outsmart his opponent, and wear them down by using long range attacks or tick abilities. Then when they'er down he pounces with close range attacks
Attacks:(3 attacks)
Baby Sling: Fires objects with his slingshot with perfect accuracy[ 1 post cool down]
Mischievous Hoop: Throws a wheel made of rope in an attempt to trip or tangle up an enemy[can be used 2 times a fight, after that it cant be used again until the next fight]
Dizzy Uppercut: Punches upward with a power pumped fist[ 1 post cool down]
Digivolves to: Targetmon
---
Champion
Species: Targetmon
Appearance: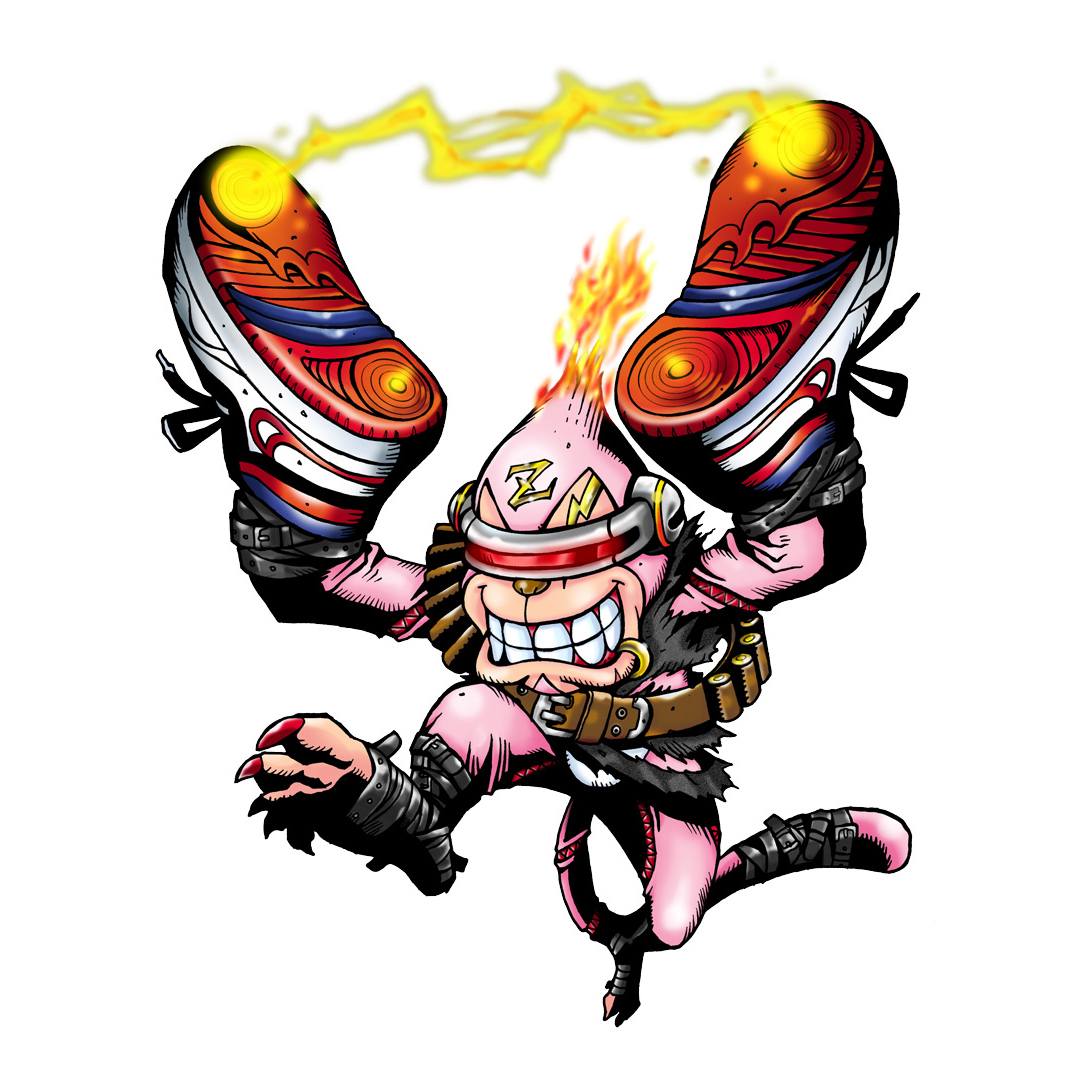 Champion: Targetmon
Attribute: virus
Familly: Dark area, Nightmare soldier
Type: Puppet
Fighting Style: Okita in this form prefers to attack at close range, its mostly due to having a limited amount of long range attacks. Thought close range is not his specialty he makes the most of it, his a speed attacker in this form, and seems to like to run circles around his opponent until they are disorientated
Attacks:(4 attacks)
Shocking Hug-hug Sneaker: Rubs the sneakers together on its hands until they are fully charged with electricity and hug the opponent, shocking them[ 1 post cool down]
Pointy Head: the flame on his head goes out and the head hardens like steel and headbutts the opponent.[ 1 post cool down]
Explosive Surprise: uses his tail to chuck the bombs in his belt at enemies[ 2 post cool down]
Dark Spirits: shoots balls of dark energy from his mouth[ 2 post cool down]
Digivolves from: Koemon
Digivolves to: Etemon
---
Ultimate
Species: Etemon
Appearance: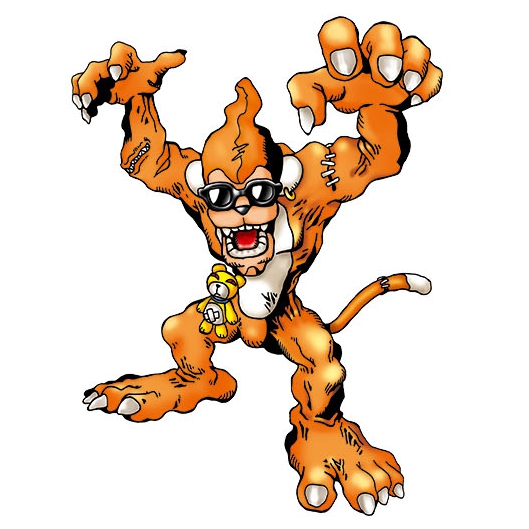 ultimate: Etemon
Attribute: virus
Family: Deep Savers, Metal Empire
Type: Puppet
Fighting Style: Okito prefers to attack at close range in this form, his close range attacks are much more powerful then his long range. He tries to tire the enemy first with his long range attack and then using his speed and battle power he attacks with kicks and punches.
Attacks:(5 attacks)
Love Serenade: Sings a Serenade that causes bolts of dark energy to come down on a foe [3 post cool down]
Monkick: Kicks the foe with a dark energy infused leg. [1 post cool down]
Dark Musical: rushes the Foe in a flurry of dark energy fueled kicks and punches while singing [2 post cool down]
Grateful Knuckle: infuses his fist with crackling dark lightning and punches a foe [1 post cool down]
Eroding Screech: Screams into his microphone casing a pulse of dark energy to shoot out toward the foe [1 post cool down]
Digivolves from: Targetmon
Digivolves to: Makuramon
---
Mega
Species: Makuramon
Apperance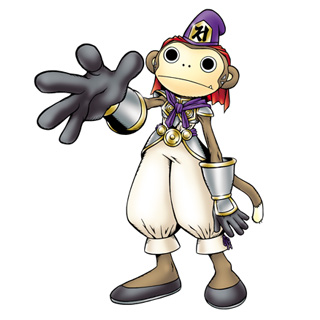 Mega: Makuramon
Attribute: Data
Family/ies: Metal Empire, Nature Spirits
Type:
Holy Beast
Fighting Style: Okita in this form becomes an all around, he tents to try and inrage or out wit his foe in this form and hit him when his gaurd is down. Its here that his slyness shines through, using sneaky methods to land attacks on enemies, or use their own moves against them.
Abilities(9):
Treasure Ball: Creates a explosive crystal ball and throws it at the foe [1 post cool down]
Raurava: aims palms at a foe and shoots a pulse of concentrated energy at the foe [2 post cool down]
Iron Fist: one or both fists are coated in what appears to be metal and he attacks in a flurry of punches [1 post cool down]
Dark Storm: charges his hands with dark electricity and shoots it up, a moment later a rain of dark lighnting rains down on the foe.[3 post cool down, might cause stun for 1 post]
Darkness Claws: hands become covered in crackling dark energy and slash at Foes[1 post cool down]
Ending Snipe: males his hands into finger guns and the index finger glows red, and shoots multiple bullets of energy at the foe[2 post cool down]
Terrabolt; charges one leg with dark energy and stomps down casing a line of pure energy to shot out toward the unlucky foe in front of him.[3 post cool down, may cause stun for 1 post]
Overwrite: A move that allows him to copy one of his opponents moves, one that he has seen or was used on him[4 post cool down, last for only 4 posts,
PS:this move can't copy once-per-thread abilities.
]
Digivolves From: Etemon
Digivolves To: KingEtemon
---


Biomerge
Species: KingEtemon
Appearance:
Attribute: virus
Family: Metal Empire, Nightmare Soldiers
Type: Puppet
Fighting Style: Both Luke and Okita are one in this form, so its kinda hard to tell who is trying to do what, interestingly enough this causes this form to be totally unpredictable. You never know whos in control, the head strong, stubborn tamer, or the sly and sneaky digimon partner. In this form they have both increased speed and attack, depending on who is controlling the Biomerge you can either be tricked to falling into a trap or fight until you cant fight anymore.
Attacks(10)
:
Monkey Wrench: Throws a ball of dark energy at his foe[1 post cool down]
Kings' Fists: one or both fists are charged with Dark energy and tries to punch out the enemy[1 post cool down]
King Monkick: Leg bursts into flames from the amount of energy being put in it and kicks an opponent[1 post cool down]
Fire Fist: powers up a fist with fire and punches sending a fist shaped fire attack at the enemy.[1 post cool down]
Plasma Storm: holds palms out toward the enemy and fires multiple balls of clear dark energy to the foe[2 post cool down]
Gold Rush: powers up legs and arms with static energy and rushes the foe in a storm of kicks and punches[2 post cool down]
Dark Network: Gathers a much bigger and powerful ball of energy over his head, about the size of a bike, and throws it at the enemy[ 2 post cool down]
Terraburn: both arms burst into flames and he slams them down onto the ground, causing fire to break the earth and bust up like a shock wave[3 post cool down]
Royal Strike Down: shoots bolts of dark lightning at enemy using his index finger, making it rain lightning[4 post cool down, might cause stun for 1 post]
Concert: Kingetemon never forgets his roots, he will break out a key-tar in the middle of battle and sing, this move causes a shock-wave of sound made of dark energy to hit an opponent in a cone shape range. At lest in this form the Rock n Roll is amazing to listen to.[4 post cool down]