Post by Rai Ryuichi on Jul 20, 2019 19:26:09 GMT
Partner:
Rai Ryuichi
Alias:
Ray, Ryu, Rai, RaiRyu, 'Hey kid'.
Age:
14
Gender:
Male
Height:
5 ft 7 inches
Weight:
145 lbs
Alignment:
Unresolved
Birth Date:
October 2nd
Birth Place:
Tokyo, Japan
Western Horoscope:
Libra
Eastern Zodiac:
Rooster
Skills/Talents:
Combat Pragmatist
- He's not above cheap, sneaky or deceitful tactics in combat, generally unafraid to take any advantage in combat. Don't pretend violence has rules; There is no such thing as fair and not fair.
Shrewd
- A quick thinker, with a creative mind. Often thinking of outside the box for things that would give him an advantage in a situation where the odds are stacked against him. He's good at tricking people and hard to trick himself. An analytic mind lends him a sharp and astute sense of judgment.
Judo Student
- He practices Judo as an extra-circular activity, finding himself particularly talented at 'Nage-waza' or throwing techniques.

Knowledge of computers
- He's top of his computer science class, having a relatively advanced grasp of programming, computing/data analysis, and algorithmic problem solving. He also has a talent for breaking passwords, and logging into places he doesn't belong. Its slowly becoming a hobby for him. He also has some shallow access to the dark web.
Personality:
No matter what the odds he doesn't know how to give up once he's committed. This can result in him standing his ground when it is disadvantageous or self-destructive to do so, and resorting to any means to accomplish the goal he's set out to do. Once he sets himself to a goal he seems to lose basic understanding of the concept of giving up on it until he's met his goal or convinced himself its not needed. That attitude can sometimes be just what is needed to see the job through.
He is a diligent student and pours long hours into study and practice of much of the knowledge and skills he learns in school, to the point of being the top of his computer science class.
That all said, Rai has always been a massive introvert, prone to extreme asocial, lone-wolf behavior. He tends to come across as apathetic and 'bored with you and the world' in most social situations.
Due to the path and outlook he's taken in life, he knows next to nothing about having and keeping friends, and has difficulty really socializing, interacting with, treating or recognizing people as anything resembling companions.
He possesses level of emotional control developed to the point of being emotionally crippled, because in his mind getting mad is worse. He believes anger turns him into something he's not and something he doesn't want to be; When angered, his personality shifts to become something absolutely brutal and vindictive, and has absolutely no compunctions with causing excessive pain and dealing permanent damage. His greatest fear is himself.
He has the potential to be a good person, but is generally too busy shutting down his emotions and ignoring other people to try.
Appearance: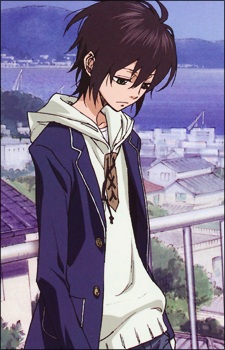 (Face-Claim: Miharu Rokujo from Nabari No Ou)
Rai is boy of average height with a head of messy black hair and leaf-green eyes. His facial features clear and attractive. He stands with a relaxed and cool posture, suggesting ease. His eyes however, always glimmer with a certain intensity. He walks with a barest hint of swagger and always starts with his left foot forward.
He often wears a standard high-school uniform jacket but the rest of his wardrobe can vary. He wears a formal, black leather belt around his waist, to which is clipped a black and blue Digivice. Around his neck is a moonstone pendant. From his shoulders hang a black and navy blue backpack that looks like it hasn't much in the way of stuff put into it.
Personal History:
Rai Ryuichi was born to a couple who owned a popular bakery in downtown Tokyo.
At age 6, A violent incident with a bully occurred that caused him to be socially outcast for being too violent. As a consequence he spent three months in a children's psych ward, after which he was never truly the same.
His parents always had more time for their bread dough and cake batter than they did for their only son. And he didn't really take steps to get close to them either after he came home. He soon found an avid interest in computers. At age 7 he was working at his parents bakery, already saving up all his money for his first computer. At age ten he was ecstatic when he was able to buy his very own laptop. It wasn't a super fancy one but it was still his.
Of course being an asocial computer nerd didn't go over well with the less intellectually inclined kids at school. He had to learn how to fight and protect himself just to survive middle school-- all while suppressing any kind of anger. He didn't really even want to talk to them; let alone be harassed by them. It wasn't long before had earned a reputation for fighting back with dirty tricks, cheap shots, a mix of clever and cowardly ploys, and evasive maneuvering making most of the bullies think twice before trying to stuff him in a locker.
Now at age 14, he still picks his fights carefully, but always sees it through to the end whenever he resolves to do something. He's a half-way decent athlete, and at the top of the Computer Science class. But for all that he never really bothered to make a friend in 9 years, since he became a pariah in kindergarten. He had decided in his padded cell that it was just better not to get close to people; all the better to never have to relive that day.
Everyone around him had friends... But he was always shutting himself away either at the Gym or behind a screen, or under a head set. He managed to get himself into the dark web, and bought a few things from it. In particular a pair of malicious thumbdrives, became his most closely guarded possessions.
Backpack Contents:
D-Terminal, Rice balls. Water, Laptop. A bag full of marbles.
1 USB Drive with a computer system wrecking virus, 1 USB with ransom ware.
Digivice:
D-Terminal:
Same color scheme as his Digivice.
Partner's Name:
Often refers to himself as whatever form he is in (Keramon, Kuramon etc). He firmly believes he -is- the
Y2K bug
, (taken form as a Digimon) and will self-identify as such, consequently answering to reference to the mythical bug as if he had been directly addressed.
Default Form:
Rookie (Keramon)
Gender:
Male
Alignment:
Neutral
Skills/Talents:
Can infiltrate computerized systems by becoming a computer virus. Can directly eat data in its pure form. Can also use his tentacles as computer spikes.
Personality:
Playful, kooky, and slightly mad, Keramon likes to eat, fight, play and cause mayhem, but his intents are more playful than malicious. While Keramon never backs down from a fight, he takes every opportunity he sees to make new friends. However if it comes to a fight then he plays it smart but ruthless, making full use of his twisted mind. States of silliness and craziness vary from form to form ranging from playful and cuddly to silly, battle hungry and deranged, to clever, calculating and ruthless.
Keramon often has a hard time understanding that computers are not simply lunch boxes full of food and often gets caught trying to consume the data contained in them. This usually results in him being reprimanded, and usually doesn't try to eat from that particular computer again... but the next one is fair game... -right-? This results in Rai not being able to take him to Computer Lab which in turn makes Keramon tend to not like that class due to Rai always going to it without him.
Keramon likes to play mind games at opportune times(opportune to him anyway) and is also fond of riddles. He's nonplussed by the concept of pacifism though he tries to respect pacifists. Because who DOESN'T love to fight? Its all fun and games after all!
DIGIMON'S INITIAL EVOLUTION LINE
Appearance:
Fresh:
Kuramon
Attribute:
Virus
Family/ies:
Nightmare Soldiers
Type:
Y2K Digimon
Attacks:

Eye Beam
- Shoots a red laser beam from his eye causing minimal heat damage and blinding the target for 1 post (can only blind with this attack once every 3 posts and can't blind a Champion or above.)
Digivolves To:
Tsumemon
Appearance:
In-Training:
Tsumemon
Attribute:
Virus
Family/ies:
Nightmare Soldiers
Type:
Y2K Digimon
Attacks:
Eye Beam
- Shoots a red laser beam from his eye causing minimal heat damage and blinding the target for 1 post (can only blind with this attack once every 2 posts and can't blind a Champion or above.)
Claw
- Leaps up and Scratches the targets face with sharp claws.
Digivolves To:Keramon
Appearance:

Rookie:
Keramon
Attribute:
Virus
Family/ies:
Nightmare Soldiers
Type:
Y2K Digimon
Attacks:
Bug Blaster
(Crazy Giggle) - Spits out an exceptionally destructive bullet of light while laughing manically, causing medium damage and breaking fragile objects in the blast like glass, and causing spider-web cracks in the surfaces of tough objects like concrete walls.
Trojan Bite
- Keramon bites into the target, causing low damage and converting the removed skin or other substance into 0s an 1s of primitive data, absorbing said data and healing himself by a little.
Tentacle Bind
- Lashes out with his many twisted tentacles and attempts the restrain a rookie-level or lower target. If successful he must focus to maintain the restraint and can't preform any other attacks without releasing his target in the process. Can maintain the restraint for a maximum of 2 posts on a given individual use.
Cooldown 3 posts.