Post by ronremey on Jul 24, 2019 21:10:57 GMT
Name
: Ron Remy
Age
: 17
Gender
: Male
Height
:68 inches
Weight
: 124 lbs
Alignment
: Chaotic Good
Birth Date
: Feb 26
Western Horoscope
: Pisces
Birth Place
: USA
Skills/Talents
:
Cooking, learned while waiting for when he was old enough to geta job as a cook.
Fighting, took some self defense lessons after school.
Art, Learned from his mom.
Backpack Contents
:
Mom's Art Book: Holds all the art his mom drew, makes him happy when looking through.

Personal Sketchbook: His own doodles he makes from time to time, has Vol 5 on the cover.

Chocolate Bar: For if he needs a snack, only one per thread.

Digivice
: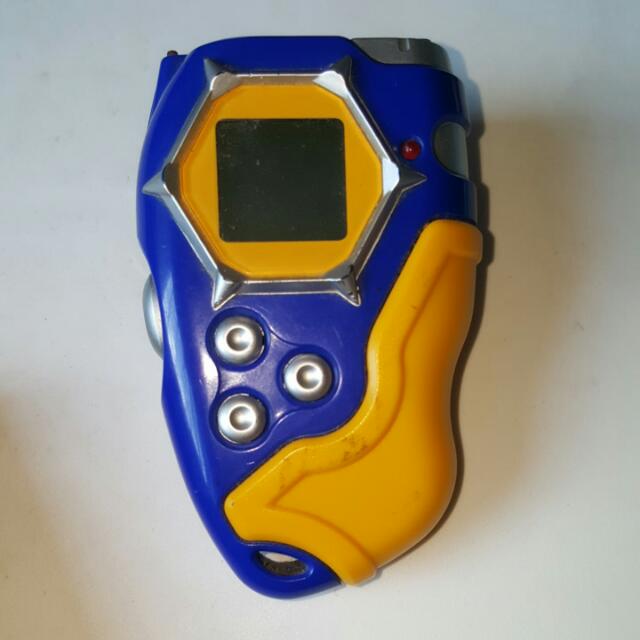 Personality: Ron loves to draw, been learning since he was 13, although for the most part they're just simple doodles of cartoon and video game characters. He also likes to cook, at first it was to get a job, but now it's become a hobby. He finds that people who use others weaknesses for their own gain are some of the lowest of the low, or as he puts it, "Morons who don't know better, and need to be taken down a peg.".

He has admiration for people who stand up for those who can't, and wants to be like those people. He hates it when someone tries to lie to him, and things will usually break into a fight, but these usually just result in bruises. He hopes that one day he can make a mark in history, but he's not sure how that will happen.

Appearance: Ron is a white skinned guy, he has short silver hair and bright red eyes. He wears black slacks, striped shirts, and orange tennis shoes. He usually walks around with his backpack, which has 3 pins on the outside, one is from Fullmetal Alchemist that's of Winry, the 2nd is of Sans from Undertale, and the final one is of Gundham Tanaka from Danganronpa.
His shirt colors are usually white with stripes, with the colors of the stripes being dark green, dark blue, and black. he has no glasses, his face is freckle-less, and he keeps his fingernails clean. His pants are usually black, but in the summer he has brown cargo shorts, and a light blue, short sleeve shirt. He has a gravity falls pine tree hat that he wears on summer days, but any other season and he keeps it in his room. That's all he has for his outfit.

Personal History: Ron's parents are from different countries, his dad from USA, and his mom from Japan. She moved to America, and had been living there for a few years before she met Ron's father; after a year, they got married and had a kid.
Ron learned about both American and Japanese culture growing up, he was fascinated with both, and learned how to speak his mother's language at 10. It took him 2 years to speak perfect Japanese, and they where able to bond in being able to mess with people who didn't speak it.
His dad worked as a construction worker, it payed well enough, but it wasn't enough to support the three of them, so his mom got a job as a house designer. She was an artiest, and started out selling her art-peaces when she first came to the country, but that didn't take off so she went for home design instead.
One day when Ron was 13, his mother got really sick, she was in the hospital for a month, and after that, she passed away. The two where devastated, sure they could still live comfortably, his dad's salary was able to support 2 instead of 3, but this was a loss that they wouldn't recover easily from.

In her will, Ron's mother left him her art book, which had all the drawings she did in the past 13 years, this inspired him to take up drawing, and does a sketch every day, one book per year.

After a couple weeks, during when Ron was playing some The World Ends With You, he made a suggestion to his dad. He said that maybe they could move to Shibuya, as a way to feel close to mom, his dad loved the idea, but said they would need to save up for years.
While his dad was able too make more then they needed to live comfortably, it wasn't much, so Ron decided to prepare to get a good job when he turned 16. He decided on cooking, and spent the next 3 years being self taught, cooking for his dad. Along with that, he began to take some self defense classes after school, with money his dad gave to him as an allowance.
Ron gets picked on at school, he wasn't bothered by it before, but when the bullies started telling lies about his mom, he finally attacked, and got in trouble. His dad suggested the lessons to him, hoping that they would keep him from attacking again. It didn't work, but unlike the first fight where he and the other kids got bloody noses, the lessons let him learn how to control himself enough to just get bruises.

When he turned 16, Ron looked for jobs right away, after a week he was able to get a job at Bob Evens as a cook, and 90% of what he made went to their savings for moving. He worked hard at his job, doing all the work he was told to do, and after 9 months, he and his dad had finally made enough to move to Shibuya.
In three years, Ron's dad was able to save up 75% of what they needed, and with Ron's help they where able to get the remanding amount in 9 months. They decided to wait for 3 more months before moving, but Ron didn't lose his drive at work, if anything he worked even harder.
The two of them finally moved, and they where able to move into the residential district. Ron was enrolled into Shibuya School, and would continue his education there. His dad got a job as a construction worker, like back in USA, and it payed more too.
It was long and hard, but they finally made it, and now they can enjoy themselves.

SPIRIT USER'S INITIAL EVOLUTION LINE
Spirit Element: Wind
---
Sprite SpiritSpecies
: Gaomon
Appearance: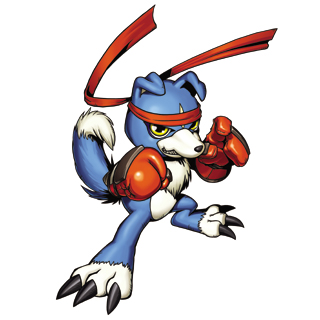 Attribute
: Data
Family/ies
: Nature Spirits
Type
: Beast
Fighting Style
: Ducks and weaves around punches, aims for the face when given an opening, will use both arms and legs for attacks.
Abilities:

Quick Jab: Quickly jabs someone.
Hind Claw: Swipes someone with back paws.
Mini Tornado: Spins into opponent like a beyblade, becomes a small tornado that's only useful if it hits someone. (3 turn cool-down)

Box Guard: Brings gloves up to his face to guard against attacks, can block 1 rookie level attack or reduce damage from a champion level attack by 50%, no effect on Ultimate and higher (2 turn cool down)

Digivolves To
: Kangarumon
---
Human SpiritSpecies
: Kangarumon
Appearance
:
Kangarumon
Like a normal Kangarumon, but he's blue instead.
Attribute
: Free
Family/ies
: Nature Spirits
Type
: Mammal
Fighting Style: Hops around and delivers punches and kicks to his opponents, will use doll for distractions.

Abilities
: [6 Abilities Max]
Digivolves From
: Gaomon
Digivolves To
: Caturamon
---
Beast SpiritSpecies
: Caturamon
Appearance
: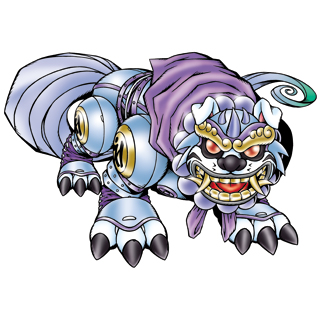 Attribute
: Data
Family/ies
: Nature Spirits
Type
: Exalted Beast
Fighting Style
: Has a steel body he uses to charge at opponents with, slower then his other forms, but hits like a truck, swipes at those who get close to him, and roars with the power of the wind.
Abilities
: [7 Abilities Max]
Digivolves From
: Kangarumon
Digivolves To
: MachGaogamon
---
Fused SpiritSpecies
: MachGaogamon
Appearance
: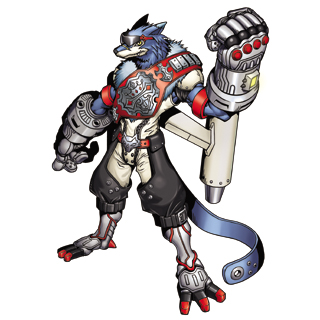 Attribute
: Data
Family/ies
: Nature Spirits
Type
: Cyborg
Fighting Style
: Super powered, high speed rapped punching that leaves little room for opponents to react. Uses jet pack in different ways both in and out of battle.
Abilities
: [9 Abilities Max]
Digivolves From
: Caturamon
Digivolves To
: TBD
---
Transcendent Spirit
/
Ancient SpiritSpecies
:
Appearance
:
Attribute
:
Family/ies
:
Type
:
Fighting Style
:
Abilities
: [10 Abilities Max]
Digivolves From
: