Post by Yuko Himura on Aug 20, 2019 9:27:13 GMT
Name: Yuko Himura
Alias
: Yuu (she hates it though)
Age
: 17
Gender
: Female
Height
: 164cm
Weight
: 42 kg
Alignment
: Chaotic Good
Birth Date
: April 1st
Birth Place
: Kobe, Japan
Skills/Talents:

Multilingual: In addition to Japanese, she can speak English and French on a basic level.
Brawler: Can hold her own in a street fight despite her dainty frame.
Ballroom dancing: Has more than decent experience in European ballroom dances such as Waltz, Tango and Latin thanks to taking classes and partaking in dance competitions when she was younger.
Caligraphy: Has some experience in Japanese caligraphy thanks to taking classes when she was younger. Nowadays, it's a talent she mostly uses in order to mimic someone else's handwriting, forging notes that get her out of trouble in school.

Backpack Contents
:


Smartphone
Bento lunch box

A weekly allowance of 5,000 yen

Chewing gums of various flavours
Used bus tickets

A number of textbooks that have been defaced with a black marker
A black marker for defacing textbooks

Digivice:

Personality: A tomboyish Japanese delinquent with a rowdy, rebellious, anti-establishment attitude, a big mouth and even some brawn to back it up. She speaks her mind without fear of insulting others and her tongue often drips snarky, sardonic venom. A cold-hearted realist, she believes that society is - in her own words - "filled with hypocrites and clowns", therefore she doesn't care what others think of her, and doesn't try to improve herself beyond the bare minimum. That bright future she once had on the bag is still barely within her reach, but she no longer sees a point in chasing after it.
Despite being a notorious troublemaker with next to no regard for school rules and etiquette, tiptoeing the line between breaking a few minor regulations and being threatened with suspension, Yuko has yet to indulge in actual criminal behavior that could get her in real trouble. She's had plenty of scuffles with classmates and kids from other schools, but she's made it a personal rule of hers to never harm those who are weaker than her. Heck, some of her fights were even the result of her trying to protect a weaker student from being bullied! So, underneath her harsh exterior, she hasn't lost sight of what is right.
Appearance
:

Pictured above, she wears an unkempt school uniform, assymetrical, ripped socks and various accessories on her arms (usually fingerless gloves, wrist bands or metal rings). Her fingernails are usually painted black. Her natural dark hair is dyed a multitude of colors, most often a combination of pink, blue and white. Wears pink contacts over her natural brown eyes. Her face is riddled with earings that often cause injuries whenever she gets into a fight, but she refuses to take them off.
FaceClaim
:
DANGANRONPA
•
Ibuki Mioda
• Yuko Himura
Personal History: Yuko Himura was once daddy's spoiled little girl. She was born into an upper middle class family, lived in a bigger than average house and was lovingly raised. Her father usually worked long hours, but when he wasn't working, he spent nearly every second with her, giving her expensive gifts and taking her to fun trips all around the country and even abroad on a few occasions. At the same time, she made her father proud in various ways, becoming an honors students and winning multiple dance competitions at an early age. Truly, she had a bright and promising future ahead of her, a chance to one day graduate high school top of her class and pursue any career path she wanted in some of the best private universities money could buy. However, life was rarely that simple and well-programmed…
When Yuko was 13, she returned home one day to find her mother crying in the living room, along with two law enforcement officers asking her questions. Her father had died. No, not just died. He had been murdered in some kind of gang-related attack. Yakuza… Of course he worked in the Yakuza! That revelation shattered the girl, who up until then had loved her father and looked up to him. In a single moment he had been reduced in her eyes to a criminal who lied to his own family about the kind of work he did. Following that incident, Yuko's grades dropped drastically and she stopped going to her dance classes. Not wanting to pressure her while she was still grieving, and hoping that a fresh start was all she needed, Yuko's mother arranged for them to move to a new town; Shibuya City, Tokyo. New house, new school, new everything. Unfortunately, that didn't help, and Yuko's rebellious behavior only got worse. Flash forward to present day, she has become a full-blown delinquent, getting by in senior high school by the skin of her teeth.
---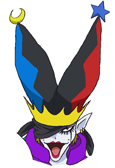 Digimon Name: Jokermon, also known as Jokah-sama, The Fool, Clown Prince of the Dark Area, Demon King of the Digital World

Default Form
: Champion
Gender
: Male
Alignment: Chaotic Evil
Skills/Talents:

Old timer: Extensive knowledge of the Digital World thanks to a long life consisting of many reincarnations. Can name most species of Digimon based on their appearance alone.
Friends on the dark side: Can comfortably travel within the Dark Area and be treated as a non-enemy by most Nightmare Soldiers.
Stage magician: Unreal expertise in the art of illusion and parlor tricks that put even the best human magicians to shame. This covers every type of staged magic, except actual magical powers which go into Abilities.

Personality
: The self-proclaimed "Demon King of the Digital World", who calls himself by various other similarly fancy titles. Rather than being obsessed with feeding on other Digimon's data like most of his fellow Nightmare Soldiers, his bread and butter is pulling practical jokes that make everyone - especially himself - double over with laughter. In that sense, he is truly like the archetypal mad jester, whose existence is defined by making a comedy out of someone else's tragedy. He is actually an ancient Digimon that has gone through many reincarnation cycles. In most of those cycles, he would pull a daredevil prank on some ungodly powerful Digimon or other, get blasted to smithereens for his insolence, then be reborn as a Digitama and start the foolish cycle anew. When it comes to having a good laugh, his self-preservation is a secondary concern. Due to his age, he is more knowledgeable of the Digital World than your average partner Digimon, even if some memories of his past reincarnations are foggy. He recognizes most Digimon based on looks alone, and will often drop cheesy lines like "Gosh, Lillymon, is that you? I love what you did with your hair, darling!" While his motivations are ultimately selfish and twisted, he wouldn't even mind joining the good Digimon's side if it gave him a chance to utterly ridicule a bigger bad guy.
Holosuit:
FaceClaim: FATE/GRAND ORDER • Wolfgang Amadeus Mozart • Jokermon