Post by Yuko Himura on Aug 20, 2019 9:27:13 GMT
Name
: Yuko Himura
Alias
: Yuu (she hates it though)
Age
: 18
Gender
: Female
Height
: 164cm
Weight
: 42 kg
Alignment
: Chaotic Good
Birth Date
: April 1st
Western Horoscope
: "What is this shit? We live in the 21st century!" (Aries)
Birth Place
: Kobe, Japan
Skills/Talents
:
• Multilingual: In addition to Japanese, she can decently speak English and French.
• Brawler: Can hold her own in a street fight despite her dainty frame.
• Ballroom dancing: Has more than decent experience in European ballroom dances such as Waltz, Tango and Latin thanks to taking classes and partaking in dance competitions when she was younger.
• Calligraphy: Has some experience in Japanese calligraphy thanks to taking classes when she was younger. Nowadays, it is a niche talent she mostly uses in order to mimic other people's handwriting and forge signatures.
Backpack Contents
:


Smartphone


Wallet


Japanese Kit Kats (her newest addiction)


Used train tickets


A black marker (great for defacing billboards, street signs and posters)


Digivice
:
Personality
: While Yuko has certainly grown out of her angsty teenager phase, she is still very much a punk at heart and proud of it! She is tomboyish, aggressive when she needs to be, has a big mouth and even some brawn to back it up. She speaks her mind without fear of insulting others, her tone ranging from snarky to confrontational depending on the situation. Her core belief that society is - in her own words - "filled with hypocrites and clowns" has not changed, but she no longer uses it as an excuse to distance herself from others, and is willing to give people a little more leeway.
To those who are neither hypocrites nor clowns, Yuko is surprisingly amicable. She is usually the first to initiate small talk with someone, but has trouble opening up even to people she trusts to a degree. Yuko is a fan of anything counterculture. She sees her many piercings, her dyed hair and her other fashion choices as a way of expressing who she really is while also giving the middle finger to societal norms. She will still melt at the sight of anything cute, as most young women would though.
Appearance
:
After graduating from high school, Yuko threw her sailor fuku uniform in the trash where it belongs. Now her wardrobe often includes a bunch of accessories that may or may not have been purchased from Hot Topic, such as fingerless gloves, metal rings, spiked collars and fishnets. If she wears jeans, expect them to almost always be ripped in places. Her fingernails are usually painted black. Her natural hair color is dark, but is embellished with dyed streaks of pink, blue and white. She has two buns on top of her head that resemble horns, though occasionally she lets her hair down. Wears pink contacts over her naturally brown eyes, while her face is riddled with multiple piercings.
FaceClaim
:
DANGANRONPA
•
Ibuki Mioda
• Yuko Himura
Personal History
: Yuko Himura was born into an upper middle class family, lived in a bigger than average house and was spoiled to no end by her loving father, whom she looked up to and tried to make proud by not only becoming an honors student, but also winning multiple dance competitions at an early age. However, her life took a sharp and slippery turn after her father's murder at the hands of an unknown assailant when she was 13 years old. It turned out that her father had been a member of the local Yakuza for years, a revelation that shattered the young girl's illusion of having the best dad in the world.
Disillusioned with the fact that her late father had lied to his own family about the kind of work he did, Yuko's interest in school waned, and she stopped going to her dance classes. With her grades steadily dropping, and her appearance and conduct straying further from the norm, she eventually became a full-blown delinquent. It's a miracle how she didn't end up joining any gang. Her mother, hoping that a fresh start would help the girl cope with her grief, arranged for them to move from Kobe to Shibuya, but the change in scenery didn't do much to fix Yuko's rebellious attitude at the time.
Then, over the course of two years, something changed; Yuko became less cynical, expressed genuine interest in socializing with other kids whom she shared similar interests with, and was able to get her act together just in time to finish high school with passable grades. While she has a long way to go in order to get her life back on track, she is now at least somewhat prepared to face the world as a semi-responsible adult doing semi-responsible, adult things.
---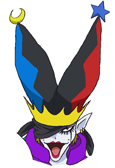 Digimon Name
: Jokermon, also known as Jokah-sama, The Fool, Clown Prince of the Dark Area, Demon King of the Digital World
Default Form
: Champion
Gender
: Male
Alignment
: Chaotic Evil
Skills/Talents
:
• Old timer: Extensive knowledge of the Digital World thanks to a long life consisting of many reincarnations. Can name most species of Digimon based on their appearance alone.
• Friends on the dark side: Can comfortably travel within the Dark Area and be treated as a non-enemy by most Nightmare Soldiers.
• Stage magician: Unreal expertise in the art of illusion and parlor tricks that put even the best human magicians to shame. This covers every type of staged magic, except actual magical powers which go into Abilities.
Inventory:
A deck of cards that he keeps inside his sleeves (or pants when in Rookie form). They seem to remind him of a long gone ally.
Personality
: The self-proclaimed "Demon King of the Digital World", who calls himself by various other similarly fancy titles. He is basically the lovechild of the archetypal Fool and every camp villain ever written in fiction, making a comedy out of someone else's tragedy, relishing their humiliation and torment, all the while dressing and acting in the most flamboyant way possible! In true Demon King fashion, he comes with his own entourage of dastardly minions, but makes sure to outshine them all by virtue of his massive ego. Curiously, though, he seems to treat those who work under him with a modicum of respect, even his army of Vilemon, whom he verbally abuses on a consistent basis.
Thanks to his age, he is more knowledgeable of the Digital World than your average partner Digimon, even if some memories of his past reincarnations are foggy. He recognizes most Digimon based on looks alone, and will often drop cheesy lines like "Gosh, Lillymon, is that you? I love what you did with your hair, darling!" Recently, he has developed a curious interest in the human world and the pleasures it provides - such as the finest quality of red wine - as well as a strange, yet harmless fascination with human women who are mothers.
Personal History
: Jokah-sama is an ancient Digimon that has gone through countless reincarnations. In most of them, he would pull a daredevil prank on some ungodly powerful Digimon or try to mock them, get blasted to smithereens for his insolence, then be reborn as a Digitama and start that whole foolish cycle anew. When it came to having a good laugh, his self-preservation was always a secondary concern. Occasionally, however, he would assume the role of a bona fide villain trying to take over the world with his army of Nightmare Soldiers, his evil schemes always being foiled by one of the protectors of the Digital World, or by some Digivice-wielding, often goggle-wearing, human brat and their Digimon partner kicking his villainous butt while 90's Rock music played in the background.
In his most recent reincarnation, the self-proclaimed Demon King has found himself on the opposite side of the latter conflict by being partnered with a human himself. Rather than being vexed by this development, he saw it as a welcome change in a cycle that had started to get repetitive and dull. After all, joining the side of the "good guys" isn't so bad if it means he gets to ridicule even bigger, meaner villains.
Holosuit
:
FaceClaim
:
FATE/GRAND ORDER
•
Wolfgang Amadeus Mozart
• Jokermon