Post by Junpei Sudo on Aug 20, 2019 21:11:35 GMT
Name
: Junpei Sudo
Alias
: "Jumpy" (to his chagrin)
Age
: 17
Gender
: Male
Height
: 6'0"
Weight
: 174 lb.
Alignment
: Chaotic Neutral
Birth Date
: July 12
Birth Place
: Okayama, Japan
Skills/Talents
:
*Lying - Junpei is a natural liar, capable of spinning tall tales as if they really were the truth.
*Running - And when lying fails, Junpei can book it like no other, being able to finish a 100 meter dash in just a hair over 11 seconds.
Backpack Contents
:
Wallet containing less yen than he'd like
Swiss army knife
Assorted candy and other snack wrappers
A watch with a broken face that he swears is a Rolex
Digivice
:
(Credit for the pic goes to Kost on Discord)
A standard D-3 with black grips and a white body. The screen is a little scratched up.
Personality
:
Tough. Cool. Collected.
Intimidating.
This is the image Junpei wants to project, how he wishes more than anything that others would see him as. But in truth, this very image couldn't be further from how Junpe
actually
is. A sniveling coward who, quite literally, jumps at his own shadow, Junpei wishes he was a tough-as-nails gangster but can't even commit any actual crimes. The most he's ever done is loiter in the park after hours, minor shoplifting, and playing hooky from school.
In spite of his own nature and desires, though, Junpei also possesses what could, under certain circumstances, be considered a heart of gold. He's usually quick to pick up on when someone is getting left out, and even quicker to approach them and try to start a conversation. Furthermore, his better nature sometimes gets the best of him, leading him to do such recklessly dangerous stunts as sprinting into a burning building in order to rescue a trapped cat.
Appearance
: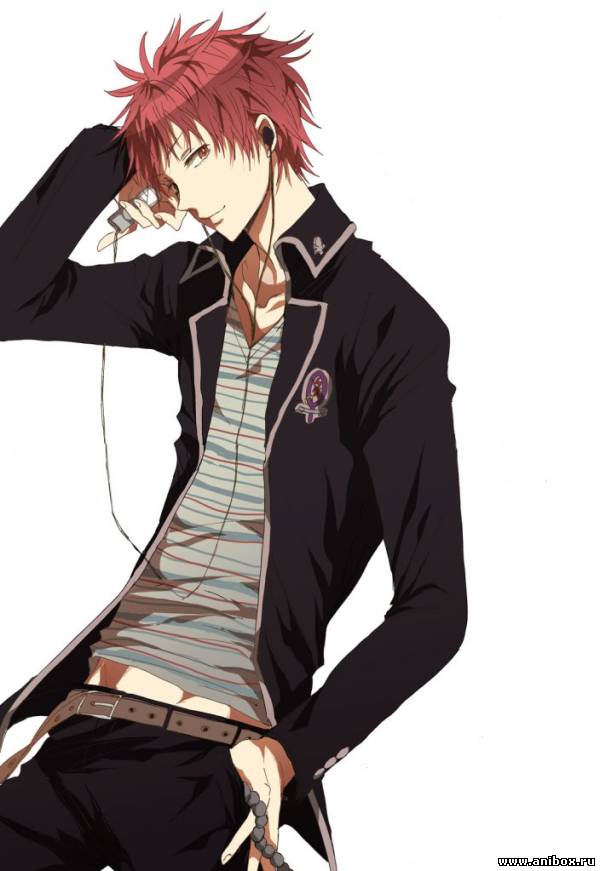 A tall, lanky young man with strikingly rosy hair and surprisingly soft brown eyes. Junpei's outfits are all some sort of ratty, tattered, or otherwise disheveled- purposely so. Wearing 'proper' clothes goes against his desired 'delinquent' image, and he will often take a knife or scissors to the outfits his mom buys for him. Even his school uniform, the only outfit he
hasn't
managed to destroy, is still wrinkled to all heavens, thanks mostly to his adamant refusal to let his mom iron it.
FaceClaim
:
Blue Exorcist
•
Renzo Shima
• Junpei Sudo
Personal History
:
An ordinary boy living an ordinary life. That's what Junpei used to be. His life might not have been perfect- his parents had to work multiple jobs to support the family, and he somewhat struggled in school, both academically and socially- but he was happy, and his parents were happy, and that's all that really mattered in the end. He spent his free time either playing alone or, when he was free, playing with his father. He developed an imaginary friend to keep him company at school. Just a normal kid.
And it all came crashing down when he was 10. His father, after seemingly planning it for a while, had decided to leave their family in order to join the military. The man tried to console Junpei and his mother, tried to explain how it was the best move for the family- they wouldn't have to pay for his portion of meals any more, and after just a few years of service he could start cashing in bonus checks to hopefully get them out of the hole they had lived in all their lives. All Junpei could hear was that his father was abandoning him.
After that day, Junpei changed. His already-unstable grades somehow grew even worse, and it was only by some miracle that he didn't flunk out of junior high. He grew distant from his mother, putting a strain on their relationship as he started purposely avoiding her whenever he could. Eventually, his mother decided to move the two of them to Shibuya, hoping that a change of scenery would be what was needed to get her happy-go-lucky son back.
---
Digimon Name
: Scout
Default Form
: Rookie
Gender
: Male
Alignment
: True Neutral
Skills/Talents
:
*Military Discipline - Despite never having served in any sort of army, Scout acts just like the perfect soldier. He will follow his commander's orders flawlessly, and will never betray them.
Personality
:
Ready, willing, and eager to please, Scout acts almost more like a young puppy than the roughly child-sized dragon he actually is. Granted, it would be a puppy with access to military hardware and a willingness to use it with extreme prejudice, but a puppy nonetheless. While somewhat lacking in general knowledge, even of the Digital World that comprises his home, he more than makes up for it with enthusiasm, jumping into situations headfirst with a "shoot first, ask questions later" attitude.
He is completely devoted to Junpei, who he sees as his 'commander'. He's willing to follow whatever orders Junpei gives him, even if they're as ridiculous as hopping on leg while patting his head with one hand and rubbing his belly with the other, but he also relies on the teen to teach him about the world much like a child would. How he turns out in the end will rely ultimately on what Junpei shows him.
DIGIMON'S INITIAL EVOLUTION LINE
---
FreshSpecies
: Bommon
Appearance
:
Attribute
: Free
Family
: N/A
Type
: Slime
Fighting Style
: Run away and pray for the best
Abilities
:
Bachi Bachi Bachin [Attack]: Uses the sound from its tail-fuse to try and frighten enemies.
Digivolves To
: Missimon
---
In-TrainingSpecies
: Missimon
Appearance
:
Attribute
: Free
Family
: N/A
Type
: Machine
Fighting Style
: Try and crash into the enemy to knock them out
Abilities
:
Missile Crash [Attack]: Uses its surprising speed to try and crash into the enemy.
Digivolves From
: Bommon
Digivolves To
: Commandramon
---
RookieSpecies
: Commandramon
Appearance
: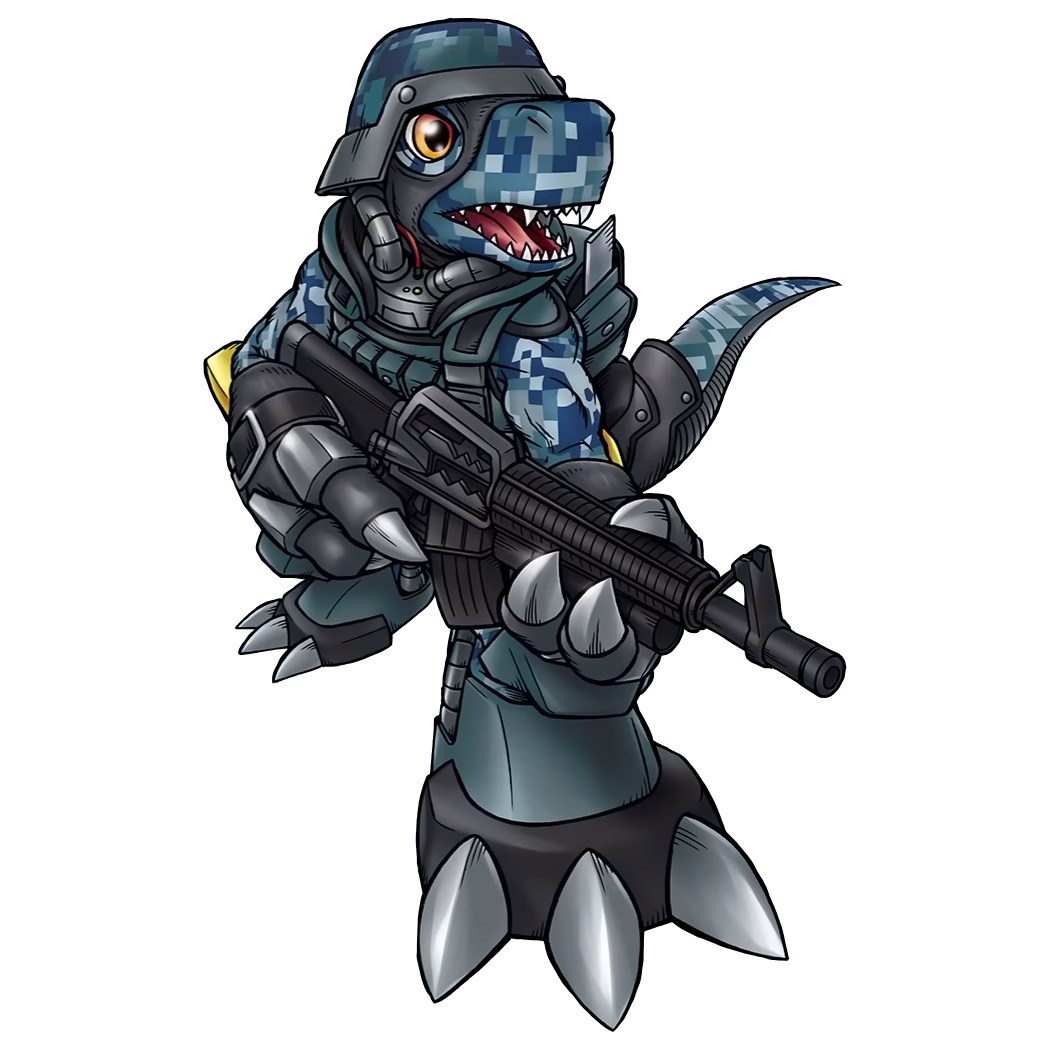 Attribute
: Virus
Family
: Metal Empire
Type
: Cyborg
Fighting Style
: An almost entirely long-range fighter, specifically specializing in weaving between cover and hiding spots to pick at enemies safely. As a direct consequence, he has almost no close-range ability.
Abilities
:
M16 Assassin [Attack]: Fires a small burst from its assault rifle. The silencer affixed to the gun reduces the sound to only 1/4 its normal volume.

DCD Bomb [Attack]: Throws a hand grenade that explodes with medium range. Has a 3 turn cooldown.

Opti-Camouflage [Passive]: Scout's skin constantly shifts colors to produce a camouflage pattern that matches his surroundings. Makes it 25% harder to find him when he's actively hiding.
Digivolves From
: Missimon
Digivolves To
: Sealsdramon
---
ChampionSpecies
: Sealsdramon
Appearance
: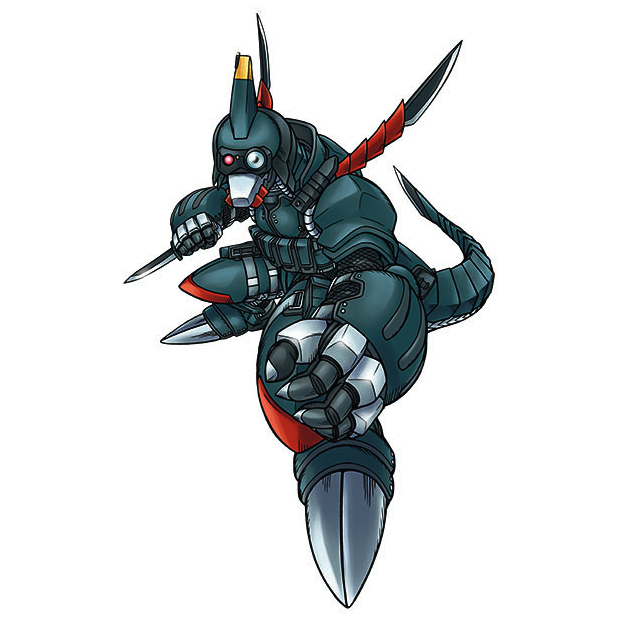 Attribute
: Virus
Family
: Metal Empire
Type
: Cyborg
Fighting Style
: A close-range stealth expert who uses his blinding speed to sneak up on enemies and assassinate them. In exchange for this, however, he has lost almost all of his ranged proficiency.
Abilities
:
Death Behind [Attack]: An ambush attack where he stabs the enemy in the back with his knife. If "Scouter Mono-Eye" is active, instead attacks the enemy's weak point, if any. Has a 3 turn cooldown.

Scouter Mono-Eye [Attack]: Scans the enemy for vital points. For the next 3 turns, knows the enemy's weaknesses and weak points, if any. Has a 5 turn cooldown.

Submission Hold [Attack]: Uses his taijutsu to put the target in a submission hold, preventing them from moving (but not attacking) on their next turn. Has a 3 turn cooldown.

Blinding Speed [Passive]: Incredible speed that makes him seem invisible when traveling short distances. Makes it 30% more likely he'll dodge attacks.
Digivolves From
: Commandramon
Digivolves To
: Tankdramon
---
UltimateSpecies
: Tankdramon
Appearance
: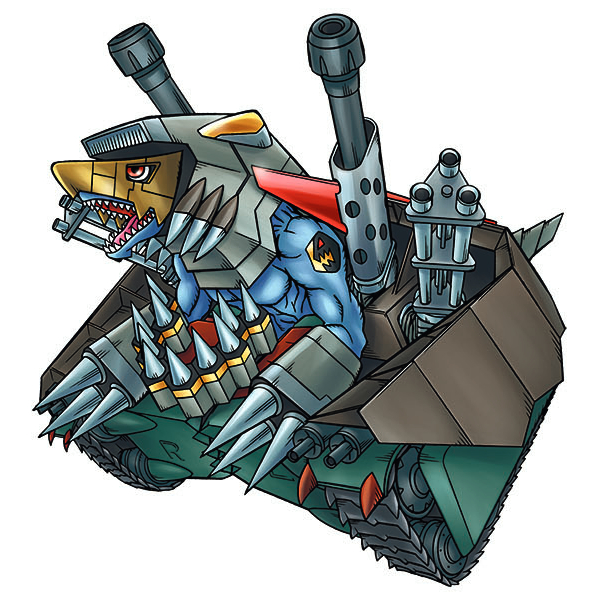 Attribute
: Virus
Family
: Metal Empire
Type
: Machine
Fighting Style
:
Abilities
: [7 Abilities Max]
Digivolves From
: Sealsdramon
Digivolves To
: Gundramon
---
MegaSpecies
: Gundramon
Appearance
: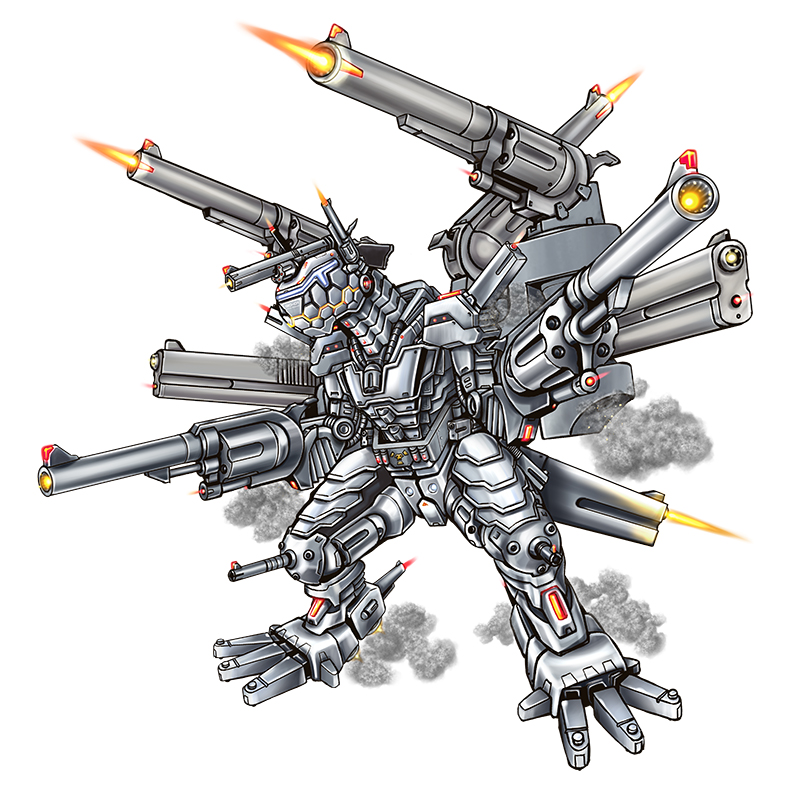 Attribute
: Virus
Family
: Metal Empire
Type
: Machine
Fighting Style
:
Abilities
: [9 Abilities Max]
Digivolves From
: Tankdramon