Post by Aono//Teru on Aug 29, 2019 11:14:46 GMT
Name
: Ibuki Aono
Alias
: An
Age
: 16
Gender
: Ugh (She/Her/They/Them)
Height
: 5'8"/176 cm
Weight
: 150 lbs/68 kg
Alignment
: Neutral Evil
Birth Date
: July 17
Western Horoscope
:Cancer
Birth Place
: Tokyo?
Skills/Talents
:
Combat:
Self-taught she may be, but Aono is absolutely terrifying when it comes to fighting. Having learned to protect herself from a young age on the streets, she's extremely talented and competent. And god forbid if you let her get her hands on a weapon.
Medical Care:
While not a doctor or a nurse, due to the constant fights she's in, she's learned to take care of herself when it comes to smaller wounds.
Streetsmarts:
She knows how to get around the streets of Japan, especially the more questionable and darker places.
Backpack Contents
:
A very large stick. (She find it, it hers now, makeshift weapon)
First Aid Kit


Wallet


Phone


Headphones
Waterbottle
Digivice
:
Personality
:
An is, someone hard to get along with. She's a very troubling child and her inability to know or care for how her actions affect others puts a major strain with her relationships among others. She appears seemingly emotionless and cutthroat, despite being no more then a young high school girl she's terrifying and relentless. She does care what it takes to get what she wants, she will take it, and she will make it hers.
An's lack of empathy or basic human stoical skills come from the way she was brought up, an abusive mother who taught her nothing but hate and foulness. She is simply projecting but all she knows; an uncaring, violent person as her only adult figure taught her to do so. A isn't able to express herself in anything remotely because she does not understand, the poor girl can't. Most think her mute, but in reality she sees no point in talking unless it's necessary, even then her words are straightforward and cold. She is blunt, and she will stay that way unless someone otherwise
It's unknown what she really wants, she's not even sure, but thing she heeds is strength. Strength is something An only really cares for, deep down she's terrified of her mother, and being able to fight back and finally stand her ground if a dream she will achieve. She will be on top, she will not let anyone stand in her way, she will never be a victim again.
Appearance
:
For her age and heritage, An is an extremely tall girl with pale skin and an athletic build, thought it's usually hidden under layers of clothing. She's half Japanese, half something else, probably pertaining to her features and her build. Her dull blue hair is short, reaching just around her ears, curling around her head. Her eyes are a bright piercing red, and give little to indication of sleep.
Aono is very androgynous for her appearance, and can be mistake for a boy or a girl depending on what she's wearing. Her body is constantly covered in scars and bruises from her fights with others. But her most serious injuries right now is her broken arm, tied in a cast, and her horribly scarred eye, covered by an eye patch.
In school, she'd wear a normal, blue sailor fuku, thought she'd not one to care for fashion and is seen wearing most comfortable clothes such as pants and long shirts when outside of class.
FaceClaim
:
Neon Genesis Evangelion
•
Ayanami Rei
• Ibuki Anono
Personal History
:
Aono knew nothing of her father, he left soon after she was born and her mother blamed her for him leaving ever since. He wasn't Japanese. That much she knew, but that's all she'd ever learn of him, no name, no face, not even a token of esteem left behind for her. He was a ghost she'd never know.
Aono mother's made her life miserable. Openly abusive in many forms, she was left at the mercy of her mother time and time again. Making her feel like shit constantly. Aono grew similar to that of her mother, cold angry and twisted. She hated her mother in every form, but also feared her, the only person she'd ever fear would be her mother, and nothing would ever change. Her abuse become worse when her mother remarried to another man, only for him to soon leave, giving Aono's mother another unwanted child, Akihisa, Aono's half brother.
Aono would commonly take her anger out on the people around her, school, the streets, random strangers passing by. Over time she'd build up a reputation for being a complete madman. Being called to the school office time and time again for hurting classmates and teachers, gods her mother couldn't even count the number of times she found herself at the police station daily.
Aono is a worrying child, and with her failing grades and violent outbursts it's amazing what she's even going to do with herself anymore.
---
Digimon Name
: Teru
Default Form
: Impmon-X
Gender
: Uh? (She/Her/He/Him)
Alignment
: Trying to be True Neutral
Skills/Talents
:
Sneaky:
His small size and build means he has a lot of ease getting into tight spaces and lightweight being able to phase past people.
Pickpocketing:
Not proud of it, but he was a master mischief maker in his past, and he's got some tricks up his sleeves still, lightfingers is just one of them.
Diplomat:
While in no means a politic or someone even remotely close to a professional, he likes to believe he's good enough with words here.
Inventory:
- Necklace
- Bandanna
- Small satchel
- Pen/Paper
Personality
:
Teru is the result of a Digimon who has come to find nothing but regret and shame in what his past self had done. He wants to be a better person, he wants to be happy, and an entire lifetime spend indulging in hurt others and unrestrained ego brought none of that. Tau likes to believe he's a changed mon, but, bad habits die hard for the poor Impmon. She tries to make herself appeaser friendly and reassuring enough but more then one second spent with her shows she's an anxious mess terrible of screwing up.
Teru is very easily stressed, while not frightened per say, Teru is just very very worried about everything all the time. Afraid he's not doing enough and that he'll bog himself with everyone around him. He wants to be anything but a burden and his lack of esteem really shows for it.
Teru finds his partner exhausting personally and feels he's stepping on eggshells around her. He tries super hard to be very nice to her, but she's less then willing to throw him a bone here. Teru goes out of his way to stay out of trouble but the universe seems to have out for him. He doesn't like fighting, he really doesn't like fighting and would rather talk things out then whatever the hell Aono has planned. He's not even that adverse to some like simple sparing, but people like his tamer will take it to far, and then it won't good for any party involved.
Teru has, bad, coping methods but usually sticks to chewing on his necklace to stop himself from trying anything more extreme.
Holosuit:



FaceClaim: VOCALOID5
•
MEIKA Mikoto
• Teru
(Holosuit)
DIGIMON'S INITIAL EVOLUTION LINE
---
FreshSpecies
: Keemon
Appearance
: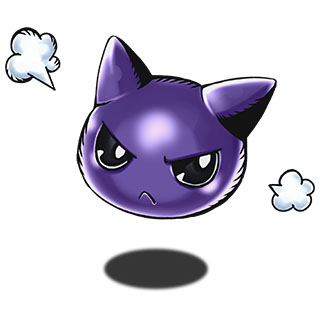 Attribute
: N/A
Family/ies
: N/A
Type
: Slime
Fighting Style
:
Running away as fast as humanly possible.
Abilities
:
[ATTACK] Bubblepuddle:
Teru spits a stream of water and bubbles from his mouth.
Digivolves To
: Yaamon
---
In-TrainingSpecies
: Yaamon
Appearance
:
Attribute
: N/A
Family/ies
: N/A
Type
: Lesser
Fighting Style
:
Just try and roll around? Not get hurt is the same goal here.
Abilities
:
[ATTACK] Bubblepuddle:
Teru spits a stream of water and bubbles from his mouth.
[ATTACK] Bad Breath:
A fowl misty darkness emerges from Teru's mouth, hurting the target.
Digivolves From
: Keemon
Digivolves To
: Impmon X
---
RookieSpecies
: Impmon X
Appearance
:
Attribute
: Virus
Family/ies
: Nightmare Soldiers
Type
: Mini Devil
Fighting Style
:
Teru tends to play a lot of dodging and moving around when it comes to his attacks, his relies less on damage intake and tends to be bale to pull off more small hits in one. He uses shadows and other darker places to help get a advantage if he can, and will use the element of surprise if he can. If take to much damage, he will reply on long-ranged based attacks, something he's mediocre at, well, at best.
Abilities
:
[ATTACK] Umbra Darts:
Teru manifests three darts his throws at his targets, the enemies will be that their finding their speed has been decreased by 30%. [2 Turn Duration] [2 turn Cooldown]
[ABILITY] Can't Touch This:
Teru wraps the area around him in a thick, purple mist, leaving him immune things that could impede him, [2 Turn Duration] [3 turn Cooldown]
[ATTACK] Demon Claws:
Teru's hands become sharp, dark engulfed by a purple flame as his attacks his target. [1 turn cooldown]
[PASSIVE] Shadow's Gifts:
Teru naturally has advantages in darker areas, and almost can't be spotted at first when it. (Teru's evasion increases by 40% in darker conditions.)
[NONCOMBAT PASSIVE] Nighteyes:
Teru has night vision, and can see in the dark.
Digivolves From
: Yaamon
Digivolves To
: Wizardmon
---
ChampionSpecies
: Wizardmon
Appearance
: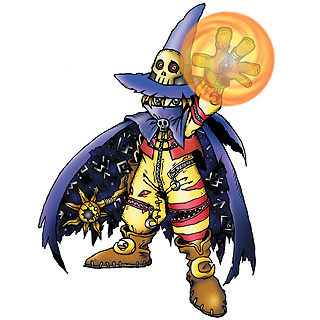 Attribute
: Data
Family/ies
: Nightmare Soldiers
, Nature Spirits
Type
: Wizard
Fighting Style
:
Abilities
:
Digivolves From
: Impmon X