Post by Hakase Agumon on Dec 30, 2013 0:09:39 GMT
DIGIMON FORUM ROLEPLAY—GETTING STARTED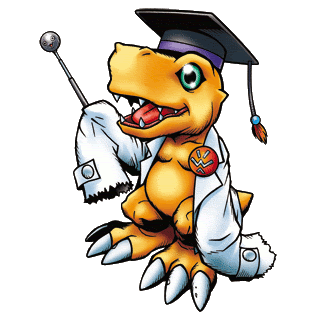 Salutations, traveler, and welcome to
Digimon Forum Roleplay
—the biggest, and one of the most active, roleplaying websites based on the
Digimon
franchise around the Web! Allow me to introduce myself! They call me "Agumon Hakase", and I'm here to give you the run-down on how things work here! Aside from myself, everyone who maintains this here forum—that is, the Staff Members—are super-friendly and helpful, so don't hesitate to ask them any questions you may have about us or our environment!
STEP-BY-STEP GUIDE

Listed below is a set of easy-to-understand, step-by-step rules and guidelines for you—should you choose to join our wonderful community — to study and memorize. Keep in mind, though: while these
may
be used for your reading leisure (
everyone
should love to read, anyway!), they are important, and it is crucial for you to follow these rules at all times! But enough of my nonsensical ranting and shouting! On to the Rules!
STEP #1 — READ ALL OF THE RULES!

I
can
't stress this enough, boys and girls! It's entirely like the instructions to a video cassette recorder: they may not look important, but you
read through them
! And
follow
them, too! The
last
thing I want to see anyone coming to us for is because their VCR blew up in their faces! But never-you-mind that: your cooperation with us to read and obey the rules helps the Staff here considerably, and it creates less drama and stress for all of us in the long run. I've provided a list of rules and guides below, as well as links leading to each of their respective threads.
STEP #2 — CREATE A CHARACTER!

Different types of characters exist on Digimon Forum Roleplay, or "DFRP" as we like to enunciate. You have the option to become a Tamer: a human child specially chosen to be partnered with a Digimon; a Spirit Wielder: a human child given the unique power to transform
into
a Digimon; a Xros General; a human who commands a small army of combining Digimon; or, more simply, be a Digimon yourself! Each character type has their own strengths and weaknesses, so please read up on those before you choose what kind of character you would like to make!
With your Character's Profile, you can...
Go beyond the requirements! We love and adore people who provide additional information that isn't required of them to post on their profiles — it makes their characters more unique and exciting to read about! However, this isn't entirely mandatory. Feel free to add as many details as you want on your profile; so long as you meet the required criteria.


Use a custom Digimon! We also love custom Digimon! It shows us how creative and unique our members are, and it gives the site itself a little taste of originality.


Plan ahead! Members who have their characters all organized and mapped out by the time they make their profiles are a plus for us; it shows that you have initiative when creating characters, and that's a good thing! The more you know about your characters when making profiles, the easier they will be to make!


Take your time! The more thoroughly you create and run through your profile, the more consistent it looks; and, additionally, the neater it will be. It gives us the impression that you care about your work—and you should! Take pride in your abilities as a roleplayer!


Make multiple characters! We're all about creativity and ingenuity amongst members, and the more characters a member can crank out, the more we know they just have ideas that keep on coming! However, please be aware that you must keep all of them active, should you do so. They're like your children: neglecting them is bad for their survival!


However, you cannot...
Create an abnormal human, subhuman, or superhuman character! It's unacceptable. We do not allow the use of superhuman powers on the site — all of our Tamers and Spirit Wielders (as humans) are quite brittle and frail; even if they do have some form of usefulness built into their skeletons. They will never be capable of being ultra-strong, genius-level in intelligence, be a grandmaster-like character of the fighting arts, nor will they have anything else that would be considered "super-useful. Remember to take things in moderation, guys and girls!


Post under the criteria! While we will not exactly punish you, it is still required to post the minimum criteria within every profile you make. We'll make sure to remind you time and time again on whether or not you don't meet the prerequisites—however, continued failure to meet our standards may result in more stricter approaches.


Use canon Digimon elements in your profile or roleplays! Anything involving the Digimon anime or manga cannot be used within your character profiles whatsoever — it screws up the entire, established canon's history, and it only puts your character on a pedestal everyone else will find as unfair and high-privileged. You start off on equal footing and have no special relationships with any of the Digimon cast—like the remainder of the 6 billion+ people on the planet.


Mention Digimon in your character's history! We've had problems before where characters have already acquired their Digimon companions in their histories, which imply they've been Tamers for years! We don't like that, guys — and we want everyone to start off on equal ground! Please, no mentioning seeing or having a Digimon in your character's histories!


Make multiple characters under one account! Should you wish to create more than one character, you must make an entirely separate account, for each character. This ensures that you will not farm for posts in a rapid, unfair fashion, and allows us to keep track of which character is active at one time.


Use a locked Digimon! They're locked for a reason, boys and girls! If you have trouble knowing which, particular Digimon are locked, please refer to this thread <here.> In addition to using a Locked Digimon, you may also not use a Rookie Digimon that too many members have already. Check <here for a list of available and unavailable Rookies.>


Have a currently used Faceclaim (for your character's appearance). If you are uncertain if yours is okay, please check <here for Faceclaims.>


Remember! A "custom" Digimon is a Digimon that has been created, designed, and developed by the roleplayer themselves! Using another person's artwork/ideas, and/or putting the suffix "-mon" onto a name you make up does not make it custom — it counts as a form of art theft, and it could get us in trouble!
STEP #3 — HAVE THAT CHARACTER APPROVED!

Upon completing the required criteria for character profiles, post your character up into "Character Submissions". Then, you must wait for the approval of
either a moderator/admin, or a staff assistant and another staff
—after they comb through your profile for any errors, mistakes, or slight (or drastic) changes that need to be made. If you forget some information, that's okay! We'll be sure to comment on that so you can make the appropriate changes. Once we've approved your character, it will be moved to the "Accepted Characters" section of the board, in the appropriate place.
UPDATE
: Read the link for further details on approvals.
Remember! Don't pester or bug Staff Members to approve any pending characters you have on the wing. If it hasn't been approved within two days of its posting, feel free to nicely notify a Staff Member to have it approved and inspected. Additionally, if you cannot finish your profile and post it on the spot, that's alright as well — place the tag "[WIP]" in the title of your profile, to describe the profile as a "Work in Progress". This will coax Staff to leave that profile alone until it is fully finished. (Once it is finished, remove the tag or edit it to appear as "[DONE]", to ensure it is completed.) However, if Staff catch wind of something fishy or out of place, they will be obligated to make note of it.
STEP #4 — ROLEPLAY!!!

After your character is accepted, you deserve a giant congratulations—you are now free to start roleplaying! However, please keep in mind that we have an organized way to roleplay here. Characters can be in as many
normal threads
as they believe they can handle at a time. This does not, however, include the other types of threads (Missions, Team, and Plot). You may only be in one of each of those at a time.
The kinds of threads characters may roleplay in include...
Normal Roleplaying Thread — This is a thread you would normally find your character doing the most interaction in. Be it exploration, socialization, battle, or a personal training thread; this is your standard thread. All events that happen in this thread are considered "In-Character" — as such, anything that happens, happens. You will be unable to alter it in any way once it is posted and established — it's like time: there's no turning it back. You may post in as many of these as you can handle.


Mission Threads — These are exclusively reserved for participating in Missions that deal with specific objectives, for the sake of reward or storyline purposes. This allows you to deal with anything specific relating to the Mission you're participating in, while simultaneously dealing with anything related to your character "In-Character".


Plot Threads - These are threads in which the current Site Plot is currently unfolding in a major way. Generally these require a lot of member participation and are thus available to RP in even if you are in other threads. Note however you may only be in a single Plot Thread at a time.


Team Threads - These are threads in which an officially approved team is conducting team activities (such as a team-specific mission, or a general meeting). Being a separate type of thread, you may be in one Team Thread even while full in the other types of threads.


Out of Character Threads — You will be allowed to roleplay in a roleplaying scenario in one, other thread; in addition to your regular In-Character thread. The only difference is that events that take place in the thread are considered "Out of Character": meaning anything that happens doesn't apply to your character In-Character. Anything you receive in these threads cannot be carried over to you in an In-Character Thread; nor can any event mentioned or participated in in an Out of Character Thread be mentioned In-Character.


Remember! Feel free to post as many threads and topics as you like in the Community Boards and the Support Boards—these do not count towards the maximum number of threads characters are restricted to, as they do not increase a member's post count if posted in. However, unruly posting within these threads may be classified as spam, and will be dealt with accordingly!
ADDITIONAL TIPS

Before I head off to explain the other, valuable aspects and assets our website has to provide, I would like to give you a few words of wisdom! After all, they don't call me "Hakase" for nothing, you know!
A Few Words of Wisdom...
Register in our Chatbox! — At the very bottom of the forum is our organized (yet strangely chaotic!) community of members! Around the clock, we have Staff Members from every timezone imaginable keeping vigilant watch for anyone needing help or advice—should they be unavailable, I'm sure you can ask for help from one of the regular members there! We're all extremely friendly, and we're never without interesting and downright awesome conversations! We're reminiscent of the Breakfast Club: but we've more "epic" and less "breakfast". Please, make sure to create your account name to match that (or at least, be similar to) your character's name — this allows us to keep track of who is who.


Contact Staff! — There's a reason we exist, you know! Contact us through our Private Messaging method (or "PM" for short) if you have any questions that need clarifying. We'll reach back to you as quick as we humanly can!


Think outside the box! — There's many an activity for your character to take part in these days, aside from the usual burly brawl or the boring conversation. Want to give your character some depth? Don't be afraid to make a Character Plot out of it — in fact, we have a board for it right <here!> Try a few things out, and see what you can do to make an everlasting impact on the site!


Last, but certainly not least! — HAVE FUN!!!
[If you have any questions or need anything clarified, feel free to PM a staff member. :3]