Post by rosaria on Mar 8, 2020 18:52:54 GMT
Name
: Rosaria Alanis
Alias
: Rose
Age
: 17
Gender
: Female
Height
: 5,3
Weight
: 100lbs
Alignment
: Lawful Good
Birth Date
: 7/3
Birth Place
: Japan
Skills/Talents
:
1.
Garding: She is able to grow roses quicky and more beautiful then people who do it as a business.
2.
Strategy: Because of her life she can think up ways to counter others.
3.
Archry: Rosaria can shoot a arrow many feet away and hit any target.
Backpack Contents
:
Phone



Notebook

Bow & Arrows

Digivice
:
Personality
: Kind, caring, that's what Rosaria is like towards most people, wishing to help everyone when she can, be it with training their Archery, or school grades, even something personal, she'll try helping them whenever doing her best. But there are still times Rosaria will act more serious because kind doesn't mean soft, stopping bully's, telling someone they're wrong, as when entering life, one needs that strength, being calm, yet cold, staying in control. Rosaria is really soft and kind with children, making sure they are not hurt, that's why nobody should send them into battle, no mattering their ability, unable to harm any child at all. She possesses lots of many different cultures, be it with refinement, beauty, studying noble hobbies, classical music, flower arranging, go, shogi, and archery, staying tidy, showcasing manners, also possessing top grades as well, never losing that standing people respect from her.
Rosaria gets along with her mother, brother, and father, but she doesn't feel the same way they have about things, one being they had surpassed everyone else around us without question, she believes what you do in life makes up who you'll become, from your actions, not one's current power. But growing up in this type of family setting where they teach you are better among others didn't completely leave Rosaria mindset, because when she is pushed with enemies that push her the wrong way her father's techings come out.
Appearance
: There are many words that can describe Rosaria's beauty, but when people see her only one thing comes to mind, matching Rosaria in every single way, which is being like a rose, powerful, beautiful, showcasing radiance, possessing great power. Rosaria is of average height for someone of her age, being 5,3, she possesses smooth, soft white skin, having a healthy colour, which drives people closer towards this woman's beauty, but Rosaria's eyes are brown shining like gems. Now for Rosaria's most noticeable physical trait which people can't help but admire, starting out with her slender yet curvaceous figure for someone that is still only a teenager, especially in terms of Rosaria's large breasts. Rosaria's hair is also unique in its colour being dark red, almost like blood, using a strange cylindrical piece, that holds her bangs up, allowing them to flow downwards from both sides equally towards Rosaria chest. One piece of jewellery that Rosaria enjoys wearing, is her beautiful emerald neckless. Rosaria's emerald is set inside a golden decoration with three spikes towards all directions left, right, and bottom of this jewel, being the accessory that matches many different outfits she wears, also wearing her red choker.
School Uniform
- There's only one thing Rosaria can wear this for, that is school, and maybe when just coming back home not having enough time to change. First, it starts out simple, using a white blouse she doesn't button up fully showcasing her beautiful neckless coming down towards Rosaria's chest, accompanied by an elegant crimson red jacket, also being opened possessing long sleeves. Now for the lower region, which consists of a grey mini skirt, and long black stockings, showcasing gold rings at its top connected by garterbelts, finishing with same colour high-heeled pumps.
Relaxing Clothes
- Life can't just be about business, even the best and strongest of us take breaks, resting until we are needed for battle or other important matters, while this is what Rosaria wears when she gets days off from work, as Rosaria's doesn't dawn her cylindrical hair piece anymore, replacing it by using one green headband instead. It starts out with Rosaria's beautiful buttoned blouse, that possesses both orange and white stripes took into a long wavy green skirt adding more sex appeal with style, dawning two accessories, first, golden bracelet, then also carrying one single brown handbag, for when she wishes to carry anything while traveling.
Out Clothes
- When attending parties, or just going out at night, she will dawn this beautiful dress that is simple in design, but showcases class belonging towards only Rosaria, even replacing her cylindrical hairpiece, with one red polka dotted bow headband showing our young ladies' sophistication, and beauty. Red dress flows downwards possessing white polka dots and black collar, as three buttons flowing down at Rosaria centre, wearing something like a bracelet on her wrist, using, single ribbon tied around Rosaria's waist all consisting of the same colour, dawning one beautiful pearl neckless showcasing refinement.
FaceClaim
:
Yu-Gi-Oh
•
character
• Aki Izayoi


Personal History
: Rosaria was born in Japan, she possesses only one sibling, who is a overly top brother who does nothing but flirt with girls he has his eye on, getting them most of the time if not one day after. My family possesses many strict rules if we enter school no one can get better grades and us, it's seen as weakness, if we join a club we must be captain as we do not follow others.
My father owns many powerful businesses he'll push anyone down that crosses him, if there's one mistake or someone asked twice about information they should know..... well let just say they're gone, fired. If he's like this with normal people, imagine with his family, it's one of the Reasons Rosaria learned archery, even being within this time line it's good to have some combat experience, he says, not only that I'm a 3 Dan In a game called Go, which is truly high for someone so young possessing a empress mind. She even leads the school as the captain of the archry club being the current champions.
Even with this, I keep towards his high standards, but I will never take on his views, it's why with any spare time I garden mostly only rose flowers, and teach children at a school for extra credit, as it's the only free time I have to do so. But with having a good home I did, big house anything I wanted, but being able to smile with my father I have not one memory of ever doing so.
---
SPIRIT USER'S INITIAL EVOLUTION LINE

Spirit Element:
Rose
---
Sprite Spirit
Rosamon
Species
: Rose Goddess
Appearance
: This is a form that turns Rosaria's skin bright white being un-natural, as her hair grows twice in length, but the most shocking thing would be our young maiden's eyes turning bright red, possessing no pupils just being of one color. Her clothes is one single red gown matching a wedding dress in its beauty, that cover both her feet, but also adding towards a holy image, are two red gloves covering both Rosaria's hands, but around her wrists you shall see two bracelets made from thorns, for footwear is two red pumps, matching her dress in its design.
She gains a bright red bow in this form, that has roses and thorns around its form looking like it was made from nature itself, possessing all it's beauty. Another thing she gains, is a scent smelling of roses, this can make people feel at ease, but only if they allow it.
Attribute
: Unknown
Family/ies
: Nature Spirits
Type
: Spirit
Fighting Style
: In this form Rosaria can not fight up close, be it from the dress or this form has really low physical strength. She uses spells, bows, or other attacks that can hurt people from afar. But what this form is mostly known to be is one for defense, supporting or making sure attacks are stopped in there tracks.
Abilities
:
1
.Rose Shield: A shield made from roses will arise, possessing five petals. From a in-training and rookie level digimon it can handle there attacks. But champion and above it cannot.This can only be used once every three turns, and it lasts only one turn.
2.
Revenge Roses: This move will fire full grown roses out from her bow, each one able to harm her opponent. She can shoot five at mix without reaching any limit. Once she's done firing all fire it will take up towards three turns before any can be fire again.
3.
Thorn Prison: This is something that makes Rosaria lose the bracelets on her hands, disappearing aiming right towards the enemy, ready to wrap around their whole form, increasing in size. This can trap a in-training digimon for two turns, a rookie level for one, and anything above they can break out any time. They can be used up to two digimon at a time once there broken they magically appear on Rosaria's hands again unable to use them for three turns after coming back.
4.
Blessing Of The Rose Spirit: This move will create a giant rose, which can heal one digimon who is near her and the rose. It will not take affect unless both she and the rose are there, meaning Rosaria is unable to battle while healing.
Digivolves To
: Rosemon
---
Human Spirit
Rosemon
Species
: Rose Goddess
Appearance
: There isn't much to write as there isn't much change, but she does gain more of a human form. Her hair is still long, but becomes shorter in that of the sprite form. Her eye's gain pupils, and Rosaria skin tone go between of that her sprite form, and real self. One thing does change and that is her outfit matching more towards someone ready for battle becoming a warrior.
Clothes: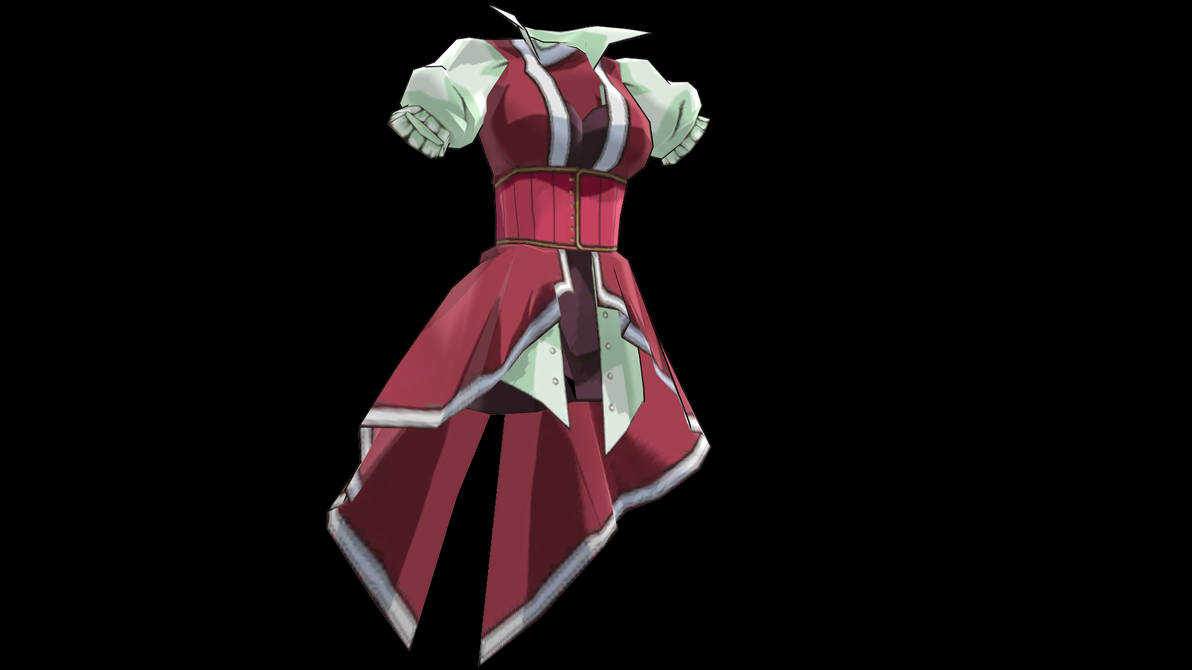 It starts out with one reddish black dress which shapes itself over Rosaria's body as her red kimono-like jacket possessing white detailing is fitted on top, Rosaria using a corset that sits between the hips and breasts, keeping this outfit tight, showcasing even more sex appeal. What gives her Kimono added design is this outfit sleeves having a sweet lima bean-looking colour to them and the fabric, sewn in such that they look like soft pillows, but around both Rosaria's arms you will see two black long gloves possessing beautiful golden bracelets sew onto each opening side. Now we are reaching the end, meaning her legwear sporting one pair of black stockings, equivalenting Rosaria's gloves in design, traveling all way up Rosaria legs, connecting to a garterbelt, also possessing matching gold rings, finishing by dawning red high-heeled pumps.
Other change is two swords that look like true red blades, but have roses and thorns around the handles.
Attribute
: Unknown
Family/ies
: Nature Spirits
Type
: Human
Fighting Style
:
Abilities
:
1.
2.
3.
4.
5.
6.
Digivolves From
: Rosamon
Digivolves To
:
---
Beast SpiritSpecies
: Rose Goddess
Appearance
:
Attribute
: Unknown
Family/ies
: Nature Spirits
Type
: Dragon
Fighting Style
:
Abilities
:
1.
2.
3.
4.
5.
6.
7.
Digivolves From
: Rosemon
Digivolves To
:
---
Fused SpiritSpecies
: Rose Goddess
Appearance
:
Attribute
: Unknown
Family/ies
: Nature Spirits
Type
: Deity
Fighting Style
:
Abilities
:
1.
2.
3.
4.
5.
6.
7.
8.
9.
Digivolves From
:
Digivolves To
:
---
Transcendent Spirit
/
Ancient SpiritSpecies
: Rose Goddess
Appearance
:
Attribute
: Unknown
Family/ies
: Nature Spirits
Type
: Goddess
Fighting Style
:
Abilities
:
1.
2.
3.
4.
5.
6.
7.
8.
9.
10.
Digivolves From
:
---