Post by Katherine Jasso on Mar 31, 2020 16:38:12 GMT
Across some sectors of the otherwise vast and open Mainframe Hills, trees formed some sort of small, secluded areas where the immensity of the meadow was less visible. Although these areas were small and did not, by any means, represent an actual forest (unlike the actual forest that was by the end of the hills), saying they weren't charming would be a statement hard to defend.
Other than the chirping of some birds or the occasional passerby, these zones were dominated by complete silence. Ironically, our little tale starts at the only of these areas where silence didn't currently reign.
A dirt road marked the path to follow in order to go through this small 'forest'. The trees were tall and leafy. The thick brushes across the area didn't let more than the sufficient sunlight to come in and the lake right by the side of this road only added a more peaceful touch to the environment. To the other side of this road? A small hut made of stone and with a wooden roof that seemed... quite abandoned. It was cute though. The structure even added some vibe of mysticism to this otherwise peace-governed environment.
So? What was the thing disturbing the perfect calm of this beautiful landscape? Well, that would be two digimon in the middle of said dirt road.
They were quite sizeable creatures, and very similar between the two, to boot! Although their color pattern was slightly different, they both had the same height (around twice the size of an average human male), a mole-like appearance and... a giant drill coming out of their noses!
For a newcomer in this world, they would be quite a spectacle!
But, most importantly, for both newcomers and residents, they were in the way!
The two digimon were arguing. Not properly fighting but... smashing their giant drills against one another while they voiced their different opinions out loud. Due to the trees surrounding the area and the fact they were
so big
, ignoring them would be hard to accomplish. If anything, whoever attempted to go through here would need to try to help them calm a little bit if they wanted to continue.
What were they arguing about? At the time, it was hard to know. While the source of the conflict still wasn't quite clear, the words they issued could lead to thinking they were interested in the possession of a certain item.
"Damn it, Poku! I'm telling you it's mine!"
One of them shouted, pressing its drill against this Poku.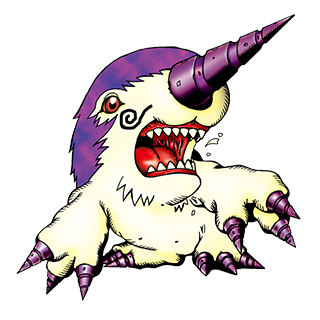 "No way, loser! I saw it first. I'm not letting you get your way this time!"
To this, the one referred to as 'loser', seemed offended.
"W-What are you talking about? You
always
get your way!"
"... Then why should it be any different now!?"
Huh. Two giants moles fighting like children. An odd way to start an adventure.