Iris
Jul 14, 2020 21:22:39 GMT
Post by iris on Jul 14, 2020 21:22:39 GMT
Digimon Name
:
Iris
Default Form
:
Renamon
Gender
:
Female
Alignment
:
Neutral Neutral
Skills/Talents
:
Can make a mean smoothie
Inventory:
Carries seasonal fruits and juices at all times. No milk. Do no ask for milk
Personality
:
Being born into this already populated world, Iris often prefers keeping a low profile. That being said, she will almost always stand up against injustice, even if it means only speaking up. It's proven to be excellent for business to take a stand. She's well aware that there are a lot of things going on in this world and not everything is within her grasp, yet she will give a shot to most things with enough motivation. She's a soft spoken, calm soul that prefers actions to chatter. She doesn't particularly believe that all evil will be magically vanquished from the Digital World, opting to believe that evil and good are sides of the same coin with one's existence propagating the other. That being said, she firmly believes that it's of vital importance to try and keep that balance in check, both personally but also as a community. Without a world there would be no one to sell to and as it turns out, despite objective morality being a thing both good and evil Digimon get equally thirsty.
Personal History
:
Iris was hatched in the same place as most Digimon, and all though her partner never came for her, had there ever been one, she felt like this must have been her calling. Growing up, she learned of the world and its inner workings. When to stand and when to look the other way. It wasn't something she enjoyed, nor something she was proud of, yet she understood well enough the consequences of drawing attention to one's self. She had seen the inequality that plagued the world, and although she wasn't able to do something substantial about it, swore to get in a position where she could. However that quest was easier said that done and ultimately came to a halt the moment she discovered people would actually pay for fruit in liquid form after a brief encounter with a human who introduced her to the concept of what he called "Jamba Juice". Thus, she decided to become a smoothie merchant and now travels the land, particular in areas where there's conflict so she could sell to both sides.
DIGIMON'S INITIAL EVOLUTION LINE
---
FreshSpecies
:
Relemon
Appearance
: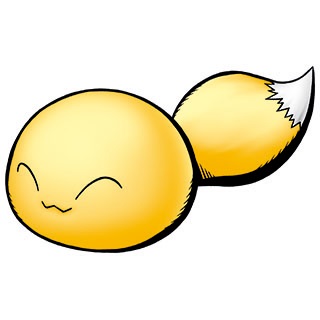 Attribute
:
None
Family/ies
:
Slime
Type
:
Data
Fighting Style
None:
Abilities
: None
Digivolves To
:
Viximon
---
In-TrainingSpecies
:
Viximon
Appearance
: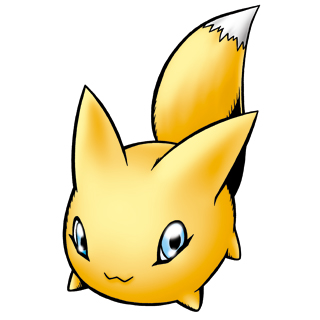 Attribute
:
None
Family/ies
:
Type
:
Lesser
Fighting Style
:
Passive
Abilities
:
Killing stone:
Changes into a durable stone
Digivolves From
:
Relemon
Digivolves To
:
Renamon
---
RookieSpecies
: Renamon
Appearance
: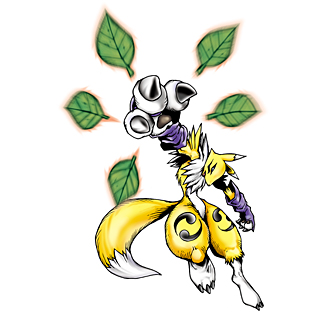 Attribute
: Vaccine
Family/ies
: Nature Spirits
Type
: Beast
Fighting Style
: Martial Arts
Abilities
:
Passive: Kohenkyo:
Using her transformation art she can copy the appearance of any Rookie Digimon of her size or smaller. Has no effect in combat. Attacking or taking damage dispels this effect.
Diamond Storm:
Showers an area with sharpened leaves.
Fox Flash:
An incredibly swift slash attack with fox-fire claws.
Fox Spirits:
Summons up to 4 fiery spirits which can then be directed at an enemy or used to block projectiles.
Digivolves From
: Viximon
Digivolves To
:

?
---