Post by Duffer & Kotemon on Jul 14, 2014 19:35:19 GMT
Name: Fredrick Duffy
Alias: Duffer
Age: 14
Gender: Male
Height: 5 ft. 6 inches
Weight: 175
Alignment: Good
Birth Date: July 14th, 1999
Birth Place: Minnesota, USA
Western Horoscope: Cancer
Skills/Talents: A love of baseball allows him to run longer and faster than most despite his weight. Requires a japanese phrase book to communicate with others, unless they speak English. Knows marginally about horror culture... but not much else.
Personality: Between being raised on horror films and having many enemies in his hometown, he's not good with people at all. This, however, has the advantage of him not being as fearful as the usual person despite his strategies usually composing of running and hiding ("It's just not a good idea to fight the guy who's been blown to smithereens five times and came back." He'd argue). He is, unfortunately, easily distracted and often loses his train of thought in class to look out the window or to get lost in a fantasy. He enjoys scaring people, ranging from a fake eye in someone's drink to pretending to be taken over by dark forces. This has resulted in a very poor personal record and a "boy who cries wolf" scenario more times than he'd admit.
His relationship with Kotemon is unusual at best and shaky at worst. Despite being kind of protective of it ("He's like the little brother I always wanted crossed with a horrible monster I've always feared!"), he's also kind of a jerk when it comes to trying to mess with his partner. Despite (or perhaps because of) this, he is very broken up whenever he and Kotemon need to be seperated, much to his its chagrin. Of course, once the whole experience is over he'll pretend he never really cared. In a word, their relationship is "erratic".
Appearance: Messy clothes and unkempt teeth are the least of Duffer's issues, sticking out as a white boy in Japan would.. Although he hides his weight better than most it's pretty clear that he's not quite physically fit. Generally he wears three types of clothing: His casual, his school wear, and his sportswear. His usual clothes are composed of a black T-shirt, blue jeans, and rather torn-up sneakers but occasionally wears a purple, green, or brown shirt as well. He occasionally wears his favorite team's cap, saying that it helps him focus... although it rarely does. His school uniform's the same as most children's but his vest is usually on backwards, requiring the teachers to remind him about it once a day. His sportswear is composed of jogging pants, Velcro sneakers, and a wife-beater. When he's wearing this people are able to see a birthmark shaped kind of like the letter W on his upper bicep, leading to rumors that it may actually be a tattoo. His cap, mentioned earlier, is a red cap with the twins logo on it (a baseball with the word "Twins" in red letters and underlined). He owns no Formal attire and usually just wears his school uniform on the rare chance he'd need it.
Personal History: Born in 1999, Duffy grew up in a usual household. His father was aloof but caring, his mother was busy and loving. His big brother owned a (now out of business) video store and when it fell through he donated most of the films to his family while selling the rest to move on. Seeing Dracula, Frankenstein, and Wolfman at the tender age of seven, he became fascinated with the dark and unusual. Because of this his school-work slipped and most of his grades followed, barely getting by thanks to his important part on the baseball team.
Back in his school he was a class clown, disliked by teachers and students alike for his low marks, attempts at being clever, constant amount of trying to scare people, and misusing computer privileges to watch Horror films. Finally, one of his teachers were able to convince him to become a foreign exchange student through a few bluffs and manipulation involving his lack of knowledge in geography and culture. They say they held a party the moment he left the town.
At the airport his father gave him a phrasebook, his mother warned him to be careful, his brother gave him several issues of his comics, promising to mail them to him when they come in.
Now stuck in Japan, he continues to believe Fu Manchu is a real person and that every movie he'd ever seen was based on a real story. The discovery of Digimon may or may not help this outlook, really...
Backpack Contents: A japanese phrasebook, a lucky baseball card, a few horror comics, his Minnesota Twins cap
Digivice: A green D-3 digivice, the screen smudged slightly, despite his best efforts to clean it, a few pen marks created when he was bored as well.
Partner's Name: Kotemon
Default Form: Rookie
Gender: Ambiguous
Alignment: Neutral
Skills/Talents: Naturally good at sword-fighting, a fast learner, bad with people.
Personality: Holding a mentor-student relationship with his tamer, he follows him everywhere and insists that Duffer needs to shape up, mentally and physically. Kotemon is very cocky about itself, believing (probably correctly) to be better than his tamer, but will still do anything to make his trainer wiser and stronger. The way he acts towards his tamer often brings up the debate among the two in who's supposed to be in charge, and often proves to have the upper hand. Kotemon often has to bring his trainer's attention to something important or useful. He also helps his master with schoolwork. Despite their opposing natures, they get along quite well when not in training, being that Kotemon can usually return more than what had been dished out.
While his partner looks around his environment for hiding places and escape routes, Kotemon is the opposite. If he looks about it's usually to try and find locations to use to his advantage. Be it simple things like using a tree to surprise them or a wall to back them up against, he will try and make the best out of anywhere he goes. He refuses to fight with anything other than whatever he holds in his hands by default as "it takes a coward to improvise". Together with his master they are a surprisingly competent duo in fights, Duffer usually distracting the enemies with insults and Kotemon dealing the serious damage.
DIGIMON'S INITIAL EVOLUTION LINE
Appearance: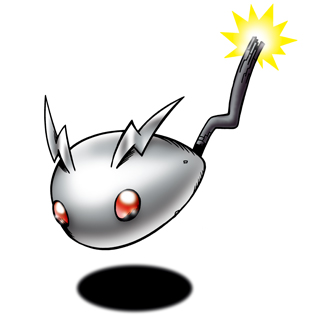 Fresh
Attribute: N/A
Family/ies: Metal Empire
Type: Machine
Attacks:
Jamming Powder, tosses iron dust that confuses the enemy and allows he and his tamer to flee
Digivolves To: Kapurimon
Appearance:
In-Training
Attribute: N/A
Family/ies: Metal Empire
Type: Lesser
Attacks:
Jamming Powder, tosses iron dust that confuses the enemy and allows he and his tamer to flee
Howling Blow, creates a resonance between his horns generating a soundwave which may paralyze when it strikes
Digivolves To: Ketomon
Appearance:
Rookie
Attribute: Data
Family/ies: Nature Spirits, Dragon's Roar
Type: Reptile
Attacks:
Howling Blow, creates a resonance between his horns generating a soundwave which may paralyze when it strikes
Hothead, which strikes his opponent with a flaming headbutt or a burning training sword
Thunder Kote, punching his opponent with fists charged with electricity
Digivolves To: Gladimon
Appearance: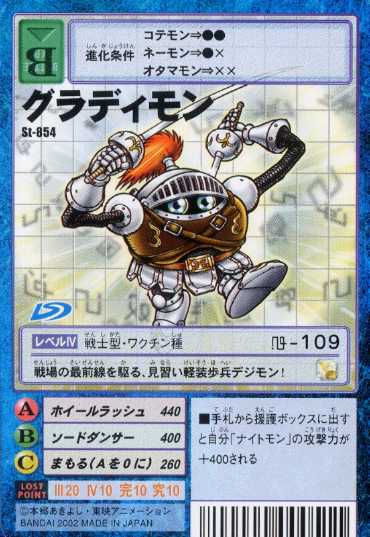 Champion
Attribute: Vaccine
Family/ies: Virus Busters
Type: Warrior
Attacks:
Jamming Powder, tosses iron dust that confuses the enemy and allows he and his tamer to flee
Hothead, which strikes his opponent with a flaming headbutt or a burning training sword
Thunder Kote, punching his opponent with fists charged with electricity
Sword Dancer, where he jabs his sword at his opponent's legs
Digivolves To: Knightmon
Appearance: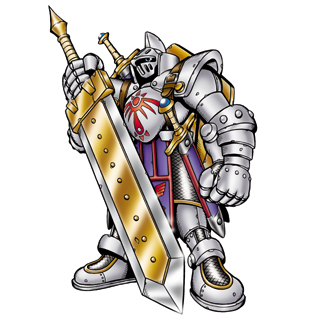 Ultimate
Attribute: Data
Family/ies: Metal Empire, Virus Busters
Type: Warrior
Attacks:
Hothead, which strikes his opponent with a flaming headbutt or a burning training sword
Thunder Kote, punching his opponent with fists charged with electricity
Sword Dancer, where he jabs his sword at his opponent's legs
Berserk Sword, where he swings his largest sword violently at his opponent
Digivolves To: Crusadermon
Appearance: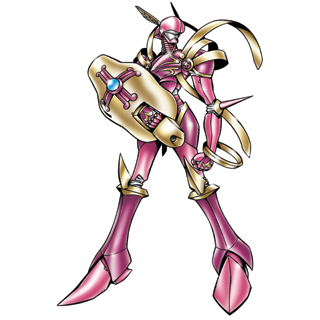 Mega
Attribute: Virus
Family/ies: Virus Busters
Type: Warrior
Attacks:
Howling Blow creates a resonance between her helmet's ornaments generating a soundwave which may paralyze when it strikes
Hothead, which strikes his opponent with a flaming headbutt or a burning training sword
Fist of Fear, where they blast their opponent point blank in the chest with the blaster
Laser Lattice, shoots a net from its palm to tangle it's opponent
Digivolves To: MedievalDukemon
Appearance:
Biomerge
Attribute: Data
Family/ies: Virus Buster
Type: Warrior
Attacks:
Howling Blow creates a resonance between his helmet's ornaments generating a soundwave which may paralyze when it strikes
Hothead, which strikes his opponent with a flaming headbutt or a burning training sword
Berserk Sword, where he swings his largest axe violently at his opponent in a cross shape
Fist of Fear where they blast their opponent point blank in the chest with the bow end of his axe