Post by midori on Jul 19, 2020 20:42:58 GMT
Name
: Midori Tanaka
Age
: 17
Gender
: Female
Height
: 5'5
Weight
: 105lbs
Alignment
: Lawful good
Birth Date
: August 3rd
Western Horoscope
: Leo
Birth Place
: Shibuya
Skills/Talents
: Violinist: Midori has practised the violin since she was eight and is a talented player.
Erudite: Midori is well-read and well-educated. She has at least a passing knowledge of a surprisingly wide number of subjects though she is far from an expert in any of them except perhaps for a detailed knowledge of literature.
Backpack Contents
:


Phone: Virtually always left on and charged in case her parents feel the need to contact her.


Thermos and sandwiches: A thermos filled with hot tea and a couple of wrapped sandwiches in case she gets hungry or thirsty while out and about.


Books: Midori generally has at least one book on her whenever she goes out. These can come from an astonishingly wide range of styles and genres, from the classics to modern young adult novels to trashy romances and more.


Crutches: Though she mainly relies on her wheelchair to get around, Midori can walk with crutches for brief periods of time.


Blanket: A warm blanket to cover her legs when it's cold out.


Comb: Her hair is Midori's one major concession to vanity and she often combs it when stressed.


Digivice
: A Digivice iC with a red front and gold sides and buttons. The screen is tinted yellow and the attached ring is white.
Personality
: Most people who know Midori would describe her as quiet and introverted but generally cheerful. She doesn't let much get her down and generally has a gentle smile and a few sincere words of encouragement for anybody who needs them. When bad things do happen, she may briefly grieve but quickly puts those misfortunes behind her and remains largely optimistic that things will work out fine in the end. While not particularly outgoing and rarely being the one to take the initiative in any social situation or cooperative endeavour, she is nevertheless always friendly and willing o talk or lend a hand to somebody who needs it.
While all of this is at least partially true, it is also largely a facade that Midori chooses to erect. Deep down, Midori is haunted by the idea that her physical frailty causes undue worry and stress in her parents and thus she makes every effort to conceal any signs of mental or emotional frailty that might cause them to worry more. Although she has often found aspects of her condition to be understandably upsetting, she feels obliged to act as if she is entirely unconcerned by such matters. This also extends to other matters that might upset her; if something that upsets her can be easily changed, she might offhandedly comment on it, while being careful to downplay how much it affects her, but if a problem is beyond the control of anybody around her, she would rather suffer alone in silence than "burden" those around her with her concerns.
She also dislikes causing trouble for anybody in any other way, though not to the same extent. In general she is more likely to agree to follow somebody else's lead even if she doesn't necessarily agree than to insist on doing things her own way. She is also studiously polite and rule-abiding, being careful to avoid giving offence whenever possible. She is not a complete pushover as she will not acquiesce to something she truly disagrees with and she is certainly willing to stand up for her beliefs if pressed but unfortunately, making a stand often requires her to make clear that whatever she is standing against would upset her, something she is deeply uncomfortable. She therefore tries to avoid such disputes by changing the subject or finding a way to politely distance herself from the source of the dispute, only resorting to confrontation if there is no way to avoid the subject.
Her reluctance to show any signs of distress or engage in topics that she feels strongly enough to argue over greatly hinders her ability to socialise with others. While very few people would say they dislike her and she maintains a number of casual friendships, she has no deep relationships outside of her family. Her quiet, compliant nature also causes her to fade into the background somewhat. Her introversion has caused her to become an avid reader and she can often be found with a book in hand. She does not limit herself to any particular genre, being willing to read just about any book she comes across, but she does seem to have a slight preference for fantasy and science-fiction, embracing the opportunity to escape into worlds that seem far larger and more important than her own troubles. Contrary to what her demure, ladylike demeanour might suggest, she also has a great interest in video games as a way to pass the time aside from reading and while she has learnt to play classical music on the violin, she prefers listening to pop.
Although her cheerful nature is largely a facade, parts of it have grown to become at least partially true over the years. While she is sorrowful far more often than most anybody would guess, she does generally believe that there are more good things in the future than bad and that there is little point in obsessing over the latter. Most of the stress in her life is from her refusal to acknowledge the troubles she has rather than from the troubles themselves and when she is not trying to hide her true feelings, she typically finds herself in a fairly pleasant mood. She is very empathetic, taking great pleasure in seeing those around her being happy, and her agreeable nature usually means she is capable of finding enjoyment in whatever is going on around her. Occasionally though, she finds the sorrows and stress that she suppresses throughout the day can threaten to overwhelm her and in these instances, she generally excuses herself from any company she is in and finds a solitary place to indulge in her grief.
The things that cause her distress can vary but there are naturally a few recurring issues. Surprisingly, her physical condition itself is rarely a concern. She has long since accepted her limitations and while it can be unpleasant to think about, it doesn't bother her very often. What does bother her is when people treat her like an invalid because of it. The root cause of her refusal to show weakness is the excessive concern her parents showed for her and anything that reminds her of this is naturally a great source of stress. Somebody helping her to do something she is physically incapable of is fine but excessive coddling or condescension, even unintentionally, is a major irritant for her. She is also, of course, aggravated by those who would deliberately use her condition as an excuse to exclude or harass her and empathy leads her to be similarly offended by anybody else getting picked on for their own personal weaknesses or habits. She is more willing to stand up to the source of her aggravation in this case, however, as it is easier for her to object to somebody else being made to feel small than to admit that she is going through the same thing.
Another source of stress is being in a crowded, noisy environment. While certainly capable of interacting with others in small groups or even in larger groups so long as there is a certain measure of peace and order to it, she is still by nature a quiet introvert and a mild agoraphobe. Crowded situations make her feel overwhelmed while also putting more stress on her to conceal her emotions from the people around her, the two problems feeding into each other in a vicious cycle. Finally, while she generally tries not to worry about "trivial" matters like appearance, she does like to ensure her hair is well looked after at all times. Anything that messes up her hair is likely to upset her and one of the few visible signs of distress that somebody who knows her well might pick up on is that she has a tendency to brush her hair when upset, a habit that borders on the compulsive when she is feeling particularly stressed.
Appearance
:
Midori has light brown hair that reaches down to the middle of her back. Her hair is naturally slightly curly but is largely straightened by its length and weight, causing it to fall in irregular but smooth and aesthetically pleasing waves. Her features are soft and are generally considered to be relatively pretty; she has a heart-shaped face, a small nose and dark brown eyes with slender eyebrows. She generally wears a small, gentle smile and rarely adopts any more intense expressions, leaving her face free of any visible stress lines.
The first thing most people will notice about Midori upon meeting her is that she is usually bound to a wheelchair. While capable of walking with crutches for brief periods, she still needs to spend most of her time seated. She is also visibly frail, lacking much in the way of muscle definition, particularly from the waist down. This isn't always immediately visible as she tends to prefer long, ankle length skirts and concealing tops that don't reveal much of her bare skin. She typically sits very still with her hands folded in her lap when speaking to others, only making rare, small gestures with her hands when necessary.
FaceClaim
:
CODE GEASS
•
Nunnally vi Britannia
• Midori Tanaka
Personal History
: Midori's parents are Daichi Tanaka, a fairly successful but otherwise typical businessman, and Hana Tanaka, née Williams, a half British woman who had lived in Tokyo since the death of her father and older brother in a car accident when she was a young teenager. Midori was their first child and would likely have had a fairly unremarkable childhood if not for the fact that she was afflicted with congenital myopathy in her legs. The muscles in her legs were seriously underdeveloped and her bones were weaker than they should have been. It quickly became apparent that Midori would likely never have full functionality in her legs and would be essentially wheelchair bound for her entire life.
The tragedy of Hana Tanaka's father and brother's death so early in her life would likely have always made the young mother somewhat overprotective but the discovery of Midori's condition drastically exasperated this and Midori's early years were largely characterised by her mother's excessive coddling and an obsessive focus on her health and safety. Daichi Tanaka was more stoic and practical but still identified Midori's condition as a problem to be worked around, pairing his wife's overprotective nature with a well-meaning but blunt acknowledgement of Midori's limitation and the problems this caused. Either parent's way of responding to Midori's condition may have had its own advantages and drawbacks but together, they meant that Midori was constantly confronted with reminders of her illness and the problems it brought both her and her parents.
When Midori was five, her parents had a second child, a boy named Kousuke. He was a perfectly healthy child and while Midori loved her brother from the first, his presence in the family did cause further problems with his sister's self-confidence. Midori was an intelligent girl and she quickly picked up on the fact that while her parents often spoke of her with worry and concern, their tone when speaking about Kousuke was much more hopeful. This only furthered her developing view that her physical weakness was the cause of all of her parents' stress. She thus began at a young age to downplay any sign that her condition was troubling her which soon expanded to a refusal to acknowledge that anything was causing her problems. Whenever the topic of conversation began to turn towards her difficulties, she became adept at changing the subject to other subjects, most commonly Kousuke. As a result, Midori increasingly began to fade into the background both at home and beyond, allowing Kousuke and others to take the attention whenever possible while she largely retreated into herself.
---
Digimon Name
: Haru
Default Form
: Labramon
Gender
: Male
Alignment
: Chaotic good/chaotic neutral
Skills/Talents
: Tracker: All of Haru's forms possess keen senses and he is adept at using them to track others down through varied environments.
Tactician: While lacking the patience and focus for long-term strategy, Haru has a knack for coming up with effective tactics quickly. Give him a specific, immediate task and he will likely figure out the best way to accomplish it in very little time.
Canine Impersonation: Haru can pull off a near flawless impersonation of a dog when other humans are around. While anybody who knows about Digimon will likely figure it out just by looking at him, the unknowing masses will generally accept that he's simply a strange breed of dog.
Personality
: Haru is an affectionate, excitable Digimon who is perfectly at ease pretending to be a normal dog because it really doesn't require him to change his behaviour much. He is very playful and somewhat hyperactive, always running or jumping around for his own amusement and Midori's. He is filled with youthful curiosity and optimism such that just about anything can provide him with hours of amusement, though he rarely focuses on one thing for nearly that long before getting distracted by something else.
Despite all this, however, he is not stupid. Naive and reckless, perhaps, but when he focuses on a specific task and actually puts some thought towards it, he can prove to be extremely cunning and quick-witted, showing remarkable insight into his surroundings and the people around him, as well as keen instincts and complete fearlessness in carrying out his plans. Unfortunately, this fearlessness often causes him to take risky actions that have the potential for great immediate benefits rather than plans that might provide a less ideal outcome but pose less risk to himself. Haru's youthful confidence combined with his general optimistic outlook mean that while he might be consciously aware of the risks to himself involved in his actions, he doesn't fully process the weight of the consequences should those risks come true.
Haru's single strongest trait is loyalty, specifically to Midori. As much as he may disregard his own safety, he would never risk hers in the same way and his primary goal in virtually everything he does is to make her happy. While his playful nature is completely genuine, he is consciously aware that Midori enjoys his joyful antics and thus sees that as another motivation to play and have fun. Just as Midori tries to make everybody around her happy, Haru tries to keep her happy though his way of doing it is likely much more healthy. He is, however, attached to her to an unhealthy degree. Being separate from her for any period of time can dim his mood and when with her, he does have a tendency to be somewhat needy, always eager to have her attention or just to be in contact with her.
Haru's loyalty to Midori can also bring out a darker side to him. While Haru is usually outgoing and friendly towards anybody he meets, he can be utterly fierce towards anybody who threatens Midori. He is also willing to make some truly callous moves if necessary to protect her. If abandoning another friend is the only way to ensure Midori's wellbeing, he will do it without hesitation. He will feel awful about it afterwards but that won't change his willingness to do it again if need be. He is also alarmingly willing to lie to Midori about such things. He is fully aware that she would disapprove of such actions being taken on her behalf and so in order to keep her happy, he will cheerfully lie about it and claim that whatever action he took either didn't happen or else was simply the result of events completely outside of their control. Unlike the guilt that will eat at him in the wake of doing something morally dubious for her benefit, he is completely unconcerned by the moral ramifications of deceiving his tamer. He sees little value in honesty as a virtue, believing that if the truth would make somebody unhappy then it is naturally better to tell a pleasing lie.
It is worth noting that although Haru is willing to hurt others in order to protect Midori, he does only resort to such measures when necessary. While his first priority is to make Midori happy, he would much prefer for everybody else to be happy as well and is always eager to make new friends. His overwhelmingly cheery and playful nature can be off-putting for some but he generally tries to restrain himself somewhat when he senses that his usual antics might make somebody else uncomfortable, though this restraint often slips when he gets excited.
DIGIMON'S INITIAL EVOLUTION LINE
---
FreshSpecies
: Paomon
Appearance
: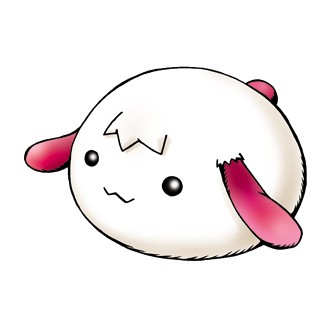 Attribute
: None
Type
: Slime
Fighting Style
: If Paomon is in a fight, something has gone seriously wrong.
Abilities
:
Sonic Whine
: Releases a loud, high-pitched sound continuously. Highly annoying but unlikely to do any actual damage.
Digivolves To
: Xiaomon
---
In-TrainingSpecies
: Xiaomon
Appearance
:
Attribute
: None
Type
: Lesser
Fighting Style
: Xiaomon still can't really fight but at least now he has legs to run away with.
Abilities
:
Sonic Whine
: Releases a loud, high-pitchedsound continuously. Painful to listen to but unlikely to do any lasting damage unless exposed for a prolonged period.
Acid Bubbles
: Blows a stream of mildly acidic bubbles.
Digivolves From
: Paomon
Digivolves To
: Labramon
---
RookieSpecies
: Labramon
Appearance
: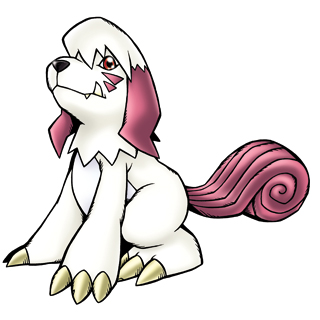 Attribute
: Vaccine
Family/ies
: Nature Spirits, Nightmare Soldiers
Type
: Beast
Fighting Style
: Labramon's fighting style is highly mobile, relying on Haru's high energy to keep moving and circling the enemy while harrying them with attacks. His speed and strength are fairly average but his stamina lets him keep on going for quite a while, wearing his enemies down with constant offensives.
Abilities
:
Sonic Bark
: Fires a shockwave by barking loudly.
Bad Dog
: Bites the enemy with great force.
Good Boy
: Licks a wounded ally, healing minor to moderate wounds and partially restoring their energy. Two post cooldown. Note that this ability is primarily effective on Digimon and has reduced effectiveness on humans, only being able to lightly ease fatigue and minor aches and pains.
Light Touch
: Charges his forepaws with light and slashes at the enemy.
Digivolves From
: Xiaomon
Digivolves To
: Seasarmon
---
ChampionSpecies
: Seasarmon
Appearance
: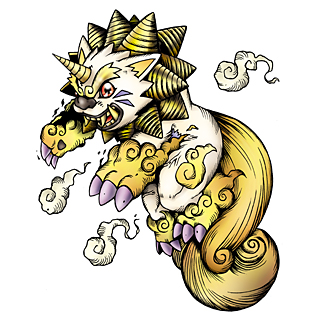 Attribute
: Vaccine
Family/ies
: Nature Spirits, Unknown
Type
: Holy Beast
Fighting Style
: Seasarmon's fighting style is more straightforward than Labramon's. While he still relies on his stamina and endurance, now he generally relies on straightforward attacks, matching his power directly against his enemy rather than trying to maneuver around them. He is less agile than as a Rookie but his sheer strength and bulk have increased dramatically.
Abilities
:
Solar Power
(Combat Passive): When exposed to sunlight, Seasarmon gradually recovers his energy and health. While the effects are fairly gradual, they do allow him to last longer in protracted battles.
Sonic Howling
: Fires a continuous wave of destructive force by howling.
Solar Arrows
: Fires arrows of light from each of the spikes that make up his mane.
Guardian Stance
: Forms a dome-shaped barrier of light around himself and any allies standing close enough that can repel most Champion level attacks. Three post cooldown.
Holy Radiance
: Fires a sphere of light from his mouth that explodes on impact.
Golden Paw
: Envelops his paws in explosive, golden flames and swipes at the enemy.
Digivolves From
: Labramon
Digivolves To
:
---
UltimateSpecies
:
Appearance
:
Attribute
:
Family/ies
:
Type
:
Fighting Style
:
Abilities
: [7 Abilities Max]
Digivolves From
:
Digivolves To
:
---
MegaSpecies
:
Appearance
:
Attribute
:
Family/ies
:
Type
:
Fighting Style
:
Abilities
: [9 Abilities Max]
Digivolves From
:
Digivolves To
:
---
Biomerge
/
Burst ModeSpecies
:
Appearance
:
Attribute
:
Family/ies
:
Type
:
Fighting Style
:
Abilities
: [10 Abilities Max]
Digivolves From
:[/a]