Post by Lagi Wundergeist on Jul 24, 2020 2:54:29 GMT
Digimon Name
: Lagi Wundergeist
Default Form
: Rookie (Ghostmon)
Gender
: Female (She/her)
Alignment
: Tends to blur the line between Neutral and Chaotic Good
Skills/Talents
:
- Pranks and tricks
: Lagi's bread and butter. Lagi's repertoire of pranks are mainly very harmless, and at worse, a minor short annoyance. In battle, however, it's how she's been able to survive for so long; tripping up the opponent long enough to make an escape.
- Quick learner
: While Lagi may not know much now, once you teach her how to do something, expect her to master it fairly quickly once she gets the hang of it.
Personality
: Innocent, but mischievous, Lagi is, for lack of a better term, a free spirited spectre who would rather spend her days goofing off and screwing around, if not napping in the sun, rather than hurt another Digimon maliciously. But often, her natural curiosity threatens to get the better of her, and for someone like her, this could lead into a whole world of trouble should she make the wrong move. She tends to leap before she looks if it looks safe to do so, but she knows not to rush in headfirst towards something that clearly looks dangerous.
Being born without a proper word filter, Lagi isn't afraid to speak whatever's on her mind, which, more often than not, will often lead her into trouble if she's not careful. Still, she's a follower, not a leader, and, with older, more wiser Digimon who gain her trust, completely obedient to a T. Unfortunately, she can also be very gullible, and easily taken advantage of if she's not careful. Still, at the very least, she does have a good understanding of right and wrong, often stopping just short of willingly killing/loading another Digimon, and, with the right guidance, can have her talents used for good, rather than ill.
For better or for worse, Lagi will be willing to try anything and everything possible, often willing to think outside the box to save the day with a variety of tricks to get to the bottom of anything. She prefers to solve things without resorting to combat, but when push comes to shove, her trickery can easily convert into battle mastery, opting to wear down the opponent and trip them up if it means she can save her and her friend's skin in a matter of moments.
At the end of the day, if you manage to end up befriending Lagi, you'll have yourself not only a wonderful friend, but also a viable ally who can whip things up and screw over the opposition senselessly. She's a very loyal companion to the bitter end, and will ensure everything in her power to keep you and your friends happy and healthy. But woe betide you if you end up hurting her friends...
Personal History
: It's… complicated, actually.
Lagi's DigiTama was actually born from the Dark Area, composed of the garbage data of several deleted Digimon who fell victim to the Grotto of Sorrow. Over time, that loose data gathered together to form into a DigiTama that hatched into a Ghostmon, cold and alone, with no family to speak of. Forced to survive on her own, with nothing but the wits and the knowledge that the deleted Digimon wielded in their life, she managed to escape intact, finding herself into a much larger world than she imagined it would be.
And now, she really wants to find her purpose in life. She just needs all the help she can...
DIGIMON'S INITIAL EVOLUTION LINE
Polymorph (universal non-combat passive):
One of Lagi's greatest skills is that, starting from Rookie onward, she can transform into almost anything she wants, be it Digimon, human, object, you name it, she'll be able to transform into it. It's mainly the best way to keep a low profile, or to scare off potential attackers, or even pull off the odd sucker punch if the situation calls for it. This ability has a few rules to it, however:
- Outside of battle, Lagi can transform into whatever she wants, whenever she wants, for as long as she wants. However, as soon as she gets hit by an attack or she uses an attack, the effect ends, and she cannot transform again until she leaves battle.
- This is not the same as a Digivolution. She can transform and attack the same post. However, as noted above, once she attacks, the effect automatically ends.
- Concerning Digimon, Lagi cannot morph into something smaller or bigger than her currently level. Transforming into humans or physical objects around her size, or smaller than her is perfectly fine, however.
---
FreshSpecies
: Kiimon
Appearance
:
Attribute
: None
Family/ies
: None
Type
: Slime
Fighting Style
: If you hate getting messy, then I'd doubt you'd like 'fighting' this thing. Otherwise, don't bother.
Abilities
: [1 Ability Max]
Ink Squirt:
Squirts out foul smelling ink from her mouth. 9 out of 10 victims hit by this attack will try to rush to the shower afterwards.
Digivolves To
: Yaamon
---
In-TrainingSpecies
: Yaamon
Appearance
:
Attribute
: None
Family/ies
: None
Type
: Lesser
Fighting Style
: Yeah, if you don't like getting slimed, stay away.
Abilities
: [2 Abilities Max]
Paint Splash:
Spits out foul smelling paint at the opponent. Very likely to cause minor nausea, disgust, and a major urge to strangle Lagi to death ASAP.
Digivolves From
: Kiimon
Digivolves To
: Ghostmon
---
RookieSpecies
: Ghostmon
Appearance
:
Attribute
: Free
Family/ies
: Nightmare Soldiers
Type
: Ghost
Fighting Style
: Trickery is the name of the game here. Lagi more than makes up for her lack of physical strength with a variety of tricks and spells up her sleeve, opting to trip up and annoy her opponents, making her a right annoyance to fight once she gets going.
Abilities
: [4 Abilities Max]
Ectoplasmic (non-combat passive):
To Lagi's body, walls, floors, and even other Digimon's bodies are nothing more than a suggestion. She can fly and walk through walls and floors easily without much of a struggle. This does
not
give her free immunity to avoid being hit with physical attacks, because that wouldn't be fair now, would it?
Copycat (RAM Upgrade Plus/GIGA):
Lagi is a
frighteningly
quick learner, no matter the situation, and no more is this apparent when she finds herself in the middle of a fight. This ability allows her to copy any attack she witnesses in battle, whenever ally or enemy, locking them in for 3 posts before she can switch again. However, if the copied ability is in cooldown, she cannot switch out the ability for another until said original ability becomes 'ready to use' once more. This ability cannot copy OPT moves, team-specific moves, and moves used via card/D-MR. The cooldown of the copied move will remain the same as the original move itself.
She Slimed Me! (passive) (RAM Upgrade):
Making physical contact with Lagi is not recommended. Opponents who fail to abide by this warning will find whatever part of their body touching her at least once during a post, attack or otherwise, will find it coated in magic green slime, slowing them down by 10%, which, to add insult to injury, can also stack up to 50%. However, if the opponent avoids making physical contact with Lagi for 2 posts in a row, they drop down a stack as the slime declogs from their body.
Spellbound (RAM Upgrade):
From her palms, Lagi shoots out 2 pairs of ghostly chains (up to 50 meters in length) that coil around the opponent's entire body. On command, the chains painfully squeeze the opponent, before transforming into metallic spikes that all ram inside their body, dealing heavy damage. If this attack hits, all active cooldowns on the affected target are increased by 1. (3 post cooldown)
Little Plasma:
Lagi shoots out 2 energy shots from her palms to deal damage to her opponents. Nothing much else to say other than if the opponent is affected by at least 1 debuff, this attack deals 30% more damage. (1 post cooldown)
Up and Away:
Lagi, with her palms glowing blue, and whoever she touches during this ability (up to 2 allies as long as they're close to her), glow a bright blue before vanishing and reappearing 5 meters away from their starting point in the blink of an eye. A simple, effective, and welcoming teleport, just in case she or her allies find themselves in danger. She can use another active ability at the same time as this, but this will increase the cooldown of both this attack and the other attack at the same time by 1. (3 post cooldown)
Spectral Cure:
With just a wave of her hand, Lagi summons a soothing blue aura to coat herself and her buddies, patching up whatever nasties that may have hurt them, and in record time too. She and up to 3 allies receive a moderate heal that also removes at least one debuff of their choice. (3 post cooldown)
Darkness Sphere:
Lagi forms a big, inky ball of darkness double her size, before tossing it at her opponent, showering them in a painful wave of darkness that envelops their entire body from the moment it makes contact. Ignores barriers, shields, and defensive buffs to deal maximum damage. (3 post cooldown)
Digivolves From
: Yaamon
Digivolves To
: Unknown
---
ChampionSpecies
: Wizardmon
Appearance
: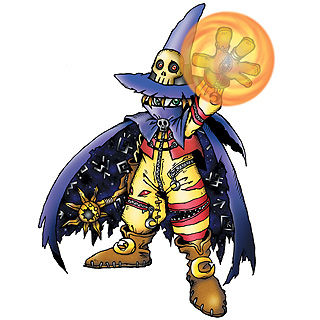 Same as canon.
Attribute
: Data
Family/ies
: Nightmare Soldiers, Nature Spirits
Type
: Demon Man
Fighting Style
: Now that's more like it! While still not able to trade physical blows quite easily, she more than makes up for it with a variety of long range elemental spells and tricks that can spell trouble for the enemy given the chance. If there's even the slightest opportunity in sight, rest assured she can and will use it to her advantage.
Abilities
: [6 Abilities Max]
Own Tempo (passive):
Spellcasting requires heavy focus. And thankfully, she knows how to keep a cool head at all times, even when things are looking rough. She's immune to the effects from all attacks, abilities, passives, and terrains that would otherwise negatively damage and/or affect her mind and emotions from Champion-levels or lower. Ultimates, meanwhile, will have those same effects halved by 50%.
Quick Thinker (passive):
While being a squishy wizard has its perks, unfortunately it also has a fair few problems: mainly that she can't exactly take a physical hit that well. Thankfully, this form provides her with a natural 30% speed/evasion boost that allows her to more easily avoid getting hit, especially by physical attacks.
Blink Breeze:
With a simple wave of her wand, Lagi sends out a blade of wind to cut into the opponent. A simple, yet effective attack that can hit opponents from 50 meters away. (1 post cooldown)
Thunder Cloud:
Lagi holds her hand out, summoning a powerful electric strike to strike down the opponent. This electric strike can chase and track down an opponent from 100 meters away by tracking down their Digital Signal, allowing it to even strike invisible opponents, unless their Signal is also covered up. (2 post cooldown)
Solblaze Smasher:
Raising her wand to the sky, Lagi calls upon the sun to charge up her wand to form up a giant ball of flame double the size of herself. She can then choose to either fling it at the opponent, or smash it directly into the opponent, causing a massive explosion of flame, burning up the opponent alive. Either way, this attack is able to bypass any and all defensive effects and buffs from attacks, abilities, passives, shields, and terrain effects from Champion-level Digimon or lower. Using this attack on Ultimates under the same conditions will only be able to bypass 50%. (3 post cooldown)
Healing Wave:
With just a good wave of her wand, Lagi surrounds herself and her allies in a healing veil, relieving them of heavy fatigue and alling wounds. She and any ally of her choice will heal 30% of their total health, alongside removing any one negative status effect of their choice, if possible. (3 post cooldown)
Teleport! (RAM Upgrade):
A simple, yet effective ability; Lagi wraps herself in her cape and 'vanishes' in the blink of an eye, before reappearing 100 meters from where she last stood. While she can use an attack/ability afterwards, both the cooldown of this ability and the other ability she uses will have their cooldown increased by one. She can also bring an ally along with her, and, should they be affected, be able to use any of their attacks without any fear of the aforementioned penalty. (3 post cooldown)
Energy Overdrive (RAM Upgrade):
For a brief moment, Lagi focuses her concentration into her magic, resulting in an oversurge of magical energy to greatly power her up, even for a brief amount of time. For the next 3 posts, her attack and defense are greatly boosted by 50%. However, her defenses will subsequently drop by 30% for the same amount of time. (3 post cooldown)
Digivolves From
: Ghostmon
Digivolves To
: TBA