Post by Meryl on Aug 14, 2021 0:03:45 GMT
Name:
Meryl Endesha
Age:
18
Gender:
Female
Height:
5'6" (167 cm)
Weight:
137lbs (62kg)
Alignment:
Neutral Good
Birth Date:
April 7th
Birth Place:
Westmoorings, Trinidad and Tobago
Skills/Talents:
Oboe Player: Meryl was very good at playing the Oboe when she was young. As she got older, she began to play it less and less, taking interest in other things like fashion, but not completely abandoning it.
Tea Brewer:
Previously taking up a job as a barista during secondary education, Meryl is an avid tea drinker. An entire kitchen cupboard is dedicated to nothing but various types of tea. And some coffee, too, but Meryl doesn't drink it.
Fashionista:
Meryl is a follower of the latest and popular fashion, so much so that after she gets into higher education, she wants to study Fashion and Merchandising as her degree.
Backpack Contents:
-House keys
-Air Pods
-Oil absorbing sheets
Digivice:
Kizuna Smartphone Digivice (Orange with white highlights)
Personality:
Meryl is a free spirit and is always one for a party, She never misses a night out and can be found hanging out with her friends. Even if she's not partying, she's still out enjoying the night like it's her last.
She has a very seductive way of handling situations and flirts every chance she gets, making her a bit manipulative with getting what she wants. Meryl is more for common and street sense than book sense, and hates getting into arguments. If her buttons are thoroughly pushed, the person on the receiving end better be prepared for a long period of yelling as Meryl will not hold back, regardless of your feelings.
Aside from showing a wild side, there are moments where Meryl can sit down and act as a bit of wisdom to some. She tries her best to help anyone in need, whether it be her family, or friends, but can rarely help herself.
On the whole, Meryl tries to see the good in everyone, regardless of who, and where you come from, even if others don't see it. But if her trust is broken, it can be very hard to get it back.
Appearance:
(Art made by me)
Meryl is a slender and well-endowed young woman of average height. She had dark skin, golden irises, and black hair with the end of her curls dyed blonde. Her hair is shoulder length, but could be longer if she got a perm. She has a beauty mark located under the left side of her mouth.
Her standard outfit consists of a dark teal no-sleeve turtleneck with a cleavage opening, elbow length arm warmers of the same color, a light orange beanie, dark grey jeans, and a pair of Jordan 3 Retro Laser Orange sneakers.
Personal History:
Meryl was born and raised in Westmoorings, a residential suburb just four miles west along the coastline from downtown Port of Spain. She is the only child of Adéwalé and Sadie Endesha. Adéwalé and Sadie are both small entrepreneurs operating their apparel business on the edge of the port city. Meryl's ancestry is ¼ African ( her paternal grandfather hailing from Kenya, Africa and emigrating to Trinidad in the 1970's) with the remainder being Afro-Trinidadian.
Meryl grew up in a fairly standard loving household. Being doted on by her father, the two of them became very close from the get-go. Adéwalé taught Meryl how to play the Oboe, and was always very encouraging of her daughter to try new things and develop. And while Sadie loved her daughter, her work being the main head of their family business kept her away from her family quite a lot.
When Meryl started at primary school she initially found it hard to relate to other children, who had other siblings, and largely kept to herself as a result. When noticed by the teachers, and eventually her parents, she convinced them that she was just overwhelmed by all of the kids there, nothing more. Though in truth, Meryl was jealous and longed for a little brother or sister. Although she grew out of this over time, making long-lasting friendships down the line, any heavy reminders will bring her usual positive attitude down.
At the age of sixteen, Meryl began to dabble in the street life with a few friends she had made. Feeling that she was missing out on what other kids her age were experiencing, she obtained a fake ID, went to clubs, and did things one would only see on a reality TV show.
Around the time she turned eighteen, her parent's clothing store had seen a massive bloom in business in recent years. So much so that investors suggested that they can expand their business overseas, starting in Japan, and for them to set up shop there. While her parents were ecstatic, Meryl initially disliked the idea of moving to an entirely different country. But seeing as though not a lot of people in her country--especially people her age-- not having an opportunity like this, she slowly embraced the idea of living down there, but can't help but feel like she'll be losing a part of herself in the process.
So while her parents begin to set up shop in the pedestrian hangout spot known as Cat Street, Meryl tries to find a way to settle in her new school as a transfer student in her final year as a Senior while trying not to confuse her classmates with her thick Trinidadian accent.
---
Digimon Name:
Ciel
Default Form:
Rookie
Gender
: Male
Alignment:
Chaotic Neutral
Skills/Talents:

- Tactical Espionage: From the moment he evolved to his Rookie form, Ciel has always likes investigating and following suspicious rumors to uncover any truths. He uses his Divanish to easily slip past restricted places, something that he is rather boastful about.
-Crafter: Ciel is very dexterous, particularly with teaching, crafting, and supplying tools for any stealth mission, referring to himself as Meryl's "One and only tool specialist." He also knows how to lockpick, but struggles to do so with his small digits.
Personality:


Arrogant, sarcastic, and a bit rude, Ciel has a condescending attitude, as he has a boasting habit which he's simultaneously humble about. Oh boy. Ciel's strength often can be misinterpreted as vanity or selfishness, but the only opinion he values are his own, and Meryl's. He is tranquil, yet vigilant, nothing seems to escape his attention - for better or worse. Ciel is very intelligent, and has a great deal of common knowledge, but not so much with humans, as sometimes he will take what expressions they say very literally.
Although his proud personality has carried him through some harsh times, in reality, Ciel seems to be rather weak in several aspects: he is sometimes cowardly, not wanting to engage in any battles unless he knows he could take them. He is also very clumsy and uncertain in his understanding of the Digital World, so when he's explaining his own knowledge and theorems, he often adds "I think" to his sentences. But above that, he has some confidence issues and an inferiority complex, as it's at times very difficult for him to believe in himself aside from his knightly persona. Because of this, he can be very hard on himself.
Aside from that, although he's normally very aloof, Ciel's actually a very caring and loving person, especially towards his friends. This can be seen with his crush on his tamer, Meryl. With her by his side, Ciel feels like he can accomplish anything.
FreshSpecies:
Choromon
Appearance: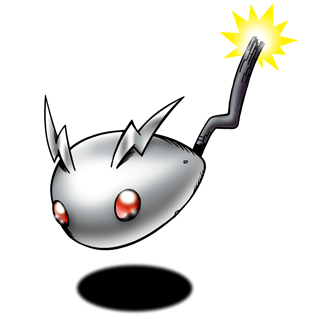 Attribute:
None
Family:
Metal Empire
Type:
Machine
Abilities:Jamming Powder:
Releases iron grains to cause temporary dizziness to an opponent.
Evolves to:
Caprimon
---
In-Training Species:
Caprimon
Appearance:


Attribute:
None
Family:
Metal Empire
Type:
Lesser
Abilities:Howling Hertz:
Generates a resonance between its two horns to paralyze the opponent
Frothy Spit:
Shoots slightly acidic bubbles from its mouth.
Evolves from:
Choromon
Evolves to:
Espimon
---
RookieSpecies:
Espimon
Appearance:


Attribute:
Virus
Family:
None
Type:
Cyborg
Abilities:Combat Passive: VTOL Flight:
In combat, Ciel is constantly flying around with his jet booster wings at fast speeds, increasing his evasion by 30%, and is able to use attack while in motion.
Saber Crash
: Ciel surrounds himself in an electric aura before ramming himself into the enemy. [No Cooldown]
Mot Bomb:
Ciel fires two self-propulsive time bombs resembling a Botamon that seeks to catch its targets before triggering an explosion. He can also utilize them as decoys. [Cooldown: 1 turn]
Divanish:
Ciel presses the red button on his abdomen to apply active camouflage to blend in with the surrounding environment. It is usually reserved for infiltration, and ambush tactics, and can be adjusted to make himself partially visible to allies. The effect immediately ends if he attacks or gets hit. [Duration: 2 turns; Cooldown: 2 turns]
Evolves from: Caprimon
Evolves to: Hover Espimon