Post by Yuri on Jul 24, 2021 9:46:37 GMT
XROS PARTNER LIST
Partner's Name
: Yuri
Gender
: Neutral/Doesn't Care
Alignment
: Neutral Good
Skills/Talents
:
[Graceful movements]: No move of theirs is ever made without some degree of elegance to it, rarely the sort to make any forceful movements always moving and responding to their environment rather then trying to force things to go their way. Just by watching Yuri walk one can notice their grace.
[Dancing]: Given Yuri makes a living off this talent suffice to say it is their best talent they have, able to move and dance with an amazing passion behind each and every step. No step is made out of line when Yuri needs it to be it will almost always be perfect while dancing, usually being the thing that puts them at ease the most while doing so. This talent also lets Yuri copy dance moves they see to some degree of success
[Adaptability]: One skill you learn while traveling is the ability to adapt to whatever a situation calls for, being able to switch plans on the fly and come up with new ways of handling a situation is something that Yuri prides themselves on being able to do.
[Calm mind]: Yuri is fantastic at remaining calm during any situation, able to retain their focus regardless of the danger they're in. While this can be broken if the situation is bad enough even in the back of their mind Yuri will be able to think on the fly.
Digivice
: A Black and White Xros loader with the middle button white and the outer button black.
Personality
: Yuri is a very confidant digimon in the way they handle themselves and situations around them, just by talking to Yuri one will notice the confidence in their eyes, an assurance that they know what they're doing at any given situation, always doing their best to maintain their handle on anything and do whatever they can in any given situation. There are a few times where Yuri's confidence can waver a bit but it would take quite the problem to ever fully break it, even facing the worst of times Yuri will be there with a smile hoping to overcome it, even if it's fake confidence at the moment they'll do so in order to make sure their allies can smile as well, being a calming presence to everyone they meet.
Around other digimon and humans Yuri always expresses an optimistic point of view towards them, always doing their best to keep spirits up and encourage any and all around them to be the best they can be at whatever it is they're trying to do. This especially translates to their love of dancing, believing that every digimon, human, anything is capable of dancing finding it to be a powerful form of self expression, always encouraging others to never be afraid to dance, even if they are regarded as technically bad, in Yuri's eyes it is still their own style, their own expression regardless of the technical quality of how they're doing. This doesn't just translate to dancing though, Yuri will always attempt to encourage others to be the best they can be at whatever they wish to do... Unless it's like kill a buncha people in which case tone it down a bit.
It takes a lot to make Yuri mad and most of the time you're better off not doing it, they'll still remain patient with the one making them angry, often choosing to laugh it off to avoid conflict but they're not above giving a good scolding to anyone who pushes them too far, while Yuri wishes to avoid physical conflict a wag of the finger from them, and a disappointed speech works well enough as is.
Personal History
: Yuri started out life as many digimon have, the Village of beginnings was a strange and wonderful place for the digimon for a while. Yuri lived out their childhood simply enjoying time playing with other digimon and even some human's that would come and visit the place time to time, though it was always in the back of the young digimon's mind, something they knew that would have to be decided eventually. Just what did Yuri wish to do with their life? It was a simple question yet upon thinking about it Yuri found they simply had no answer to this question, having never given it much thought until they became an In-training digimon.
The question rang through the digimon's head for quite some time while they searched for something they would like to do, some of the kids they would play with wanted to be heroes, others mercenaries and even some simple shop owners. Yuri had given those some thought but never enjoyed the idea of fighting, battle was something they were not interested in and running a shop sounded dull to them as well. With these questions in mind Yuri pondered their reason for being in the digital world for a while, until one day when a group of performers came to the Village of beginnings, wanting to do a show for the kids. Singing, talent shows and even some audience participation, while it was fun for Yuri nothing truly sparked for them until some of the last performances.
The ones performing were dancers, elegant and beautiful digimon of many kinds moving around gracefully, not fighting but simply movements expression themselves through their dances, there were many different forms shown off that day and while the other children were interested, none were as enthralled as Yuri. Watching them move sparked something within the small digimon, something that had always been there but was never put into words. While Yuri watched them completely smitten with the digimon they gained the notice of the leader of the performers, a Rosemon. She saw the look on the digimon's face, how it lit up watching them so they went over to Yuri and offered them a chance to dance alongside the professionals.
Yuri was taken aback at the offer but silently nodded in agreement, while Yuri definitely wasn't the best, in truth they were actually quite bad, it was the most fun the digimon had ever had in their short life. Suffice to say after that day Yuri's path in life was finally set, they wished to become a performer, a dancer like the ones they had seen before. Working hard before and even after they evolved into a Renamon to become as graceful and talented as the digimon they had seen before. Eventually Yuri managed to accomplish this goal, while not dazzling the entire world itself with their moves eventually Yuri hoped some day they would, maybe even give off that same spark to someone else as they had felt that day.
Primary PartnerSpecies
: Renamon
Appearance
:
Attribute
: Data
Family/ies
: Nightmare Soldiers, Nature Spirits
Type
: Beast Man
Fighting Style
: While Yuri would rather dance then fight they still fight with graceful movements and stunning abilities, preferring to fight in a group rather then alone with special dances that invigorate allies and increase stats, heal wounds and even increase the duration of buffs. While retaining a few abilities for combat.
Abilities
:
(Passive Abilities)
[Dancers Grace]: If a buff is given by Yuri or to Yuri extend the effect of the buff by 1 post for one of the digimon given the buff, does not affect buffs that last for 1 post and once the buff is extended this ability must go through a short 2 post cool down before it can activate again. If Yuri gives themself a buff only one of these is applied.
(Active Abilities)
[Flash Step Assault]: Yuri backs up away from the opponent before dashing around them faster then a rookie's eyes can catch before delivering a sweeping low kick followed up by a spinning heel kick sending them into the ground. 3 post cool down and Pierces.
[Diamond Dust Encore]: Yuri throws up the typical Renamon diamond storm before adding their own flare to it causing the pedals to dance around the opponent like a tornado of shrapnel shredding them to pieces. 2 post cool down
(Support Abilities)
[Shishi Mai]: Yuri performs a very aggressive step dance for allies around them, invigorating them and and granting a powerful state of mind for those affected causing their natural abilities to soar upward. Grants 3 rookie level digimon a 100% attack boost for 2 posts with a 6 post cool down.
Digivolves To
: Renamon (Shout Cross) Renamon (Tesla Cross)
---
Partner Name
: Shez
Gender
: Male
Alignment
: Neutral
Skills/Talents
:
[Volume Control]: Has amazing control over the volume of his voice, to the point where he can change it on a dime, they all sound loud but even still it's a talent all in of itself.
[Singing]: While his voice creates some problems when he attempts to sing Shez is genuinely amazing at singing even if he doesn't think so himself, often times able to keep up with professionals despite his feeling lack luster in his own performance.
[Cooking]: Living on your own you either learn how to make your own meals somewhat decently or you settle, given that Shez has never been one to settle no matter the situation it was a given this was going to be his first choice. While he might not be the best, he can at least whip up a little something for even the pickiest of eaters if he tries hard enough.
[Amazing Hearing]: One thing that you pick up when you got a voice like his is that you need to be able to pick up on even the smallest of details when you can't really talk like normal, since he tends to stay silent it has opened his ears to the world around him, basically a fancy way to say he hear good.
Inventory:
Broken Mics, Cook Book, note book.
Personality
: Shez comes across as the strong silent but brooding type of digimon, silently gazing at others with an annoyed look and expression. This is absolutely not the case in the slightest because Shez is a happy go lucky Shoutmon, always with a brazen attitude towards situations and ready to jump to assist someone at a moment's notice regardless of the danger it might put himself in. This has gotten him a bit of a streak for being a tough guy but better people think that then the opposite.
Though under his happy go lucky personality he is constantly suffering form the fear he's not good enough to do anything, sometimes even breaking his normal personality getting more down on himself then he should about minor failings and not being able to live up to his own expectations. Though any friend can easily pull him out of this state with some good-natured words and kindness.
Speaking of those friends, don't mess with them or you'll regret it like no tomorrow. While Shez typically won't get angry if you mess with someone, he cares about he will get defensive and will attempt to solve what's making their friend upset, even if it means going through someone.
Personal History
: Shez was not born like your typical Shoutmon, while others are known to be loud, especially with their mics, Shez was in a different league all his own. His voice was at least 10 times louder than a normal digimon of his type and that was even before he would start using his mic. Anytime he goes full tilt he ends up breaking his microphone and having to get it replaced or fixed in any way he can.
This had caused him to become recluse more often than not, not wanting to hurt anyone with his stupidly loud voice. Eventually though through trial and error he managed to be able to control the volume of his voice was some mastery, while to him he was whispering to everyone else it sounds just like a normal speaking voice. Despite learning this he still chooses to not talk in favor of alternate methods to get his message across. Now he's just wandering the digital world, with the shared love of music his species typically had trying to find his way.
Second PartnerSpecies
: Shoutmon (King Version)
Appearance
: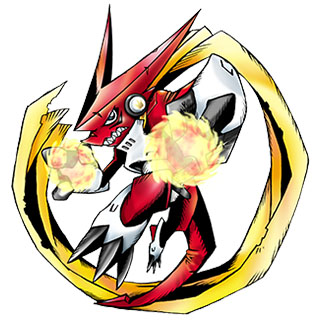 Attribute
: Data
Family/ies
: Nature Spirits, Virus Buster
Type
: Small Dragon
Fighting Style
: Shez doesn't rely on his microphone and voice to deal damage, preferring to utilize a more aggressive style of literally just beating up the opponent with the microphone, when he does decide to use his mic and voice to attack the results are devastating for anyone within the area.
Abilities
:
(Passive Abilities)
[Rock On]: Shez tends to take a very aggressive style of combat when he fights increasing his attack power by 50% but lowering his evasion by 20% to compensate for this. It's mostly just because he doesn't care if he gets hit so long as he's hitting back.
(Active Abilities)
[Boom Burst]: Shez taps his mic to make sure it's working before he shouts as loud as he can into it, which considering his loud voice is bad for everyone in the vicinity causing a massive shockwave that deals damage to anyone within a 20 meter radius and forces them to lose their hearing for two posts. Only usable once per thread, he could do it more but his mic breaks after using this move so it's a one and done.
[Striker Combination]: Shez throws his mic at the opponent, if it hits Shez jumps up and grabs it as it bounces back before slamming it down on the opponent again and stomping on them, if they dodge the inital throw he'll instead slug them one with his fist before grabbing the mic and aiming a home run swing on their back, either way it's a 2 post cool down regardless.
[Power Soul]: Channeling his inner essence of blazing passion into his hand creates a fireball within it, Shez then does what anyone with a fireball in hand would do and chucks it at the nearest opponent. 2 post cool down.
Digivolves To
: Renamon (Shout Cross)
---
Partner Name
: Lyn
Gender
: Female
Alignment
: Chaotic Good
Skills/Talents
:
[Singing]: A lovely voice that enthralls almost all digimon that hear it, even some human's as well, able to keep a steady tone and match pitch with almost anyone, except for the loudest of the loud sadly but she's working on it.
[Pain Tolerance]: Despite being more suited towards dodging attacks Lyn is well versed in tanking hits as well, being able to get hit and keep moving. A life of combat will do that to you after all.
[Time Management]: An ability that comes from her older days as a merc, being able to make use out of every minute and every second of the day while also accounting for things like breaks and rest, if she's making your schedule, you can guarantee it's optimized to fit your needs.
[Basic Medical Training]: While they won't be solving the problem of the missing leg Lyn can at least keep a digimon or even a human from meeting their maker if the injuries aren't something too severe.
Inventory:
Whistle, Red Bandana.
Personality
: Lyn has a few anger problems, she tends to get a bit mad when things don't go her way, or she feels like she's being cheated out of something somehow. Her anger can get the best of her and cause her to lash out at others as a result. Despite not always meaning what she says sometimes her emotions can get the better of her and cause her to say some pretty hurtful stuff. She tends to act more withdrawn when things like this happen as well not wanting to be the one to admit she was wrong or face the individual she yelled at.
Beyond that though Lyn is genuinely pretty nice, if you manage to get past her initial rough opener there is a digimon who just wants the best for those within her circle, often times only getting angry when those close to her are in danger or getting duped by someone. Very overprotective of those she knows and cares about willing to do anything just to make sure they stay with her for as long as they can.
Personal History
: Lyn was initially raised in a Mercenary family, brought in by her father while her mother had apparently died before she had hatched, he always did the best he could for her trying to teach her how to act and behave despite not always knowing exactly what to say he did his best. Growing up around mercenaries though had shaped her life to be that of combat, focused on fighting and taking out her opponents in the best way she could.
When she was a young Jellymon a digimon had found her while her father was on a job, using her as a hostage in order to get her father to stand down. Through this mix of emotion and rage towards her captor threatening to take the only one she had in this world caused her to digivolve into a Tesla Jellymon to fight him off. It had worked and while her father consoled her as she was crying there was one thing clear, she didn't want to be a mercenary anymore after such a traumatic event.
Since then, she had simply stayed back while her father did his work, due to a lack of training since then her power dialed back to that of a simple rookie despite her form not changing, simply sitting and trying to figure out what she wanted to do in life.
Third PartnerSpecies
: Tesla Jellymon
Appearance
:
Attribute
: Data
Family/ies
: Nightmare Soldiers, Nature Spirits, Deep Savers
Type
: Mollusk
Fighting Style
: Training with her Mercenary father has left her tougher than the average rookie able to keep up with combat with the best of them, using palm strikes mixed in with body attacks to keep the opponent off balance with low cool down moves mixed in with basic strikes.
Abilities
:
(Passive Abilities)
[Electric Charger]: All of her basic attacks deal damage equal to a 0 post cool down move, they also deal electric elemental damage for those nerds with specific resistances.
(Active Abilities)
[Charging Striker]: Lyn dashes forward smashing her palm into the opponent before unleashing a massive amount of electrical energy shocking the opponent and stunning them for just long enough for her to deliver a roundhouse kick to their back sending them flying backwards. 3 post cool down.
[Shock and Awe]: Rushing over Lyn grabs the opponent, latching onto them as her high voltage belts around her latch onto them as well shocking the opponent a massive amount and keeping them from moving for a single post, they can still attack though and considering she's right in front of them.... Yeah she didn't think this through. 4 post cool down though.
(Support Abilities)
[Charged and Ready]: Punching the air a few times Lyn gets her body moving, letting more energy flow through her body increasing her attack power and speed by 50% for 3 posts with a 3 post cool down once the effect ends.
Digivolves To
: Renamon (Tesla Cross)