Post by Domeki, Makiko on Jul 26, 2022 23:15:54 GMT
Name
: Domeki, Makiko
Alias
: Maki, miss hundred eyes.
Age
: 17
Gender
: Female
Height
: 152.4cm (5'3")
Weight
: 54.0kg (120lbs)
Alignment
: Harmoniously Wrathful
Birth Date
: March 5th
Western Horoscope
: Pisces
Birth Place
: Shirakawa, Gifu Prefecture, Nihon/Japan
Skills/Talents
: Cooking, Laundry, Dishes, speed reading, and being in the wrong place at the wrong time.
Backpack Contents
:
Hair brush

Mirror

Diary

Collection of Pens

Books for School

An Apron

Digivice
:
Xros Loader, Nightmare Soldier Purple with Metal Empire Silver and Dragon's Roar Red accents
Personality
:
A peaceful girl with a wrathful smile. She has a simple love of reading, and doing housework, and mostly not having her day ruined. This is sadly dismissed by her inopportune issue of being in the wrong place at the wrong time. She usually ends up looking like someone who is trying to hide a much more malicious thought behind her eyes often, and this can make her come off as conniving or even mischievous when instead her mind is kept simple.

She may have a hint of eighth grade syndrome, due to an intense love of gothic novels. Her partners tend to be named much in a way inspired by those novels, and similar manner. The Xros forms are also likely to use this, as the names together may become what she calls the forms. She is not the most creative though, so most of the forms will likely be inspired by other digimon, though she might come up with an occasional interesting form just in the moment.

She is largely uninterested in romance, but would not be distracted from it if someone were to capture her heart. Though be careful of her, as she does have a temper. She is not just a simple flower, for she does have thorns.

When she learns of digimon, she will insist on attempting to seek a way to live in harmony with them, and may end up ignoring the human world for the sake of traveling the digital world and trying to live a life with "Nature". This is due to the fact that she feels the romance of adventure, and a curiosity for what is beyond the door of her home and life that she has not been released upon.

Her fears are rather silly, but she is afraid of her family disappearing on her, and of having her ability to live taken from her by another person. This does not mean she fears death, but instead fears being chained down, or forced to follow the path another sets for her, which may be ironic due to her becoming a Xros General.

She largely identifies her Xros partners as friends and family, even if they do not always have the purest of intentions. She wants them to protect her in the same way that if she had the power to, she would protect them.

Around friends she is the motherly type. She makes sure to take care of those around her, and largely will prevent them from danger if able.
Appearance
: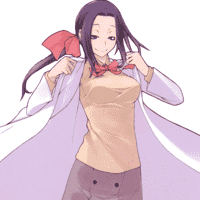 A sleepy eyed girl with a decent posture, above average height and weight. She stands a little above the height of her fellow girls in class other than foreigners and those who are truly above average. Her weight is a little higher because of that, but still with in healthy margins. Her eyes are a shocking lilac colored spectacle, with a slight hint of gemstone mixed in. Her hair is a shade of Chinese violet, generally tied behind her with two locks on either side of her head hanging off to the side. Her skin is rather smooth if not for some freckles around her nose that are hard to see unless you are straight up in her face.

Her attire tends to be simple garments, her school uniform for instance. She also has a hobby, or misfortune of being attired in cosplay costumes by those who she goes to school with, so it is not unlikely to see her begrudgingly in outfits like a scientists lab coat, or a maid costume. She will always keep her basic outfit of a blouse under a vest with a medium length pleated skirt. Leggings in cold weather, or an umbrella in the rain. A scarf when the snow is flowing and ear muffs to match.
FaceClaim
:
SHIN MEGAMI TENSEI: DEVIL SURVIVOR
•
Mari Mochizuki
• Makiko Domeki
Personal History
:
Born in a sleepy little village in gifu prefecture, was a girl whose family name is based upon a yokai of many eyes over the body. Her family were of the quiet sorts, just seeking to make ends meet, and to handle life as it arrived. Her family was rather small for direct, being three or four people, but living with her family back then included her mother's family, her father's family, and then her direct family. This meant that the house was filled with people at all times for a bit, and that meant everyone had to lean into learning how to handle the chores. Or at least that is what her mother tells her from time to time, as they had moved to Odaiba when she turned two, in order to try to focus more on raising her, and it had also been a change of pace for her father who acquired a new job.

She grew up with stories like the above, her mother being mostly stay at home, with minor jobs using the computer or doing errands for others. Her father worked in a construction crew. She would go to school, and spend a decent amount of time trying to not be a burden. When she turned ten, she started taking over chores at home from her mother, so that her mother could focus on bringing more money into the home. This lead her to picking up skills like cooking and cleaning. When she had school work to focus on, she prioritized Japanese, English, and Home Economics. The first two was for her one hobby of reading, and the latter was so that she could provide better food at home and learn little tricks of the trade for cleaning.

When she was fifteen, she was asked out. She immediately rejected it on the basis that she had no interest. When hassled about it, she also mentioned that she preferred to prioritize her family, and that a lover would take her time from that. When the hapless boy continued to push, she finally slapped him across the face, and in doing so almost knocked him off the rooftop. She got suspended for a week.

On her sixteenth birthday, she started hearing a voice call to her, and in her dreams, seeing an area covered in darkness and metal, with halloween like figures, and metallic creatures moving about. An odd glow would come from her phone from time to time, disappearing before she could find out what it was.