Post by Alex Carroll on Jan 6, 2023 4:22:14 GMT
Name
: Alexander Carroll IV
Alias
: Alex Smith
Age
: 17
Gender
: Questioning (Assigned male at birth, prefers she/her pronouns)
Height
: 5'4''
Weight
: 105 lbs.
Alignment
: Lawful Neutral
Birth Date
: 4 July
Western Horoscope
: Cancer
Birth Place
: Concord, New Hampshire, United States
Skills/Talents
:
A child of modern corporate aristocracy, Alex was educated in a number of fields considered suitable for someone of her upbringing. Most of those fields earned only a passing interest, if that; though she could be considered proficient in the matters of horseback riding, riflery and classical guitar, she has never been particularly fond of any of them. As such, her proficiency remains entry-level at best.
Of the various 'acceptable' pursuits presented to Alex by her father, only the art of fencing managed to truly take. There, at least, Alex found solace and sanctuary amidst the depths and intricacies of the Olympic dueling sport. Before moving to Japan, Alex developed something of a reputation as a rising star in the fencing world, even earning a silver medal in the American youth summer fencing national competition and gaining some buzz in the field as a potential future Olympian.
Alex is relatively intelligent, though she often fails to apply herself in class to her full potential. She rarely does poorly enough to warrant attention; rather, she tends to do just enough to avoid scrutiny while never managing to excel. Still, her academic issues lie more in motivation and self-confidence than in a lack of talent.
Backpack Contents
:
Private school supplies
Cellular phone (satellite linked, encrypted)
Fencing foil (dull, held in a separate sling and sheath)
Digivice
: D-Tector
Personality
:
Alex has perfected the art of performance. A disarming smile, a slight tilt of the head, the occasional nod as a conversation proceeds apace; Alex undoubtedly had all the tools needed to keep the world proceeding as it was meant to until the probing eyes moved beyond them. Still, there was no depth to be found in that affect. Alex's outward personality is a fabrication meant to satisfy onlookers and avoid scrutiny. Alex only allows her true self to emerge when she is alone and out of mind, and even then she only allows the barest sliver through the façade.
In truth, Alex is shy, fearful and anxious. She is mortified of earning the ire or judgment of others, and frequently agonizes over even minor daily decisions. Given the choice between doing her best and underperforming to avoid scrutiny, she will tend to choose the latter. She generally avoids making meaningful connections with others, fearing that that they will judge her for her true self – or, worse, reveal that true self to her family or to the world.
Appearance
:
Alex is a series of dichotomies: Short, but lanky; skinny, but strong. Standing at roughly five feet and four inches in height, Alex tends to dress with the intent to blend into the crowd. At home, that usually means simple, smart shirts with neatly pressed ties and semi-casual slacks. At school, they simply wear the assigned uniform. On rare occasions, when they are truly assured of their safety, they have been known to attempt a more traditionally feminine wardrobe – but a lack of both opportunity and inventory tend to limit these ventures in both frequency and novelty alike.
Their face is pale and largely free of blemishes. Their eyes are large and colored a deep, inviting brown; freckles dot their cheeks and reach ever so slightly up onto the bridge of their nose.
They carry themselves with grace and a steady gait, though it lacks certainty or conviction. Rather than moving forward with purpose, they tend to simply glide across the ground at a paced, consistent tempo. Their movements, at times, seem robotic and rehearsed.
FaceClaim
:
Ouran High School Host club
•
Haruhi Fujioka
• Axia
Personal History
:
Alexander Carroll was the latest firstborn heir in a family of American business mavens whose expertise and holdings stretched all the way back to their connections to one of the many English trade empires that thrived in the 18th and 19th centuries. Alex's mother entered labor some forty days earlier than anticipated, resulting in a calamitous conclusion to the pregnancy. Masterful medical intervention allowed the small, frail Alex to live, though the trial ultimately claimed his mother's life. As such, Alex was raised primarily by a caretaker hired by his father, whose business holdings kept him far too busy to tend personally to his only child.
From the time Alex began his proper schooling at age 5, he was constantly reminded of the role he would one day play in continuing the Carroll family legacy. Under his father's care, Carroll Holdings had weathered a number of economic downturns with minimal losses – and while the holding company certainly did not carry the same relative value that it once had in the olden days, it nevertheless remained as one of the more successful boutique financiers in the American business world. This meant that Alex's father was rather well liked by both his friends and his stakeholders alike – and as his father's only child and inevitable heir, expectations were high that Alex would one day pick up the standard and bear Carroll Holdings to ever grander heights.
Growing up, Alex was ever the dutiful child – albeit often perceived both by caretakers and educators alike as distant and occasionally aloof. In performance reviews and report cards, young Alex was noted as performing excellently up to the threshold that was considered acceptable or successful – but, notably, that they never strove to excel or surpass those expectations. Of course, these words rarely made it to the desk of Alex's father. He was far too busy to concern himself with such trifles, preferring to let his hand-picked caretakers oversee the training of his future heir.
Of course, this practiced mediocrity propagated for a reason. In truth, Alex was mortified of his father and of the role he was destined to play in his father's company. At around the age of 12, Alex began to realize that something about himself did not feel quite right. Somehow, he knew that who he was – who he had been told to be all his life – was not who he was meant to be. It was an ephemeral thing, difficult to explain and even more so to properly identify. In time, though, he came to learn what specific things made him so uncomfortable… As well as the alternatives that made her feel, at last, like she belonged in her own skin.
By the age of fifteen, she had a good sense of who she was meant to be. Still, she knew that she could never act upon such a foolish impulse. Distant as her father was, Alex knew that the present status quo would exist only as long as she did not rock the proverbial boat. Even the slightest ripple out of line would no doubt bring her father's roiling, vaguely-hidden wrath crashing down upon her… And something like this? Alexander Carroll III was many things, but socially open and accepting was notoriously not one of them.
She could never let anyone else know. She would hold onto this secret until… Until she saw an opportunity. But what if one never came? What if she was forced to live this façade forever?
In time, a dull, heavy pall settled over young Alex. To outside observers, the heir grew even more distant as the years advanced. Many blamed their quiet, avoidant temperament on the circumstances of their birth; they had been rather sickly in their youth, after all, and while most of that had faded in the years hence (they never had grown very tall, a fact that secretly delighted Alex) the popular consensus remained that Alex's emotional distance derived from those childhood health troubles.
The truth, of course, was far simpler and less ephemeral. Alex's distance was a manner of self-defense; if she simply avoided feeling anything at all, then the pain of her misguided identity did not sting quite as much. She had resigned herself to never living authentically as who she wished to be – so instead she persisted as a drone, content to simply move through the world unhindered by desires or aspirations of any sort.
Would that it were so easy.
Approximately six months ago, Alex was greeted with a rather startling revelation; their father intended to expand and diversify the international investing wing of his conglomerate to Japan, and as such he intended to relocate his main place of business to Tokyo in order to better oversee the expansion efforts. This, of course, meant that Alex was to follow along. Certainly it stung a bit to leave behind the friends that Alex had made in the States. Ultimately, though, they dared not make a fuss about it. It was, as usual, simply easier that way.
SPIRIT USER'S INITIAL EVOLUTION LINE
Spirit Element:
Chaos
---
Sprite SpiritSpecies
: Tinkermon
Appearance
: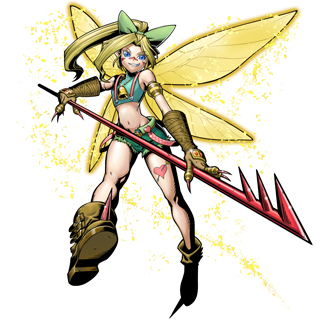 Attribute
: Virus
Family/ies
: Wind Guardians
Type
: Fairy
Fighting Style
: Flash Lancer
Tinkermon specializes in quick hit-and-run strikes, preferring to buzz in and stab at her target before retreating to the relative safety of the air. This makes her rather effective at dueling single targets, though she quickly gets overwhelmed with faster foes or hordes of opponents.
Abilities
:
[li]Glamour Lance: Stabs the target with a hallucinogen-laced spear. Induces minor hallucinations in those susceptible to toxins, causing confusion. Duration: 1 post. Cooldown: 1 post.[/li]
[li]Glamour Claw: Slashes at the target with hallucinogen-laced claws. Far shorter range, but more potent effect than Glamour Lance. Duration: 2 posts. Cooldown: 2 posts. [/li]
[li]Pixie Sting: Slices at the target with the serrated edge of the user's lance. No additional effects.[/li]
[li]Glimmer Drive[/li]Beats her wings, spreading light-refracting glitter dust in the air. Useful for evasion or escape. Cooldown: 2 posts.[/li]
Digivolves From
: N/A
Digivolves To
: Petermon
---
Human SpiritSpecies
: Petermon
Appearance
:
Attribute
: Data
Family/ies
: Wind Gurdians
Type
: Fairy
Fighting Style
: Flash Fencer
Similar to Tinkermon's style, albeit more prone to prolonged close-range encounters with a pair of short blades. Very crafty and fond of the use of poisons.
Abilities
:
[li]Twin Slicer: Brandish both blades at once, striking at the opponent's vitals. No additional effects.[/li]
[li]Phantasia Foil: Attack with the left blade, which inflicts a strong hallucinogenic poison. Duration: 3 posts. Cooldown: 5 posts.[/li]
[li]Chaotic Saber: Strike with the right blade, which can phase through defenses at the user's will. Cannot be blocked by adult-level targets or weaker; must be dodged. Cooldown: 2 posts. [/li]
[li]Sidhe Strike: a surprisingly quick blow delivered with a flip through the air, aiming to strike the crown of a target's head with the sharp heel of a tough boot.[/li]
[li]Quiver Step: Flits through a cloud of pixie dust, reappearing up to ten yards in any direction.[/li]
Digivolves From
: Tinkermon
Digivolves To
: Toropiamon
---
Beast SpiritSpecies
: Toropiamon
Appearance
: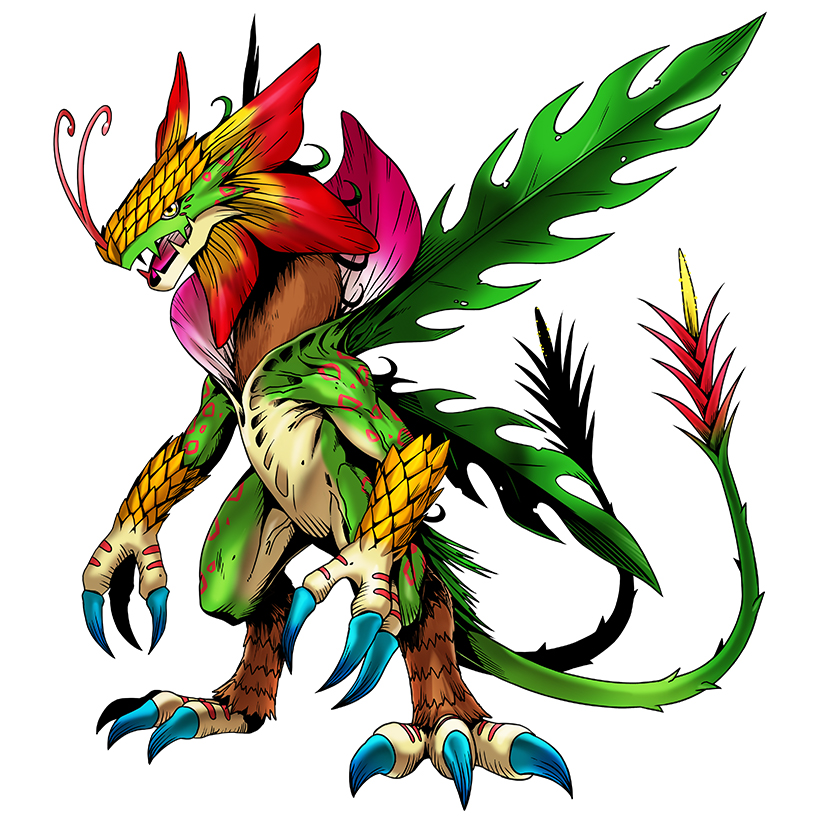 Attribute
: Virus
Family/ies
: Wind Guardians
Type
: Plant
Fighting Style
:
Abilities
: [7 Abilities Max]
Digivolves From
: Petermon
Digivolves To
: Rosemon
---
Fused SpiritSpecies
: Rosemon
Appearance
: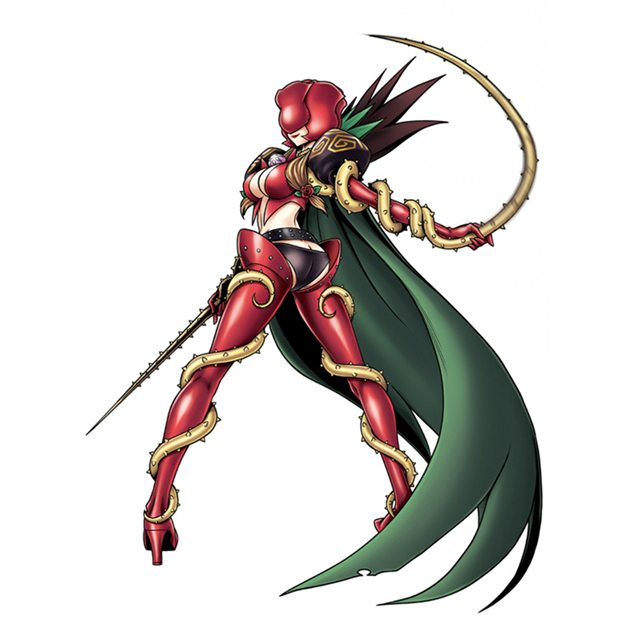 Attribute
: Data
Family/ies
: Jungle Troopers, Wind Guardians, Nature Spirits
Type
: Fairy
Fighting Style
:
Abilities
: [9 Abilities Max]
Digivolves From
: Toropiamon
Digivolves To
: Rafflesimon
---
Ancient Spirit
Species
: Rafflesimon
Appearance
:
Attribute
: Data
Family/ies
: N/A
Type
: Fairy
Fighting Style
:
Abilities
: [10 Abilities Max]
Digivolves From
: Rosemon