Post by Deleted on Sept 5, 2014 17:51:45 GMT
Name
:
NAKANO Koharu
Alias
:
None
Age
:
14
Gender
: Female
Height
:
165 cm
Weight
:
55 kg
Alignment
:
Neutral
Birth Date
:
23rd September
Birth Place
:
Tokyo
Talents/Skill/Weakness
:
+ Jack of All Trades: Good, but novice-ish at stuffs such as various sports, playing games and music
+ Domestic skill: Koharu is good at cleaning, cooking and other house chores
- Master of None (Fickle): She would drops anything she find boring
- Undependable
Personality
:
Koharu is best described as cheerful, a bit teasing and positive, at least on outside. Outgoing and social, Koharu loves to make new friends and generally won't shy to approach someone. She got a quirky nature where she would often say 'leave it to Oneechan (referring herself)!' when someone needs her help, even to her senior. Koharu might be a bit outspoken, but she means no harm from it. Yet, those are generally accompanied by lies. Koharu wishes everyone to like her and will not hesitate to spin any sort of lies for that.
Koharu inside her house is a very indifferent girl and would generally acts cold or even very depressed. Using outside world as a meant of escape from her much more talented younger sister, she often tries to hang out somewhere else for a long time. Probably, that's the reason why she tried a lot of stuffs. Despite so, never she have any dedication to stuffs she picked. Music, sport, literature... she never really stick on one and do it until the end. Once she got bored, she'll leave stuffs she liked before just like that.
To her partner, she loves to tease her and would often poke fun at her. Commandramon's all serious attitude felt like an anti-stress matter to her, probably, that's why she would stick to her whims.
Appearance
:
Koharu's appearance follows tomboy stereotype. She cut her brown hair short, only barely reaching half of her neck. Her bangs slightly cover her right eye, but there's no meaning to it. She just love it. Her eyes colored slightly to amber spectrum. She sports slightly tanned complexion from lots of outdoor sports and is rather fit. Koharu carries herself with air of confidence and cheerfulness, akin to a playful puppy. She generally took long step when walking.
For her everyday outing wear, she generally wear short denim pants, short sleeved black t-shirt with a jacket resembling cameraman's vest. To her, having more than six pocket is reassuring, so the sum of her pockets must be above six. Sometimes, she wears green scarf on her neck.
Personal History
:
Koharu is the second daughter of her family. She maintained very distant relationship with her younger sister and parents. While no one can say she's talentless, for her, she is talentless, at least compared to her little sister. Her parents were the type that want their children to follow the routes they decided. At first, they did it to Koharu. Koharu did well, but well is just well. It's not enough for her parents. Before her sister shows her amazing talents, Koharu is forced to satisfy her parents demands. Despite the amount of stress, she wished to see her parents praise her.
But it all changed when her sister shows much more brilliant talent than her. Her parents no longer cared for her efforts and result, preferring her sister's result over hers. Despite her best effort to show her works, her school score, they always brushed it aside and told her to learn harder disinterestedly. Pressure was nothing compared to that kind of treatment where they put her sister on a high pedestal while they ignores her. Koharu slowly hates spending time in her home and would often crash at Ryouta's house, not caring even if she have to go to Shibuya just to do that.
While Koharu's grades never actually dropped significantly, she becomes very fickle. If she found something boring, she would drop it the moment she feel it's pointless to continue. She also become very socially needy. She wanted to be liked by everyone as result of her parents brushing off all her efforts.
Backpack Contents
:



Cellphone



D-Terminal



Sport Drink



Digivice
:
D-3 with marine grip and white body.
---
Partner's Name
:
-Called with Species Name-
Default Form
: Commandramon
Gender
:
Female
Alignment
:
Lawful Good
Skills/Talents
:
Sniping
Military Hand Signals
Tactical Prowess
Personality
:
Nicknamed 'Kon-chan' by Koharu. Commandramon could be said as quite justice driven fellow. She's always acting all serious and really hate it when her partner just like that acts so carefreely. Despite her getting angry all times, yelling and shouting at her human partner, the young girl always managed to turn her words and ended up silencing her. Discipline is her code. Proud and hate to lose, Commandramon generally is very competitive and always tries to be the number one. She hates peoples that lazes off at work. As you can guess, her motto is 'Those who works hard will get rewarded. Those who slacks off will get punished'. Overall, this Digimon is really loudmouthed.
Strangely, it's seem that Koharu's Commandramon have a strange tie with Karin's Pawnchessmon.
DIGIMON'S INITIAL EVOLUTION LINE
---
Appearance
:
Fresh
:
Bommon
Attribute
:
None
Family/ies
:
Type
: Slime
Attacks
: [1 attack]
Crackle Crack Crack!: Shoot of fire sparks from its fuse
Digivolves To
: Missimon
---
Appearance
: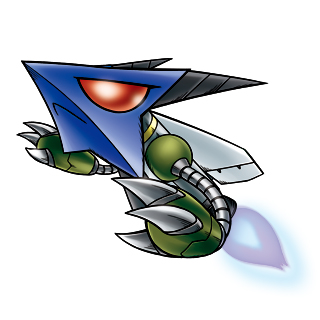 In-Training
:
Missimon
Attribute
:
None
Family/ies
: None
Type
:
Machine
Attacks
:
Missile Scorch: With the jet on its backside, blast off with it pointed to enemy's face. An escape move
Arrowed Charge: Speeds off and attack enemy with its sharp tip
Digivolves To
:
Commandramon
---
Appearance
:
Rookie
:
Commandramon
Attribute
:
Virus
Family/ies
:
ME
Type
: Cyborg
Attacks
:
M16 Assassin: Commandramon's M16 Assassin have two modes. One where she simply shoot it off in return for the ability to move while shooting, and another where she snipe. Sniping mode have better accuracy and chance to deal critical, but she may not move and would have her evade rate decreased for that turn.
DCD Bomb: Toss small bomb at the enemy. The AoE is about a meter radius. Generally would stun for that turn. Cooldown for one turn.
Riot Shield: Summon out riot shield to be used as defense mean. If she employ this, she may not use her gun and would have to do with just pocket knife. Can be deactivated anytime, no special properties.
Digivolves To
:
Sealsdramon
---
Appearance
: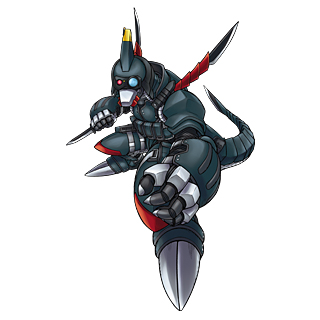 Champion
:
Sealsdramon
Attribute
:
Virus
Family/ies
:
ME
Type
: Cyborg
Passive:
Enhanced Aquatic Performance:
In water, Sealsdramon's performance is 10% better
Attacks
:
Camouflage: Prepare one turn for vanishing. In that one turn, Sealsdramon cannot do anything other than preparing her camouflage. The turn it's activated, choose one of the three clue of presence to be lowered down significantly: Presence, Smell, Appearance. On the next turn, she'll blend with her surrounding, decreasing all three clue of presence. Active for two turns, cooldown for two. All attacks done successfully in Camouflage mode raises critical chance. All attacks done in Camouflage mode cancels camouflage.
Vital Focus: Scans for enemy's vital points, granting more chance to get critical. Active for one turn.
Death Behind: Ambush attack with bomb or shot or knife stab. Generally paired with Camouflage, increasing the effectiveness further.
Rifle Assassinate: Improved version of M16 Assassin.
Digivolves To
:
Tankdramon
---
Appearance
: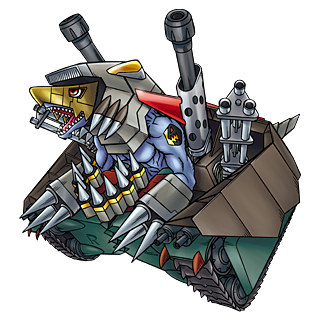 Ultimate
:
Tankdramon
Attribute
:
Virus
Family/ies
:
ME
Type
:
Machine
Attacks
:
Anti Aircraft Assault: Shoot out two homing missile at airborne enemy. If it's used on land enemy, the damage is decreased. Cooldown for one turn
Striver Cannon: Shoot out napalm like bomb that scorches area on radius of 30 meters from its landing spot. Effective for three turns, cooldown for three turns.
Lay Landmine: Strategically deploys stealthbots to lay down landmines at three different places. The landmine is active for two turns and would detonate if anyone came at least a foot from where it laid. The damage results electrocution damage that gives chance of stun for a turn. Cooldown for three turns if successful.
Gatling Cannon: Rapidly shoot twenty shots of bullets in short time in quick succession
Siege Mode: All attacks changed into 'aimed mode' where it'll be 10% more accurate. Tankdramon may not move.
Digivolves To
:
Darkdramon
---
Appearance
: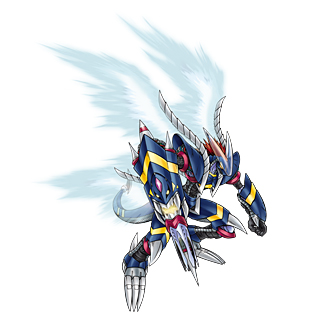 Mega
:
Darkdramon
Attribute
:
Virus
Family/ies
:
ME
Type
:
Cyborg
Passives:
Spark Particle: Darkdramon's physical attacks may be changed into electric based anytime. During this time, her wings will let out fire sparks.
Focused Target: Darkdramon have heightened focus toward her enemies. High resistance to mind control attacks
Attacks
: [6 attacks]
Vital Pierce: Grabs her enemy and injects terrible energy inside them if successful
Gungnir: Descends vertically and attempt to hits the enemy with dark matter coated spear. Hitting the ground, all enemy on three meter radius will feel intense gravity that assault them, attempting to lay them to the ground. 1 post cooldown
Killer Gaze: Shoot out laser from her eyes. The effect is similar to being bombarded by bombs, exploding when hit.
Sensory Radar: Activate radar. Active for two turns. At the turn it's active, all her offensive skill will be 10% weaker, but in return, raises awareness and able to scan invisible attacks. Cooldown for three turns.
Demon Lance: Shoot down dark matter from it's lance in shape of projectile that will explodes, reaching 30 meters outward quickly. Deals physical damage and generates gravity field for three turns. Cooldown for three turns.
Plasma Saber: Extends Gigastick Lance to desired length for two turns (can be less). The longer it is, the harder to control. Cooldown for one turn.