Post by Lilith on Dec 1, 2015 17:26:12 GMT
So with Lilith here being newly created, I would like at some point for someone to possibly play her sister. If you are interested I would like to discuss some things with you. I have the basics on the profile already filled in. The current evolutions are so that they parallel Lilith's. Any others are up to you, though I do have ideas for some and a general idea for DNA if they get around to doing that ever.
When Lillian first hatches, she and Lilith will not run into each other, until at least rookie, possibly champion. Ask if you have any questions.
Profile for Lillian
Name
: Lillian
Default Form
: Up to you
Gender
: Female
Alignment
: Good
Skills/Talents
:
Very Agile - Lillian has cat-like reflexes and is very good at dodging. When given fight or flight she prefers to keep people on their toes by mostly dodging. She also has incredible balance and like most cats, always lands on her feet.
Keen Eye Sight/Hearing- She can see well, from far away or in the dark. She also can hear very well, like a cat can.
Kitty Sense - sort of like a spidey sense. She has a feeling when things are behind her and isn't as easy to spook.
Stealth - She is very good at sneaking around, and being stealthy.
Inventory:
Up to you
Personality
:
You can describe this but something to keep in mind is Lillian is very kind and motherly to others. She used to take care of Lilith and protect her, and likes to guard weaker digimon.
Personal History
:
Read Lilith's history, and from there you can make some changes for it to be from Lillian's point of view, or what happened after the Demon. Did she survive but die later? Or just not happen to hatch at the same time as Lilith? We can discuss this as well.
DIGIMON'S INITIAL EVOLUTION LINE
---
Appearance
:
Fresh
: Yukimibotamon
Attribute
: N/A
Family/ies
: N/A
Type
: Slime
Attacks
:
Bubble Blow
- She shoots a stream of bubbles from her mouth.
Digivolves To
: Nyaromon
---
Appearance
: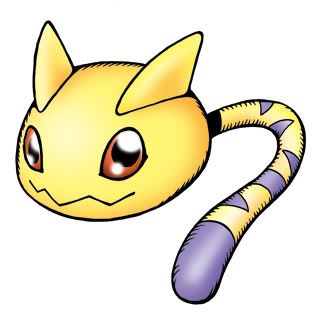 In-Training
: Nyaromon
Attribute
: N/A
Family/ies
: N/A
Type
: Lesser
Attacks
:
Up to you
-
Tail Whip
- She slaps the enemy with her tail.
Digivolves To
: Akaruinyamon
---
Appearance
:
Rookie
: Akaruinyamon
Attribute
: Vaccine
Family/ies
: Virus Busters, Nature Spirits
Type
: Mammal
Attacks
:
Name
-
Name
-
Name
-
Digivolves To
: Gatomon
---
Appearance
: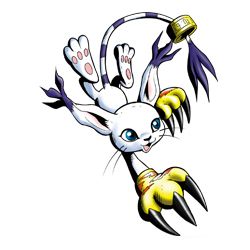 Champion
: Gatomon
Attribute
: Vaccine
Family/ies
: Virus Busters, Nature Spirits
Type
: Holy Beast
Attacks
:
Name
-
Name
-
Name
-
Name
-
Digivolves To
: Angewomon
---
Appearance
:
Ultimate
: Angewomon
Attribute
: Vaccine
Family/ies
: Virus Busters, Nature Spirits, Wind Guardians
Type
: Archangel
Skills
:
- Flight in this form she is capable of flying
Attacks
:
Name
-
Name
-
Name
-
Name
-
Name
-
Digivolves To
: Ophanimon
---
Appearance
: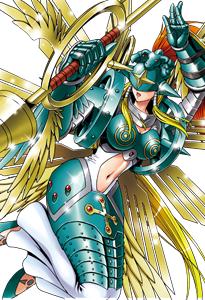 Mega
: Ophanimon
Attribute
: Vaccine
Family/ies
: Virus Busters
Type
: Ophan
Attacks
:
Name
-
Name
-
Name
-
Name
-
Name
-
Name
-
---
For Copy Paste
[b]Name[/b]: Lillian
[b]Default Form[/b]: Up to you
[b]Gender[/b]: Female
[b]Alignment[/b]: Good
[b]Skills/Talents[/b]:
Very Agile - Lillian has cat-like reflexes and is very good at dodging. When given fight or flight she prefers to keep people on their toes by mostly dodging. She also has incredible balance and like most cats, always lands on her feet.

Keen Eye Sight/Hearing- She can see well, from far away or in the dark. She also can hear very well, like a cat can.

Kitty Sense - sort of like a spidey sense. She has a feeling when things are behind her and isn't as easy to spook.

Stealth - She is very good at sneaking around, and being stealthy.

[b]Inventory:[/b]
Up to you

[b]Personality[/b]:

You can describe this but something to keep in mind is Lillian is very kind and motherly to others. She used to take care of Lilith and protect her, and likes to guard weaker digimon.

[b]Personal History[/b]:

Read Lilith's history, and from there you can make some changes for it to be from Lillian's point of view, or what happened after the Demon. Did she survive but die later? Or just not happen to hatch at the same time as Lilith? We can discuss this as well.

[div align="center"][b]DIGIMON'S INITIAL EVOLUTION LINE[/b][/div]

[hr]

[i]Appearance[/i]:
[img style="max-width:100%;" src="http://i16.photobucket.com/albums/b44/miyuki_ayumi/Digimon/YukimiBotamon.jpg"]
[i]Fresh[/i]: Yukimibotamon
[i]Attribute[/i]: N/A
[i]Family/ies[/i]: N/A
[i]Type[/i]: Slime

[i]Attacks[/i]:

[b]Bubble Blow[/b] - She shoots a stream of bubbles from her mouth.

[i]Digivolves To[/i]: Nyaromon
[hr]

[i]Appearance[/i]:
[img src="http://i16.photobucket.com/albums/b44/miyuki_ayumi/Digimon/Nyaromon.jpg" style="max-width:100%;"]
[i]In-Training[/i]: Nyaromon
[i]Attribute[/i]: N/A
[i]Family/ies[/i]: N/A
[i]Type[/i]: Lesser

[i]Attacks[/i]:

[b]Up to you[/b] -

[b]Tail Whip[/b] - She slaps the enemy with her tail.

[i]Digivolves To[/i]: Akaruinyamon
[hr]

[i]Appearance[/i]:
[a href="https://dl.dropboxusercontent.com/u/28498545/digimon/akaruinyamonssheet.png"][img style="max-width:100%;" src="https://dl.dropboxusercontent.com/u/28498545/digimon/akaruiturnaroundSM.gif"][/a]
[i]Rookie[/i]: Akaruinyamon
[i]Attribute[/i]: Vaccine
[i]Family/ies[/i]: Virus Busters, Nature Spirits
[i]Type[/i]: Mammal

[i]Attacks[/i]:

[b]Name[/b] -

[b]Name[/b] -

[b]Name[/b] -

[i]Digivolves To[/i]: Gatomon
[hr]

[i]Appearance[/i]:

[img src="http://i16.photobucket.com/albums/b44/miyuki_ayumi/Digimon/Tailmon2_zpsewp2gbyj.jpg" style="max-width:100%;"]

[i]Champion[/i]: Gatomon
[i]Attribute[/i]: Vaccine
[i]Family/ies[/i]: Virus Busters, Nature Spirits
[i]Type[/i]: Holy Beast

[i]Attacks[/i]:

[b]Name[/b] -

[b]Name[/b] -

[b]Name[/b] -

[b]Name[/b] -

[i]Digivolves To[/i]: Angewomon
[hr]

[i]Appearance[/i]:

[img style="max-width:100%;" src="http://i16.photobucket.com/albums/b44/miyuki_ayumi/Digimon/Angewomon_collectors_zpselokilvk.png"]

[i]Ultimate[/i]: Angewomon
[i]Attribute[/i]: Vaccine
[i]Family/ies[/i]: Virus Busters, Nature Spirits, Wind Guardians
[i]Type[/i]: Archangel
[i]Skills[/i]:
- Flight in this form she is capable of flying
[i]Attacks[/i]:

[b]Name[/b] -

[b]Name[/b] -

[b]Name[/b] -

[b]Name[/b] -

[b]Name[/b] -


[i]Digivolves To[/i]: Ophanimon
[hr]

[i]Appearance[/i]:

[img src="http://i16.photobucket.com/albums/b44/miyuki_ayumi/Digimon/Ofanimon_collectors2_zpsfwnt1qta.png" style="max-width:100%;"]

[i]Mega[/i]: Ophanimon
[i]Attribute[/i]: Vaccine
[i]Family/ies[/i]: Virus Busters
[i]Type[/i]: Ophan

[i]Attacks[/i]:

[b]Name[/b] -

[b]Name[/b] -

[b]Name[/b] -

[b]Name[/b] -

[b]Name[/b] -

[b]Name[/b] -



[hr]