Post by Alicia Westfield on Feb 17, 2016 1:29:57 GMT
Name
: Alicia Westfield
Alias
: N/A
Age
: 22
Gender
: Female
Height
: 5'7"
Weight
: 176lbs
Alignment
: Chaotic Good
Birth Date
: April 1st
Birth Place
: Houston, Texas
Skills/Talents
: Trained Mechanic - Alicia's pretty good with machines. Nowadays, there's not many human vehicles she can't get running again with enough time, money, and parts; which is good considering its her job to fix them.
Cooking - A hold over from the job she had attempted to pursue, Alicia's somewhat competent in the kitchen. Enough to survive on and still eat decently at least.
I'll Sleep When I'm Dead! - While questionable as to how safe this is, Alicia's one to slave away at something until the job is done, and heaven help anyone that tries to slow her down anymore then what is required. This isn't to say she's capable of the impossible, but when reaching for something that could feasibly be done, she's not one to give up easily. A near death experience can do much to temper the soul of a human.
Personality
: A vocal young lady, Alicia can come off as rather brash to strangers as there is little she won't put in her own two cents in on if she feels like it. She speaks her mind much more freely then most, and is of the 'easier to ask forgiveness' mentality. That isn't to say she's out to antagonize others though; often times the contrary is true. She does try to not incite others to anger but no one is perfect. Unfortunately she's often rough and standoff-ish with friends and strangers alike; sometimes without even realizing it. Further complicating things is she's not one to butter things up so they're easier to swallow. Too her, things are the way they are and if someone wants to change them they better put some muscle into it instead of whining about it. Alicia has a bit of a temper hidden under everything as well, and is prone to flying into momentary tirades under the right circumstances. But as much as she is want to speak at length at times, she's pretty good at listening to others as well. She was often ready to give some manner of encouragement to those who did more then just voice their troubles, and was honestly a reliable friend once one got past her personal quirks.
Appearance
: With her line of work, it was unsurprising that she was rather lean in build and bared toned muscle just underneath her white skin. Her's was an average figure, neither something that would turn heads as she passed by nor distasteful to view should one be paying attention to her. Vibrant red locks cascaded from Alicia's head, reaching down to about the middle of her shoulders and curled up but otherwise allowed to flow free. Some of those same curls of hair were pulled forward to frame sharp green eyes in contrast to her soft facial features. Yet despite that softness, her expression was marred by a shallow scar running from the bridge of her nose to the far corner of her right cheek. Still, as if in defiance of the injury, she had a pair of pegasus earrings on her at all times. She wore a light black jacket over her blue T-shirt emblazoned with "No excuses in life" in white in two lines over her chest. Over that, resting high up on her chest, was a small golden pendant on a chain. Blue jeans and black boots finished her attire, pulled over fairly long legs. She seemed like the kind of person who would never let the world knock her down for very long all in all, and was clearly confident in that strength as well if her beaming smile was any indication.
Personal History
: Life was not exactly a trail of sunshine and roses for Alicia and her family. With two brothers older then her by only a few months, her parents were hard-pressed to make the necessary funds to do right by the three children. Still, they'd managed to make something work, even with both taking jobs that didn't exactly pay exceptionally well. Certainly the trio was never starved for affection. They were put into good schools despite the strain it placed on the bank, and each of the three succeeded fairly well because of it. And with the siblings sticking together as they did, bullies were never a problem for them. It certainly seemed like each child had a bright future ahead of them, and it would be one faced together.
Come the mid teens, each of the children had settled on what it was they would strive for. Jeremy, the eldest of the three, found his calling in sports; more specifically he enjoyed playing basketball. Morgan meanwhile found his metaphorical spark as a tailor, having a boundless heart for creativity. As for Alicia, far too many days of the Food Network Channel inspired her to attempt becoming a chef. Of course, with such divergent interests, the trio knew that while they would eventually have to part ways if they wished to pursue their dreams. Thus is was decided that they'd get something to always remember their precious family by. With the help of their dear mother and father, a bright family photo was taken, copied, and placed into three lockets on necklace chains, so that they would always carry the others with them, right by their hearts.
Thus the bittersweet day came, the siblings parted ways, swearing to never lose their precious lockets and to never forget one another, no matter what may come to pass. Alicia had taken an interest in Japanese cuisine in particular and focused upon it, coming to Japan at the earliest possible time in the hopes of studying at a culinary school there. Alas, plans fell through despite her efforts. At every turn, she found herself turned away before she even got a foot in the door, and what savings she had managed to amass while she was growing up would bleed dry at that rate. Like an over eager fool she had not anticipated the possibility of failure, her dream laid in pieces for the time being. Truly it was only her family locket that kept her from wallowing in despair and, with her brothers and parents close to heart just as they'd all promised, Alicia soldiered on, coming to a quaint mechanic's workshop looking for a new hire.
It was something she was capable of, and the aged owner of the shop was offering good pay despite her lack of training. A contract was closed, and despite coming to train as a chef, Alicia now found herself as an apprentice under a mechanic. She proved herself a diligent employee, directing her focus and determination towards making a living in her new line of work while every day keeping her eyes on the prize she sought. As humans are want to adapt to their situation, though, the young woman found herself starting to enjoy the work and noise of the place. She certainly still wanted to be a chef, that dream had never died, but she decided that the life of a mechanic was a more then acceptable substitute. Little did Alicia know, though, the little shop was soon to be a stage, hosting a fight for her very life.
It was a night she would never forget even a single detail of, Alicia had just turned 21 a few days ago. She was all by herself, beginning to close the shop up, when a drunken robber had crept up behind her, knife pulled and ready to draw blood. As he gripped her, she instinctively flailed, the knife aiming for her throat instead bit into her face, from nose to cheek. Pain driving her on, she pulled from his loose grasp and swung with the wrench she was just about to pack up, knocking her assailant unconscious with the wild but solid strike. Breath coming hard and fast from adrenaline, it took her a few moments to remember to call authorities to report the incident. She knew she was lucky to be alive. The scar on her face that the knife wound had become would be an eternal reminder, the grim reaper had come for her early only to find nothing but air in its grasp. Life marched on from that night, but for Alicia a drunk crook would shortly be the least of her worries...
Backpack Contents
:
Mechanic's tool box
Cellphone
Motorcycle keys
Digivice
: A D-Scanner with a gunmetal gray body, black grips, and gold buttons and scanner port
---
SPIRIT EVOLUTION LINE
Spirit Element:
Steel
---
Appearance
: Standing about four feet tall, this small dragon is coated head to tail tip in yellowish-red rust that is her name sake. Her body is rather bulky for its size, and there are numerous pits and cracks in the outermost 'shell' that makes up that bulk. That same segmented shell is structured somewhat like aged medieval knight armor, if such a suit were forged with a draconic theme in mind, though the eyes are visible instead of hidden behind grating. The back of the saurian head is adorned with the rusted fragments of what were once four horns. A blackened, cracked gem sits at the base of the neck, wrapped loosely in two chains, one black and one white. The arms are of average length for a humanoid frame save that the hands sport broken sets of five claws. The longest of them, the only one that hasn't had pieces broken off, is five inches in length, with the others at least an inch shorter, sometimes more. The tail is fairly rigid, the only flexibility coming from bolted sections on each thick segment allowing for a small amount of sideways motion. Gaps in this tail shell show a more natural and flexible tail is contained within. The legs end in digitigrade feet that, ironically enough, are the most intact part when it comes to the armored shell Rustdramon bears.
S-Hybrid Spirit
: Rustdramon
Attribute
: Data
Family/ies
: Dragon's Roar, Metal Empire
Type
: Mini Dragon
Attacks
:
Corrosion Fang - Rustdramon lunges and bites down on the target, 'rusting' the target by corrupting their data for an instant, wracking the opponent with pain.
Shard Breath - Rustdramon spews a small tornado at the target, carrying many small and hard shards of rust, slicing into whatever they come into contact with.
Digivolves To
: Steeldramon
---
Appearance
: Another human-like figure standing 5'7", ShadowArmsdramon departs from the normal appearance or attire of the other forms by taking on a ninja-like out look. With her head shrouded in a dark blue hood and her nose and mouth covered in a black mask, all that can be seen with in it are glowing red eyes. The ninja dragon is wrapped from neck to toe in a skin tight black dark blue skin tight body suit. That suit is then covered further with blackened steel plates adhered to it over vital points to assist in protection. Black chains also wrap around the ninja dragon's arms and legs. Around the waist is a thick leather belt lined with many pouches. A claw gauntlet rests over each hand, deploying three long blades each when active. Black, wisp-lined wings spread wide from her back, allowing ShadowArmsdramon the ability to fly. A similar wisp-emitting tail, a good foot and a half long, lashes about behind her, waiting to be put to use. With the tail tipped in a wicked blade, ShadowArmsdramon was set to strike any enemy from any angle.
H-Hybrid Spirit
: ShadowArmsdramon
Attribute
: Virus
Family/ies
: Dragon's Roar, Nightmare Soldiers
Type
: Dragon Man
Attacks
:
(Passive) Always Armed by Darkness - ShadowArmsdramon can take her shadow off the ground and convert it into a traditional melee weapon of any type she has seen before that she can hold. Forming a weapon normally takes up ShadowArmsdramon's full turn, and a weapon must be dismissed and reformed in order to change types, taking up another turn. See "Dance of Shadow (Night)" for the only exception.
(Attack) Dance of Shadow (Day) - In a sufficiently shaded area, ShadowArmsdramon can step into a large enough shadow (must be approximately double her height) for a moment to dodge an incoming attack. She can also use this for short distance teleportation. This requires line-of-sight to the target area and that the target area also have a sufficiently sized shadow. 2 Post Cooldown.
(Passive) Dance of Shadow (Night) - ShadowArmsdramon loses her teleportation from Dance of Shadow (Day), instead trading it in for higher speed, 50% more to be exact, and ability to add extensions to her claws by condensing shadows onto them. This can add a foot of length to her claws. Weapons created by "Always Armed by Darkness" form instantly and are malleable to the point of changing mid-swing one post after the initial creation and are stronger then before. Introducing a bright light into the area immediately disables this passive for the duration of the light and breaks a weapon made by "Always Armed by Darkness."
(Attack) Shadow Steel - ShadowArmsdramon pulls one of her shurikens out and breaths darkness onto it, growing it into a large phantom four feet across. This phantom star is then thrown at the target and can be somewhat adjusted in trajectory, and capable of flying a moderate distance before its power fades away. (Example, opponent turns and runs to a diagonal away from the star. It can be turned to catch them. Sharp changes in position, such as rolling directly to one side or the other, is enough to make this attack miss.)
Night Shredder - Deploying the gauntlet claws, ShadowArmsdramon dives upon the target from the night sky, twisting and tearing at the opponent
Whispering Star - Pulling many shurikens from her pouches, ShadowArmsdramon lets loose with repeated barrages of steel from all directions
Digivolves To
: Mercurialdramon OR Cybercursedramon
---
Appearance
: Metalumindramon is a large dragon of the more traditional western variety, standing ten feet tall at the shoulder with her neck caning up adding another two feet of height. Her head is completely encased in a solid silver helm, save for her eyes which are free to gaze around. The helmet is adorned with a rainbow gem in the shape of a teardrop, set in the forehead. Her neck is coated in overlapping silver plate, coming down to her broad chest and wide-set stance. Each leg is encased in golden armor, and each is set with a different gem stone in the shoulders or hips. The left fore leg has a ruby. The right fore leg holds a sapphire. The right rear leg bares an emerald. Finally the left rear leg gleams with an amethyst. The tail stretches out for 4 feet, entirely coated in numerous golden spines. From Metalumindramon's back sprout two sets of wings, one set at the shoulders and the other only a few inches behind those, angled farther back. Each wing is set with many metal feathers shimmering and slowly changing between the various colors of the rainbow even if no light shines upon them.
B-Hybrid Spirit
: Metalumindramon
Attribute
: Vaccine
Family/ies
: Dragon's Roar, Metal Empire, Virus Busters
Type
: Holy Dragon
Attacks
:
Metal Juggernaut (Passive) - Metalumindramon's armor isn't just for show, it's a sturdy and ever present protection against enemy attack. Against Ultimate level foes this armor is good for shaving off up to thirty percent (30%) of an attack's over all damage. Against Champions, it shaves off half (50%) their power, anything below can't even scratch the armor. Even Megas suffer a minor reduction to their offensive potential against this armor, ten percent (10%) of the power can be shrugged off.
Super Megas naturally ignore this armor completely, and attacks noted specifically for piercing heavy armor ignore this passive on top of any additional effects they have. Also, due to the bulk of this armor... Well lets just say Metalumindramon won't be winning any kind of race any time soon with the speed reduction the armor imposes upon Alicia. Her wings are still more then strong enough to get her airborne despite the weight, though.
Star Steel Meteor - Taking to the skies, Metalumindramon can turn her heavy armor into a weapon in it's own right, allowing her to slam down and crush any unfortunate opponent she catches between her feet and the cold and unforgiving ground. Due to how heavy her armor is, this dive bomb style attack can actually be initiated surprisingly fast if she's already airborne given that it uses gravity to Alicia's advantage instead of fighting against it, and also makes the attack marginally more powerful then one would expect. (1 Post Cooldown)
Radiant Steel - Metalumindramon wheels around, swiping her tail and releasing spines from it which sear the target on successful hits.
Rainbow Burst - Metalumindramon rears up and roars, gathering energy in her forehead gem before sprouting a horn from it and stabbing the opponent, releasing the pent up blast with in the opponent's body.
Mirror Shell - Conjures a large steel dome over Metalumindramon, protecting her from assault briefly and reflecting energy-based attacks back to their source.(2 Post Cool Down)
Digivolves To
: CoreTitandramon OR SaberTitandramon
---
Appearance
: In a strange return to some old roots, CoreTitandramon returns to being gunmetal gray in color compared to the technicolor Metalumindramon and the pitch black Cybercursedramon. The beast is more brachiosaur like then dragon, sporting no wings but an immensely long neck and tail on a bulky, four-legged body. Not counting lifting her neck up, CoreTitandramon stands at thirty feet tall at the shoulder. The maw appears toothless, instead biting enemies is handled by the molded plates fitted over the maw which are sharp enough to create a scissor like affect upon anything caught within. CoreTitandramon possesses no note worthy spikes, blades, claws or talons anywhere on her body, a strange departure from her previous forms. Instead, as smooth as the steel armor is, large coils of muscle could be seen pulsing just underneath the flesh that wasn't coated in metal. Given how long her neck tail were, nearly as long as her body was tall, all that muscle made it clear what CoreTitandramon's primary methods of attack were. On top of that, the black and white chains make a return, coiling at CoreTitandramon's feet in alternating colors. Built like a harness around the base of CoreTitandramon's neck now, the same gem from Steeldramon pulses wildly. The gem seems unable to 'decide' whether to be as brilliant as the sun or as black as a moonless night, rapidly twisting between the two extremes.
A-Hybrid Spirit
: CoreTitandramon
Attribute
: Data
Family/ies
: Dragon's Roar, Metal Empire
Type
: Machine Dragon
Attacks
:
Steel Ruler - Multiplying massively, CoreTitandramon spreads her chains all over the battlefield. For three turns, CoreTitandramon can somewhat control the field, her chains writhing and twisting to impede enemies, making combat within the area around CoreTitandramon treacherous at best. Finally, for the duration of this move, CoreTitandramon is rooted in place and unable to dodge anything. Blocking is still possible though. (4 Post Cooldown once duration expires)
Effect: Reduces enemy ground speed by 30% due to difficult terrain.
CoreTitandramon cannot evade attacks or move while Steel Ruler is active. But she can attempt to block or deflect incoming attacks as normal.
Duration of 3 of CoreTitandramon's turns.
Hammer Crusher - CoreTitandramon swings either her head or tail with devastating force, with enough power to put a small crater into the earth
Heartless Chain Strike - CoreTitandramon animates any of her chains in the vicinity of the battlefield, morphing their ends into vicious grappling hooks in the process, and lashes out at enemies with the serrated tearing edges. She's capable of forcibly dragging or throwing those smaller and/or lighter then herself around with them if enough chains connect at one time.
Scissor Fang - CoreTitandramon lashes out with the speed of a serpent to snatch up and chomp down on an unsuspecting foe.
Digivolves To
: ChaosSaberdramon
---
Appearance
: A draconic knight extraordinaire with the same armor set up as the long past SolSaberdramon: helmet, breastplate, vambraces, tasset, and greaves. ChaosSaberdramon stands at eight feet tall, coated heavily in black primarily, with gold and red accents on the arms and legs. The knightly dragon's helm sports twin horns spiraling together on the tip of the snout, one colored white while the other bore black. Two more swept back a few inches before arching up and splitting once each, giving the impression of four horns framing the back of ChaosSaberdramon's head. And within that frame white fire blooms before flowing down into strands of red hair reaching the middle of her back. On her chest, just over her heart, the kanji for "Steel" burns in bright white.
In the right hand the dragon knight grasped one of the strangest swords to ever be made. It had no proper fuller, instead two thin sheets of steel were bent and folded over each other over and over again before merging together at the tip. The guard was made from those same sheets drawn out and bent into a circular shape instead of the traditional cross guard. In the negative space of the guard where the sheets of metal did not intersect, light and darkness roiled and raged with in the core as if straining to break free and wreck havoc. And in the rest of the negative space, helping hold the folded sheets together, large numbers of chains were strung up between the two sections and bound tightly.
The left hand, by contrast, grasped a much more standard looking, if exceptionally large, kite shield. Appearances are deceiving though, the shield has a special switch that when engaged will deploy a powerful set of twin short swords as extra weaponry. Further more, the shield is also capable of extending into a massive tower shield capable of covering her entire body all at once should the need arise.
Attached to the back of the breast plate is a blood red cape coming down to the knight's knees and concealing a large back mounted energy cannon, folded up and held flush to ChaosSaberdramon's back. Also spreading from her back are four large dragon wings, their muscled frames staying black while the membranes shimmer as a pristine white color. One set stretches out from high on the shoulders while the second emerges from the lower back, held in a 'X' formation when not folded up under the cape. A heavy plated tail finishes off the the draconic attributes of this iron-clad warrior.
Z-Hybrid Spirit
: ChaosSaberdramon
Attribute
: Free
Family/ies
: Dragon's Roar, Metal Empire
Type
: Dragon Man
Attacks
:
Chaining Constriction - ChaosSaberdramon releases the full fury hidden in her chains, whipping up a massive serpent out of them to envelop and crush the target.
Spiral Madness - ChaosSaberdramon unbinds her twisted sword and launches a mixed light and dark blast from the blade's energized guard core.
Brilliant Fang - Deploying the hidden blades within the shield, ChaosSaberdramon strikes with the surprise weapon as a surge of light from them attempts to blind the target briefly.
Metallic Dissonance - Loosing a mechanical roar, ChaosSaberdramon's voice itself becomes a sonic weapon aimed towards tearing the opponent apart with sound shock waves.
Mercurial Chaos - Channeling energy into her twisted sword, ChaosSaberdramon wills the blade to rapidly extend so as to pierce the target.
Steel Ark Blaster - Unveiling the cannon at her back from under her cape, ChaosSaberdramon fires off several potent blasts at her opponent.
---
OPTIONAL EVOLUTIONARY STAGES
Appearance
: Gone is the encumbering outermost shell. Gone is the diesease-like rust that plagued this digimon's previous form. Gone is the tiny frame that once hindered Rustdramon. Steeldramon stands upright at an even six feet, even more humanoid in shape then before. Her body is one of gunmetal gray color and semi-mechanical appearance, small nuts and bolts driven in on various places. Segments are shaped and cut to allow more freedom of movement while still evoking the theme of sleek draconic knight armor. Gloomy broken remains have been restored to four shimmering horns half a foot in length each. The upper jaw of Steeldramon's maw is enhanced, spikes of metal aimed down and shaped into an extra set of fake fangs covering her actual teeth. The gem at the base of the neck has been reset and also reshaped into a star-like pattern, and further more it is no longer encased in chains. Instead it shines with a soft white light while the chains have shifted position. Around her left forearm is the white chain while her right shoulder bares the black chain, and both are restored to their original pristine condition. Her claws are also restored, each one a reliable knife-like blade in its own right. The tail, two feet in length, is free to lash about wildly, and the legs are armored up more then they were before, baring small spikes on the knees.
Human Fraction
: Steeldramon
Attribute
: Data
Family/ies
: Dragon's Roar, Metal Empire
Type
: Machine Dragon
Attacks
:
Chain Lasher - Steeldramon unleashes the chains from their coiled states, using them like whips in rapid assaults from a safe distance.
Shot Blade - Steeldramon inhales, before repeatedly spitting daggers out at the target.
Rending Claws - A simple rushing attack consisting of a flurry of claw strikes.
Digivolves To
: SolSaberdramon OR ShadowArmsdramon
---
Appearance
: Marking a return to the more blandish gray color of Steeldramon, this beast stands a good eight and a half feet tall even after factoring in posture. Where Steeldramon was mechanically humanoid, Mercurialdramon is loose in frame with ripples flowing over her body as if it were water. Where SolSaberdramon and ShadowArmsdramon were more humans wearing draconic armor, Mercurialdramon is a true beast, built large and monstrous. This draconic digimon never holds an small details for more then a few seconds. Her body seems to blatantly flow into position for movement rather then properly taking steps. Limbs hold only the faintest definition, stuck as columns of liquid metal as if they were merely ideas only half formed for the sake of having them. No proportion exists between the given body parts, the dragon's mass simply flowing to wherever it is needed most. One of the only constants is the sharpened dragon's head, showing a hooked maw that can be likened to the beak of a bird of prey and two horns that coil and uncurl on a whim. Another is that the digimon always has one head, two wings, two arms, two legs, and one tail. The last is that Mercurialdramon is always hunched over, more comfortable on all fours then standing upright. Aside from these inviolable facts, however, Mercurialdramon is a beast who's form is always in flux, oozing from one shape to the next.
Beast Fraction
: Mercurialdramon
Attribute
: Data
Family/ies
: Dragon's Roar, Metal Empire
Type
: Dragon
Attacks
:
Amorphous Form (Passive) - Mercurialdramon, as a mass of animated mercury in the shape of a dragon, is extremely flexible. What that means is that on top of being able to slip out of tight situations other forms would never be able to and go where few, if any, others can, Alicia can drastically alter her combat ability as the fight progresses.
Every three turns, she can choose one of either Offense, Defense, or Speed and magnify that parameter, coming close to the power of a true Ultimate level Digimon in one of those statistics without sacrificing the other two. In a pinch, she can over commit to one parameter, exceeding the power of a standard ultimate in that choice, but to push this hard she must basically cripple another statistic to Armor Champion/Human Fraction level strength. Regardless of her choice, she's locked in to it until three turns later, when she's had time to analyze the new situation and adjust accordingly.
Scalding Metal - Mercurialdramon spews out white hot mercury at the target, coating and scorching the unfortunate enemy.
Shatter Fist - Mercurialdramon draws herself up and forges her hands into mace-like weapons, hammering the opponent.
Mercurial Divider - Forming monomolecular blades from her liquid body, Mercurialdramon slashes away with insane amounts of cutting power. (2 Post Cool Down)
Fright Burst - Curling up on herself, Mercurialdramon forces her body to erupt into a ball of spikes. This Area of Effect attack does not discriminate between friend and foe (1 Post Cool Down)
Digivolves To
: Metalumindramon OR Cybercursedramon
---
Appearance
: A human-like figure standing 5'7", SolSaberdramon is more knight-like compared to previous forms. Donning golden armor, the upper half of her face is covered in a helmet made as a replica dragon's skull. A large red mane of hair flowed out from the back, allowed to grow wild and reaching the middle of her back, with two extra locks flowing over the front of the shoulders. A heavy breast plate covers the dragon man Digimon's chest, its thick and sturdy build affording a fair amount of protection. That same sturdy build allowed it to also support ornamental metal wings stretched out behind her as well as her shield nestled between the fake limbs. Her forearms were clad in ornately designed vambraces, leaving her upper arms and hands bare. A tasset was tightly fitted to her waist, and her lower legs were covered in talon-adorned greaves. The set up also left her thighs and dragonoid feet born to the open air. It was clear they needed no protection of metal however, for where there should be skin wind brushes instead against solid scales gleaming like brilliant silver. At her hip, resting in a gem encrusted scabbard, was a European styled broadsword that was serrated on each side to further aide in shredding any unfortunate foe.
Alternate H-Hybrid Spirit
: SolSaberdramon
Attribute
: Vaccine
Family/ies
: Dragon's Roar, Virus Busters
Type
: Dragon Man
Attacks
:
Radiant Slash - Bathing the sword in sunlight, SolSaberdramon strikes the opponent with heated steel.
Steel Prominence - SolSaberdramon gather's power on the metal wings that are part of her armor, releasing it in several energy blasts that arc towards the target.
Digivolves To
: Mercurialdramon OR Metalumindramon
---
Appearance
: This twisted mockery of the traditional western dragon stands ten feet tall at the shoulder, with her head constantly slumped over and adorned with two large horns that spiral forward; sharp as any blade and sturdy enough to endure almost any attack. The maw has the left side of the lips pulled back into a permanent snarl, and a sickly black fluid leaks from the parted jaws, fading just before hitting the ground. Haphazardly, bits and pieces of this dragon digimon's entire body have been crudely replaced with cybernetics. Prominent points where flesh has been replaced by machine include the right half of the head, the back going from the base of the neck half way down, the right foreleg, and the left rear leg. Wires hang out loosely from cracked steel plates, sparking with electrical power even now. What flesh remains has been twisted into the same sickly black color as the sludge that falls from her maw. Four wings emerge from the dragon's shoulders with the second, smaller pair twisting back to aid in aerial maneuvers. The forelegs each end in three warped and twisted claws easily a foot long per claw. The tail ceases being proper flesh and is merely an amalgam of various wires and twisted cords of metal wound together in some semblance of a proper tail. When pierced by the four sunk in red eyes that never blink, Cybercursedramon truly lives up to her name, and the horror therein.
Alternate B-Hybrid Spirit
: Cybercursedramon
Attribute
: Virus
Family/ies
: Dragon's Roar, Metal Empire, Nightmare Soldiers
Type
: Cyborg Dragon
Attacks
:
Phantom Steel - Cybercursedramon thrusts her claws into her own shadow, causing blades of numerous shapes and sizes to erupt from the opponents shadow, slicing and stabbing anything in reach.
Cruel Rampage - Cybercursedramon focuses on a target briefly and charges. Depending on the target's size, she either tramples them underfoot or crashes into them horns first followed by slamming them into the nearest obstacle before throwing them aside.
Specter's Steel Fang - Cybercursedramon spits out fangs at the target like high speed explosive arrow heads.
Storming Curse - Cybercursedramon howls, flooding an area sixty feet in circumference in blinding darkness. Hidden within, all enemies are assaulted relentlessly by numerous steel spikes erupting from the darkness (2 post cooldown)
Digivolves To
: CoreTitandramon OR RailTitandramon
---
Appearance
: Departing from the west and settling in the east, SaberTitandramon takes the form of a thirty foot long oriental dragon. Along her head and back her metallic scales gleam in stripes of gold and red. The underbelly, conversely, is a soft silver hue in contrast to the gold. A short but thick mane of silver hair grows from the dragon's head, sparkling when light shines upon it. And from that comes four long steel strands, each one a multi-segmented whip sword that lashes flows in sync with SaberTitandramon's own body. Each of her four, large legs end in flexible clawed paws. In turn, these paws each wield a massive ōdachi that has been scaled up for the great dragon's use. Red 'curtains' of metal find themselves tied to each of her ankles. Her tail makes up a third of her body and bares four solid white pearls along its length. Vibrant silver eyes gleam with holy power as the serpentine dragon glides through the sky.
Alternate A-Hybrid Spirit
: SaberTitandramon
Attribute
: Vaccine
Family/ies
: Dragon's Roar, Virus Busters
Type
: Holy Dragon
Attacks
:
Steel Tempest - SaberTitandramon dives and strikes with her four ōdachi, twisting wildly to come from unpredicatable angles.
Heart-Bound Blades - The whip swords cascading from the back of SaberTitandramon's head come to life and lash about at her will.
Will of Steel - Dividing her metal trails into their true forms, many thousands of interlocked swords, SaberTitandramon rains her nigh innumerable blades upon her foe as fast as she can think of attacking them. (2 Post Cool Down)
Digivolves To
: ChaosSaberdramon
---
Appearance
: Twisting through the night sky with a ruler's grace, RailTitandramon is a mechanical beast forged in the likeness of an oriental dragon. Measuring fifty feet in length, this metal titan sports a dark green visor over her eyes. Two pairs of antenna on the snout flow like real whiskers of the dragon type she is modeled after, constantly sweeping the area with advanced instruments and scanners to provide a constantly updating 'battle map.' Her under belly in a dark gray, almost black coloration, while her over body is coated in alternating plates of navy blue and silver coloration. Extending from her shoulders are two large gear-like constructs, too thick to be wing analouges. Hovering close to the gears are the many pieces of disassembled mortar cannons, seemingly hover by the use of anti-gravity technology and by default spread out to fake the shape of wings. Each mechanical paw is clutching a mechanical sphere that takes an analog to the dragon's pearls that eastern dragons are often depicted as carrying with them. Numerous spines spread from the ankles of the mechanical creature, coating them entirely. The underbelly is also lined from head to tail tip in rows of spikes sharpened enough to allow fly-bys against other Digimon. Dull gray eyes regard the world with cold calculations behind the visor.
Alternate A-Hybrid Spirit
: RailTitandramon
Attribute
: Virus
Family/ies
: Dragon's Roar, Metal Empire
Type
: Machine Dragon
Attacks
:
Dragon Mortar - Assembling the cannons held in gravitational stasis on her geared shoulders, RailTitandramon opens fire, shelling the opponent's general area. This can hit from well outside visual confirmation range, though its accuracy is very low unless RailTitandramon is fairly close to her target.
Blitz Array - The four spheres clutched in RailTitandramon's paws open ports that bombard the target with numerous energy blasts.
Black Spirit Blazer - Activating the cannon housed in her maw, RailTitandramon spews a jet of dark flame towards her foe.
Nightshroud Barrage - Opening ports on her back, RailTitandramon looses a volley of missiles upon her target, the variety depending on the opponent. Other fliers are chased by a fast flying Air-to-Air variety, ground and sea foes are hammered by a wide blast Air-to-Ground or Air-to-Ship version.
Satellite Buster - RailTitandramon's finishing move, she pulls back and converts her entire body into a massive rail cannon. Once anchored and charged up, RailTitandramon cuts loose with a devastating energy blast from her maw, large enough to envelop all but the most truly enourmous Digimon (Once Per Battle. IC, RailTitandramon is simply not able to gather enough energy to fire this attack off a second time before degenerating to refresh herself, even if she 'redlines' her body and cripples herself. Excessively punishing? Yes, but this is how I want it. If she didn't have CoreTitandramon and SaberTitandramon to shift too, I would put a 2 or 3 post cool down on it instead. Even then, she has four other named attacks to use more or less freely. If she needs Satellite Buster again in the same battle, she either missed the first shot in which case they know what to look for or she has bigger problems that Satellite Buster can't solve anyways.)
Digivolves To
: ChaosSaberdramon
DNA Ultimate: SaviorHackmon
Attribute: Data
Family/ies: Metal Empire
Type: Dragon Man
Attacks:
1.Rage Quarrel - SaviorHackmon charges his legs with holy energy, and may either leap at the target with his holy coated, bladed feet to stab a target, or expel the energy with a swift kick, that sends the holy energy out in an arc.
2. Meteor Flame - SaviorHackmon opens its maw, spewing forth either a pillar of pure flames, or a series of smaller bullet like blasts that explode upon impact.
3. Sonic Dissonance - The jewel on SaviorHackmon's chest emits sonic waves that can be sent out in a beam, wave, or short bursts damaging the target upon impact.
4. Metal Coat - SaviorHackmon infuses his cape with metal, allowing him to block physical attacks, and deflect long range attacks. 1 post cool down.
5. Trident Sabre - SaviorHackmon attacks his target with any blade with a lot more force, potentially allowing the blades to impale the target.
6. Omni Typhoon Blade - SaviorHackmon spins around rapidly, slashing out at the target with its multiple blades in a dance of death. Can be used while in movement.
7. Dragon's Gift - The jewel on SaviorHackmon's chest emits a golden glow, that spreads throughout its body, healing off any damage recieved. May be channeled into its hands to heal another target. 1 Post cool down.
---
Appearance: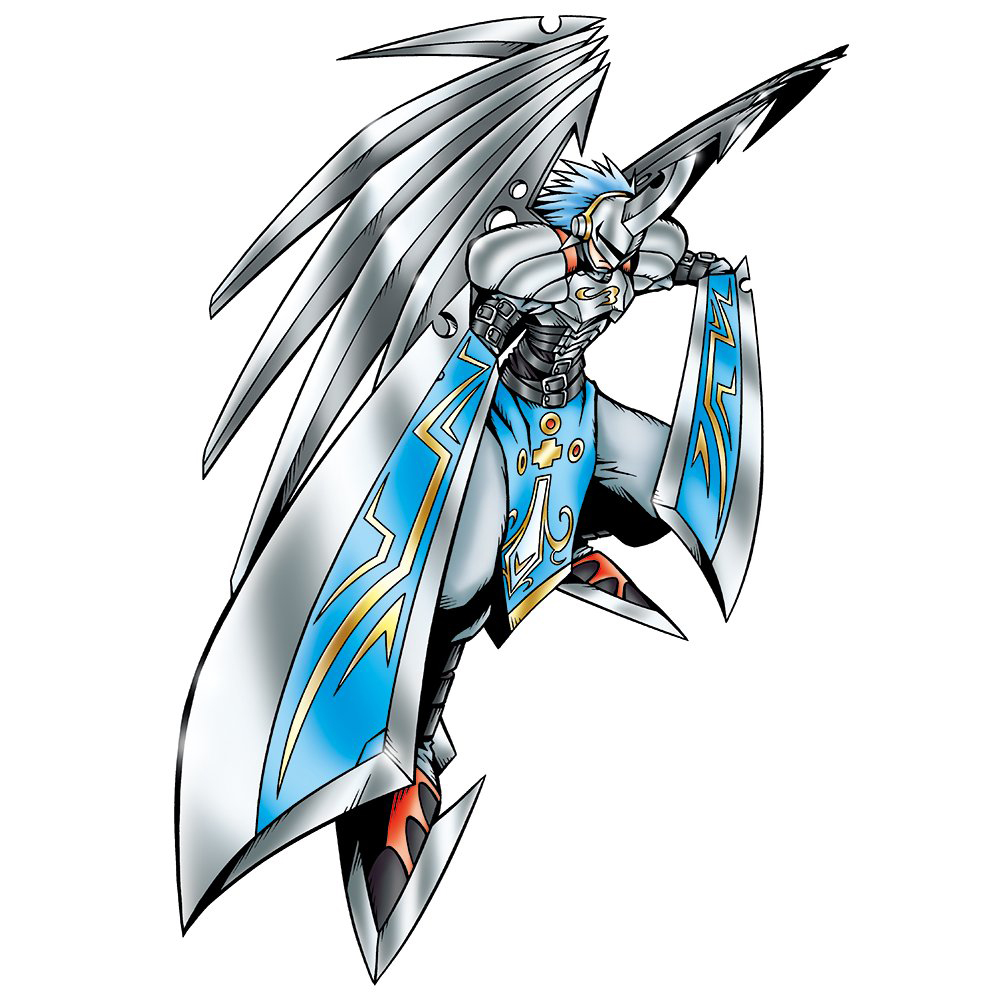 DNA Mega: SlashAngemon (Metalumindramon + MagnaAngemon)
Attribute: Vaccine
Family/ies: Virus Busters
Type: Power
Attacks:
1. (passive) Bladed Cadence – As a master of combat, SlashAngemon can better read his enemy as the battle progresses. In scenarios where SlashAngemon is capable of focusing on a singular target, he scales up in speed at a moderate pace. This improved speed is instantly reset when he changes targets, even if he switches back the next moment, he has to build up again. 10% movement stack, with a maximum of 50%.
2. Sonic Slice – SlashAngemon blitzes back and forth around a targeted opponent in a rapid fashion, using his numerous blades to slice and dice from all possible angles.
3. Heaven's Ripper – Curling up, SlashAngemon effectively turns himself into what can only be described as a buzz saw of doom, careening towards the target. Deals heavy damage, due to basically being a buzz saw of doom. 1 turn cooldown.
4. Blades of Fate – Charging holy energy into his blades, Slash Angemon releases several cross shaped slashes of power at a target.
5. Feather Boomerang - Slash Angemon releases four bladed 'feathers' from his wings that then hurl themselves at the target causing damage to the target. The feathers return to his wings automatically, if they hit the target or not.
6. Metallic Radiance - SlashAngemon summons the light of holy energy, which encases his body, and expels within a bright burst off of his armor, this temporarily blinding and disorienting opponents. Rookies and Lower - 4 turns, Champion - 3 turns, Ultimate - 2 turns, Mega/SuperMega - 1 turn. 3 turn cooldown.
7. Passive: Transmogrification - SlashAngemon is able to tap into his inert data thus recoding and manipulating it to alter his arms and wings into multiple forms.
8. Blade Counter - SlashAngemon is a master of Battle, using his blades to block an attack and repels it if it is a projectile attack, or slashes the attacker if it is a melee strike. 2 turn cool down.
9. Hymn of Hope - SlashAngemon recalls and plays a heavenly hymn, which comforts and heals all allies within a 15 foot radius for 50% of their current damaged state. The second part of this ability removes 2 post durations of debuffs, poisons, and curses from Mega level and below. For this ability to be used for two posts, it must be channeled. If interrupted, the hymn will end. 3 post cooldown.
---
Mercenary:
Greymon
Appearance: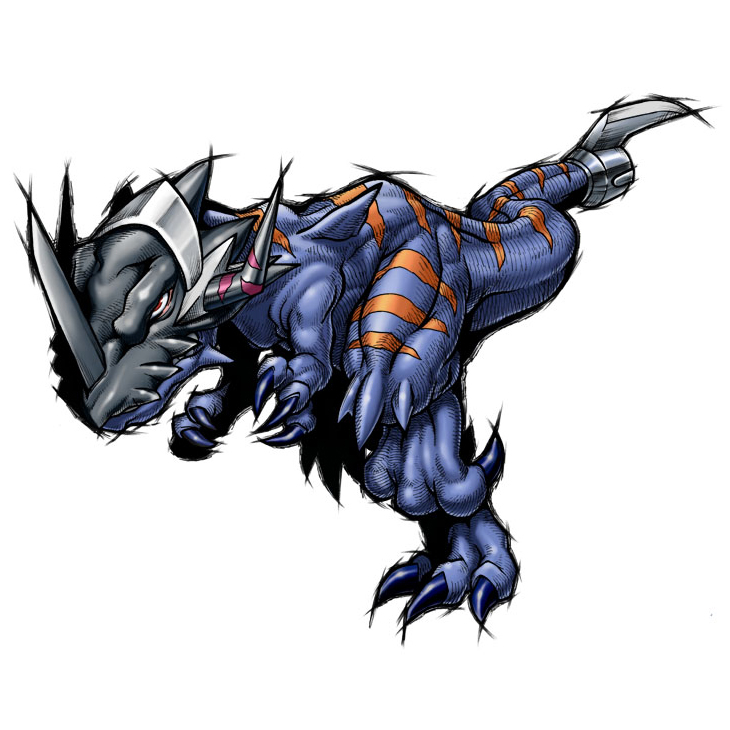 Level: Champion
Attribute: Data
Family/ies: Dragon's Roar, Metal Empire
Type: Dinosaur
Attacks:
Mega Flame – Summoning up power from his draconic heritage, Greymon can breathe a gout of flame or a concentrated fireball at the target.
Atomic Strike – With the cybernetic addition to the tip of his tail, Greymon builds up an energy charge on the blade and swings his tail around. On impact, be it stab or slice, the charge detonates within the wound to cause significant damage (1 post cooldown)
Horned Charge – Greymon lowers his head and rushes the target at full speed, ramming into them and drives his horns into them.