Post by Tadao & Logan on May 6, 2017 7:49:56 GMT
Name
: Tadao Asahina
Age
: 19
Gender
: Male
Height
: 5'7"
Weight
: 160lb
Alignment
: Neutral Good
Birth Date
: June 12th
Birth Place
: Kagoshima, Japan
Western Horoscope
: Gemini
Eastern Zodiac
: Dog
Skills/Talents
:
- Well Read: Tadao excelled in most of his subjects, especially those in World History and Sciences. Therefore he can mostly keep up with conversations around those fields, and will enquire upon those he doesn't know, in an effort to learn more.
- Judo: Tadao practiced this martial art as a means of self-defense. While he hasn't had to use it yet, it gave him a little bit more self confidence. He was at the Third Dan rank before ceasing classes.
Personality
: For most of his life, Tadao has been quite a mellow, obedient child. His daily routine for the most part was to go to school, do as best as he could, come home to study some more, watch a bit of TV, then go to bed. He did manage to spend some time around friends during times he had them, but was usually too busy with work to go out of his way to do so.
Tadao for the most part is kind, awkward and would really like friends with no strings attached, but his difficulty in obtaining them has discouraged him from getting 'out there' for the most part. He is keen to find someone he just gets along with.
Tadao enjoys a small variety of hobbies when he has spare time. Music is one, where he tries learning how to play songs he likes. Another is reading, although he prefers nonfiction works to fiction. He has a bit of difficulty fully appreciating things that didn't happen.
Tadao has a bit of disdain for traditional Japanese culture, finding it stuffy and rigid, preferring to go for a mainly laid-back lifestyle.
Appearance
:
Tadao stands at 5'7" with a large build. He normally wears metal rimmed glasses to help with his far-sightedness. He has sharp angles on his face, mainly on his chin and cheekbones. He has messy dyed blonde hair and blue eyes.
Tadao is often seen moving around at a brisk pace, preferring to get places as quickly as possible. It comes as a bit of a habit rushing around the subway twice a day, his trains to and from school having been rather unfairly close together in the timetables.
Despite being a heavy-set individual with a large frame, Tadao is quite gentle in his movements in dealing with other living things. While he tends to avoid eye contact with strangers in public settings, he has an ability to open up to those he trusts and engages with them keenly.
Tadao normally wears brown-green drab clothing in an attempt to not stick out much. He almost always wears trousers instead of shorts, even in hot weather.
Personal History
:
Tadao was born as the only child to Hajime and Kiyoko Asahina, both highly involved parents with busy, successful lives. Despite both his parents working, Tadao always had at least one of them paying attention to him while growing up.
Upon beginning school, Tadao's parents did the best they could to help Tadao get successful. He excelled at subjects he enjoyed, but grew frustrated and impatient with ones he didn't like. But he persevered and got through them all. Despite the nerdy stereotype, he did okay in physical education. Nowhere near the best but never finished last and never failed.
He never was really lucky with friends, most of the time making poor choices of companions. These ranged from people that made him uncomfortable to people that he just didn't click with. Because of this, he's cautious to get to know someone before extending friendship.
Now that he has finished school, Tadao is in a kind of limbo between graduation and college. Here he hopes to learn a little more about the "street life" and how to survive on his own in Japan. After all, his parents seem reluctant to divulge to him the lessons in that area.
Indeed, the move from Kagoshima to Tokyo was somewhat of a strain on him. While he was at least thankful to his parents for not moving until he finished high school, being taken from a regional city to the very capital itself with all its challenges has been somewhat taxing on Tadao.
Backpack Contents
:
Chocolate Rations

Zippo Lighter (while he doesn't smoke, he thinks it's always useful carrying one around).

Digivice
: Violet and White.
---
Partner's Name
: Logan
Default Form
: Rookie
Gender
: Male
Alignment
: Neutral Good
Skills/Talents
:
- Games: While Logan tends to lack in other fields of social activity, he always rises to the occasion when games or puzzles are involved. He does all he can to learn the rules; practices, then strives to win at any game presented - whether it be video or physical.
Personality
:
Logan is quite a shy little digimon. When greeted by strangers, he tends to struggle to hold his ground, often hiding behind Tadao if the meeting is too much for him. However, he's a sweet little thing that rarely holds grudges. The one thing that sets him off, however, is cheaters.
Logan is very affectionate toward those he counts as friends. He likes hugging them and playing with them, in fact over time he grows a little more confident in his personality around them. However, when things grow tough, he tends to revert to his usual shy outlook toward them.
If Tadao is threatened, Logan will immediately throw off all semblances of shyness and put his life down to protect him. However, he wouldn't really do so unless the threat is big enough. For the most part, Logan will merely recommend to Tadao that he avoid risky situations. Mainly because he looks forward to returning home with Tadao to a safe place, alive, every day. Where they can then celebrate them still living with extended petting sessions.
DIGIMON'S INITIAL EVOLUTION LINE
---
Baby level: Dodomon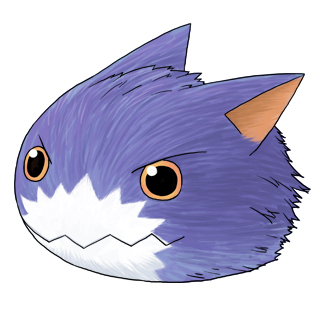 Attribute
: Free
Family
: None
Type
: Fuzzy
Ability
:

Bead Breath:
Spits some metal beads at the foe. Nothing special.
Digivolves To
: Dorimon
---
In-Training: Dorimon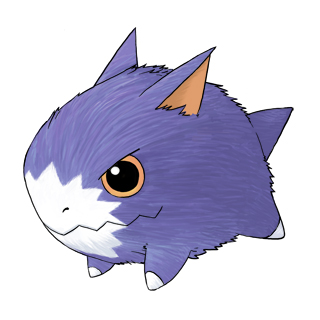 Attribute
: Free
Family:
Nature Spirits
Type
: Lesser
Abilities
:
Staple Spit:
Fires little annoying shards of metal from his mouth to deal damage to his opponent.
Weasonable Wappowt:
Assumes a very cute looking position as he stares at his opponent. If successful, it makes it very difficult for them to attack him for 1 turn. [Cooldown: 1 post]
Digivolves To
: Offmon
---
Rookie level: Offmon
Attribute
: Data
Family
: Nature Spirits
Type
: Gamer
Abilities
:
Passive Ability: Demotivation
- if a Melee Attack hits Logan and it has a cooldown, the cooldown duration increases by 1 post.
Jamming Ray -
Logan raises his paw and fires a red beam of energy at his opponent. If it hits, it increases the cooldown of the last ability they used by 2 posts. [Cooldown: 2 posts]

Anti-Tracker -
Logan puts his goggles on, making his eyes glow red momentarily. The effect of this ability means that any incoming attacks aimed at him will no longer home in or have increased accuracy for 3 turns. [Cooldown: 2 posts]
Flash Blast -
Logan fires a ball of purple energy from his paw, dealing moderate damage to a target if it hits.
Digivolves To
: Logamon
---
Champion level: Logamon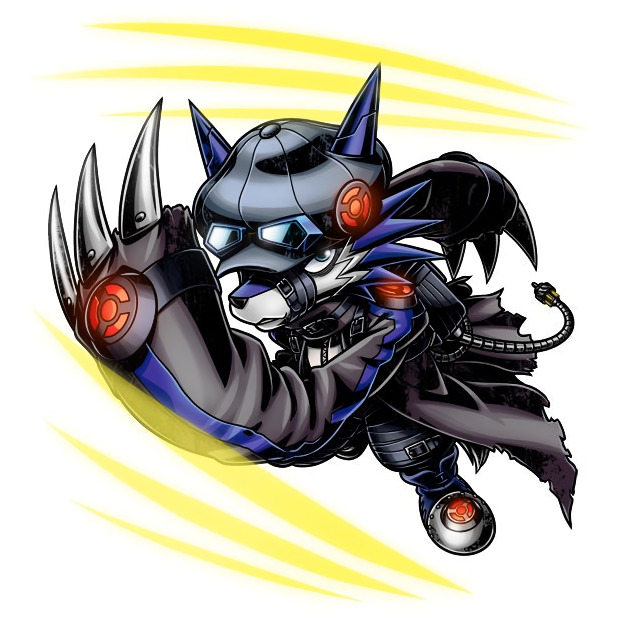 Attribute
: Data
Families
: Nature Spirits, Nightmare Soldiers
Type
: Beast
Abilities
:
Passive Ability: Demotivation -
If a melee attack from an enemy hits Logan, its cooldown increases by 1 post (even if it didn't have any cooldowns before).

Passive Ability: Momentum Lag -
If a target has any active cooldowns larger than 2 posts remaining, Logan's attacks will do 50% more damage to them.
Jammer Slash -
Logan lunges and aims a slash at his opponent. As well as causing damage, if it hits, the last attack they used has its cooldown increased by 2 posts. [Cooldown: 2 posts]
Flash Beam -
The red circles on the back of Logan's paws spin and glow, before shooting a flash of energy, causing damage.
Crash Claw -
Logan's claws glow red and he slashes his enemy. If it hits, their data glitches and they are frozen in place for 1 turn. [Cooldown: 2 posts]
Safe Reboot -
Logan seemingly goes to sleep and remains in place, replenishing his data. At the end of 2 turns, he awakens and is restored to full health. While asleep, he cannot attack or move. [Cooldown: 3 posts]
Digivolves To
: Shutmon
---
Perfect Level: Shutmon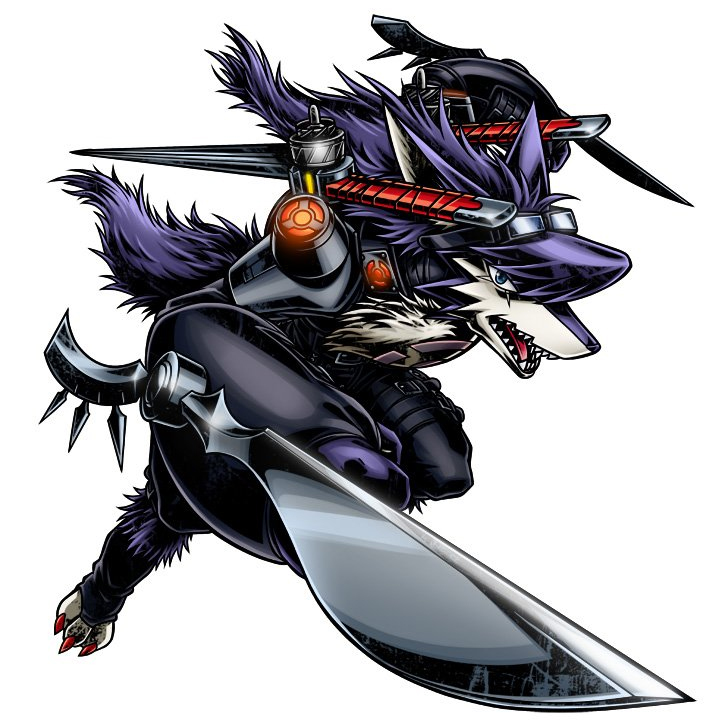 Attribute
: Data
Families
: Nature Spirits, Nightmare Soldiers
Type
: Beast
Abilities
:
(Will complete later)
Digivolves To
: MagnaGarurumon
---
Mercenary
Digimon Name
: Lahti
Default Form
: Rookie
Gender
: Female
Alignment
: True Neutral
Skills/Talents
:
- Astronomy: Lahti has a strong interest in the study of stars and planets, and is intent on learning as much as she can about the universe in the night sky.
- Astrology: Lahti also enjoys the mythology of the alignment of the stars and planets and has a keen interest in their movements.
Personality
: Lahti's personality can be summed up by the words 'Dreamy', 'Curious' and 'Loyal'. She loves her extended family and their friends and would never do anything to harm any of them. As a young child of the family, she reveres her elder brothers and sisters and doesn't get in their way. But, of course also as a young child, she would very much appreciate any opportunity to play with them.
Lahti's curiosity can sometimes get her into trouble, especially if she gets distracted by something that takes her out of the protection of family looking out for her. Which is a major reason why her eldest brother Logan and his human partner Tadao decide to take her in their care, where there would be less chance of her falling into danger in the human world.
Lastly, Lahti has retained much more memories of her parents' data than her siblings. Particularly with Owen, but in parts with Hikaru as well. To the extent that she can remember parts of their former lives as though they were her own memories, but she has little control over that ability.
Lahti also has an interest on the night sky, having a fixation on the stars and planets. She keenly researched the solar system that Earth resided in, and has a goal of knowing about what existential system the digital world resides in. She wants the answers to questions such as - "Does the Digital World exist in a similar system?" among others. As such, she has a lot of interest in space-based science fiction.
Personal History
: Lahti is a young daughter of Owen and Hikaru. She was born in the Village of Beginnings, and of course by now, they recognize when one of their children is born and quickly informed them of her birth.
As a result, Lahti spent her babyhood in Rosewood over the winter months and then in Ys over summer, being looked after by her father Owen and her elder siblings Haku, Bezil and Jill, until she asked about her eldest brother, Logan, and what he was doing.
Upon being told that he lived in the human world with his partner Tadao, Lahti expressed her wish to live with him. Logan and Tadao were surprised by this, but eventually accepted the arrangement. And as Lahti arrived in the human world, she evolved to Loogamon, and took this as a meaning that she should stay with them.
Since her other parent Hikaru also lives in the human world, Lahti loves meeting up with him and learning from his lessons. And so she has determined to live here for the time being. However, she still enjoys time in the digital world with Owen as well, considering that many of his memories float around in her mind.
DIGIMON'S INITIAL EVOLUTION LINE
---
FreshSpecies
: Fusamon
Appearance
:
Attribute
: Free
Family
: None
Type
: None
Abilities
: [1 Ability Max]
Bubble Blow
- The standard baby level attack. Spits acidic bubbles that cause little more than minor irritation.
Digivolves To
: Bowmon
---
In-TrainingSpecies
: Bowmon
Appearance
:
Attribute
: Free
Family
: Nature Spirits
Type
: Lesser
Abilities
: [2 Abilities Max]
Bork! Bork! Bork!
- Lahti barks three times, emitting minor shockwaves. The resonance of them sends small objects such as pencils and cooking utensils all around the room, although the damage of the shockwaves is very little, considering her level.
Pupper Strike
- Lahti charges at the opponent and aims to bite them.
Digivolves From
: Fusamon
Digivolves To
: Loogamon
---
RookieSpecies
: Loogamon
Appearance
:
Attribute
: Virus
Families
: Nature Spirits, Virus Busters
Type
: Beast
Abilities
: [4 Abilities Max]
Combat Passive: Stargazer
- While she can't claim to clearly see the future, Lahti's instincts are prescient enough that she can sense immediate danger just before it occurs. In battle, this increases her evasion by 30%.
Starfire Fang
- Lahti charges at the foe, bright blue-white flames rushing through her teeth as she aims to deliver a strong bite. [No further effects, no cooldown]
Cosmic Cascade
- Lahti summons a shower of bright blue-white projectiles above her target, which blasts anything standing within a range of 5 meters of it. [1 turn cooldown]
Howling Moon
- Lahti howls as she gathers light energy in her mouth and blasts it at the foe as a beam of light. Deals 30% more damage to Nightmare Soldier and Dark Area digimon, and 30% less damage to Virus Buster and Nature Spirit digimon. [1 turn cooldown]
Digivolves From
: Bowmon
Digivolves To
: TBA
FaceClaim
:
HETALIA
•
America
• Tadao Asahina