Post by Skye on Sept 17, 2017 8:07:15 GMT
Name
: Skye
Default Form
: Champion (Rookie until then)
Gender
: Female
Alignment
: True Neutral
Skills/Talents
:
- Feline Agility: Skye is swift and limber as most cats are, able to climb, jump high, and always have the ability to land on her feet.
- Streetwise Smarts: Skye is not a sheltered digimon, she knows how good and how bad things can get. She thinks logically, and is hard to trick with lies.
Inventory:
N/A
Personality
: Skye sees herself as a savvy, streetwise feline digimon that's neither better or lesser than any other. Regardless, she despises those that seek to inflict pain on others for unfair reasons. As a digimon from Luminas, Skye is wary and suspicious of humans and their partners. She sees partner digimon as oddly subservient to their "tamers", seemingly forgetting on which world they were born in and meant to serve. Nevertheless, she would never seek to break the bond of a partner digimon and their human.
Skye has a somewhat curious nature, prefering to watch and understand rather than accept things as she sees them. For this reason, she hides her doubts and worries about humans, and is willing to interact with them as long as they don't ire her too much. However, she still has a standoffish nature, and questions the conventional wisdom that humans are present in the digital world for the benefit of digimon. That is something she doubts and wishes to confirm on her own.
As a Gatomon, Skye has many feline mannerisms. She hates getting wet, but can swim. She also runs on all fours, but stands on her hind legs and can walk slowly.
Personal History
: Skye was born in the Fields of Avalon upon the floating lands of the Empyrean Skies. There she was tended to by the angel digimon that lived there, taking heed of their lessons and stories. As a baby digimon, she learned to be generous and act for the cause of "good" - learning to share and interact with others. However, by the time she grew to in-training, she began to note how rigid and reactionary the forces of "good" reacted to innocent questions.
For example, when a story was told that was meant to sing about the virtues of goodness, her teachers tended to react dismissively and sometimes with hostility when Skye asked questions. However, she saw herself as no cause for martyrdom at such a young age, so she soon learned the virtues of silence. But she would not let herself believe in things that she was told to believe in without good reason.
Before long, Skye evolved to her Rookie form and lived among the streets of Luminas. There she learned more about the best and worst of humanity. Other digimon told her about the actions of humans in this city. She heard good stories and bad, and in the end, decided that there was no way to find the truth from such tales. She did not believe the humans sought to take over the Empyrean Skies with their eyes blazing with hatred, nor did she believe that humans were their salvation from the strict dogma of the digimon in charge.
This was when Skye decided to descend to the lands below and find the truth for herself.
DIGIMON'S INITIAL EVOLUTION LINE
---
Fresh: SnowBotamon
Attribute
: Free
Family:
None
Type
: Slime
Ability
: Pearl Bubble: Emits a stream of white bubbles that deal very little damage, but they do sting Nightmare Soldier and Dark Area family digimon a little more than normal.
Digivolves To
: Nyaromon
---
In-Training: Nyaromon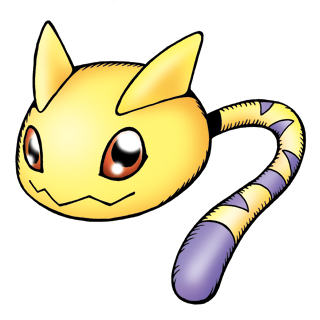 Attribute
: Free
Family: NoneType
: Lesser
Abilities
: Pale Whip - Nyaromon's tail glows white with holy energy, then she uses it to strike the foe. Does very little damage, but Nightmare Soldier and Dark Area family digimon get stung a little more than other digimon.
Tail Vault - Nyaromon coils her tail like a spring, then jumps high in the air to increase her evasion from attacks launched at her, and makes it easier to escape.
Digivolves To
: Gatomon (Rookie)
---
Rookie: Gatomon (No Ring)
Appearance
: Like a normal Gatomon, but without a Holy Ring on her tail. Stands 3'4" in height.
Attribute
: Vaccine
Families
: Virus Busters, Nature Spirits
Type
: Holy Beast
Abilities
:
Combat Passive: Cat's Eye
- As Skye battles, she maintains eye contact with her blue eyes shining a little, transfixing her opponent. As a result, enemy projectile attacks that require aiming deal 30% less damage to her. Melee and area-of-effect attacks are unaffected.
Saint Knuckle
- Skye's paws glow with holy light, and she rushes forward and aims a punch at her opponent, dealing Holy damage. Deals 30% less damage to Virus Busters, but 30% more damage to Nightmare Soldiers and Dark Area family digimon.
Neko Kick
- Skye leaps and deals a powerful physical kick to a target.
Life Prism
- Skye presses her paws together, which glow with an aurora-like blue-green light, then sends a pulse of healing energy around her. This energy can be focused to heal one ally or herself moderately, or multiple allies for slight health restoration. [Cooldown: 2 posts].
Digivolves To
: Gatomon (Champion)
---
Champion: Gatomon (With Ring)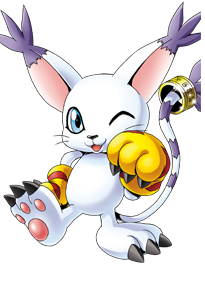 Appearance
: Like a normal Gatomon with a Holy Ring on her tail. Stands 3'5" in height.
Attribute
: Vaccine
Families
: Virus Busters, Nature Spirits
Type
: Holy Beast
Abilities
:
Combat Passive: Ring of Purity
- If Skye is hit by an attack that has a negative debuff effect, the duration of that debuff is decreased by 1 turn.
Combat Passive: Flash in the Dark
- If a Dark elemental attack is used in a battle that Skye is involved in, her next technique is increased in power by 30%.
◕Holy
- Skye's holy ring glows pale with light. She then raises a paw, which sends a bright ray of light directly at her target, damaging them with holy energy. Deals 30% less damage to Virus Buster family digimon, but 30% more damage to Nightmare Soldiers and Dark Area family digimon. [Cooldown: 1 turn]
Lightning Paw
- Skye leaps forward and delivers a strong punch to an enemy. She has the option of increasing the speed of her attack by 50% by increasing the cooldown by 1 turn.

Life Weaver
- Skye crosses her paws in front of her chest, then emits a pulse of healing light. This light will heal 1 ally moderately, or multiple allies for less intense power. [Cooldown: 2 turns]
Sealing Wave
- Skye slashes the air, her claws glowing pink, sending a wave of energy over 1 enemy. This technique reduces the power of their next 2 attacks by 1 level (ie - Champion levels deal attacks that are Rookie level intensity). Only effective on Perfect levels or lower. [Cooldown: 2 posts after effect ends or misses].
Digivolves To
: DeathAngewomon
---
---
Perfect Level: DeathAngewomon
Appearance:
As a digimon who sees the world as neither good or evil but shades of grey, Skye has chosen the path that is neither heaven or hell and evolves to the Ultimate level DeathAngewomon. She resembles Angewomon, but with a change of costume. Still retains the normal face mask and wings, but instead of the usual outfit of Angewomon, Skye obtains a
worn, militaristic style outfit
. Wears hardy leather boots, along with a khaki tunic and trousers. Her left sleeve is replaced by a half cape, and on her right sleeve is the large sword-and-wheel insignia badge of the 7/71st Recon.
Skye's primary weapon in this form is a Gunbow. Unlike regular Angewomon who conjures the Holy Bow to use her main attack, as DeathAngewomon, Skye uses the "Death Cross", which is something of a magical crossbow. She normally stores it on her back, but can load it on her arm. This weapon can fire either a single precise slow-fire strong shot, or rapidly fire blasts of energy like a gun.
In this form, Skye stands at 5'9". She cannot remove her mask, as it is a part of her body. However, she can see perfectly well through it.

Attribute: Data
Families: Virus Busters, Nightmare Soldiers
Type: Demon
Fighting Style: In this form, Skye can both fly or fight on the ground if necessary. She prefers to keep her range and attack from a distance, as she has no armor for protection, but is capable of melee combat if the enemy closes in. Skye can also heal, but her main focus in this form is to go on the offensive.
Abilities:
Non-Combat Passive: Flight - Skye has the ability to fly.
Combat Passive: O Daughter of Babylon - In walking the path of one neither good or evil, Skye takes half damage from Light and Dark attacks up to Mega level strength. To offset this, Fire elemental attacks deal 50% more damage to her.
Combat Passive: Soldier's Endurance - If Skye is struck by an ability that also lands a lasting debuff, she has the ability to nullify that effect once per thread. To pay for this, Skye does not make any named attack in the turn where she nullifies the debuff. She still would take damage as normal if applicable.
Light of Hippocrates - Skye focuses inward, then conjures a healing light over herself or one ally to heal moderate damage, or up to 4 of her allies for minor damage. [Cooldown: 2 turns]
Death Cross - Skye aims her magic crossbow, charges it with energy, then fires a powerful, precise shot at the enemy. [Cooldown: 1 turn]
Hell Crossfire - Skye changes the mode of her crossbow, making it fire a rapid burst of energy like a machine gun. Deals area-of-effect damage to those standing within 25m of the target. [Cooldown: 1 turn]
Soul Wither - Skye focuses her power and conjures a wispy grey spell around one opponent, causing their data to shimmer. Under this effect, the target receives 30% more damage from any incoming attack for 2 turns. [Cooldown: 3 turns]
Close and Engage - Skye uses her hand-to-hand combat skills to attack an opponent with her fists and feet, aiming for their pressure points. If she strikes a target that wears no armor, paralyzes them for 1 turn. [Cooldown: 3 turns if this happens. Otherwise, 1 post cooldown].

---
Mega level: Ofanimon Falldown Mode
Attribute:
Vaccine
Families:
Virus Busters, Dark Area
Type:
Fallen Angel
Abilities:Passive: Flight
- Skye has the ability to fly in this form.
Combat Passive: Daughter of Babylon
- Relying on neither the forces of good or evil, Skye takes 50% less damage from Holy and Shadow elemental attacks, but 50% more damage from Fire attacks.
Combat Passive: Eyes of Providence
- For every move Skye makes in combat, a glowing, spectral eye appears above her, glowing with spiritual energy. These eyes constantly focus on one that she has marked as her foe. A maximum of 5 eyes can be present. At any time Skye chooses, she can have any of the eyes fire a near-instantaneous beam of energy at the foe they are focusing on - whether it be one or multiple. The power of each beam is about 1/3 the strength of a Mega level basic attack. After firing its beam, the eyes disappear. The only way they can be banished otherwise is if Skye is defeated.
Flaming Hellscythe
- Skye lunges at the opponent with her scythe. If it strikes, it inflicts terrible burns that increases the cooldown of the opponent's next attack by 1 post. If they do not use a named attack, the burns will wear off and they can attack as normal. [Cooldown: 1 turn]
Demon's Crystal
- Skye conjures a shower of smoky grey crystal shards and hurls them at the opponent, aiming for an area-of-effect of about 50m. If the crystals hit an enemy, they embed themselves into the enemy for 2 turns, absorbing any healing energy directed at them, preventing their wounds from being healed, as well as causing terrible pain. [Cooldown: 3 turns]
Cruel Angel's Penance
- Skye focuses inward so that she can use her powers for healing rather than destruction for this move. She conjures an aurora-like curtain of healing light over up to 4 allies, healing them for moderate damage. Alternatively, she can heal 1 target for major damage and decrease the cooldown for 1 of their attacks by 1 post. [Cooldown: 3 turns]
Hellfire Wheel
- Skye slashes her scythe toward the enemy, conjuring a wheel of hellfire that launches itself at an enemy. It tracks their movements, increasing accuracy. If the wheel hits, it explodes with concussive force that increases the cooldown of the opponent's last used attack by 1 post. [Cooldown: 2 turns]
Dark Starfire
- Skye focuses and bursts forth an aura of grey flames over her body that lingers for 3 turns. Not only does this fire cleanse her of any debuffs that are active, but the power of her attacks are increased by 30%. [Cooldown: 3 turns]
Blessings Render
- Skye conjures a spell that fulminates below the foe, surrounding them with light after a short delay. The light surrounds their body, then is summoned back toward Skye. This ability removes any active buffs that the enemy has, and transfers them to Skye instead for the rest of their duration. [Cooldown: 4 turns]
Heaven Divide
- Skye aims a slash with her scythe, delivering a quick blade of energy that will cause damage to the enemy if it hits. No further effects, no cooldown.
Evolves from:
DeathAngewomon
Evolves To:
Ofanimon-X Falldown Mode
---
Armor Champion: Lekismon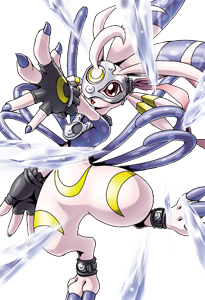 Stands 5'3" in height. Looks as pictured, but with the Crest of Responsibility on her chest rather than the moon symbol.
Attribute
: Data
Families
: Deep Savers, Virus Busters
Type
: Beast
Crest:
Responsibility
Fighting Style
: In this form, Skye utilizes both ranged and melee combat in a flowing manner - always trying to keep the initiative over her opponent. She tries to chain her attacks with each other, using the momentum of her previous strike to drive into the next. Her attacks are both Ice and Holy element, and she is also able to heal herself and allies (but not as effectively as her main line).
Abilities
:
Passive: Water Breathing
-
As Lekismon is a Deep Savers/Water Elemental digimon, she has the ability to breathe underwater. She can also swim very well and retains full combat capabilities underwater.
Combat Passive: Ice Dancer
- As Skye fights, her attacks tend to flow into each other. If Skye uses a melee attack one turn, the strength of her next attack (except healing) increases by 30%. This does not chain more than once and resets after activation.
Frozen Javelin -
Skye raises her paw over her head, condenses water into a frozen spear of ice, then launches it at the foe.
Gatling Blizzard -
Skye raises her paws in front of her, then rapidly fires a stream of small sharp icicles in a burst fire motion. Can target a group of opponents. [Cooldown: 1 turn]
Moon Night Kick -
Skye leaps high into the air, then aims a powerful kick downward directly at the enemy, glowing with holy energy.
Aura Halation -
Skye focuses inward, then casts a technique that mends a moderate amount of data to herself or one ally. [Cooldown: 2 turns]
Frozen Fencer -
Similar to her Frozen Javelin, Skye conjures a weapon of ice, but this time, she will use that weapon to stab or slash her opponent. This weapon shatters after it has been used.
Digivolves From
: Gatomon
:
---
Mercenary #1

Digimon Name
: Hickory
Default Form
: Rookie
Gender
: Male
Alignment
: True Neutral
Personality
: Hickory is a somewhat timid little fellow that really doesn't do well on his own. Thinks of himself as lucky to be alive, as he was born in the Dark Area, but has none of the primal instincts or the predatory evil of most of the other digimon here. While normally good natured, he doesn't think of himself as a hero in the slightest and will always look after his own interests first. He also thinks that he's quite dapper and charming, even if others deny it. He can often come across as a bit of a braggard, trying to seem braver and tougher than he really is.
However, he will not lie or betray anyone who has done him a good deed, and will eventually come to rely on Skye to look after him on their adventures, and in return, he does what he can to help her out. And despite his need to come across as meaner and tougher, he really is much more relieved at being able to be honest with others about how things really are.
---
RookieSpecies
: Chuumon
Appearance
:
(Original picture credit to
here
.)
Stands 1'2" in height. Often likes to show that he's a civilized digimon from the dark area by wearing the above outfit. Usually is seen riding on Skye's shoulder.
Attribute
: Virus
Families
: Nature Spirits, Nightmare Soldiers
Type
: Beast
Fighting Style
: Hickory is a digimon that tends to specialize in ranged combat. While normally tends to avoid battle, he'll fight from either Skye's shoulder or use his quick speed and small size as a means of distraction while other, bigger digimon can land the heavy hits.
Abilities
:
Combat Passive: Scarpering Rodent:
While timid in terms of attack, Hickory is quite fast on his feet. Slow moving projectiles from other rookies (with no area-of-effect) are easier for him to evade.

- Dangerously Cheesy:
Conjures a cheese shaped grenade in his hand and hurls it at an opponent, which explodes for small damage.
- Mozzarella Surprise:
Conjures a different type of cheese and hurls it at the ground at the opponent's feet. Upon impact, it explodes into a sticky mess that will immobilize digimon up to the rookie level for 1 turn. [Cooldown: 3 turns]
- Things can Only Get Feta: A means of Hickory to provide some cheerleading for his allies. Shouts words of encouragement that bolster their fighting spirit and increase their attack by 15% for 3 turns. [Cooldown: 3 turns]
---
Mercenary #2:

Digimon Name:
Jorge
Default Form: Champion
Gender: Male

Alignment:
Unresolved
Personality:
Jorge is an energetic, bold and straightforward digimon. The opposite of Hickory, Jorge faces his problems head-on and fears very little. However, the things he does fear and the problems he runs away from are massive, and he is always in search of distractions, whether they be battling, socializing or drowning his sorrows.
Jorge often disapproves of Hickory's ideas to stay out of trouble, but, will still care for him as a friend when he's needed. As for Skye, Jorge genuinely respects her and her experience. As a king without a kingdom, Jorge initially settled on hiring her as his "knight", but soon came to think of her as a true companion. Skye taught Jorge the virtues of humility, and, beginning again. It was Skye's efforts that made Shoutmon finally let go of his sunken crown and try again as a new digimon.
But still, the memories of his old kingdom still haunt him, as well as all the others that he had failed to protect in the end. Jorge puts up a facade of bravado in public, but in private, he drops it, and genuinely enjoys spending time with his friends, discussing what's on their mind. Even though Shoutmon was once a good ruler, his morals are more uncertain this time around.
ChampionSpecies:
Shoutmon (King mode)
Appearance:

Stands 4'1" in height. Looks mostly as pictured, but without the blocky shoulders, and the white on his front extends to his tail.
Attribute:
Vaccine
Family:
Dragon's Roar
Type: Dragon
Fighting Style: Jorge is a digimon that isn't afraid to get close and personal if necessary. He can conjure his mic staff at will, which he uses as his main weapon. As a fighter, Jorge uses both ranged and melee attacks to overwhelm and stop an enemy. He can also provide allies with protection if necessary.
Abilities:
Combat Passive: Fiery Heart - Jorge utilizes his full power as a dragon digimon. This power protects him from the effects of heat and reduces incoming fire damage from Ultimates and lower by 50%. To offset this, water attacks deal 50% more damage to him.
Combat Passive: Burden of the Crown - If one of Jorge's allies is damaged in this turn, his attack strength increases by 5%. This stacks for the rest of the battle until it hits a cap of 30%. He may only receive 1 increase per turn.
Soul Crusher - Jorge conjures his mic staff and gives a fearsome roar, casting a blast of fire at an opponent. Range is 50 meters.
Rowdy Rocker - Jorge conjures his mic staff and aims to bash the opponent with it, dealing melee damage.
Hard Rock Spirit - Jorge conjures a fireball in the shape of a musical note in his hand, then hurls it at the opponent or a place nearby. The fireball explodes on impact, causing area-of-effect damage with a radius of 10 meters. [Cooldown: 1 turn]

Soul Force - The song of Jorge's soul spills forth and imbues himself and 3 allies with a protective aura. For 3 turns, they are protected from any debuffing effects. [Cooldown: 3 turns]