Post by Sinn on Jan 25, 2018 17:56:51 GMT
The normal hustle and bustle of the world above was not present in this decaying state of land. In face, Viktor found literally no reason to truly be down aside from trying to avoid a straight fight with more Luminas thugs in the middle of Terminus. At this point, they were reduced to trying to get him wanted in the Core by hiring mercenaries to start fights in the middle of the city. First the Ogremon in Whitewater, which Genesis handled easily, then the run in between the cities. The Digimon grew increasingly harder as well... But every single one that tried their hand at them, fell short. They didn't kill them, just beat them within an inch of their life and sent them crawling back to their masters. Despite Viktor's best efforts, Genesis refused to kill them.
In a way, he admired her sentiment. Sure, it was naive at best, but innocent eyes were sometimes the best ones to see through. Had Viktor been in her shoes, he would have simply killed them and moved on. But Genesis was keen on keeping them safe. He tapped his black and camoflauge digivice;
"Anything?""Yeah... they aren't messing around this time. I see a few more behind you. Two Ultimates... one Champion."
Viktor sighed as he walked to a burning barrel and sat in front of it. He purposefully let the mercenaries follow him in a more open area so they could breathe and fight. No sense in fighting in a closet where numbers meant something. It didn't take them long to approach, like the Ogremon, they weren't prepared for this fight. Each and everyone bolstered their appearance like the thugs they were. Expecting an easy grab and bag. Just like the Ogremon, they would find themselves defeated.
"Lost, little human?""You're wasting your time playing a group of misfits. I know Luminas hired you."
The leading Ogremon shrugged,
"I don't know what you're talking about."
Viktor thought for a second this might be one of the Ogremon Genesis had beaten back in Whitewater... but upon closer inspection, it appeared to be a whole new one. He knew they'd play dumb... Luminas no doubt told them it could not be brought back to them. No doubt to prevent any foul play with their relations to the fairly essential core trading. The Skies were powerful, but Viktor doubted they could survive without being allied to the Core.
Viktor snapped his fingers and in an instant, Genesis appeared as Sakuyamon, standing behind her partner. Viktor crossed his arms;
"This is your last chance to back down. I'm sure your employers told you what happened to the last group?"
They stopped their advance. But only hesitated now, instead of outright walking. No doubt they were having second thoughts when face-to-face with a real threat. Viktor spit;
"This is your last chance. You leave or you die."
They stopped. Viktor smiled.
That was easy.
he thought as they cleared a path in the center of their group. Much to Viktor dissapointment... there stood a Murmukusmon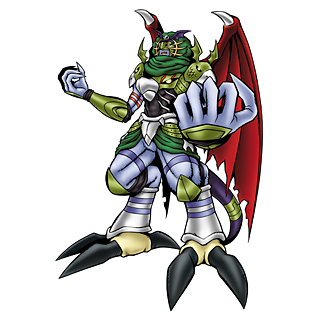 The group only laughed as the demon digimon flexed it's wings and swayed it's head and tail back and forth. A rhythmic dance that no doubt meant he was enjoying this. Viktor looked to Genesis, arched a brow then turned back to the crowd;
"We can do this the easy way or hard wa-"
The Murmukusmon instantly shot a fireball from it's hand that was headed straight for Viktor, who just barely managed to dodge. Genesis side-stepped it then looked to Viktor, who sighed. The edges of his jacket sizzling from the sheer heat. The smell of burnt hair filling the air. Viktor stood up slowly;
"Fine. The hard way."
The two Megas only seemingly stared eachother down for what felt like a centry to Viktor. Genesis slowly spun her staff as the demon digimon rolled his neck. No doubt preparing for his encounter with another Mega. Viktor wondered if he expected this or if they truly wanted overkill.
Suddenly, Genesis leapt into the air and brought her staff down, slamming it onto the Murmukusmon. Instead, she found only contact with the ground as the demon sidestepped her and counter-attacked with a heavy swipe of his claws. She just managed to catch it with her claws as she planted her feet, gyrated and effectively shoulder tossed him into the ground. She very quickly slammed her staff into the ground and shouted'
"Talsiman's Sphere!"
Instantly, a powerful blast escaped her immediate surrounding area and sent the weaker level digimon flying in all directions. The Demon took the hit, but backed off enough that he was barely hurt. Mumukusmon sent a flurry of claws her way. Genesis bobbed and weaved like an expert boxer, only getting grazed a few times by the attacks until she responded with a swift upward swing of her staff. The demon fell backwards and shook his head, no doubt rocked from the surprise attack. Genesis held her staff out then extended her hands along the length of the pole. With one smooth motion, she 'collapsed' her staff into nothing. Instead, both her hands held what appeared to be knives made of diamond. The Mumukusmon raised his arms to try to 'trap' the shaman, but instead, found both knives in his hands. Genesis only smiled as she ripped her blades from the demon's fleshy hands and brought them forward.
With the speed of a firing machine-gun, Genesis made several stabs onto her foe, pulling back and harassing him again as he fruitless swiped at his attacker. She employed a little trick Viktor taught her called; 'Probing'. She was wearing him out and only taking slight attacks to get him to make bigger ones. Viktor did want to see if stamina worked the same in Digimon, and it appeared that in some ways it did. With two, large swipes, Genesis backed off and spit;
"You're outmatched. You can leave your pride here, but take your life with you. It's useless to me."
The Demon gave a slight chuckle as he stood up slowly. Soon that chuckle became a bombastic laugh;
"Foolish girl. You think I came here with the intent to lose? No. There's much more to this than you understand."
Genesis shrugged, the knives vanishing and her staff reappearing,
"Way to fill all demon steryotypes ever. Some grand master plan you have, but we both know you're bluffing."
Suddenly, a voice appeared next to her;
"He's not."