Post by Alice Alexandria on Mar 17, 2018 7:53:42 GMT
Name: Alice Alexandria
Age:
22
Height:
6 foot 4 inches
Weight:
158 lbs. She refuses to disclose this to anyone.
Alignment:
Doesn't believe in reducing people to terms like "good" or "evil".
Birth Date:
January 2nd
Birth Place:
Unspecified location in southern USA.

SKILLS/TALENTS
- Curious and Intelligent - Alice is naturally curious, even at her current age, and has knowledge on numerous subjects alongside a tendency -some would say an obsession- with learning new things. This tends to lead to a lot of entries in her notebook(s).
- Determined. Alice's somewhat unpleasant upbringing has brought her to be someone too stubborn to give up at times, and someone who will always try her best simply out of principle, given how she strives to be seen at her best as often as possible.
- She's good at singing. This isn't really that important, it's mostly just something she keeps to herself.

BACKPACK/BAG CONTENTS
- Lighter. A reminder of darker times, and yet something Alice clings to anyway. She flicks it on and off when stressed as a habit of hers. She doesn't smoke, and instead has it for other, arguably even less pleasant purposes.
- Notebook. A paper notebook with about 100+ pages that can fit into her bag. She can get more if they're destroyed or she fills up the whole thing somehow, they're just notebooks, after all. It's what she writes in them that matters, ranging from sketches to musings on life, the world around her, and things that interest her.
- Pens. She needs these to write in her notebook. That's really all that needs to be said.
- Books. She's got a few small pocket books on numerous subjects that she carries around. She burns them on some occasions.

DIGIVICE
Alice's Digivice is a slightly bulkier and blockier version of the D-3 model with a dull gray center and red grips.
PERSONALITY
Alice Alexandria is cynical due to her past, but at the same time, she's a good person despite the multitude of bad habits and somewhat cold, occasionally snarky attitude she wraps herself up in to hide her softer, more friendly and caring side. She cares about her appearance, and desires to be seen as a role model, at least, when she isn't indulging in her vices, something that she struggles to control alongside her emotions, which are a bit stunted at times and lead to behavior that can be a bit immature in some situations. Despite all this, she's rather creative, and an aspiring author.
She's also a pyromaniac. Ever since she was young, the dancing orange light of fire and the destruction it causes has intrigued her and filled her with a strange joy, and this is something she struggles with to this day, occasionally starting small fires or simply being fascinated by fire of all kinds, be it that of a candle... Or a raging inferno. She knows it's bad, but she's also accepted that it's part of her to some extent, an inner demon that'll never truly go away, only be restrained.
Other small quirks include a rather strong envy of anyone more shapely than her and a strong dislike of topics such as time travel, magic and alternate universes.
APPEARANCE
The most striking feature of Alice is her long, straight green hair that fans out slightly at the end. It's naturally green, a trait she shares with the rest of her family. Of course, she's also rather tall, and of an average figure. Her usual expression, a cold, judgemental slight frown, is only emphasized by her blue eyes, though when she's more comfortable around others, she usually smiles and acts less rigid. Her usual outfits utilize the color red, black and white, with the occasional use of a green darker than her hair, and range from casual wear to somewhat more feminine outfits with skirts which are usually just a little bit shorter than average. She doesn't like makeup, and therefore doesn't wear it unless she is being exceptionally formal. With a somewhat rigid posture, it's clear that she's someone who is usually stressed out to some extent, perhaps even making her slightly intimidating, given her height.
She commonly runs her fingers through her own hair, a gesture she does in an attempt to curb reaching for the lighter instead.

PERSONAL HISTORY
Alice Alexandria used to live a rather normal life until age ten, where an incident involving an unattended lighter and Alice's inherent pyromania that won't be elaborated upon left her parents in a rather unpleasant mood, to say in the least, leaving Alice with very little in the way of luxuries as punishment. This rather poor, harsh decision lead to somewhat of a downward spiral, where Alice soon became a bit of a bully for a while, something Alice herself regrets now and has made amends for, but the emotional wounds are still there.
In adolescence (around 13 to 15), Alice was rebellious, but not entirely unpleasant as she slowly climbed back up in terms of respect and started getting things back, but later on, she realized that her actions were, in her own eyes, unforgivable, and she started trying to get herself back into a state that people would consider presentable... Even if it wasn't easy. Alice's pyromania became a way to relieve her stress for quite some time, burning small objects in secret simply to sate her desires to see things burn until later in life, where a visit to her therapist started her down the path of an author, and she began writing stories instead... For the most part. Even after this, she was rejected by those around her. Not as badly as before, but still, people were uncomfortable around the green-haired firebug of a girl, even if she was taking steps to fix herself in the eyes of others.
Currently, Alice is 22, and lives away from her parents, of course. She's somewhat poor, and seeking all sorts of things that she doesn't have. She's far better off emotionally and mentally than she used to be, but the damage has been done, and she's still bitter about mistakes she's made. As for why she's headed to Shibuya, she says it's for inspiration, but perhaps it's to escape from her inner demons.
Of course, she can't run from them forever...
---

Digimon Name:
Dorothy Hex
Default Form:
Champion (Witchmon), occasionally Ultimate (Wisemon)
Alignment:
Some would say Chaotic Neutral. Alice says Dorothy reminds her of herself when she was younger, or perhaps if she never got her life back on track.
Gender:
Female

SKILLS/TALENTS
Quick Learner - Dorothy, much like Alice, is naturally curious about things, and picks up on skills and concepts at a surprisingly fast pace. Whether it's operating human technology or figuring out how to aggravate a hostile Digimon as quickly as possible, she figures out how to do it quickly.
Blending In - There's something odd about her that makes her seem a bit less notable than the average Digimon partner. This means she's harder to pick out in a crowd for one reason or another, whether it is looking like a plush toy at Rookie or just a very strange human at Champion.
Charismatic - When she's not trying to blend in, Dorothy's trying to show off, and when she does, she has a confidence and charm that's almost commanding in its' nature, an almost reckless nature that encourages people to join in.
PERSONALITY

Dorothy is slightly rebellious despite her constant fascination with the human world, a drive to explore it and cause trouble simply to see what happens. With an independent nature, Dorothy is prone to wandering off on her own or making her own decisions, a free spirit willing to demonstrate it more often than not. She's also got a somewhat short temper, and combined with a poor grasp on her emotions, this can lead to her threatening others, outbursts, and other unpleasant behavior. Despite her hedonistic qualities, she means well, and has a protective, almost heroic spirit hidden within that makes her want to do good. Even if that requires a bit of her own benefit to push her to do it.
The name Dorothy was given to her by Alice in an ironic sense, seeing that this stranger from an evidently much stranger world is the opposite of innocent in some ways.
---
IN-TRAINING

Level:
In-Training
Species:
Pagumon
Attribute:
None
Type:
Lesser
Fighting Style:
Doesn't really fight, mostly just tries to get away as fast as possible after distracting them.
APPEARANCE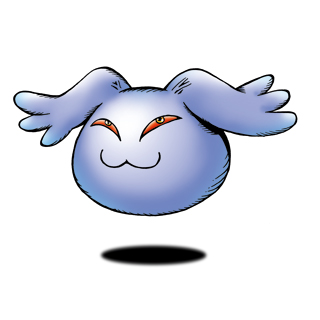 Dorothy has no unique defining features in this state.
ABILITIES

POISON BUBBLES
Shoots out poisonous bubbles from her mouth. These normally aren't really that bad, but can cause temporary blindness if aimed at the eyes, perfect for a getaway.
From:
? ? ?
To:
Tsukaimon
---
ROOKIE

Level:
Rookie
Species:
Tsukaimon
Attribute:
Virus
Type:
Mammal
Family:
Nightmare Soldiers, Wind Guardians
Fighting Style:
Mostly indirect. Very much about ambush and hit-and-run tactics.
APPEARANCE
As a unique feature, she has a little red ribbon wrapped around her left front leg, something she notices, but doesn't really think much of. Aside from that, she's very much alike to the average Tsukaimon physically.
ABILITIES

FLUFFY ATTACK

A reckless charge into the enemy with very little notable about it. She uses this to hit people when they least expect it. Don't laugh at the name, that only makes you more vulnerable.

PURPLE HAZE

Dorothy breathes out a plume of poisonous smoke with numerous symptoms, including irritation to the lungs and throat, temporary blindness, and weakness, softening up anyone foolish enough to get caught by it. It also works as a good smokescreen for when one needs to flee. Alice still suffers from it, but to a lesser extent.

Stuns for 1 turn, blinds for 1 turns after that. Three post cooldown.

FRIENDLY FIRE

Dorothy puffs herself up and wells up heat inside her body to rapidly spew six fireballs in an unpredictable spread. It's called Friendly Fire for a reason: She doesn't care who it hits, it's for attacking a large area. It's your fault for not paying attention, you dork.

Deals extra damage up close, and can harm allies if they're also at melee range. Two turn cooldown.

EVIL CURSE

Perhaps hinting at abilities Dorothy may have in the future, she focuses her mind and chants to create a magic circle around her. Hostile targets around her are afflicted with a minor curse as their emotions go out of control, resulting in a dulled sense of awareness and a heightened state of panic.

Reduces the opponent's offensive and defensive capabilities for 1 turn, softening them up for Dorothy and any allies. Two post cooldown.

From: Pagumon
To: Witchmon


---
CHAMPION


Level: Champion
Species: Witchmon
Attribute: Data
Type: Demon Man
Family: Nightmare Soldiers
Fighting Style: Ranged bombardment and surprisingly direct and aggressive. Varied effects and versatile spells coupled with flight make her a tricky target.
APPEARANCE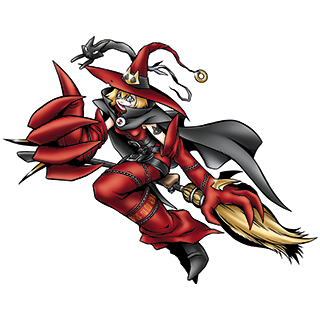 She does NOT have a cat familiar of any kind.

When standing upright, she is five foot, eleven inches.

ABILITIES

BROOM FLIGHT (Noncombat Passive)

Dorothy now usually rides a broom... A flying one, at that. This allows her to reach places others normally cannot, move at incredible speeds, and simply fly away from trouble if the need arises. Alice can ride the broom as well, but she's very bad at controlling it (though this can get better with practice).
It's flight, pretty much.


THE UNCANNY VALLEY (Passive)

Dorothy can pass as human to the untrained and unprepared eye for just long enough to catch people off guard. She's just a strange, blonde haired woman with sharp teeth, right...? Wrong. Very, very wrong.
Dorothy gets a moderate bonus to sneak attacks of all kinds.

POISON STORM

Sprays what basically equates to fast acting Tear Gas at foes or in an area, be it small or large, to cripple their combat capabilities and prevent them from fighting back. At this point, it's potent enough to actually cause lasting damage to humans, something that worries both Dorothy and her tamer greatly. Neither of them can deny its' effectiveness, however. (The magic circle color for this attack is purple.)
Prevents the opponent from attacking for one turn, and blinds them for 1 turn after that. turns Only does minor damage. 3 turn cooldown.

BALULUNA GALE
A circle of green runes quickly forms in the user's hand, and is dispersed with a blast of air pressure akin to a blade or hammer, slashing anything in its' radius or punting them away with pure blunt force.

AQUARY PRESSURE
A blue magic circle gradually forms at the caster's hands as they focus, and when sufficiently charged, it glows brightly before focusing into a pinprick-sized beam of ultra-high pressure water capable of cutting through objects, piercing holes in walls, and shredding flesh apart. It's difficult to defend against such an attack, given the sheer amount of physical force exerted by the water jet.
Ignores most defensive buffs, shields, armor, hiding in cover, and so on. Takes one post to charge up.

SHARDALLION LENS
The caster raises their hand and produces a large white magic circle around herself that then forms into a bubble-like shield with a translucent mirror sheen. It doesn't last long, but it deflects ranged threats with incredible effectiveness, energy and physical projectiles alike being nullified.
Protects the user in a shield that prevents them from being hit by projectile attacks for 1 turn. Melee attacks still cut right through it as if it wasn't there. Three turn cooldown.

ARMAGUS FLARE
The caster snaps their fingers, and a red magic circle forms in front of them before rapidly firing out six globs of burning hot, glowing, tar-like material rapidly, pelting foes with sticky, burning projectiles that set fire to objects. Think magical napalm balls of death, really.
Ignites the target for one turn, dealing fire damage, and does damage on impact. Incredibly painful. Two post cooldown.

SPELL CHARGE (RAM UPGRADE 1)
A white magic circle with a hollow interior like a ring is summoned by the caster. This acts as an amplifier for any and all spells performed next. It burns through a fairly large amount of energy to do this, limiting the amount of uses such an ability has, but the effects are undeniably more powerful.
Provides a passive effect that enhances her next attack in a different way depending on what attack is used:
Poison Storm blinds for two turns.
Baluluna Gale does greatly increased damage (and impact).
Aquary Pressure requires no time to charge, and can be used immediately after Spell Charge if needed.
Shardallion Lens protects up to three targets from projectiles.
Armagus Flare ignites for two turns.
Mark Of Golachab's effects last for 4 turns.
Loaded attacks and RAM upgrade attacks are also included, and will be added as needed.
Can only be used three times per thread.


FANTASIA OVERDRIVE (RAM UPGRADE 2)
A spark of pure energy is utilized as the caster calls upon all their strength to fire an attack as powerful as possible for a Champion level to accomplish. This attack comes out in the form of a lance of rainbow colored light that penetrates most surfaces, shooting through most materials and shattering most non-Digimon things it touches into raw data.
Harms the user and prevents them from attacking for one turn afterwards, but does extremely heavy damage in comparison to a Champion level attack. Not affected by Spell Charge. Three turn cooldown.
LOADED MOVESMARK OF GOLACHAB
Dorothy strikes her opponent with her hand, and utters a curse, branding the opponent with a burning rune filled with all manner of curses and scorching their flesh, readying the victim for further assault.
Deals moderate damage and increases all fire-based damage received for two posts. Two turn cooldown.
[Loaded from Darklizardmon]
From: Tsukaimon
To: Wisemon
---

ULTIMATELevel:
Ultimate
Species:
Wisemon
Attribute:
Virus
Type:
Demon Man
Family:
Nightmare Soldiers
Fighting Style:
Almost completely indirect, with no way of harming the opponent without them attacking first. There's a very interesting reason for that noted below...
Note:
This evolution requires Alice's notebook as a catalyst, and cannot be used if it isn't in Alice's possession. Again, there is a reason noted below.
APPEARANCE
Dorothy has a slightly more feminine shape than the average Wisemon. She's six feet tall. Occasionally intersperses "words" that are indecipherable into her speech without knowing it. The Book so associated with Wisemon isn't here... But in Alice's hands.
ABILITIESGRIMOIRE (Passive)
Due to the circumstances of this evolution, Alice's notebook and Dorothy are linked to some extent, to the point where the notebook can act as a conduit for Dorothy's abilities and data. This allows Alice to access some degree of inhuman power herself, provided Alice has her notebook, though the shock of such energies going through her body is nothing short of agonizing due to the inherent incompatibility of Digital energy and a human body. Unfortunately, it's also the main method of attack the duo have when Dorothy is in this form. Not to mention that overuse of such abilities will inevitably lead to Alice's mind and body deteriorating, and potentially even worse effects...
For all intents and purposes, Wisemon counts as a pair of Twin Ultimate Digimon, with the reduced capabilities associated with Twins, and Alice standing in for the other twin. She is capable of using all of Dorothy's abilities from her Champion stage (At the strength of a Twin Ultimate), but at an additional 2 turns of cooldown.
Due to the fact this is essentially a shift in class, a count of 200 or more posts is required for this ability (and anything of a similar nature, presumably) to activate.
As she is still human, Alice is capable of being injured (and potentially even killed) in this state. However, the energy coursing through her acts as a buffer, giving her increased durability, just enough to survive in such combat situations. She still feels pain normally.
SHARDALLION PRISM
A simple improvement over the previous ability of Shardallion Lens, Dorothy crystallizes space-time around her into a shield that resists damage, putting her in front of danger. The shield absorbs energy to some extent, the result being a barrier that also stores power for later use.
Reduces oncoming damage directed at Dorothy by one third for one turn, and if hit, reduces all cooldowns shared by her and Alice/Grimoire by 1 post. Three post cooldown. This cooldown does not go down by its' own effect.

PANDORA DIALOGUE
Attacks directed at Dorothy, be they avoided or otherwise, will be stored inside the Space-Time Stones, and can later be repeated, but directed at the attacker instead.
Mirrors the last attack that has been directed at Dorothy or Alice back at the attacker. The attack must hit successfully for this to work. Two post cooldown, Cannot be used on once-per-thread abilities.
NET OF ALAMERIA
Charges the Space-Time stones with energy and they begin to slightly distort the local physics of an area temporarily, strengthening the materials composing Dorothy and weakening those composing that of her foes. Some might say it's an overly complicated way to accomplish such a simple thing, and you'd probably be right.
Reduces the defensive capabilities of up to two enemies caught in the radius for 3 turns, and enhances Dorothy's defenses for 2. Four post cooldown.
PARADIGM SHIFT
A rather basic, but ultimately needed ability where Dorothy sends out a pulse of distorted space outwards to Alice, and the two switch places in space-time. It does little else, but this makes it handy and able to be used even in the heat of combat.
Allows Dorothy and Alice to switch places any time in battle, allowing Dorothy to take hits for Alice, and Alice to launch a sudden offense. This has a 20 foot range limit, and any further simply isn't possible. Is a free action, and does not count as an attack, but has a two turn cooldown after being used.
RELATIVIA WARP
A patch of distorted space is placed upon the enemy via the space-time stones, binding the target in place. As they try to run or move, the target finds themselves stuck in the same place rather than moving... Well, anywhere.
Binds the target to the floor for a turn. They are still capable of turning around, using attacks, and so on, but are for all intents and purposes unable to use melee attacks effectively. Three post cooldown.
SUBCONSCIOUS BONDS (Passive) (RAM UPGRADE 1)
A further development of Grimoire's effects stemming from the two becoming more accustomed to such an unnatural state. Alice begins to float slightly off the ground, her connection to the Grimoire and Dorothy strengthened to the point where they are more synchronous than the average Tamer-Digimon pair, even capable of reading each others' thoughts. They can exchange their energy, giving parts of their own to each other when needed.
Alice is able to use abilities twice in one turn if Dorothy does nothing for a turn, and vice versa. All cooldowns still apply normally.
From:
Witchmon
To:
Venusmon
---
MEGALevel:
Mega
Species:
Venusmon
Attribute:
Vaccine
Type:
God Man
Family:
Virus Busters
Fighting Style:
Strange, and completely unlike what one could conventionally describe as a Venusmon, with a large emphasis on holy magic to compensate for being unable to manipulate the hearts of others very well. There still is a good deal of mental and emotional manipulation, however.

APPEARANCE

She's the exact same height as Alice in this form, and is holding Alice's notebook in her hands instead of a dove and shell, as it is required for this stage of her evolution. In this case, it stands in for... A romance novel. Oh dear. One can say this form represents Dorothy's love for humanity, in a sense.

ABILITIES

HEART SEEKER (Passive)

Venusmon is blind conventionally, but can "see" into the code of nearby Digicores. This is unnerving, to say in the least, given how individuals can feel this happening to them. Even more unnerving is that this subtly affects nearby cores with a calming, soothing joy that is anything but natural, a low numbing of negative emotions directed at her. She can also see the notebook, but that's less important.

All attacks with a cooldown lower than 3 have an additional turn of cooldown if directed at Venusmon.

SECOND SIGHT (Passive)

As stated above, in this form, Venusmon cannot see conventionally. She can, however, see Digicores and thin filaments of code that form the Digital World, and this means that no matter where someone is, she can find them one way or another.

Venusmon is completely immune to being blinded in any way and can track hostile targets regardless of location for up to 50 feet.

BALLROOM DANCE

Prancing across the battlefield with unnatural fluidity and grace, every step from Venusmon is met with a circle of holy energy coming from her feet and lingering on the floor, all shooting out flares of light when she finishes her dance. Anyone who has the nerve to hold her hand will have the same effect, doubling the circles and power.

Deals damage across a ten foot radius. If an ally decides to, they can spend a turn powering this ability up instead of attacking normally by grabbing her hand and joining in, doubling its' damage and radius. Two turn cooldown.

ROMANTIA CONFESSION

holding the book up to "read" a passage from it, Venusmon's words summon a group of doves from seemingly nowhere that attempt to strip away weapons and halt aggressive behaviour, hindering an opponent's attacks.

Deals minor damage and reduces the offensive ability of an opponent by one third for two turns. Three turn cooldown.

FIRST KISS

Approaching the target, Venusmon brings her face close to the target's, and peers directly into their Digicore, attempting to temporarily tamper with it. Afterwards, the victim feels weak and dizzy as a heart-shaped burn is etched into their body. Little do they know that they've subconsciously let their guard down for a little bit.

Deals minor damage and reduces the opponent's defensive capabilities by one third for two turns. Three turn cooldown.

PEACE FANTASIA

A single dove is summoned from seemingly nowhere, and it flies off to peck at the opponent. Of course, a single bird isn't going to do much, but what's special about this bird is that it is incredibly distracting. Its' mere presence on one's shoulder is enough for them to lose focus on how they feel as it sneaks in a subtle curse before flying off.

Reduces positive effects on the target by 1 turn and extends all negative status effects by 1 turn. It also interrupts any moves that require charge up. Two turn cooldown.

UNBREAKING LOVE

A few versus of magical spellwork allow Venusmon to shoot out a chain that wraps around her and the target, effectively locking them together and forcing them to share both good and bad, pleasure and suffering. This chain cannot be broken, but vanishes after a while, being made of holy energy.

Can be used on a hostile or friendly target. Any buffs on the target are shared with Venusmon, and any debuffs on Venusmon are applied to the enemy. Can be used on a hostile or friendly target. This ability is a free action, but it (and all effects) only last one turn Not effective on once per thread abilities. Two turn cooldown.

LOVER'S KNOT

Magical chains shoot out from Venusmon's hand to chain a target to her. These chains tie around an opponent and pull them closer the more they pull away. Not to mention how tight they can get, damaging foes before they fade out of existence.

Forces the target into melee range and does decent damage. One turn cooldown.

HAPPILY EVER AFTER

Sacrificing all of her energy into one attack, energy focuses into a single point of light on her body that is highly destructive, yet pleasurable, a warm, comforting embrace of oblivion to all who come close... Made easier by the fact this ability projects their ideal vision of happiness into their mind more and more the closer they are. This doesn't last long, however, and burns out Venusmon's power for quite a bit afterwards. If one is already focused on her, suffering from this attack is all but certain if one cannot defend against it.

If an opponent's previous attack was intended to hit Venusmon, that opponent takes heavy damage that cannot be avoided, but is easily blocked. Can only be used once per thread, and renders Venusmon completely helpless for one turn afterwards. Can only be used after eight rounds of combat have passed.
From: Wisemon
To: Warudamon

---
ARMOR CHAMPION
Level:
Armor Champion
Species:
Mienumon
Attribute:
Free
Type:
N/A
Family:
N/A

Fighting Style:
This one is purely about harassment and deception, as would be fitting of a being designed from the ground up for stealth tactics and not fighting directly, if at all. This is primarily a support form, so it seems.
It should be noted that this form's abilities vastly boost Dorothy's kleptomaniac tendencies, making her prone to snagging things from her foes.

APPEARANCE
Her height is rather short, at about four feet tall. She hates this because it makes her feel like people don't take her seriously.

ABILITIES


COVERT DESIGN (Passive)

Mienumon isn't intended for front line combat in the slightest. It is a being designed to do one thing, and do that one thing better than anyone else: Being sneaky. Doesn't mean attacks are useless coming from such a Digimon, but they're unlikely to be effective unless they're done from the shadows.

Dorothy receives a massive boost (200% normal damage) to any sneak attacks at the expense of a severe decrease to her offensive capabilities (70% normal damage) otherwise, and isn't very durable to say in the least.


STEALTH CAPE

Dorothy flutters the cape she's wearing, and she immediately begins to turn invisible and, for the most part, completely silent, allowing her to evade detection, become nearly impossible to hit, and generally follow up for all sorts of antics and trouble.

Lasts 3 turns, but ends when she does anything aside from move around. Boosts her evasive capabilities greatly and makes her virtually undetectable, perfect for positioning herself better or exploiting the damage boost from Covert Design. Four turn cooldown.


CHAMELEON LICK

That giant, gaudy chameleon hand puppet isn't just for show! By flicking it forwards, she can shoot out its' tongue at friends. Being licked by the tongue will coat the target in a material that conceals them, making them hard to hit... And invisible, of course. It doesn't last long, and is kind of gross, though. It's a tongue, what do you expect?

Can be used on a friend to make them invisible and make them difficult to hit for 1 turn. One turn cooldown.

CHAMELEON WHIP

Similar to Chameleon Lick, only it's directed at enemies, and harms foes rather than actually doing anything interesting. She does this with more of a sweeping motion than a forwards one.


CHAMELEON PULL

With a wide, sweeping motion, Dorothy's chameleon hand puppet extends its' tongue, which wraps around a victim, hostile or otherwise, and then pulls back.Used on a limb such as one's leg, it's likely to trip whoever got caught.

Does little damage, but interrupts any attacks with a charge/windup period and adds a 1 post cooldown to whatever attack was used last by the target. Two turn cooldown.


CAMO MELT
She gives the chameleon plush a whack, causing it to (somewhat disturbingly) cough out a ball of strange material that does something... Rather strange: It's an anesthetic of sorts with rather interesting psychoactive effects, not only making the effected individual incapable of feeling anything at all briefly, but also unable to see themselves for a short time as well. Everyone else can still see them, though. The intended effect is to trip up whatever the enemy is doing, causing a brief loss of awareness.

If the enemy is hit by this, they gain an additional one post cooldown to all of their attacks which have active cooldowns. Does absolutely no damage. Three post cooldown.

From: Dorothy + Digimental/Egg of Deception
To: N/A