Post by John Jourdain on Jun 9, 2018 3:50:30 GMT
Note: I plan on adding move sets for every form champion onwards when I unlock them or on a later date, I just want to get to rping, also I have nothing for super-mega/burst right now I feel that will come with time.

Name
: John Jordan
Alias
: Jojo
Age
: 17
Gender
: Male
Height
: 6'1
Weight
: 164
Alignment
: Chaotic good
Birth Date
: day 5 month 11
Western Horoscope
: Scorpio
Birth Place
: America
Skills/Talents
:
Drawing: but he's a beginner
Gamer: He mostly plays RPGs/card games
Backpack Contents
:
Artifacts
Pendant of Deceit
A pendant imbued with the energy of Sloth's lethargy. This pendant allows you to experience the dreams of another person in close proximity.
Digivice
:
It also has an Ocarina of Time sheikah eye drawn on the back, this is added after he get's home from his first visit to the Digital World.
Personality
:
John is the kind of guy who likes to keep to himself 60% of the time, during the day he can be social enough but when he's at home he spends all his time in his room except to eat lunch or dinner. He doesn't have much desire to talk to others unless talked to, but he is in no way mean. He treats others fairly, however when he sees someone mistreating others he usually leaves the situation alone unless they're his friend, or if violence occurs.
He doesn't lie most of the time, but when he wants to get out of something he does not want too do, he will. While he usually won't get involved when people are mistreating someone he doesn't know, he won't interact with the abuser, he has a number of excuses to get out of talking to them if they approach him in a friendly manner, and if they don't work or he runs out or ideas he'll be flat out blunt about his distaste towards them. He hates fighting, getting others hurt makes him feel terrible, however if he were to believe that the fight was a part of a game he would have no problem with it.
Appearance
:
John is lean in width and his arms go down to his thighs. He has light blue eyes that take a slightly darker shade at dusk, his hair is a chestnut brown and its length go's down to his neck, it's style is smooth with slight bangs to the sides. His skin is slightly pale making it obvious he doesn't get out much, his face is clear without a pimple in sight, but there may be one or two behind his hair.
His outfit usually consists of a shirt that is ether a solid color or something related to Nintendo, mostly Legend of Zelda or Kirby, he wears blue or red jeans and has various grey zip up hoodies. He has no tattoos on him, no freckles on his cheeks and his teeth are well kept. He has black sip on shoes and wears white socks.
He's built a little muscles in his arms and legs, and has some muscles in the chest, but it's just a little, and nothing overboard.
Personal History
:
John grew up in the USA, not in any specific place since his dad kept moving from place to place, usually once every school year. When he was five his mother left for some unknown reason without a word, his father just had to try and find her, so he could find out why.
John has spent his life to himself for most of his time traveling, not wanting to get close to someone before he had to leave with his dad to find his mom. This hasn't stopped many kids who were into anime in some of the schools he attended to affectionately refer to him as Jojo, something that brought to him some comfort. While he doesn't hate his mom because she left, he doesn't care if they find her or not.
For John, video games, cartoons and anime where the only constant form of friendship he had, sure interacting with kids at school was fine but they were a temporary friendship and chances are they would never meet again after he left. With fiction he could take it with him and see the characters he grew to care about whenever he wanted.
When he was about halfway through his fifteenth year he started to get interested in drawing, being able to draw in something and keep it appealed to him just as much as fiction, and he had plenty of material to practice with.
For ten years it was the same for John, go to a school from fall to spring then travel for the summer, but one day after he turned 16 he got a letter from someone his dad talked about but John had never met, his uncle Daniel from his mom's side.
Daniel was the first person his dad went to when his mom went missing, but he knew nothing seeing as how he was in japan. Usually the letters are for his dad, but this time Daniel sent one to John instead. Danial said in his letter he wanted to give John a chance at a normal school life, not traveling every year lousing all the friends he may or may not have made, but he never had enough money to do so.
Recently he won the jackpot in the lottery and decided to offer John the chance to have that life, he offered to fly him over to Shibuya where he would get enrolled in the high school there and be given a dorm along with an allowance to pay for food, hygiene products and some extra money for however he wished to spend it, however this was ultimately his choice.
At first, he was hesitant, but he soon jumped at the chance to be able to stay in one place for longer than a year, in a way he felt like he had won the lottery as well. His dad had some concerns at first, but he conceded in the end after seeing how happy his son was at the offer. John packed his laptop computer, art supplies, cloths, games and two game consoles, his Switch and Wii, then after saying his goodbyes made his way to Shibuya.
One year later:
For a year, John's life has been fairly calm for a tamer, in the real world on a school day, he's spent his time just going to school, after school he would go to a gym to exercise. At home, in the evening, he would fix Runa and himself a meal, then he would take a bath, after that he would study his homework, and if he had time he would play video games with Runa for at least an hour.
On a day before a school day, John and Runa would go to the digital world for about a week DW time, they would usually go to a random town and just enjoy themselves, then they would go back to the real world and then John would go back to school the next day.
---
Digimon Name
: Runa
Default Form
: Viximon
Gender
: Female
Alignment
: Neutral Good
Skills/Talents
:
Stealthy: Can hide easily, best in rookie form.
Quick: Can run fast, it varies by form but the higher the better.
Personality
:
She likes to hide and observe others, this is what she believes to be the best way to determine what a person's like. She also likes to test her speed against others, although she has little self-control when she finds someone she can't beat in a race, challenging them over and over until she wins. She likes music, specifically power metal, she wants to learn how to play a guitar because of this. Video games are something she finds very interesting; puzzle games are her favorite although she doesn't play very much. Runa is kind but only to the ones she deems worthy of it, usually when she meets someone she hasn't observed she refuses to talk much, this may come off as her being shy but it's just her being cautious. She values truthfulness and people who don't cause needless violence. She likes fruit and meat her favorite being apples and ham, but she dislikes pears and turkey.
Personal History
:
Runa doesn't have much of a history, she just hatched for the first time. Before then someone in a cloak stole her egg from the village of beginnings, and was making their way towards the Dark Area, but left it when it started to hatch.
She has spent her time in the digital world traveling from place to place growing from her fresh stage, after she became her in-training form she began to explore Shibuya.
Using stealth and speed she avoided the watchful eyes of humans, learning about them and finding out what kind of people lived there. For the most part no one caught her interest, but there have been a few who she finds a little bit fascinating.
---
FreshSpecies
: Reremon
Appearance
: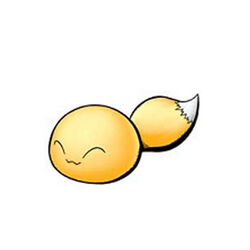 Attribute
: Data
Family/ies
: None
Type
: Slime Digimon
Fighting Style
: Distraction
Be's as distracting as possible so that others can get away or get a good hit in
Abilities
: [1 Ability Max]
Over Here[passive]: Tries to draw attention to herself to distract the opponent, this can backfire if the enemy has no interest.
Digivolves To
: Viximon
---
In-TrainingSpecies
: Viximon
Appearance
:
Attribute
: Data
Family/ies
: None
Type
: Lesser Digimon
Fighting Style
: Physical
uses her body and tail to tackle into opponents.
Abilities
: [2 Abilities Max]
Tackle [Attack]: Body slams into her opponent at the speed of a runaway skateboard.
Tail Whip[Attack]: Whips her tail to slap her opponents with the speed of a fly swatter.
Digivolves From
: Reremon
Digivolves To
: Renamon
---
RookieSpecies
: Renamon
Appearance
: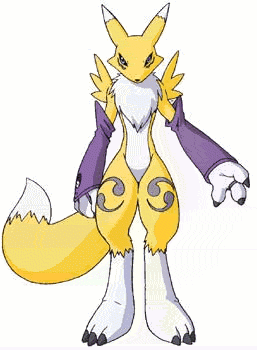 Attribute
: Data
Family/ies
: Nightmare Soldiers, Nature Spirits
Type
: Beast Man Digimon
Fighting Style
: Physical
Uses her claws and legs to fight
Abilities
: [4 Abilities Max]
Drop Kick[attack]: Attacks from above to kick her opponent
Quick Claw[attack]: Slashes an opponent in quick succession with her razor-sharp claws
Ear Tuning[passive]: Can focus her ears to listen through walls to the next room, or to hear from up to a couple blocks away, but she must focus in that direction and it can't be noisy around her like say she's in the middle of a busy walkway.
Night Sight[passive]: She can see in darkness as long as there not much of a light source.
Digivolves From
: Viximon
Digivolves To
: Kyubimon
---
ChampionSpecies
: Kyubimon
Appearance
:
Attribute
: Data, Vaccine
Family/ies
: Nightmare Soldiers, Wind Guardians, Nature Spirits
Type
: Bewitching Beast Digimon
Fighting Style
:
Abilities
: [6 Abilities Max]
Tail Thrower [attack]: Creates a fireball on all of her 6 tails, each the size of an base ball. Can wait a turn to charge up the attack, and increases the size to about a grown man's fist. (cool downs: 3 turns for regular, 5 for charged up)
Steel Claws [attack]: Slices at enemies with strong claws.
Flame Tail Whip: Her tails are engulfed in fire, she lunges at an enemy to whip them 6 times with the speed of a ceiling fan blade on high speed(cool down 4)
Super Tackle [attack]: With her new form, she's able to body slam enemies with the speed of an car going at 20 MPH (cool down 2)
Swift Howl [passive]: Let's out a howl that increases speed for 3 turns (cool down 5 turns)
Steel Tails [passive]: Links her tails together to create a shield, can block any champion or lower attack, and ends on the next turn. (cool down 5)
Digivolves From
: Renamon
Digivolves To
: Taomon
---
UltimateSpecies
: Taomon
Appearance
: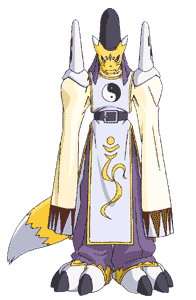 Attribute
: Data, Vaccine
Family/ies
: Nightmare Soldiers, Wind Guardians, Nature Spirits
Type
: Wizard Digimon
Fighting Style
:
Abilities
: [7 Abilities Max]
Digivolves From
: Kyubimon
Digivolves To
: Sakuyamon
---
MegaSpecies
: Sakuyamon
Appearance
:

Attribute
: Data
Family/ies
: Nightmare Soldiers, Wind Guardians, Nature Spirits
Type
: Shaman Digimon
Fighting Style
:
Abilities
: [9 Abilities Max]
Digivolves From
: Taomon