Post by Kazuya and Royland on Jun 17, 2018 2:18:38 GMT
Name
: Kazuya Oda
Alias
: Kaz
Age
: 23
Gender
: Male
Height
: 6'2
Weight
: 215 lbs
Alignment
: Neutural Good
Birth Date
: July 7th, 7:00 pm
Birth Place
: Tokyo
Boon
:
Silver tongue
: as a salesman Kazuya has amazing persuasive speech and can talk his way out of alot of tight situation.

Reading people
: another talent he developed as a salesman Kazuya can read people somewhat accuratlely, and use that info to his advantage.
Adaptability
: Kazuya can adapt and change his attitude to better fit the situation at hand.
Physical prowess : due to his poor background Kazuya entered college via a basketball scholarship and thus had amazing physical feats such as, endurance Speed and Power. he still kept training even after leaving college, he still has a gym membership.
Bane
:
Bad at leadership
: Kazuya likes to work either alone or as member of a team, never the leader as he is terrible as a leader as he has almost zero talent for leading people.
Proud
: Due to his upbringing Kazuya finds it diffucult to receive any sort of major help, as he and his father gained everything alone withouth receiving help from others.

has a problem with trusting people (especially women) :
Due to Kazuya's mother abadoning him and his father for the sake of fame, Kazuya grew up with the fear of people abandoning him especially women, thus most of his romantic relationships where purely superficial execpt for one.
Backpack Contents
: A reuseable Water bottle


Breath freshner


headphones


lip balm


Novels


Digivice
: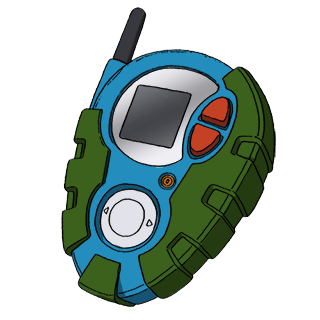 l
Personality
:
Kazuya is a man who is wieghed down by the trials of life, his harsh upringing and his own mother's abadonment left a pretty big scar on him. instead of facing those problem he decided to hide them within a mask, he hides his issues by pretending to be a perfect man. he is smart, funny and well liked by his peers. he acts in a cheerful bringing joy to those around him, although he is a bit of a flirt his Romantic life is still succesful from an outsider point of view. he is charismatic and amazing at reading people, combined with his natural beauty and you get a beloved member of society.
but the real kazuya is a sad man filled with both regret and contempt towards his mother. his moral compass is not as righteous as most civilans, due to him witnessing his father steal in order to feed him made compassionate towards theives and other criminals, while he does not condone such acts he does not automatically assume that they are the worst of the worst like most people do. He hates liars and lack of comitment, thanks to his mother. while his father did regrettable acts, he did taught him that you should always stray true to your word.
Kazuya developed some bad habits such as flirting, while it began as a way for people to like him, it developed to a full blown habit, as Kaz is always flirting with women he consideres pretty. although he usually messaures his chances if he thinks it is less than 50% he gives up.
his a bit of a slop, while he keeps himself clean and takes care of himself, the same can't be said for his apartment. although he will argue with you for hours that there is nothing wrong with it for hours.
he prefers sweet food over sour food.
he is a slightly competitive, due to his harsh upringing he can't fight the need to be the best.
he might act like he is not but he is actually reserved as he keeps most of his thoughts to himself.
He likes the colours green, blue and purple. but dislikes Red, orange and yellow. He also likes classical novels and mediveal opera.
He thinks highly of those who strive for improvement, but despises those who live life with a silver spoon on thier mouth.
Kazuya is a big fan of a nuanced critic, as he a firm believer of reviewing both the pros and cons of things to understand its true beauty. so he is open to sugesstion on how to get better, especially if it is from a close friend or someone he thinks highly of. but as he is not rude, he won't critic people who he doesn't know very well, or he knows they are sensitive to this kind of stuff.
Appearance
:
Kazuya is often described as a handsome young man, as he stands at a massive 6'2. He towers over a lot of people, he is also very fit as he used to play basketball at both highschool and college, he still practices for fun. outside from his height and muscle mass Kazuya's most notable features is his slick jet black hair that he takes extra care of, and his bright briliant golden eyes.
as for attire Kaz is often seen wearing fashionable clothing as he likes to be stylish. his clothes mostly consists of greens, blues, purple and black.
FaceClaim
:
FATE/ZERO
•
Lancer
• Joyboy
Personal History
:
Birth
: Kazuya's dad was a grocery store manager that did well for himself, he was not a very successful man but he was not poor either. His wife is a beautiful woman her stunning beauty captivated everyone. they lived a satisfactory life and had a beaitiful young boy That they named kazuya, Kazuya had his mother black hair and his father's golden eyes. there life was not anything special but was fun nonetheless, up until Kazuya reached the age of 5.
The Abadonment
: when Kazuya was only 5 years old he heard his mother talking on the phone with another man, he was young he did not know that she was cheating on his father with a younger man. Kazuya's father had his suspicion but he chose to put faith in his wife, what he did not know that his wife wanted fame over anything, the man she is with is the son of a famous movie director, and she might get a lead role. a couple of months later Kazuya's mother delieverd divorce papers to her husband, who begged her to think about it as he told her that he loved her and would do anything to keep her, but she refused as she told him that she is going to marry the director's son who is 25 year old, making him 5 years her junior. with the harsh reality of the situation being clear to him Kazuya's dad had no choice but to sign the papers, when he went to ask about Kazuya's custody, she told him that he can keep as she wanted nothing to do with him, shocked Kazuya's dad biggest regret was falling love with her.
the last time Kazuya got to saw his mother face to face was when she was about to leave, he stopped her and asked her where is she going and when will she be back. She looked him in the eye and lied to him, telling him she is going on a vacation with her friends and that she will be back soon. and for 1 year Kazuya waited for his mother to return for him............she never did. while she is famous and had a lot of roles, Kazuya refused to see any of her films.

Rock bottom
: Kazuya's dad began to drown his sorrow with alcohol as he failed to connect with his own son emotionally, he chose to live life by the bottle, it reached to the point of smacking his own son just because he looked like his mother, he immediately apologized and had a nervous breakdown. his drinking habits not only ruined the mood in the house it also affected his working merit, as he began to get to work late, yell at random employes and refusing to deal with costumers, in the end the that led to him getting fired and having him eventually kicked out of his house. forced to be homeless Kazuya did nothing but endure but he reached his limits quickly, to the point of getting only 1 meal a day, his life took a turn for the worse. One day when Kazuya's dad wanted to do something good for his son, he did something that he regrets to this day, he told his son to wait for him in the corner of the street as he went to steal money to afford a change of clothes and 3 days at a Motel, while Kazuya pretended that he saw nothing the image of his father stealing money was burnt into his mind. after he and his father got a new pair of clothes and took a room in a Motel, he looked his son in the eyes and promised him that he will make up for every wrong he ever commited and strive to be better, he even thought him that its okay to accept that you are flawed as long as you strive to better yourself.
for the next 9 weeks they returned to being homeless as the job hunt yielded no result, Kazuya got progresively weaker by the day, when everything seemed to be hopeless his father did one faithful interview that helped kickstart their life back to normalcy.
Change of fate
: After finally managing to get a job Kazuya's Dad was able to give his son another chance at a bright future, while there living condition was terrible they managed to survive through, a couple of years later Kazuya got into grade school and dedicated himself to study in order to get great scores in hopes of getting a full scholarship, as he knew that his father can't pay for college, he then got in middle School and decided to give basketball a chance just for fun, he then eventually got good at it. he then asked his teacher if he can get a good scholarship through basketball, and the answer was yes so he dedicated himself to do well in both his studies and basketball, which is why he did not have many friends in middleschool, as he was busy turning himself into the perfect student.
During highschool however he was arguably the most popular kid in highschool, having great academic scores and perfoming great at basketball games. gaining alot of "friends" as well as having his first ever girlfriend, his life turned out for the better and it continued to do so for him, as after highschool ended while he had to break up with his girlfriend, he got a full scholarship to a great making his father the happiest man alive, Kazuya hardships seemed to have ended.
College went somewhat similar to highschool with multiple relationships instead of one, as he began the habit of flirting with pretty ladies, hopefully that did not get him in any massive trouble. after he gradutated he managed to land a job as a salesperson in a big company, the first thing he did was help his father to move into a better house and used all the money to get him fancy expensive stuff. life was going great for Kazuya until one day his father Died in a massive car crash that killed everyone who participated in it. When Kazuya recieved this news, he did not utter a word as he sat in his desk in silence as tears rolled down his cheeks.
He then organized the funeral and gathered everyone close to him and his father, and attented the funeral. during his speech Kazuya said this.
"My father was not a great man, he was not a brilliant visionary, nor was he a leader of people, he was simply a man who tried his hardest for his family, a man who made a lot of mistakes but also a man who was not afraid to learn from them. to put it simply he was...................My father"
and with that having lost his mother to fame and sucesses and his fathet in a car crash Kazuya lost his family.
Current life
: Kazuya attented a business party by his boss, which was somewhat fun, he managed to get a girl's number which he saw as a plus. but he decided to head home and relax, he was mildly drunk but that was not a problem as he was returning home via train, but what awaited him was something bizarre................
-------> to be continued (in his first thread)
---
Digimon Name
:
The great, brave, the most honorable, the mighty warrior, the noble lion, the majestic knight sir
Royland (Roy if you are a close friend)
Default Form
: Rookie
Gender
: Male
Alignment
: Chaotic Good
Boon
:
Quick mind
: Royland is suprisingly smart as he has great deal of knowledge and can consume more data faster than most digimon, his minds helps him create brilliant strategy mid battle.
Steadfast
: Royland spirit is 100 times harder to break his body he always sticks through with his beliefs and promises.
Tracking nose
: while you can hide both your body and voice from Royland, its honestly diffucult to escape his nose as he can track 20 times better than the best tracking dog.
Bane
Rude
: while Royland is a nice guy, he can be pretty rude and direct, a complete opposite to Kazuya.
Flirt
: Royland is a massive as he will flirt with anyone he thinks is cute.
Inventory:
None
Personality
:
Royland is a playful and happy person, as he enjoys making people laugh and be happy. he lives in the moment and does not plan for the future he likes to stay where the wind will take him. he likes to enjoy the simple beauty of life no matter where he is. He is haunted by a mysterious past that invloves an impmon, but he tries his hardest to not have people find that out. he is a good person, to a fault as he will help anyone no matter who they are, this kindness can be exploited by others and he knows that but he does not care he is who he is.
he is a bit of neat freak as he prefers to stay in a tidy place, he is even quoted saying "A clean home is a clean soul"
Royland is a massive lover of sweets, and hates sour food. He likes the colors blue and purple, orange, white, pink and black, but dislikes the colors Red, brown and yellow.
Unlile kazuya, who puts a wall our his true self, Royland is open about everything expect his past, while this might seem dangerous to open up to strangers, Royland does not really care.
Royland also does not care for ridicule as he couldn't care less for what other think himself as long as he honest with himself and his friends, nothing else matters to him.
Royland is also a massive flirt, as he flirts with anyone he thinks is cute.
overall Royland is a nice but stubborn digimon that wants to live life his way without anyone bothering alongside his friends.
Personal History
: (will be added later)
DIGIMON'S INITIAL EVOLUTION LINE
---
FreshSpecies
: Botamon
Appearance
:
Attribute
: None
Family/ies
: None
Type
: Slime
Fighting Style
: Bubble-fu
Abilities
: bubble tornado : shoots bubbles at the opponent, usually aimed at the eyes
Digivolves To
: wanyamon
---
In-TrainingSpecies
: Wanyamon
Appearance
: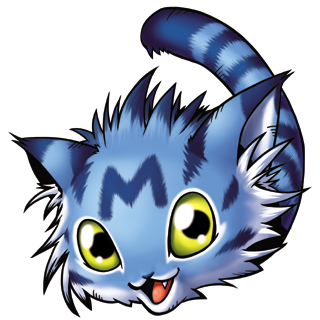 Attribute
: None
Family/ies
: None
Type
: Lesser
Fighting Style
: Bubble-fu 2 : The sequel
Abilities
: Neo bubble tornado : shoots bubbles slightly faster, also usually aimed at the eyes.
Digivolves From
: Botamon
Digivolves To
: Spadamon
---
RookieSpecies
: Spadamon
Appearance
: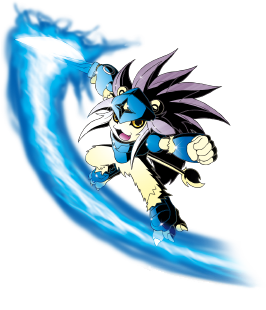 Attribute
: Vaccine
Family/ies
: Nature spirit
Type
: Beast
Fighting Style
: A uniqe acrobatic swordsmanship that focus on speed and power.
Abilities
:
Combat passive :
Heroic Spirit : Halves the duration of all negative effects.
(the number is always rounded up)
Combat Abilities :
Crictical slash : Spadamon swords glows blue as he charges energy in his sword and then unleashes a powerful sword slash. ( Close range attack )
Blue braver : Spadamon gathers heat energy in his sword and unleashes a blue flame projectile from the sword itself. ( 1 post cooldown )
Aura : Spadamon generates a small aura around himself that heals him by 10% of total health (2 post cooldown )
Digivolves From
: wanyamon
Digivolves To
: Ice leomon
---
ChampionSpecies
: Ice leomon
Appearance
:
Ice leomon


his sword resembles a curved sword more than thr usual short sword.
Attribute
: Vaccine
Family/ies
: Nature spirit
Type
: Beast
Fighting Style
: A powerful mix between martial arts and swordsmanship.
Abilities
: Combat passive :
Heroic spirit : Halves the duration of all negative affects that is inflicted on him. (the number is always rounded up)
King's decree : Increases he is attack by 15% if the targed is vaccine, his speed 15% if his target is Virus and 15% defence if his target is data. if he fights multiple types or a free type his three stat go up by 5% each.
combat technique :
Fist of ice King : IceLeomon winds up for a punch and stores energy in his hand, after he throws the punch Iceleomon shoots an energy wave in the shape of his head that deals a lot of damage and causes frost on the enemy. (Frost decreasses speed by 10% for 2 turns ) (Two post cool down )
Great Aura : IceLeomon creates an aura around himself that heals him by 15% percent (2 post cool down )
Monarch's Wave : IceLeomon charges the Shishomaru with Ice energy, unleashing up to 5 small projectiles that are faster but weaker than a regular champion projectile or 1 big and slower but stronger projectile (1 turn cooldown )
Rightful King : IceLeomon summons 3 copies of himself with access to all of his moves and passived but they deal 50% percent less damage than him and they disappear after 1 champion or higher hit, 2 armor champion or rookie hits and intrainning and below do no damage to them. (3 post cool down )
Digivolves From
: Spadamon
Digivolves To
: Ice leomon X
---
Alternate Champ
---
ChampionSpecies
: Mad Leomon
Appearance
:
Mad leomon
Attribute
: Virus
Family/ies
: Nature spirit
Type
: Beast
Fighting Style
: a wild and animalistic fighting style with no dispcline but uses monstrous power instead.
Abilities
: Combat passive :
Tyrant's Rage : increases attack by 5% every turn but decreases defence 5% every turn. (both limits at 50%)
Mad Rampage : negates hit stun as long as mad leomon is doing an attack.
Combat techniques :
Fist of the undead king : Mad Leomon unleashes a powerful punch that sends a dark energy shaped like a lion head. ( 1 post cool down )
Mad Roar : Mad leomon lets out a roar that creates a barrier around him that deal light damage and blocks incoming champion attacks for 1 turn (2 post cool down )
Call of the Haunted : Mad leomon summons three ghosts that seek targets independtly from each other and have decen tracking. they do massive damage but mad leomon has no control on who it targets as it chooses the closest living thing. (3 post cool down )
Crazy stampede : Mad leomon charges at its foe with utmost tennaciry tackling it and anything in its way.
Digivolves From
: Spadamon
Digivolves To
: Mad leomon armed
---
Armor champ
---
Armor ChampionSpecies
: Ice Liamon
Appearance
:
Attribute
: Vaccime
Family/ies
: nature spirits
Type
: Holy beast
Fighting Style
: an animalistic fighting style, mixed with precision of a knight.
Abilities
: King of the beast : ice Liamon, gains plus 5% in speed and power for every ally present. ( twins = 1 ally, and mercs do not count)
The Duel : Ice liamon gets plus 3% defence for every passing turn max 50%
Combat techniques.
Frozen Fang : Ice liamon rushes the target and bites with its Ice fangs.
The Roar of salvation : Ice liamon lets out a roar that heals itself and all allies by 5% total health (2 post cooldown )
Ray of light : Liamon's mane glows, it then shoots a very beam of light that does light damage but prevents the opponent from moving for 1 post (2 post cool down )
Giga byte blast : Ice Liamon winds up for one turn as he charges up for a big blast. He then shoots a large and fast beam from his mouth the attack does heavy damage. (3 post cool down)
Digivolves From
: Spadamon + digi egg of honor.
:
DNA ULTIMATE
Species:
Bishopchessmon (White).
Attribute:
Vaccine.
Family/ies:
Wind Guardians
Type:
Puppet
Fighting Style:
Even when Bishopchessmon will take their time looking for a weak spot in the enemy before attacking boldly, as Cho-Hakkaimon would do, they still go all out when it comes to striking the opponent. Saving energy is not a priority for them, combining Cho-Hakkaimon's impulsiveness and ClearLowemon's bravery they will try to crush the foe as soon as possible once their mind is set on how to perform their blow. During the battle, BishopChessmon will shout short prayers at the start of each turn, that give them certain bonus effects before performing an attack. BishopChessmon will use their mace: Roketto Überzeugung as a weapon for shooting blasts of energy or hitting the adversary equally. At the start of each turn, BishopChessmon will perform a prayer, each of them having different effects.
Abilities:
-[Passive Ability] (Prayer) Murum Lux:
This does not count as a technique being used. Upon uttering this prayer, Bishopchessmon will cast the next effect on self for the rest of that turn:
Bishopchessmon's defense is increased by 30%.

-[Passive Ability] (RAM Upgrade) (Prayer) Ictu Lux: This does not count as a technique being used. Upon uttering this prayer, Bishopchessmon will cast the next effect on self for the rest of that turn: Bishopchessmon's attack and speed are increased by 15%.


-[Passive Ability] (RAM Upgrade) (Prayer) Sanitatem Lux: This does not count as a technique being used. Upon uttering this prayer, Bishopchessmon will cast the next effect on self for the rest of that turn: If during this turn Bishopchessmon uses a technique that inflicts damage around an area, a shield will be cast on all allies, protecting them from the damage or negative effects of that technique, only for this turn.
-Cum Malleo Deorum: Bishopchessmon spins their mace with one hand before smashing his opponent down with it. The force of this impact is so strong, the few digimon who can stand up after a straight hit usually can't walk correctly for one turn. 3 posts cooldown.
-Solis Juramento: Bishopchessmon infuses their Roketto Überzeungung with holy energy to then shoot a massive beam of light. (30% more damage for viruses or nightmare soldiers). 2 posts cooldown.
-Not this time!: Bishopchessmon lifts the Roketto Überzeungung with both hands. The weapon releases a beam of light that covers the whole environment, dispelling any darkness and making everything very much visible in a 200-meter radius. This heals up to three allies in that area by a 20% and raises their defense by a 30%. 3 posts duration on the defense boost. 3 posts cooldown.
-Divina Poena: Bishopchessmon raises the Roketto Uberzeugung to call for a thunder coming from the sky, which explodes upon impacting their body and extending throughout a 30-meter radius, inflicting massive damage to up to 3 beings inside that area. 2 post cooldown.
-Estuans Venti: Just like Cho-Hakkaimon would do, Bishopchessmon spins their weapon to call for a strong whirlwind over a 50 meters radius' surface. However, this time the wind is charged with ClearLowemon's blue electricity. Bishopchessmon can use this technique to draw enemies or substance around the environment close or push them away. This won't work on enemies that are heavier or bigger than a Greymon. Every being that remains in this area will take a slight amount of damage each turn and will have their speed reduced by 50% while they remain in the zone. 3 posts duration. 5 posts cooldown.
-Sanctus Clypeus: Bishopchessmon makes the Roketto Überzeungung spin once in a swift movement to deploy a field of energy that works as a shield, protecting them from any kind of projectiles, reducing their damage in 80% and boosting Bishopchessmon's attack power by 20% for each shooting projectiles' technique used against them while the shield is deployed. 1 posts duration on the shield. 3 posts duration on the attack boost. 3 posts cooldown.
-Unforgivable!: This is a two steps technique performed across two turns.
*Turn 1 (Charging): As soon as this technique is performed, Bishopchessmon disappears, turning into a beam of energy that fades into the sky. They can't be damaged or targeted in the opponent's next attack.
*Turn 2 (Releasing): Bishopchessmon can't perform another technique during this turn. A massive beam, coming from the skies, strikes the opponent in an almost-impossible-to-dodge blast, dealing a huge amount of damage to the enemy. After this blast strikes and for the next three turns, Bishopchessmon's defense and maximum HP are halved and their attack and speed are doubled. Can only be used once per thread.
Digivolves From: Jazz the Chohakkaimon + Royland the Clearlowemon
---