Post by Spire on Feb 26, 2019 4:22:50 GMT
The Return of DATS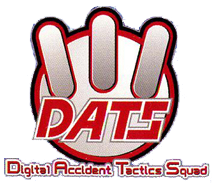 It seems that for too long, digimon have been left to move unimpeded around the Shibuya Ward of Tokyo. Therefore the Japanese Government has enacted a policy that has revived the long-since defunct organization known as the Digital Accident and Tactics Squad.
Their aim? Investigate everything possible about the phenomena known as "digimon", and wherever possible, send them back to the world they came from.


How this affects you:
In short? If you don't want it to affect you, it won't. This plot will not intrude on any threads where it is uncalled for. With the exception that you cause a ruckus big enough in the Shibuya area over a long enough amount of time that would draw their attention.
However, if you wish to participate in this plot, you're going to have to make a case strong enough to gather the attention of DATS. Basically - begin a thread in the Shibuya Ward that begins with a "Case" at least 200 words in length. This Case will cover what's going on, how it would gather attention, and why you think it would be relevant to the plot. If it is, a DATS agent will be despatched to cover it. It is advised that you post the thread in the "Notify Staff" channel on discord or direct message a staffer on the forum to obtain our attention.

- Each player may only participate in 1 "plot case" at a time. However, these plot cases can include multiple players if you wish.
- There will be a maximum of 6 "plot cases" at any given moment, with each of the three DATS agents having a maximum of 2 cases. Which agent will be dispatched will be at my discretion within the logical development of things.
- If it's your turn and you do not post within your plot case within 1 week, that plot case will be dropped and you will not get any rewards.
- How the plot cases will be handled depends on you. The DATS agents may be willing to talk if you are. If not, expect a fight.
- You have the option of escaping the thread at any time, but doing so will reduce your rewards.
- A conclusion of the "plot case" thread that ends in either forcing the DATS Agent to flee, or parting on amicable grounds will net you an award of 5,000 bits if you contribute less than 2000 words, or 10,000 bits if more.
- A conclusion of the "plot case" thread that ends with you fleeing DATS successfully or escaping their notice will net you an award of 2,000 bits if you contribute less than 2000 words or 4,000 bits if more.
- The nature of "plot case" threads can be changed at any time depending on your actions. I'll not spoil how, but remember, you're dealing with agents of the government that are expected to act with professionalism and success. They won't back down easily, they're well funded and coordinated, and they know a lot about digimon. However, remember, they are still human, and they are not immune to persuasion.
- The nature of this plot will change depending on how participants approach it. When enough "plot cases" have been concluded, there will be a conclusive ending to the opening stage of the plot that will make way for the middle game.
- Furthermore, at the commencement of this plot, a network of digital disruption devices have been erected around Tokyo. This means that all evolution above Ultimate/Perfect; X3 Fusion; and Beast Hybrid Spirit is henceforth permanently blocked in all circumstances, in plot and non-plot threads set in the Human world (unless there are acceptable plot circumstances that state otherwise).