Post by Kenny O'Hara and Skadi on May 31, 2019 9:37:49 GMT
It had been a bit since Kenny moved to Shibuya, Japan, and in just a short amount of time, a lot of things had happened. Most notably Kenny learning about the existence of Digimon, Skadi's arrival, the Arkadimon attack, and that little impromptu pie fight that solidified their friendship for good, and confirmed Skadi was not a threat, but a friend.
Yes, it had been quite the wild ride for him so far, and yet, he was only scratching the surface. He had yet to go to the Digital World, but he had started to prepare himself for some time. Yet there were still things that he had to get out of the way first. You see, when Ramona first introduced herself to Kenny and Skadi, she told them about the Digimentals, weird artefacts that could allow the user to reach a form earlier than expected, giving them a wide range of powers. And she had managed to locate the location of one of them, deep in the Shibuki Forest.
They opted to go around late afternoon, where it would be a lot more quieter than before. Luckily for all three of them, home was just a few blocks away, so Kenny and co. could come back quickly if anything went wrong. At present, Kenny was out with just Ramona. Skadi had been safely tucked away in the Digivice, and Ramona hid in the backpack. (It was a good thing he discovered that his Digivice had a little device of it's own called the Infini-Store, coming from him fidgeting with the thing. With all his stuff he normally carried packed away in the cube, Ramona could hide, and be on the look out for either the Digimental, or danger). Crickets chirped in the trees and a small fog engulfed the forest.
"Ramona, are you sure you know that so-called Digimental is here somewhere?"
Kenny asked as he wandered around the forest, looking around for it,
"Because, honestly, I really don't want to waste my time on nothing. I'd rather just stay home and relax. God knows I already had to endure enough bullshit with Arkadimon."

"Trust me, I know."
Ramona's voice emanated from the backpack,
"When I first came here, I sensed one of these things nearby. I wasn't able to find it, but I know it's here, I can feel it. I'll cut you a little slack on this; you're not too accustomed to the whole 'Digimon' thing, are you?"
Kenny could only shrug wryly,
"Pretty much. In fact, I don't think I'm cut out for this whole 'Digimon' thing myself. I nearly let ourselves die the other day. I mean, if it wasn't for Skadi, I don't think I'd be here right now."
He sighed sadly, memories of the attack flooding his head. Despite being a so-called 'Rookie' level and not a 'Champion' level, Arkadimon was extremely dangerous and ruthless, and had managed to lay a few good hits on him. And Skadi could hear it all, loud and clear.
"Kenny, don't be so hard on yourself,"
She told him from the communication device,
"If it wasn't for your little intervention, I don't think I'd be here right now. I'd would've been nothing more than data for Arkadimon to load. If anything, I should be thanking you."
Her voice was calm and friendly, but tinged with a little regret. Despite Luke's words, it still kind of weighed down on her too, and she hated that a lot.
Kenny could only blush a bit from Skadi's words,
"Aw, thanks Skadi. That was actually pretty sweet of you to say."
Despite her often embarrassing antics and weird ideas, it felt good that he had a friend that had his back willingly at all times, even if she was a walking, talking scruffy lamb thing, who would often jump in to cheer him up. Stifling a bit of a chuckle, he then added,
"To be honest, you actually looked quite cute when you were covered in all that cream the other night."

"Me?"
Skadi blurted out,
"You looked absolutely
adorable
when I pied you!"
That just forced Kenny to blush harder, but it didn't wipe the amused smile off his face,
"You can be quite the silly-billy at times, Kenny, but you're my silly-billy, and I love you for that. If I could, I'd come out of the Digivice right now and give you a big hug, right here, right now."

"Funny,"
Kenny chuckled a bit to Skadi's unusual, but no less kind comment,
"I could say the same thing about you. Minus the Digivice part of course."
It honestly felt good for him he had someone he could put his trust in, no matter what.
Before Skadi could say anything further, Ramona's antennae started to twitch like crazy,
"Kenny, Skadi, I'd hate to interrupt your little game of 'I love you because', but I think I can sense the Digimental very close by."
Without warning, she started to climb out of the bag, and jumped onto the floor with an audible
thump
! Kenny started to panic as he turned around to see Ramona just standing there and starting to run off.
"Follow me!"
She had no idea who DATS was, but at this point, she was a sitting duck for them.
"Oh sweet Arceus above,
Ramona, come back!"
He yelled, chasing after her. Kenny wasn't much of a sporty person, so he had a bit of trouble catching up to her, as she scampered off as fast as her many pairs of legs would take her. The last thing he wanted to deal with was losing his partner and close friend. Ramona didn't relent, running off a little further.
All of a sudden, Ramona stopped in her tracks, gazing longingly at something about her level, and ready to pick it up... just before she felt herself grabbed by Kenny, wearing a cross expression on his face,
"Ramona, why the hell did you run off like that? You know it's not safe for Digimon to be outside. Especially not with..."
His eyes caught onto the exact same thing on the floor. It was a black, pear-shaped object the size of a shoebox, but a small gold and sliver lightning bolt stuck out of it. Lining the sides were several rows of golden teeth, and a dark blue spiky design on the top of it. But it's most notable feature was a weird symbol marked on it, a circle with a squiggly line in the middle, and 2 waves sticking out of it.
Ramona, despite being a bit further away now, couldn't take her eyes off it. Slowly, his eyes glued to the giant black pear as he lowered Ramona, and let her go. She herself eyed the object with interest, exclaiming
"It's the Digimental of Friendship. Digimon who use this will be able to digivolve to ancient precursors of ice and lightning. It's beautiful..."
She rubbed the Digimental in sheer fascination.
Quickly darting around to see the coast was clear, Kenny pulled out his Digivice, as he said,
"Skadi, you gotta take a look at this."
Her tiny woolly form started to materialise as her own eyes eyed the Digimental. It looked every bit as glorious as Ramona described it. Kenny started to laugh a little excitedly,
"We did it. We found the Digimental! Oh God I'm so happy!"
He cried. He slowly leaned down to grab the Digimental, and his fingers slowly wrapped around it... before he felt a paw stamp down onto the Digimental hard, and a loud snarl could be heard. All three looked up at the assailant in question, a jet black wolf with skunk-like white stripes all over it's body, red claws, and a long tail, and a very cruel smirk on it's face.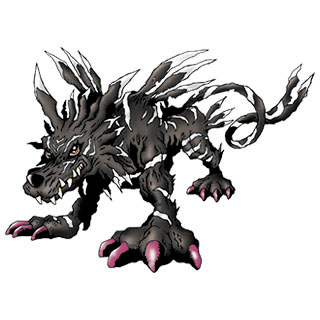 "I believe this little toy belongs to me."
The wolf snarled, bearing it's huge fangs,
"Let go of it, give it back to me, and I might let you go home unharmed."

"Gee, how generous."
Ramona sarcastically commented. But Kenny's heart was starting to race. Arkadimon was bad enough, but this thing looked to be a cruel sadist. He tried breathing in and out quickly, trying not to panic, but all it did was make the wolf chuckle at Kenny's fear. He felt like crying, he really did not want to die. Skadi was shaking a little, but on the outside, she didn't look the least bit scared. She didn't want to give it the satisfaction.
"That's BlackGarurumon."
Skadi said,
"A Champion-level Virus type Digimon, and one nasty son of a bitch, if you know what I mean. It can spit out powerful flames out of it's mouth, and can sink it's icy cold jaws into you."

"That isn't helping."
Kenny whimpered. His hands were shaking, still trying to keep a grip on the Digimental. He was conflicted at this point; either let BlackGarurumon take the Digimental, but risk leaving him open for attack, or take the Digimental or die. As he looked up at the wolf, BlackGarurumon's jaws started to get enveloped in an icy aura.
"So what it's going to be? If you're not going to answer,"
the frost built up more and more,
"Then I can answer for you."
All of a sudden, he proceeded to lung at Kenny with jaws icy cold,
"Freeze Fang!""RAMMING HEADBUTT!"
Just before BlackGarurumon could sink his jaws into the hapless Tamer, Skadi rammed herself, headfirst, into BlackGarurumon's face, making him miss by a few centimetres, while his paw let go of the Digimental, allowing Kenny to pull it away freely. Kenny turned to look at the proud Skadi,
"Thank you, pal!"

"Always a pleasure!"
Skadi could only grin back with a hearty thumbs up,
"Now all you gotta do is to digivolve me with the Digimental of Friendship, so we can send this wolf packing with his tail between his legs!"
She picked up the Digivice off the floor and handed it to Kenny,
"I think we both know what to do from here."

"No I don't actually."
Kenny put the Digimental in between his armpit, before taking the Digivice from Skadi, and screwed around with the buttons again,
"I still don't know how to use this thi-"
All of a sudden, the Digivice screen glowed a bright while, while the Digimental did as well, slowly converting into data and being absorbed into the Digivice, before it died down. Kenny, Skadi and Ramona watched in awe, while BlackGarurumon growled furiously. The screen then glowed white again, as a beam of light shot out of the D-3's antennae, and engulfed Skadi in a bright aqua blue white, forcing everybody to blind themselves, and BlackGarurumon to back off a bit and turn away.
Inside the glowing white light, Skadi felt a sense of warmth and tranquillity inside. She felt something inside of her, like if she was getting a little bit stronger, tapping into ancient powers, as her body started to morph into something a little unfamiliar.
"Valaismon, armour digivolve to..."
Inside the bright blue white, Skadi's woolly body became lighter and fluffy, and cloud-like, as the rest of her appendages were sucked into it, like a turtle retreating into it's shell. However, what
emerged
from the cloud was a bit of a surprise. The body of a long-snake like dragon emerged from where the sheep's original body was. It was a light blue colour, with long ears and horns, not too dissimilar to the sheep's original form. Small yellow fins popped from the dragon's back, while a darker blue mask lay on the dragon's face; a stylised sun with a yellow outside and a red core was engraved on it, while bearing long yellow whiskers. On the dragon's back lay a series of weird, circular, drum-like things that circled the boy, and in the right hand of the dragon's 3 clawed arm was a small wind sphere.
Finally, the light cleared. A small windstorm blew through as the dragon let out a mighty roar, before she announced the form's new name,
"Weatherdramon, the Electrifying Entity of Friendship!"
Kenny looked on sheer awe of what happened, and even Ramona looked a little impressed by what she saw. Skadi just simply turned to Kenny and gave a small smile to Kenny. BlackGarurumon on the other hand, stiffed a yawn.
"Big deal. So you turned from a puny sheep into a scrawny dragon."
BlackGarurumon said, looking at Skadi dead in the eye.
"No matter. If you won't give me my toy back, perhaps I'll just have to take it back the hard way."
He chuckled manically. In about the span of a few seconds, BlackGarurumon took aim at Skadi and yelled
"Howling Blaster!"
A deluge of blue flames flew towards Skadi, but she didn't budge.
"SKADI, WHAT ARE YOU DOING!? GET OUT OF THE WAY!"
Kenny screamed. Normally, anyone who saw torrential flames come their way would probably do the logical thing and jump out of the way. However, Skadi stayed calm. This wasn't helping for Kenny, as his heart started to race faster than before, and he started to cower in fear. But Skadi just held up her orb high in the sky.
"Gale Barrier!"
Suddenly, a deluge of winds emerged from the orb and engulfed Skadi, Kenny and Ramona. As the flames hit, they just dissipated into nothing. Kenny slowly rose up, his whimpering slowly transforming into cheerful happiness, and relieved laughter. As the stream of fire ended, so did the barrier clear up as well. She then turned to Kenny,
"I have to admit, Luke's right. I did learn from the Arkadimon incident."
She turned back her gaze to BlackGarurumon with a chuckle,
"That's not the only thing I learnt."
She started to ready the orb again, as BlackGarurumon started to charge at her.
"Freeze Fang!"
BlackGarurumon's jaws started to have another bout of frost aura surround them as he lunged at Skadi. But as he jumped to bite into her neck, Skadi aimed her orb again, as a small tornado started to build within the orb.
"Galestorm!"
The small tornado suddenly burst into a giant one, engulfing BlackGarurumon entirely, and firing him away, as he flew directly into a tree with a hard
whumpf
. The wolf growled weakly in anger as Skadi smiled at him. Unlike the Arkadimon battle, this was going very well for her. And everybody knew it. The wolf struggled to get up on it's feet as Skadi raised her orb to the sky one last time.
"Panic Thunder!"
Skadi called out, as a stream of black clouds emerged from the orb. 5 thunderclouds came out of it and started to crackle and boom, while BlackGarurumon stared at her. He had nothing left out of him to say, and he didn't look happy. He didn't have the strength to get back up, and was practically on his last legs. Kenny started to tear up a bit with joy, wiping a tear from his eye as he turned to Skadi. His partner had managed to improve a lot since the Arkadimon fight.
Skadi just chuckled a little bit in response and nodded to her partner to reassure him as the storm clouds formed over BlackGarurumon. All of a sudden, they all came down and struck him. All of them striking his torso, BlackGarurumon roared and howled as each thunderstrike came down on him, before the final one pierced through his Digicore. He let out one last angry howl as his body started to evaporate, before it dissolved into tiny bits of data, flying away.
This time, Skadi did absolutely nothing to the data, but just watch proudly as it drifted away. Or at least, she did, before she felt herself getting hugged, courtesy of her partner, Kenny, happily nuzzling at her scaly body, and crying happy tears into her. Looking down on him, she gave a small smile, before hugging her partner back.
"You did it, Skadi!"
Kenny cried, cuddling his partner,
"You beat BlackGarurumon! I..."
His speech dissolved into nothing but happy blubbering. The pride he had for his partner was immeasurable, and both of them knew it. Skadi did feel a bit of a blush engulf her face too.
"Aw, that's OK, Kenny. After all, what are friends for?"
With her free hand, she took the opportunity to ruffle Kenny's hair. He could feel it, and shuddered in happiness as she did,
"And I did need to return the favour after what you did with Arkadimon."
Ramona just looked on happily as the duo shared the hug. As much as she was keen to comment on it, she didn't need to, nor she didn't want too. She just smiled and glowered as the duo embraced.
Kenny and Skadi broke off the hug, before looking at each other. Again, she raised her free arm, rolled up into a fist in Kenny's face. Kenny just smiled, as he fistbumped his partner. Then he just rubbed his arm a little awkwardly,
"I don't think I'm ever going to understand you Digimon. First, you turn from a rabbit, to a sheep, and now you turn from a sheep to a dragon. I get how this would make sense in your head, but... I'm sorry, I don't know what to say."
Skadi just chuckled a bit in response as the blue light engulfed her again, shrinking her back into her Valaismon form, and giving a huge grin,
"Well, I know what to say. You should really stop putting yourself down like that. Like Luke said; we're still learning, and we're still growing. And we'll always be constantly improving. As I said earlier, if it wasn't for you that night, I wouldn't be here. And frankly, I'm glad I'm here with you."
Kenny leaned down and picked up Skadi in his arms, before giving her a light nuzzle,
"Thank you, Skadi."
He said happily. He was just glad this went a little more swimmingly than the last time Skadi was engaged in battle. At least nobody was seriously injured this time, be it him or Skadi.
"Now I owe you some Red Bean Mochi for saving us tonight... and the other night for that matter."

"A-hem,"
Ramona called out,
"And I believe you owe me an apology."


---
WORD COUNT: 2995/1500