Post by Nereid on Jun 29, 2019 2:42:08 GMT
Digimon Name
: Nereid
Default Form
: Syakomon
Gender
: Female
Alignment
: Chaotic Good
Skills/Talents
:
Swimming - Nereid, as any good aquatic digimon worth their salt, is an incredibly skilled swimmer in any of her forms.
Shipping Prowess - Nereid is an apprentice in the art of 'shipping' people. She sucks at it, but she does her best.
Personality
: The only child that Mizu and Titania have produced thus far, Nereid's a spunky little clam. She styles herself akin to a princess, and while she doesn't mind if she's not referred to as such, she does treat everyone like they're her subjects. Nereid's favorite pastime is incredibly simple to describe, it's talking to people. She also doesn't really have much of a sense of morality, so she's really easy to string along into whatever hare-brained schemes people might cook up that happen to involve the clam.
Nereid's life has taught her a good few things, chief of which are what she likes and does not like. For one, Nereid enjoys making people happy. She's become a social butterfly, to put it lightly, though she does worry about if she's being annoying or not. Furthermore, she isn't necessarily an expert at 'people' just yet. She's bound to make mistakes in her conduct, here and there, but she will graciously accept them most of the time as hurdles to get over on the path of the shipper.
Oh, yeah, she also has an eye for pairing people up, something discovered and nurtured by a particular lady hailing from Toulon.
Holosuit:
Faceclaim:
KANTAI COLLECTION
- Ryuujou - Nereid
Personal History
: Nereid doesn't actually have much history to her. Genuinely no fancy story for herself, or anything. She's about a few months old. Her egg came from a Tinkermon and a Betamon that was using a Digimental having one heck of a night involving a lot of drinks, and she hatched the day afterwards. She doesn't have much accomplishments to her name whatsoever, her greatest achievement being scaling a table as Syakomon.
Despite her naivete, Nereid -is- Mizu and Titania's daughter. She wants to do good by them. Make them happy, along with everyone else in her life. Her favorite things to do include sleeping, swimming, and eating pizza. Also, she likes watching TV a bunch.
She's a good kid. She's trying to be one, at the very least. Recently, she's gotten a sort of wanderlust that has lead her to go on adventures beyond the Great Moving Library. Where does this take her? Nobody knows. She's everywhere now.
DIGIMON'S INITIAL EVOLUTION LINE
---
FreshSpecies
: Poyomon
Appearance
: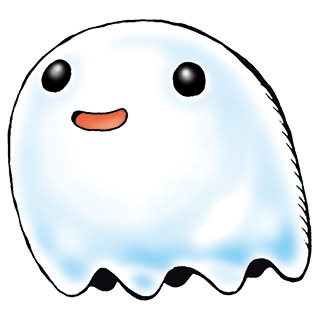 Attribute
: Free
Family/ies
: None
Type
: Slime
Fighting Style
: Really?
Abilities
:
Bubbles: Poyomon blows forth the most powerful bubbles known to man.
Digivolves To
:
---
In-TrainingSpecies
: Pukamon
Appearance
: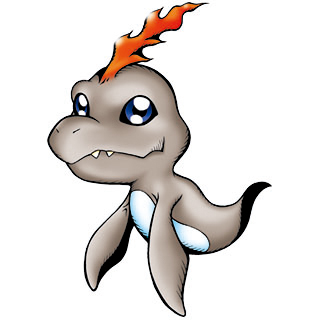 Attribute
: Free
Family/ies
: Deep Savers
Type
: Lesser
Fighting Style
: Why would you expect a baby to fight?
Abilities
:
Ship Sense: Pukamon detects whether or not you're lonely.
Super Bubble: Pukamon fires a super powerful bubble! ...For a baby.
Digivolves From
:
Digivolves To
:
---
RookieSpecies
: Syakomon
Appearance
: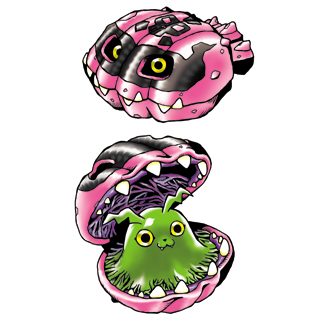 Attribute
: Virus
Family/ies
: Deep Savers
Type
: Crustacean
Fighting Style
: A creature that's not quite meant for fighting, Nereid's fighting style is mostly just to defend herself and maybe others too. Don't expect her to do much.
Abilities
:
Jewel of the Sea: Syakomon…is durable. Tough. She has a 20% bonus to defense, which in turn is upped to 30% when near/in a body of water.
Black Pearl: Syakomon fires a black pearl that's incredibly cold to the touch from her shell. One post cooldown.
Water Screw: Syakomon shoots an incredibly high-pressure jet of water after opening her shell. One post cooldown.
Beauty Flash: Syakomon emits a bright flash of light as her clam opens up for but a split second, blinding foes for a turn! Two turn cooldown.
Digivolves From
: Pukamon
Digivolves To
: Ranamon
---
ChampionSpecies
: Ranamon
Appearance
:
Attribute
: Vaccine
Family/ies
: Deep Savers
Type
: Fairy
Fighting Style
: Nereid gains some disruption abilities and uses them to make life miserable for her opponents. Still not that great at single combat, however.
Abilities
:
Waveshaper: Ranamon is capable of moving throughout any battlefield she fights in as though it were water. As in she's practically capable of swimming through the air. On top of this, if she's actually -in- a body of water, she gains a 20% bonus to her attack power.
Rain Stream: Nereid wills a cloud of rain to descend upon her foes. It's incredibly likely to put their mood down, which leads to a 20% reduction in attack for three turns. Three turn cooldown, three target max.
Jealousy Rain: Nereid claps her hands as a cloud that lets down ACID RAIN appears over an opponent. Given the fact this is acid rain, this attack not only hurts but it can corrode and melt through skin and metal alike. Two turn cooldown.
Beauty Flash: Nereid raises her hands before she strikes a rather flashy pose, a flash of light being shined outwards in order to blind her opponent for two turns. Three turn cooldown.
Ice Lance: Nereid conjures a spear made of ice to square off with her opponent. One post cooldown.
Aqua Needle: Nereid sends forth a stream of highly pressurized water. It's like a incredibly pressurized waterjet in terms of how much it can cut or puncture through things.
Digivolves From
: Syakomon
Digivolves To
: Calmaramon
---