Post by axcellous on Jun 19, 2014 0:47:51 GMT
Name: Takeda Hoshigaki
Alias: N/A (at this time)
Age: 13
Gender: Male
Height: 5'0
Weight: 100lbs
Alignment: Neutral (Subject to Change)
Birth Date: 10/ 20
Birth Place: Kyoto, Japan
Western Horoscope: Libra
Eastern Zodiac: Monkey
Skills/Talents: Excels at Rollerblading
Personality: Like any other thirteen year old child Takeda is full of energy and rambunctious. He is very eager to please those around him and be accepted by everyone. He constantly asks questions about things he doesn't know or is unsure about, he is only thirteen after all. He has a few quirks like talking to himself when he gets preoccupied with a hard task or something that requires focus, or even blatantly staring into space while having a conversation. Takeda tries to be as laid back as possible, a real go with the flow kind of kid, but sometimes he gets frustrated and easily upset. This tends to happen when his emotions get the better of him, or when a problem arises that he isn't able to solve.
He is drawn to fire, not in the sense of a pyromaniac but in the sense that he is fascinated with it. The raw power it holds as well as how graceful and fierce it can be, these are the reasons he is drawn to it. Takeda is so fascinated with fire because it is everything he is not, he views himself as weak because of his age and size. Other children at school pick on him because he doesn't know how to stand up for himself, and grace isn't his strong suit (unless he's rollerblading that is.) Due to how he feels about himself Takeda finds a great attachment to those that can breathe fire with a whim, the dragon. A creature with strength to harness the power of fire and produce something so strong from within; that is what Takeda wants to become, someone that produce their own strength and power, maybe then he would stop viewing himself as weak and others wouln't tease him.
Appearance:
Weighing only 100lbs, Takeda has a slim build and honestly doesn't have very much muscle tone. Aside from his smaller physique and purple colored eyes, Takeda is fairly average. His natural blonde hair barely hangs past his ears and is usually messy or not done. His wardrobe consists of an occasional beanie with ear covers (for when it is exceptionally chilly outside), a leather jacket with a thin hoodie underneath, somewhat baggy pants and broken in boots that are comfy but don't breathe as well as one would hope(Bleagh!). When not wearing his boots Takeda has an extra pair of slip on shoes that he likes to wear, or more commonly he will wear his rollerblades. He carries his phone on him at all times and can often be seen with his face in the screen or listening to music from it.
Personal History: Although he was born in Kyoto Takedas' hometown is Tokyo, he moved there with his family when he was fairly young. He has family in Kyoto, a grandmother and grandfather as well as an aunt, uncle and two cousins who are older than himself. Because of his age Takeda really hasn't experienced much, he's rarely even left his mothers side for more than a week or two. Both of his parents are still together but his father lives in America for business. During school vacations, he flies out to see his son and his wife but he isn't able to stay for very long.
Currently Takeda is on vacation, that means his father should be flying in to see him any time now. Before his father gets in though he is going to visit his family in Kyoto for some much needed relaxation. Who knows, maybe he'll get to talk to the cute neighbor girl at his grandparents house. Takeda has always had a small crush on her. His vacation is short, so Takeda is going to try to make the best of it. He can't wait to get back to school to see his friends, even if he does get picked on. I wonder what his vacation will have in store for him?
Backpack Contents:
Roller Blades
Water bottle
Extra Pair of Socks
Digivice: D-Tector
SPIRIT EVOLUTION LINE
Spirit Element: Dragon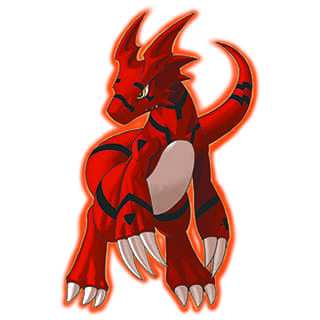 Appearance: A small, yet powerful dragon. Its razor sharp claws and teeth can shred even the strongest trees to sawdust! It's red skin and black markings make it a fierce looking opponent.
S-Hybrid Spirit: Guilmon X
Attribute: Virus
Family/ies: Dragon's Roar
Type: Demon Dragon
Attacks:

Pyro Sphere
: A ball of scorching hot fire shot from his mouth, flies in a straight line (2 post Cooldown)
Flame Claw
: Fire engulfs Guilmon's claws as he strikes at his opponents. (3 post Cooldown)
Rock Smasher
: A dangerously powerful headbutt capable of braking rocks, a devastating close range attack.
Digivolves To: Growlmon X
Appearance: A larger dragon, mutated by the fusion of Digimon and human DNA. His larger body is more durable than his earlier form, the only visible difference is the location and shape of the black markings, as well as new spikes that have formed around the ears and atop his head.
H-Hybrid Spirit: Growlmon X
Attribute: Virus
Family/ies: Dragons roar
Type: Demon Dragon
Attacks:
Exhaust Flame
: A large ball made of scorching fire that is ejected from his mouth, travels faster than Pyro Sphere. (2 post Cooldown)
Plasma Claws
: Molten plasma forms around Growlmons' claws, he then slashes at his opponent. (2 post Cooldown)
Howling Cannon
: A high velocity, high pitched screech that travels in a cone shaped pattern that attempts to knock down the target. Medium range attack. (2 post Cooldown)
Dragon Combo
: A flurry of tail whips, scratches and kicks.
Digivolves To: WarGrowlmon X
Appearance: A dragon encased in Chrome Digizoit, increasing its defensive and offensive capabilities. Due to its overwhelming power, a bit was placed to keep its jaw closed as to not let out any excess energy.
B-Hybrid Spirit: WarGrowlmon X
Attribute: Virus
Family/ies: Dragons Roar
Type: Cyborg
Attacks:

Double Edge ε
: A devastating slashing attack with the twin pendulum blades on both arms.
Megalo Spark
: An electrical charge emitted from the WarGrowlmon's chest cannon. (3 post Cooldown)
Atomic Blaster
: A beam of pure energy shot from the chest cannon that fires in a straight line, it is said to damage the target on the atomic level. (4 post Cooldown)
Hammer Edge
: A slam attack with the twin pendulum blades on both arms.
Sonic Rush
: Using the high powered vernier thrusters on his back, WarGrowlmon rushes at his opponent to slash through them with his twin Pendulum blades. (4 Post Cooldown)
Digivolves To: Dorugoramon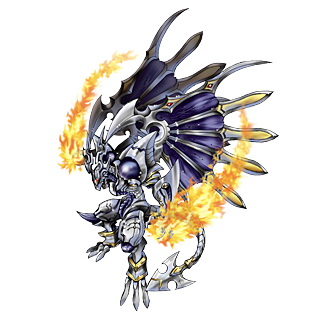 Appearance: A malevolent dragon Digimon with astonishing power and aerial capabilities. Its wingspan is said to be the length of three Whamon.
A-Hybrid Spirit: Dorugoramon
Attribute: Data
Family/ies: Dragons Roar
Type: Dragon
Attacks:
Brave Metal
: A fierce rush attack that uses Dorugoramon's entire body as a weapon (3 post Cooldown)
Doru Din
: A Violent shock wave that explodes from around Dorugoramon. (4 post Cooldown)
Asura Fist
: Flames engulf his claws as he sends a flurry of punches and slashes towards his enemy that create a projectile like trail of fire. (2 Post Cooldown)
Dragon Twister
: A high speed spinning attack that tries to pull the enemy in to the center of a twister, to damage with claws on the inside and outside.(3 post Cooldown)
Hyperion Beam
: A powerful beam emitted from the jewel atop his head. (3 Post Cooldown)
Fatal Burst
: A last resort move that expels all the remaining energy inside of Dorugoramon, dealing massive damage but causes him to revert to human form. (Minimum 5 posts before digivolvig again)
Digivolves To:Examon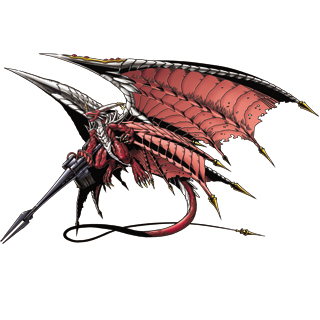 Appearance: Hailed as the Dragon Emperor, Examon is seen toting his sentient wings made of Chrome Digizoit metal and his lance "Ambrosius".
Z-Hybrid Spirit: Examon
Attribute: Data
Family/ies: Dragons Roar
Type: Holy Knight
Attacks:
Draconic Impact
: A dive from the exosphere that builds friction and heat resulting in a full ramming attack that can deal massive damage. (5post Cooldown)
Pendragon's Glory
: A high intensity laser fired from the lance "Ambrosius" (4 post Cooldown)
Avalon's Gate
: Thrusting Ambrosius at the opponent, explosive shells are fired to deal extra damage (4 post
Cooldown)
Ambrosius Barrage
: A Barrage of explosive shells fired from the lance "Ambrosius" (3 Post Cooldown)
OPTIONAL EVOLUTIONARY STAGES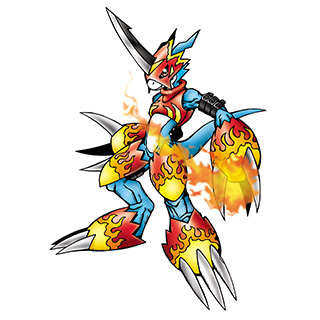 Appearance: A humanoid like dragon with incredible hand to hand combat technique, his body is encased in flame like armor.
Human Fraction: Flamedramon
Attribute: Data
Family/ies: Dragons Roar
Type: Dragon Man
Attacks:
Fire Rocket
: Creates an aura of fire around himself and flies at the opponent like a rocket. (2 Post Cooldown)
Flame Fist
: Fire balls shoot from his claws out towards his opponent.
Flame Shield
: Generates an aura of flames to protect himself from a single attack. (3 post cooldown)
Digivolves To: YET TO BE DETERMINED/ WILL ADD LATER
Appearance:

Beast Fraction:

Attribute:

Family/ies:

Type:

Attacks: [5 attacks max]
Digivolves To:

Appearance:

DNA Ultimate:

Attribute:

Family/ies:

Type:

Attacks: [5 attacks max]
Digivolves To:

Appearance:

DNA Mega:

Attribute:

Family/ies:

Type:

Attacks: [6 attacks max]
Digivolves To:

Appearance:

DNA Super Mega:

Attribute:

Family/ies:

Type:

Attacks: [7 attacks max]
Digivolves To:

FaceClaim: MONDAIJI-TACHI GA ISEKEI KARA KURU SOU DESU YO? • izayoi sakamaki • Takeda Hoshigaki