Post by Amaya Shizuka on Dec 13, 2019 9:32:40 GMT
Name
: Amaya Shizuka
Alias
: Shizu, Shizzy
Age
: 17
Gender
: Female
Height
: 5'0
Weight
: Piss off. (113 lbs.)
Alignment
: That's for losers. (Chaotic Neutral if one has to actually assign her something like this.)
Birth Date
: 11-3
Western Horoscope
: Scorpio
Birth Place
: Shiki, Saitama, Japan
Skills/Talents
:
Eye for Detail™: Simple as that. While Shizu has an eye for fashion and other stuff people her age like, this isn't the real important part of this. She's got a really damn good sense of observation. There. That's it.
The Whittler: What? Shizu likes carving in her off time.
Digivice
: A D-Tector with a rather...peculiar condition. It seems like the paint on it's flaking off to reveal an off-white underneath what would ordinarily be lavender. Otherwise, it's got a gold plate around the screen, and a standard grip.
Personality
: The first descriptor that one could use to describe Shizuka Amaya as a person is unusually taciturn. She does not speak much, and when she does, she often says very little unless she's talking to someone she trusts or considers a friend. Heck, distrust is something Shizuka regards almost everybody she meets with. Not to say that befriending her's an impossible task, in fact it's not even that difficult.
She's pretty much a thinker when it comes down to how her mind works, yet her biggest flaw is that she overthinks things. Sure, it's not likely you'll hear most of Shizuka's thoughts, but a simple slight against her could potentially wind up being magnified because this dumbass thought about it too hard. At her core, though, Shizu's curious about things. The world. The other world. All of that fun stuff, really. Thus, if presented with the chance to earn more knowledge on a subject within which she had little knowledge of previously, there's a high chance she'll take it.
Just don't make attempts to put her with people too often, that's what usually gets her.
Appearance
: The literal first thing one can notice about Shizuka is how goddamn short she is, even for someone who appears to be of pure Japanese descent. Seriously, the girl has only recently began to break the barrier of 5 feet. Shizuka has a slender build, as well as a pair of brown eyes under a head of brown hair, the likes of which remain about as tidy as one can feasibly make it. Her usual outfit outside of a school uniform is a buttoned up shirt, a blazer (if the weather allows for it), and a skirt. There really isn't much else to say regarding her attire, simply that Shizu dresses up for the weather. She's also recently adopted a bright yellow ribbon. Huh.
Faceclaim: The Melancholy of Haruhi Suzumiya
• Suzumiya Haruhi • Shizuka Amaya.
Personal History
: Shizuka was born about two years after her sister was, within Shiki, a city within the Saitama prefecture of Japan. While she personally says there isn't too much to her childhood, much of it was spent having her sister be quietly competitive with her as she was growing up. Which was something that had always perplexed Shizu, truth be told.
Regardless, when Shizu was about 5 or 6 (she doesn't exactly recall when,) her family had to move from Shiki to Shibuya. Shizu hadn't necessarily anticipated that, and the move itself, or rather, acclimating to a new place was a bit daunting for her, at first. Aside from the shock of a new place, there wasn't really much else remarkable about Shizu's schooling aside from her being able to score top marks half of the time whenever she actually tries. Only problem is that she devotes more time towards learning about subjects that she -doesn't- have to study than the ones that she does.
Regardless of that, Shizu's lived what one could call a quiet life, a life that some would probably envy in that nothing strange or extraordinary has happened to her in the slightest, with no word of anything weird of any sort having ever reached her ears in the years she's lived in Shibuya with her family. No, really, she isn't aware of anything out of sorts with where she lives.
That's long since changed, though.
Long live Deeplane.
---
Digimon Name:
Monika
Default Form:
Monodramon
Gender:
Female
Alignment:
Chaotic Neutral
Holosuit:
Faceclaim:
Ookami-san and her Seven Companions - Ryouko Ookami - Monika
Personality:
To start dissecting this rambunctious lizard, one must first dive down to the basics that comprise this creature's personality. Monika tries her hardest to be a good Digimon, even if a reputation for being a simple-minded troublemaker tends to follow her around no matter what she does. It's true that Monika bears a rather boisterous personality, but she genuinely rarely if ever means harm. When it comes to her relationship with one Shizuka Amaya, however, she's fiercely protective of the Spirit Wielder, even if she refuses to state exactly why.
Hell, she's even protective of the people that Shizu goes and befriends. Of course, she has to actually get to know them beforehand first, and being social has never quite been one of Monika's strong suits. She can hold a conversation alright, but she can't necessarily break ice very easily, so to speak. One thing to note about this Digimon is that she rarely ever swears or says anything crass. She always does her best to engage people in a dignified manner, even if it might prove to be an arduous challenge to her. After all, challenges exist to be overcome!
Personal History:
Although this Digimon's pretty young at the moment, she's got plenty of a story to tell! Monika hails from a family of what you can basically call bodyguards for hire. This is all fine and dandy, until one considers the fact that a sour reputation that followed the members of this family was mentioned previously. Where does such a thing come from, one may ask?
The answer lay in how the family operated as bodyguards. See, most of them are Cyberdramon, which bear some of the most foul temperaments one can find in the Digital World. Spread enough words, and people end up developing a fear of you and your family. This fear affected Monika severely while she was growing up in the Village of Beginnings, even if she tried her best to be considered better than what she had heard regarding her parents and grandparents. Ultimately, though, such things started to wear on her, and the literal moment she digivolved to Rookie, she opted to leave the Village in search of greener pastures, which came in the form of a developing settlement by the name of Rosewood. It was there that Monika found some actual work, and people that didn't necessarily care who her family was.
It was actually pretty nice, and she was making actual friends, too, as hard to believe as that might be. Of course, the tides of change spare nobody, and unfortunately, Monika was one of the two that witnessed a Spirit Wielder pick up a...rather particular spirit, before that expedition promptly deteriorated.
While it's unclear what happened, Monika travels with the former Spirit Wielder now to protect her from herself. Yes, it's as corny as it sounds. Deal with it. Oh, also, with the inexplicable loss of Shizu's D-Tector and totems? She's now her partner.
---
RookieSpecies:
Monodramon
Appearance: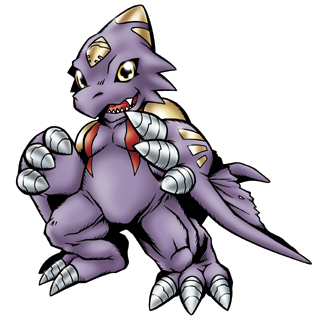 Attribute:
Vaccine
Family:
Dragon's Roar, Metal Empire, Nature Spirits
Type:
Small Dragon
Fighting Style:
A very reactive sort of brawler, this particular Monodramon is descended from a line of fighters known for something called the Tiger Drop. What the hell is that? Well, keep reading, coward.
Abilities:
Wolf Drop!: Monodramon's bread and butter, this is what you call the counterattack to end all counterattacks. It's used as a reaction to melee attacks being thrown her way, and what essentially occurs is Monodramon SWATS the attack aside before launching a counterattack of her own at the exact same measure of power the opposing attack was at. The exact way she counters can vary in nature, but so long as it's a melee attack that ends in the opponent being hit, anything goes. Four turn cooldown.
Beat Knuckle: A blow that's said to be able to shatter the very earth known by all Monodramon. In truth, it's probably capable of putting a dent in the ground. Either way, Monodramon rushes at her foe with a flurry of fierce blows, capable of overwhelming quickly if not dealt with in time. Two post cooldown.
Energy Blade: Not a melee attack, surprisingly enough! Monodramon charges up energy, using one of her wings as a focal point before she lets a crescent of yellow energy loose for a foe! One post cooldown.
Like A Bloody Storm: A sort of battle frenzy envelops Monodramon for three turns, increasing her striking power by 15% and enabling her attacks to leech 10% of the damage they deal as healing for Monodramon herself. Three post cooldown.
Earthbreaker [RAM Upgrade]: Monodramon literally rips a goddamn chunk of the earth out, before throwing it into the air and punching it so goddamn hard that it shatters into blazing hot shards that shoot for up to three enemies in front of her. Three post cooldown.
Shattering of the City [RAM Upgrade]: A precursor to something terrible. Monika's eyes glow an eerie shade of red before she strikes for one foe, claw wreathed in a strange energy. Should the strike connect? It deals minor damage...while the foe is forced to experience something that nobody should ever see. For the next two posts, they take a moderate amount of damage per post, and are unable to tell friend from foe due to the sheer shock. Those strong of will can resist this. Two post cooldown.
Digivolves to:
Strikedramon
---
ChampionSpecies
: Strikedramon
Appearance
: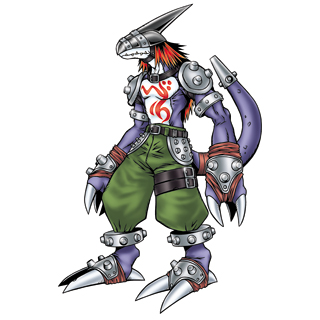 Attribute
: Vaccine
Family/ies
: Nature Spirits
Type
: Dragon Man
Fighting Style
: A more focused creature. Strikedramon is less centered on use of the Tiger Drop and more around outclassing her opponents in melee combat.
Abilities
:
Metalbound Fighter [Passive]: Strikedramon is covered in armor in this form, something that increases her overall defense by 30%. She's also heavier, too. Not that it seems to matter since she's also akin to a bullet.
Exterminator: Like any Strikedramon, a type of behavior is flat out hardwired into this critter that makes her want to exterminate threats as a whole (Not just Viruses!) with extreme prejudice. She's able to empower herself by losing herself to this hardwired urge for three turns, enabling her attacks to heal her for half the damage they deal. Four post cooldown.
Surge Fist: A concentrated burst of purple flames launched from Strikedramon's hands. It's a relatively basic, yet reliable ranged attack.
Strike Knuckle: An improvement over Monodramon's Beat Knuckle in level-based power scaling, Strikedramon utilizes the oldest trick in the book, this being a good ol' punch to any one opponent of her choice. It smarts if it hits. One post cooldown.
Strike Fang: Strikedramon sets the metallic parts of her body aflame as she charges for an opponent, effectively becoming a mass of flames before she attempts to ram them. The force at which this technique is executed renders shielding against it useless. Three post cooldown.
Tiger Drop: The counterattack to end all counterattacks. It's used as a reaction to melee attacks being thrown her way, and what essentially occurs is Strikedramon SWATS the attack aside before launching a counterattack of her own at the exact same measure of power the opposing attack was at. The Tiger Drop is not perfect, however, and melee attacks with the piercing property will still cause damage to Monika even if she uses Tiger Drop to counterattack. The exact way she counters can vary in nature, but so long as it's a melee attack that ends in the opponent being hit, anything goes. Four turn cooldown.
Prescript of the City [RAM Upgrade]: The City demands that one opponent of Monika's choice be stabbed somewhere. Ergo, Monika jabs a fist covered in strange power for an opponent's limb, and should it strike? The foe is promptly immobilized for a turn. Three post cooldown.
Interference of the City [RAM Upgrade]: Monika points at a target and reverses an ongoing effect. If there is no clear opposite, then the effect is simply nullified for it's duration. Toggles and cancellable effects are excluded, as are Once-Per-Thread effects, and the enemy takes moderate damage until the effect ends. Two post cooldown.
Digivolves From
: Monodramon
Digivolves To
: The Blood-crowned Cyberdramon of Deeplane
---
UltimateSpecies
: The Blood-crowned Cyberdramon of Deeplane
Appearance
:
Attribute
: Vaccine
Family/ies
: Nature Spirits, Dragon's Roar, Metal Empire
Type
: Cyborg
Fighting Style:
It's around here where things begin to get weird for Shizu and Monika--as the latter has been undoubtedly influenced by the strange energies around and within Deeplane. This Cyberdramon displays almost eldritch capabilities as well as the ability to outright cancel and deny it's opponents' powers. As if challenging them to withstand her, to suffer her.
Abilities:
Malefic Hide [Passive]: You thought this was rubber, but no, it's worse. Cyberdramon forcibly shortens all negative debuffs upon her by one post. They cannot go below zero posts, though, that's a little lame. As such, it doesn't affect 1 post durations, nor OPT durations.
Exterminatus [Passive]: This is the Knight of Deeplane. Her enemies KNOW to crumble before her, and thus take 50% more damage from all of her offensive abilities. Her evasive capability drops by 20%, however.
Eraser Claw: An exercise in brutality--Cyberdramon attempts to maul a single foe, emitting waves that rot away at the opponent's data for three posts afterwards on top of dealing a chunky amount of damage. Four post cooldown.
Baleful Whip: Monika's claws emit whips of energy that she uses to try and lash for a foe from afar! One post cooldown.
Cyber Nail: A swift and effective strike from Monika's claws. No cooldown.
Demon Lock: Cyberdramon braces and tanks a single attack head-on, the strange power fueling it nullifying the attack unless it bears anything that can ignore active defenses. Should this shield be broken by an attack, then in retribution, she uses this same power fire a blast of energy shaped like a purple fist to outright lock off that attack for two posts past it's cooldown. Four post cooldown.
Decree of the City [RAM Upgrade]: The City demands destruction be wrought in Her name. Monika will abide, channeling a vast amount of power into her claw as she swipes once, a blade of energy following her swipe. The surrounding area for the next 50 meters is promptly cleaved into, as if anything in the path of the blade simply was erased. For enemy Digimon, this equates to severe damage. This ability ignores shields. Survive. Once per thread.
Hades Force [RAM Upgrade]: Monika breaks her limits briefly to draw upon an attack from her next stage, raising her hands to conjure forth a strangely beautiful ball of purple flame...That is also twice her size, and supremely volatile. She hurls it, and regardless of whether or not she hits the target, there is going to be an explosion 40 meters in diameter to deal with. It deals heavy damage. Being caught in this means being at ground zero of that explosion. Five post cooldown.
Digivolves From:
Strikedramon
Digivolves To:
The BlackWarGreymon of Deeplane