Post by Tsugu and Java on Jul 14, 2020 5:44:53 GMT
Name
: Akitsugu Hirata
Alias
: Aki, and Tsugu.
Age
: 18
Gender
: Male
Height
: 5'3
Weight
: 120 lbs
Alignment
: Neutral - Subject to change, naturally.
Birth Date
: 10/13
Birth Place
: Kumamoto, Kyushu, Japan
Skills/Talents
:
Kendo - This guy's pretty damn good at that specific sport. He's only barely hit the 3rd dan, though.
Studious - Give him a book and he will go through it in full. It's almost scary.
Backpack Contents
:
Water bottle.
A book to read.
Cell phone.
Digivice
: A steel grey Xros Loader, pictured below.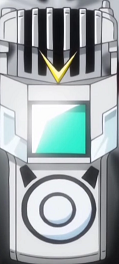 Personality
: The weight of great expectations is something that can have a rather profound effect on a man if they weigh heavily enough. Akitsugu is unfortunately a victim to such a saying, fictitious and made up as it is. He isn't exactly affected by it to such an extent that it dominates how he presents himself to others, but he has a tough time processing interactions with other people to the point where he'd consider them bonds. Nothing against others, however. He just assumes too much, simply thinks too much.
That's on a bad or a neutral day, though. Akitsugu likes to present the idea of being easygoing as it just enables people to skip over him without much issue. Or just leaving him alone. That'd be ideal. Otherwise, as far as interactions go, the guy is nothing short of concise. He says what he feels must be said, and that's that. Whether he cares if it pleases or demeans is anybody's guess.
That isn't to say he's not malleable, though...Wisdom can come from anyone, after all.
Appearance
: This guy stands at about the average height for a Japanese citizen, possesses a light tan and often has a neutral expression on his face, or some semblance of a frown. It gives off the illusion of being focused. Akitsugu also has some rather long hair, though in order to prevent it from getting in the way of anything, he keeps the dark hair tied up in a ponytail. His wardrobe legitimately varies depending on the season, but he often wears muted, earthy colors. Browns and blacks when he can get away with it.
The Digital World is not so kind as to respect the man's fashion sense, however. His attire invariably changes whenever he enters. So, his outfit there's usually a dark blue, white-striped jacket, white pants (complete with shinguards for some reason!), a light shirt, and white boots. Also, a gauntlet with a Digivice Cradle on it.
Faceclaim
:
Shin Megami Tensei IV/Apocalypse
•
Flynn
• Hirata Akitsugu
Personal History
: This story does not begin in Shibuya. In fact, this tale takes place in Kumamoto, on the island of Kyushu. It's quite far from Tokyo, and quite far from Shibuya, and a rather noteworthy rural region of Japan. There could be a lot of explanation about the city of Kumamoto itself, but the fact of the matter is late in the autumn, Akitsugu was born on a rather cold evening. He wasn't born to too much, however. His father owned a kendo dojo, and his mother was a chef. So, realistically? This added up to Akitsugu being the firstborn of a growing family that wound up expanding via three siblings being born over his life.
Akitsugu was quite simply raised with the intent of having him take over the kendo dojo when he came of age. To his father's credit, this was a good idea, seeing as while he was good with keeping his academics in check as he grew older, he was -great- at kendo. This didn't mean that he was content with life as it were in Kumamoto. For all of it's historical value, being so far off from the capital meant there was...not much to do growing up.
So, in layman's terms, it was boring. It had been boring for the entirety of the guy's life. Luckily, however, Akitsugu's academics, as well as his progressing kendo career had managed to get him a scholarship in Shibuya after he had graduated. So, he moved over to there at a rather peculiar year. One rife with strange rumors and sightings that don't exactly make sense when you're just starting university life.
Oh dear.