Post by jo on Dec 4, 2020 9:14:08 GMT
Name
: Jo Shohei
Alias
: Jo-kun, Sho-kun
Age
: 14
Gender
: Male
Height
: 5'3" (160 cm)
Weight
: 116 lbs (~53 kg)
Alignment
: Lawful Good
Birth Date
: Oct 7
Western Horoscope
: Libra
Birth Place
: Shibuya, Japan
Skills/Talents
: Jo is completely blind and cannot see on the visible light spectrum. He is capable of navigating using a cane and his other senses, especially his hearing which is incredibly sharp. He is fluent in english and japanese both. He can also read braille. He has martial arts training for self defense, Jujitsu specifically, but as far as using it goes... it's situational at best due to his disability.
Backpack Contents
:
Probing Cane: A white cane which he uses both to identify himself to observers as blind, and to identify obstacles ahead of himself while he walks.
MP3 Player: Loaded up with audiobooks because he is a learned individual who has to pass his spare time somehow. He has no means of seeing what's on screen, but operates it by muscle memory (and braille-like bumps by the buttons), skipping and seeking.
Sunglasses: A pair of beatnik-style sunglasses which he wears to prevent any nerve damage to his eyes. The style allegedly works for him, or so he's told. Just because he can't see doesn't mean stuff can't get in the eyes, or light can't damage them.
Lunch: He makes sure to bring a lunch wherever he goes. Usually packed by his parents, but in the digital world he will often solicit assistance on the matter otherwise.
Digivice
: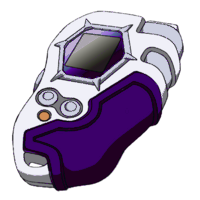 Comes with audio functionality so he can operate it with his disability. Oddly precise with navigational instructions, often telling him to walk around upcoming trees.
Personality
: Growing up blind ain't easy. It's tough to be as entertained as everyone else in a society that sees. Jo is a soft-spoken yet resolute young boy, with strong ideals and a love for knowledge. He enjoys listening to educational and creative content, and thusly never misses a day at school if he can help it. He is well read and references notoriously complicated books more frequently than he can justify as not showing off. He is disciplined, but not stiff, a rare combination that results in upright morality and friendliness that one rarely has to work for.
His aspirations regarding the future take after his favorite superhero, who is also blind, and a lawyer by day. He figures if justice is blind but fair, then he can become justice. He is a great mediator, as he holds practically no bias whenever possible, and understands when he would display it. While not the sort to leave friends high and dry out of fairness as opposed to picking their side, he would definitely point out the fact that it's obvious he would show bias towards them, and seek the counsel of somebody with less stake in the arrangement.
Jo is always listening. So long as something is said within earshot of him he can hear it, and is good at distinguishing sounds from various forms of white noise even at a distance. He will use this to eavesdrop pretty much any time he's allowed to by present circumstances, barring already being occupied by a conversation. He likes to butt into conversations regarding him spoken as though he cannot hear it, often with snide, joking remarks. He is well-humored, and dishes it about as well as he can take it.
Friends know him as a steadfast and stable person who would never let emotion or fear get in the way of what is right. He is the kind of person that can be approached for advice, especially the 'what should I do' sort. For a guy who can't see, he sees right and wrong clear as day, which is a trait well respected among his peers. It isn't uncommon for folks to call him 'Sir' thanks to his wisdom beyond his years, often backed with unnecessary book quotes.
Generally if he forms an alliance, he has decided the side he chooses to be just. No matter who is on it, they will generally receive his cooperation in carrying out due justice. Be they the greatest of villains or the poorest of peasants, even if he is on the losing side. His allies know they are on the right path when they are beside him, and typically he is willing to show a good deal more faith in their intentions after dissolving the alliance.
Jo is an enemy to wrong, and thusly focuses his efforts on foiling the plans of the injust. In day to day life, this amounts to 'accidentally' tripping bullies, then using his handicap as an impenetrable wall of shame when their aggressions turn towards him. He is perfectly fine with losing to an enemy as long as he's made it clear the side he was on was the right one, often quite satisfied with himself for fighting a losing battle.
Romance with him is pretty straightforward. Jo likes who he likes, and couldn't possibly care for things like looks and gender. Typically, a nice voice would catch his interest, but he is more attracted to intelligence, since a smart person can both get over the fact that he's blind, and broach more interesting avenues of discussion. There's only so many times he can answer variants of 'what does being blind feel like' before he tires of it.
That said, there are obviously some limitations to his romantic capabilities, such as requiring assistance to prepare for dates, being unable to physically read anything besides braille, lacking the ability to complement appearances, or choose good looking presents.
Appearance
: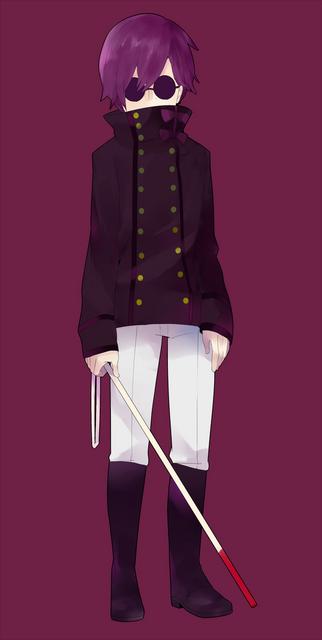 Jo is a somewhat short, lanky youth with unnaturally pale skin. He wears dark sunglasses to protect his eyes from damage, but they are otherwise a rather pretty shade of purple, much like his hair. His hairstyle could be described as a scruffy bowl cut, not totally round, but not shaped otherwise either. He has a mole on his left cheek.
In terms of fashion, he is quite used to bumping into things accidentally which often causes scrapes, so he bundles up pretty much all times of year, wearing turtle-neck or high-collar shirts and/or jackets with long sleeves, popped up to his chin to protect his neck and chest from low hanging tree branches, and long pants and boots to keep his legs and feet protected in case he steps on the sidewalk wrong, trying to prevent twisted ankles. Notably his mom picks out his outfits because he can't color coordinate, but he sticks to black and white mostly, to make it easier on her.
FaceClaim
:
HAPPY TREE FRIENDS
•
The Mole (Personification)
• Jo Shohei
Personal History
: Jo was born blind... it was tough to tell at first, his eyes didn't look any different, but as he seemed unresponsive to visual cues it eventually became clear, and was officially diagnosed when he was two years old. Growing up, like any kid, he wanted to play and make friends, but he was really bad at it. Not being able to see made tag more of a dangerous situation than it needed to be. His parents used audio books to try and educate him in his earliest years, and it worked out quite nicely.
Growing up, friends were pretty difficult to make because kids are mean. They'd make rude gestures nearby to mock him, dismiss his opinions based faultily on his lack of vision, and typically clowned around in manners that would get them yelled at, which lead to resentment and more blatant bullying. Being fairly helpless at a time when kids didn't have the sense of moral shame to not attack him was pretty suckish to say the least, so he, with his father's blessing, began to take self defense lessons. Since he was blind there was no point in practicing strikes (since they would just miss 90% of the time anyways) so he was signed up for Jujitsu, at a famously blind-friendly dojo. It was there he learned how to punish people for grabbing him, how to size people up by their footsteps, and so forth. After he had a practical understanding of the necessities... things started to turn around.
Parents took note that their kids were behaving with dishonor and started working to fix their behavior. The resultant pity was honestly a nice change of pace, but he was actually impressed by how people changed with a mere healthy dose of empathy. He started make friends, a few who were just pity friends that sat with him at lunch, but at least one stuck with him through elementary school. This friend introduced him to comics, and lacking any audiobooks, narrated a few choice titles for him from time to time, including a fairly famous series about a fellow blindman, though not born that way, who fought crime using basically what amounted to echolocation.
The two were tighter than two peas in a pod, and very little could come between them. This made it all the more sad when his friend had to move out of country a couple years later. Bereft of his closest friend, and source of most of his vicarious excitement, he took to audiobooks to fill the newfound silence in his free time. Every passing day he gathered more and more inspiration and understanding of the human condition, as well as writing tropes and themes, developing a sense of right and wrong in many scenarios. Be it English or Japanese, he was listening and learning at a high school level in middle school.
While he recovered emotionally after some few months, he had developed a habit of listening quietly and speaking softly. He learned a lot about others without talking to them, and kept mostly to himself. A few friends cropped up over the years, but by then he was sort of seen as some kind of legendary blind sage guru. Advice and counsel was saught from him, and he gave it freely alongside a quote or two. Always willing to be a friend to those who needed one, even if they would be his enemy in a few hours. A good person.
This rapport in general has him set up as one of the weirdly popular kids that everybody likes for one reason or another, but lacks in consistent lunch table compatriots as if to make room. One might liken him to a philosopher prodigy from ancient times displaced to now, a thinker and a friend.
JO SHOHEI'S INITIAL EVOLUTION LINE
Spirit Element:
Insight
---
Sprite Spirit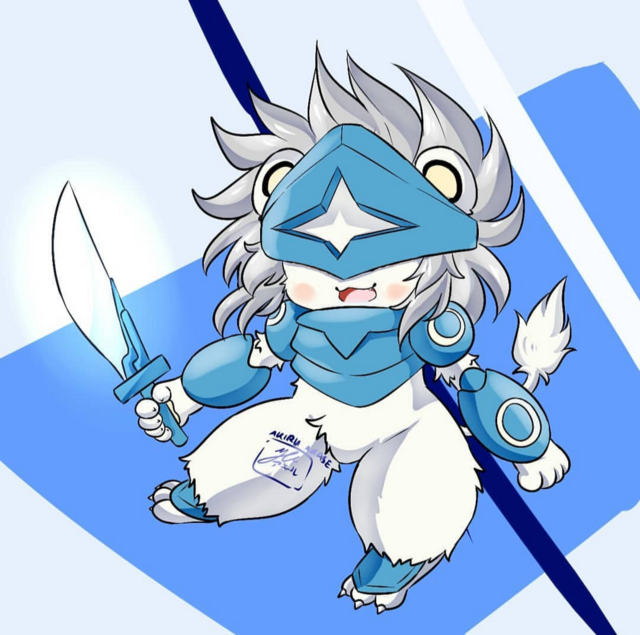 Species
: Spadamon
Appearance
: Like a Normal Spadamon, but its eyes are tucked under its visor, as above.
Attribute
: Data
Family/ies
: Nature Spirits
Type
: Beast Man
Fighting Style
: After utilizing Tactical Analysis to register all combatants on the battlefield, he chops up his foes with his sword. Will occasionally ping another Tactical Analysis in order to assess the situation and accumulate more data before continuing.
Abilities
:
Tactical Analysis (Active-Combat): Though still blind, the visor is modified to analyze data as though through video, which is transferred to the integrated Digivice in order to predict the foe's fighting style in order to fight blind. Not particularly functional against unique digimon, but the general sort seem to be read quite accurately. Use later in battle will integrate new battle data for a better read on the style. For digimon on the same level and lower it's like taking a picture, but against others it requires a post per level above not even understanding what he's looking at let alone how it fights to move predictively and if they leave his visual cone in that time, it'll fail. It also doesn't cover the stat differences at all. Cooldown: 3 Posts
Brave Blade: A dashing attack crossing the shortest distance between himself and his target as quickly as possible to deliver a cut with his sword, leaving a blue streak in his wake. Typically used immediately after Tactical Analysis while the positions are still close to 100% correct. Cooldown: 2 Posts
Aurora Blaze: Generates a blue-green-turquoise-colored haze around himself with a roar, causing heat damage to any enemies who are too close. Cooldown: 3 Posts
Digivolves From
: N/A
Digivolves To
: Silphymon
---
Human Spirit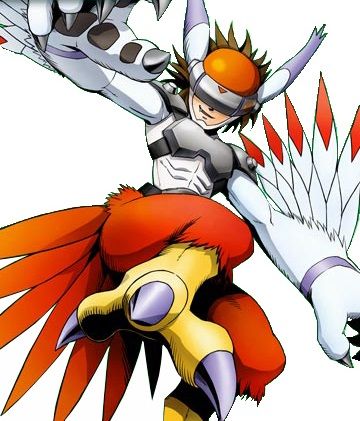 Species
: Silphymon
Appearance
: As above.
Attribute
: Data
Family/ies
: Wind Guardians
Type
: Beast Man
Fighting Style
: Using the special visor to transfer visual and auditory data directly to his brain, bypassing his nonfunctional eyes, he fights fairly normally. A combination of tremendous leg strength and human jujitsu work in tandem to counter foes in close range. At longer ranges, he uses shockwaves to parry attacks and take potshots while trying to get in close. Because this form stimulates parts of his brain that don't regularly see use it causes headaches.
Abilities
:
Glider Wings (Passive Non Combat): His arms are feathered allowing him to glide for long distances on the wind, though they aren't designed to pick up any additional altitude without use of Mach Twin or Aero Spacer.
Style Breaker (Passive Combat): His visor now passively analyzes the style of his foe while locked in combat, much like Tactical Analysis (from Sprite Spirit). While not as immediately useful, it allows him to slowly chip away at the opponents' tactics and develop counter measures, eventually manifesting as a sizable bonus to evasion capabilities regarding any move he's seen thus far and any unnamed attacks. Can be overwhelmed by new moves.
Break Counter (Active Combat): After evading a signature move, he delivers a high-speed counterattack in the form of a dashing kick. Exponentially more difficult to avoid in close ranges, but at longer ranges it is still a good way to close distance, matching projectile speeds. Cooldown: 3 Posts
Grip Breaker (Active Combat): A jujitsu counter throw, performed to slam foes into the ground when they attack at close ranges with their bare hands. Situational, but can be followed up with a devastating axe kick which could be considered a killer move even among highly durable digimon. Cooldown: 2 Posts
Top Gun (Active Combat): A shockwave of condensed air, fired like a bullet from his forward-stretched arms. He can throw punches to rapid fire them. Cooldown: 1 Post
Mach Twin (Active Combat): A gliding technique in which he obtains high speeds and performs an aerial backflip, launching a clone of himself made of condensed air pressure at the enemy like a projectile. It doesn't do anything fancy, but can curve its flight path to home a bit. Cooldown: 3 Posts
Aero Spacer (Active Combat): Zips around an enemy at wicked high speeds to generate a tornado around them, before sending it and them careening in a direction. It can be escaped from the top, but attempting to breach the wind wall will result in being blasted around the funnel until launched out the top. Cooldown: 4 Posts
Digivolves From
: Spadamon
Digivolves To
: Crossmon
---
Beast Spirit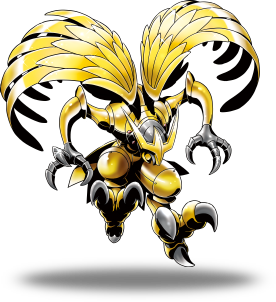 Species
: Crossmon
Appearance
: As Above
Attribute
: Vaccine
Family/ies
: Metal Empire
Type
: Giant Bird
Fighting Style
: This form is blind as well, but makes up for it in ferocity and alternate senses. He tanks attacks with his Chrome Digizoid exoskeleton, and unleashes powerful blasts in retaliation. He is also still quite fast and capable of generating a lot of air pressure and wind with its flight. On the flip side, he loses out on a lot of critical thinking skills and finesse generally just unleashing powerful attacks until his foe no longer stands before him.
Abilities
:
Digivolves From
: Silphymon
Digivolves To
: Valkyrimon
---
Fused Spirit
Species
: Valkyrimon
Appearance
: As above.
Attribute
: Vaccine
Family/ies
: Virus Busters, Wind Guardians
Type
: Warrior
Fighting Style
:
Abilities
: [9 Abilities Max]
Digivolves From
: Crossmon
Digivolves To
: Seraphimon
---
Transcendent Spirit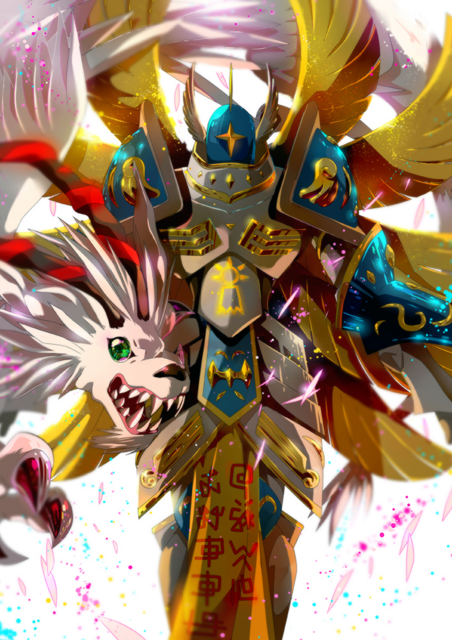 Species
: Seraphimon
Appearance
: As above
Attribute
: Vaccine
Family/ies
: Virus Buster, Wind Guardian
Type
: Seraph
Fighting Style
:
Abilities
: [10 Abilities Max]
Digivolves From
: